In short, there is nothing like Joël Robuchon At The Mansion. The heavy doors to the dining room separate you completely from the ding-ing, whirling, beeping, flashing slot machines that are otherwise the hallmarks of your Vegas experience. You enter into a space of supreme elegance in mauve, lavender, and black. Plush, velvety fabrics, a crystal chandelier, and an intriguing wall of greenery surround you. The space is small, intimate, and graceful, much like the food–truly little works of art–that you will be served.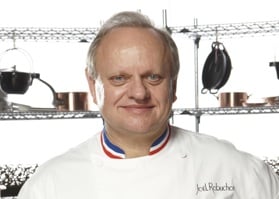 Famed French Chef Joël Robuchon has created a menu "degustation" unparalleled by any restaurant in Vegas, and likely by any restaurant in North America. From the decadent 13 course list, to the exquisite delicacy of the ingredients, to the soaring bill you will face when all is said and done, Robuchon is far more than a meal; it is an unforgettable event.
Named simply after the central ingredient, the offerings on the degustation menu for our visit included Le Caviar, La Truffe, Le Boeuf de Kobe, and La Langoustine (Robuchon's signature). Each course is delicate and presented with the exacting hand of an artist. The dishes and trays chosen for each course reflect the color, texture, and ethnic inspiration of the ingredients. Flowers garnish ambrosia-like concoctions. Sauces are dotted onto your plate with geometric precision. No luxury is spared, as dishes accompanied by gold leaf or marked by more caviar than one can readily consume surely attest.
The food defies description and must be experienced to truly understand why Robuchon is known throughout the world as the "Chef of the Century." If you do go, stop to savor each bite, as every one is a revelation of complementarity and balance. Robuchon seems to gravitate toward unusual, delicately flavored foamy concoctions. He liberally accompanies dishes with fine truffles. By course number 9 or 10, you wonder how on earth you are going to manage. It is all rather too much, really. For the stomach, for the palate, for the brain. But then again, of course it is. Robuchon, on the surface so alien to Vegas, is in fact right at home–in its appeal to your inner Hedonist.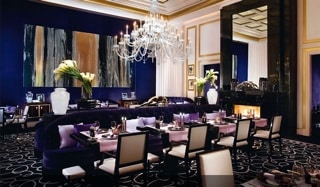 The wine list is, to be sure, out of this world. But the varied flavors on the tasting menu make picking the perfect wine a challenge, if not impossible. With a desire to match at least most of the courses and to indulge in a wine as fine as the meal, we selected a Burgundy –Cote de Nuit, Dom Rene Engel 2002. Our sommelier was supremely knowledgeable, and as French as they come–an unusual encounter in a city as American and over-the-top as Vegas. And of course, the fleet of servers and attendants is constantly clearing away this, and refilling that, before you even know your needs. The service is so good and attentive it is almost too good, taking perhaps a fraction of intimacy away from the meal.
You are presented with a menu tied in a delicate ribbon as a keepsake. Each guest is also given a huge (no exaggeration here) loaf of brioche as a token of thanks, highly unnecessary, highly decadent–actually, a fitting conclusion.
We certainly recommend dining at Joël Robuchon to those who love food, cooking, wine, and fine service – it is simply an extraordinary experience.
Overall Experience
We give Joël Robuchon Restaurant 5 Stars – Outstanding!
Joël Robuchon Restaurant is located in the MGM Grand Hotel and Casino, 3799 Las Vegas Boulevard South, Las Vegas, Nevada 89109. For more information or to make reservations, call (702) 891-7925 or visit www.mgmgrand.com.