'Elegant comfort' is the phrase that best describes the dining at The Post Hotel. We've found it to be the perfect way to end a day spent out in the mountain air working up an appetite. The food is elegant and always-pleasing with surprisingly generous portions. And the wine selection is among the finest in Canada. The cellar's 25,000+ bottle, widely-varied collection, gathered and curated by Post co-owner George Schwarz, is a marvel of rarities. If you enjoy great food, fine wine and hospitality that is at once warm, welcoming and first-class, you will love The Post Hotel.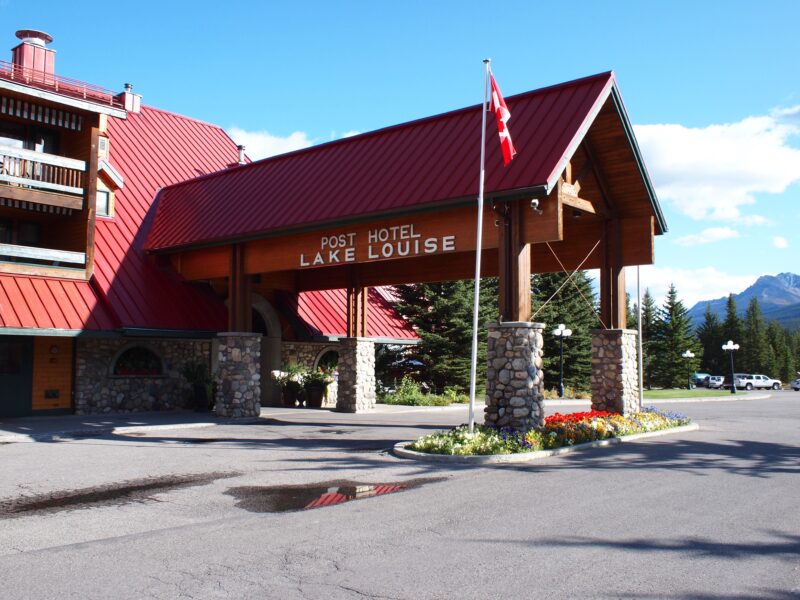 The dining room itself was a pleasure to 'come home to' each evening – a spacious, comfortable space with both the ease and refinement of an upscale lodge. The décor is unpretentious, but full of  thoughtful touches. There are crisp white table linens, and fresh cut wild flowers in small glass vases gracing each table. The lighting is soft, and a welcoming fire in the stone fireplace hearth adds further warmth. Service is impeccable, but not in the least bit fussy. Servers are friendly, personable and professional with in-depth knowledge of the menu. Over the course of this stay (and earlier visits), we've come to know many of the staff by name and felt in good hands no matter who was taking care of us. We know from the contented faces faces at the other tables that we weren't alone.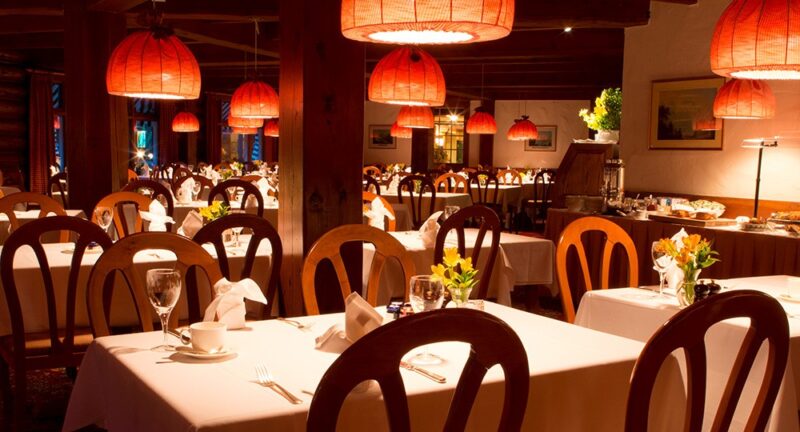 We spent six nights at The Post and dined in its restaurant every evening. Some may say this is an overly long stay in one place, but we this was not at all our feeling. The comprehensive menu was more than adequate to provide something interesting to try at each meal –  in fact, there were so many choices that it wasn't unusual for us to start planning the next day's dinner on any given evening.
But when we say variety, it isn't the confusing all-over-the-place mash up of cuisine styles that seldom works out well. Under the direction of executive Chef Hans Sauter, there is a definite style that unites the many choices. Fresh ingredients, often sourced from local or nearby farms and producers characterize the menu. Range fed Alberta beef and bison figure prominently on the menu as entrees, and pop up as appetizers as well (such as the carpaccio of bison). Alberta-grown heirloom tomatoes and other market vegetables are also featured in salads and pairings for main courses. Elegant homemade sauces like the ginger white wine sauce accompanying the pan-seared cod or the creamy porcini sauce with the veal tenderloin are outstanding. The handmade tagliatelle and spinach papardelle impressed us greatly, and we aren't 'pasta people'. (But, this is what happens when food is prepared by masters.)
One should go to the Post 'warned' that portions are very generous, even when not necessarily expected (such as in the multi-course Gourmet Tasting Menus). Appetizers could easily stand on their own as meals. In fact, overall, we found the hot appetizers to be star of the menu in terms of their originality and bright flavours. Our favourite hot appetizers were the Pan Seared New Zealand Scampi over Chanterelle Arugula Risotto and the Pan Seared Foie Gras in White Port Wine Sauce, Quince Compote (though we somehow soldiered on to eat a main course, these could have easily been a complete meal). Cold appetizers were quite lovely as well, with fresh terrines and pates (changing every few days), of course incorporating those fresh, local regional ingredients. A particular standout on the 'cold' side of things was a trio of smoked salmon appetizer, thickly cut and served with house made condiments.

Main courses on this menu tend to be more 'meat and potatoes' (still elegant and wonderful, but in some ways perhaps not as memorable as the appetizers).  Fondant potatoes or Rosti potatoes are common accompaniments, as well as classic sauces (bordelaise, bearnaise, creamy peppercorn). A standout dish was the Alberta Rabbit Braised Leg on Caponata and Tenderloin on Rabbit Jus served with Soft Polenta (I probably would have ordered it again had there not been so much to choose from). The zesty caponata brought the perfect brightness to the rich rabbit and savoury jus. The herbed polenta was creamy and quite marvelous.  To our surprise, as beef and red wine lovers, it was the fish and seafood dishes that stood out as our most memorable main courses. We would highly recommend (and go back for) the Pan Seared Miso Marinated Fillet of BC Black Cod with Ginger White Wine Sauce, Chinese Broccoli, and Roasted Fingerling Potatoes. The dish was very flavourful, and the fish was incredibly tender and fresh. The Sautéed Atlantic Lobster in Chardonnay Beurre Blanc was generous and succulent. We paired this particularly meal with the Hermitage (Jean-Louis Chave) 2009 and finished things with a rare Australian 'Sticky' Tokay (though seldom ordered, it was perfectly chilled in anticipation – a classic Post touch!)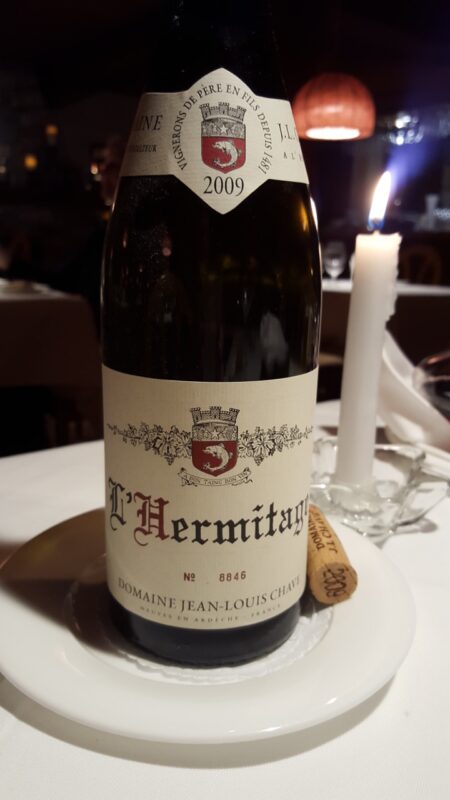 As mentioned above, the each night a Gourmet Tasting Menu is offered. During our stay, we saw the menu change twice (it seems, logically, to change toward the busier weekends). The portion of each menu item was remarkably large; that paired with the quality of the ingredients and the care of preparation, the $105 price per person is very reasonable. Our tasting experiences included such treats as Ahi Tuna Tartar with an Asian Bean Salad and a Pot-au-Feu "Rougie" Duck Breast, Wild mushroom risotto, an intriguing Wild Board Chop with Caponata, marsala sauce and goat cheese.  There were refreshing sorbets, and dark chocolate mousse concoctions, and other assorted treats. (As a person with severe allergies, our servers and the brilliant kitchen staff were incredibly gracious, aware and accommodating. I felt fully taken care of and not in the least bit disadvantaged by the the substitutions made for me. One of the best experiences ever in this regard!). What wine to have with such variety – always a conundrum! On one occasion, we 'settled' on a beautifully scented, smooth and fruity 2012 Dumol (Pinot Noir) that paired beautifully with everything following the tuna (for which we let our pre-dinner champagne and vodka martini 'linger').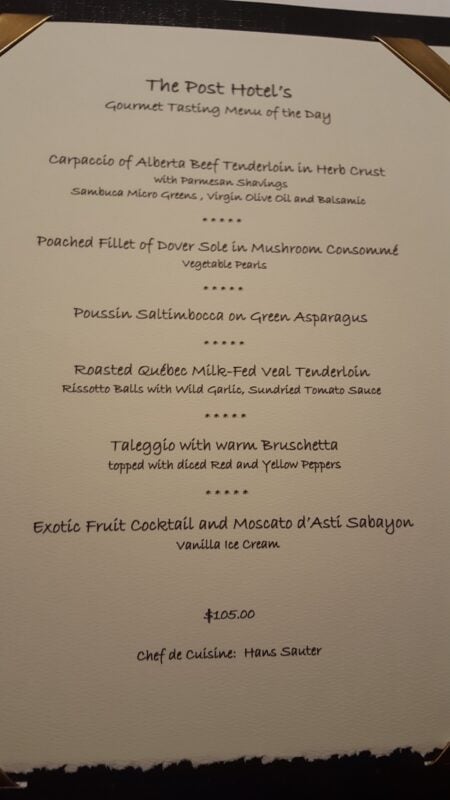 Desserts are lovely and decadent, although more often than not we opted to finish our evening with a selection of cheeses – from runny French bries to sharp Quebec cheddars to bold English stilton, there was always something to enjoy.
We must mention that lunch can be as much of a highlight as dinner; the menu has an impressive range, covering everything from gourmet, egg-dipped sandwiches, salade nicoise,  veal bratwurst, and duck confit with arugula salad.  And where else can you order a bottle of Blankiet Paradise Hills (2003) at noon – there's something so decadent about that! Plan on having at least one (better – two) lunches at the Post to maximize your sense of luxury. Breakfast is also served, and while a more standard experience (eggs, breakfast meats, toast) the food is excellent, hot and served with care.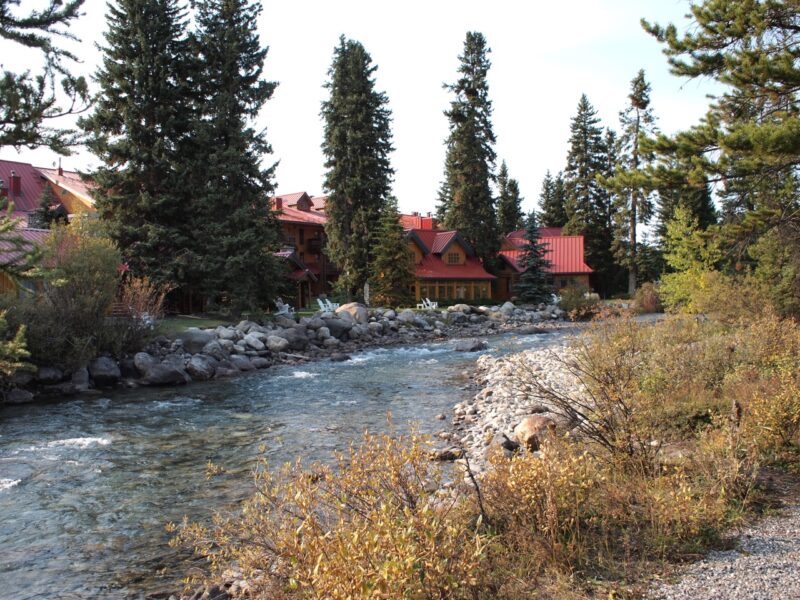 In one of the most beautiful geographical locations on earth, the Post Hotel dining room does an incredible job at standing out as one of the Rocky Mountains' major highlights.