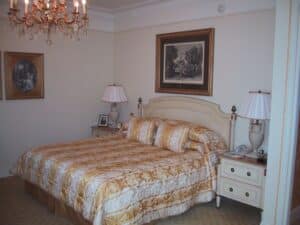 The Four Seasons George V, lauded in books and films for decades, meets and surpasses the imagination. From its stunning lobby, richly and elegantly appointed rooms, and unparalled service, George V ensures that the romance of Paris is rendered indelible. Located in Paris' prestigious 8th arrondissement amid some of the world's finest shops and restaurants, George V lives up to its reputation of luxury and elegance from the moment you step through the revolving doors.
The lobby is immaculate, with floors of highly polished marble decorated gorgeously with huge arrangements of exotic flowers. Magnificent stone sculptures here and there add to the sense of history permeating the hotel. The reception desk and concierge desk face each other on either side of the room so that your first view is of flowers and the lushly-landscaped courtyard restaurant just beyond the lobby. You are immediately transported from the busy Paris streets just beyond into a world of high-class serenity.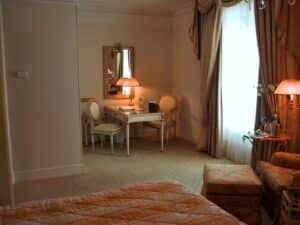 Though many guests stay at George V, there is a sense of openness and spaciousness about the hotel. High ceilings and elegant yet never fussy decorative details add to this feeling. Our particular room had a large balcony overlooking the verdant courtyard. Though you never feel away from city life, the hotel spares no effort to make the city a luxurious experience for their guests.
Just outside the hotel doors are some of the world's most luxurious shops. Designer names that almost anyone would recognize – Hermès, Versace, Armani, Louis Vuitton – are mere footsteps away. And at George V, you are in the very heart of the Paris the whole world imagines. The Champs Elysées is mere moments away, and you can easily walk to many of Paris' most renowned attractions including the Arc de Triomphe and Place de la Concorde, the Eiffel Tower, and the Louvre.  As for navigating Paris from George V by foot, metro and train, we had very few problems if any, thanks in great part to the superb map supplied by the concierge.
As for our particular accomodations at the hotel, there is no doubt in my mind that Louis XIV never had it so good. In fact, all I wanted to do while day-tripping at hot, sticky, overly ornate, stuffy Versailles was get back to our soothingly coloured, perfectly acclimatized, tastefully decorated room with its massive bathroom, and pillow-soft bed with gazillion-thread- count sheets. Our room was absolutely gorgeous with the best of everything, including a huge bathroom outfitted mostly in marble and providing deliciously scented designer bath products from Italy.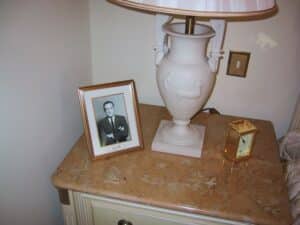 Comfortable furniture welcomed us for an afternoon of reading and relaxing. An elegant writing table served as an inspiration for scrawling memoirs and "wish you could see this" postcards. There was even a miniature library of books either about or written at George V – a fine touch for the literary connoisseur.  And that portrait of Gene Kelly beside our bed? Could it mean that the most famous "American in Paris" stayed here? Perhaps or perhaps not… imagination is enouraged by the romance of the room's surroundings.
Service is, not surprisingly, second to none at this world-class five star hotel. It is said that almost no wish is impossible to fulfill at George V, and you can believe it from the thoughtful, first-class treatment you receive. Your needs are all anticipated, even the ones you didn't know you had. Service is prompt and expertly executed, whether you need one-hour laundry service, an elaborate in-room meal, tickets to any of Paris' many attractions, even (so we've heard and can readily believe) a pet puppy to commemorate your stay! Housekeeping visits your room twice a day with turn down service, refreshing and replenishing your linens and designer amenities daily.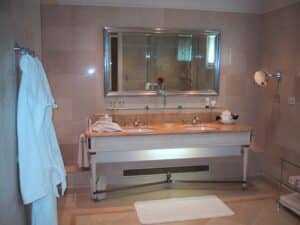 During our stay, I enjoyed a wonderful manicure at George V's beautiful spa. The main reception area overlooks the hotel's indoor pool which is flanked by cozy, comfy lounge chairs and walled by a "trompe d'oeil" garden scene. My aesthetician was friendly and very professional; alternately talkative and silent when I wanted to be. All treatments are performed in private rooms, which I very much appreciated. Soft, glowing lighting and soothing music created a relaxing atmosphere.
Treatments are, not surprisingly, quite expensive here. The emphasis on privacy, relaxation and the use of very high end products does go a long way, however, in justifying the price.English was spoken by all of the friendly staff that I encountered. My only negative comment is that while the spa staff will attempt to accommodate any request, I did find it difficult to secure an appointment at the time of my choice. If you know that you will want to visit the spa during your stay, I would recommend booking any treatments as far ahead as possible to avoid disappointment.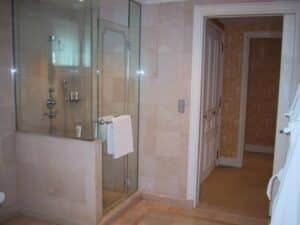 And now, to business. If Paris is the epicenter of food and wine, then George V and its neighborhood is the epicenter of the epicenter. Le Cinq is the shining culinary light of the hotel, having earned three prestigious Michelin stars. The menu, which combines traditional French cuisine with contemporary dishes and influences, is exquisite and accompanied by an encyclopedic wine list. Renowned establishments like Taillevent, a restaurant that has inspired novels as well as palettes,  are also close by. Excellent, if more casual, dining can be had on the Champs Elysees as well.  What could be more delightfully Parisian than an al fresco dinner and bottle of wine in the shadow of the Arc de Triomphe? Be aware that many restaurants and shops do close for several weeks in the summer (particularly August). Tourists may converge on Paris in summertime, but Parisians need their holidays,too!
Our hotel package included the option of having breakfast in our room or in the restaurant. Our first morning, we chose the restaurant. If truth be told, this was our only disappointment with the hotel – our orders were incorrect, and service was slow and surprisingly inattentive. We chose to dine in our room for the other mornings of our stay, and enjoyed this immensely. The beautiful spread is brought to you and laid out by a thoughtful attendant, who is in and out as quickly as possible. Breakfast is anything but just functional when served with crisp white table linens, plates covered with gleaming silver domes, and your own personal attendant to prepare a comfortable eating space and then whisk it all away.
We took advantage of the In-Room dining menu one evening for a fine dinner of French onion soup and lamb with vegetables Provencale style, and sipped wine on our outdoor terrace. The meal was wonderful, although we were rather surprised at the somewhat limited menu offerings. Likely, you can get whatever you request, but we were surprised at the apparent dearth of choice on the menu.
Overall, our experience at George V more than exceeded our highest expectations. The service and luxury were so tremendous, our time in Paris seems almost to be a dream. One that we would not mind having again and again…
Overall Experience
We give George V 5 Stars- Outstanding!
Four Seasons George V is located at 31 avenue George V, 75008 Paris, France. For hotel reservations, call 33 (1) 49 52 70 00. For more information, call 33 (1) 49 52 70 00 , fax 33 (0) 1 49 52 70 10 or visit www.fourseasons.com