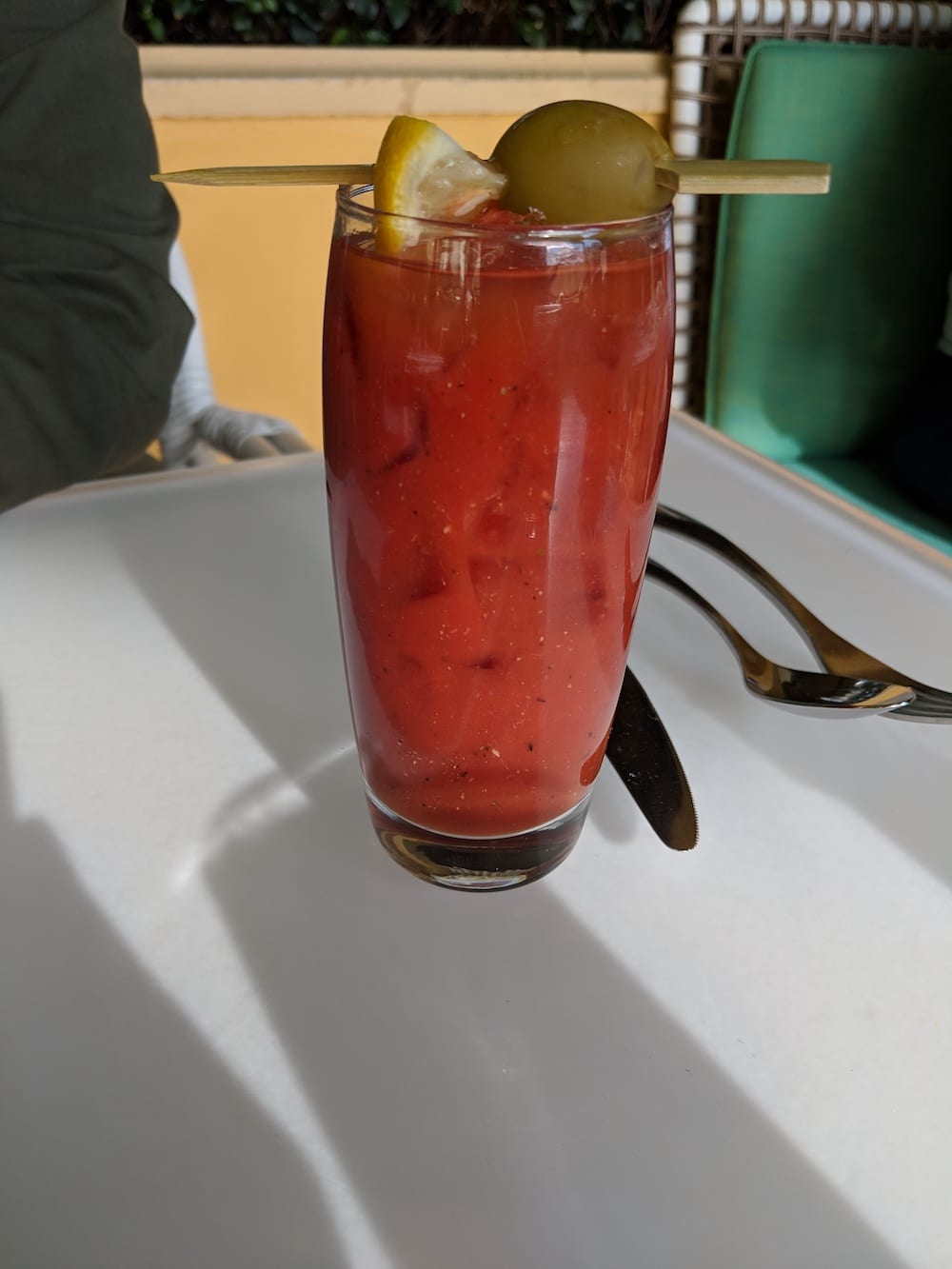 The Terrace Pointe Café is a casual dining option at The Wynn. Open 6 a.m. to 3 p.m., it's a great spot for breakfast, brunch, lunch, or maybe an indulgent afternoon drink or dessert. Though casual, the interior is quite elegantly decorated, with the fresh and somewhat whimsical colors you see all over the Wynn hotel. There's great natural lighting, and spacious, comfortable seating both indoors and out.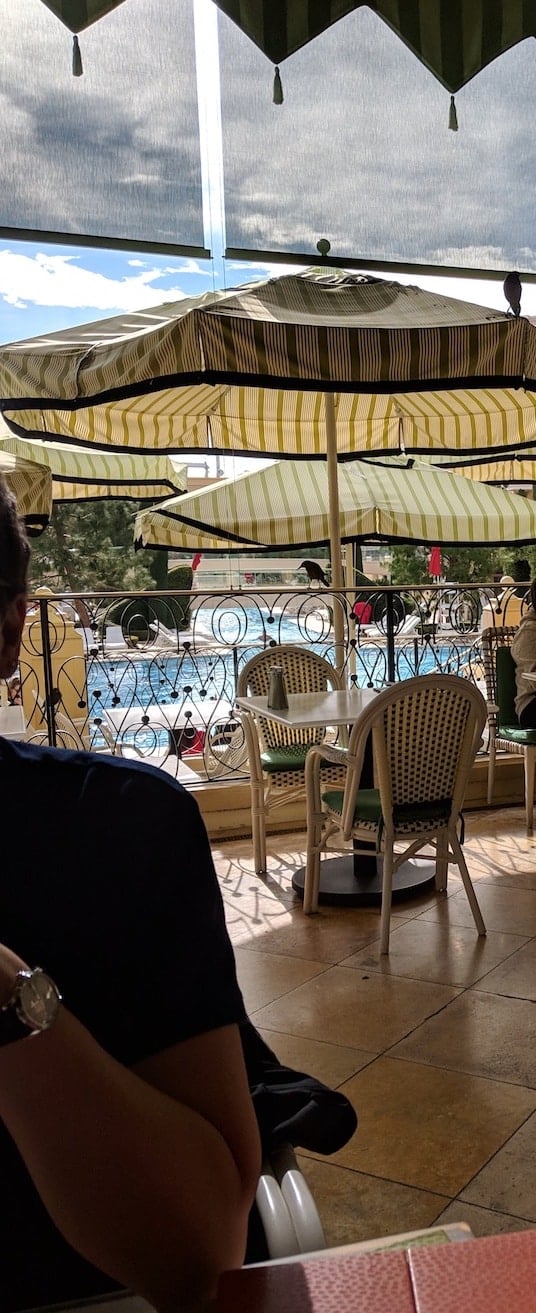 On our recent visit, we were fortunate to have great weather for sitting outside on the patio that overlooks the hotel's beautiful pool. Plenty of umbrellas made it comfortable on a very sunny day. We weren't faced with a wait of any kind to be seated as the restaurant is quite large. Having said that, we found very little to be busy in Vegas in early December – so factor in time of year if you're visiting.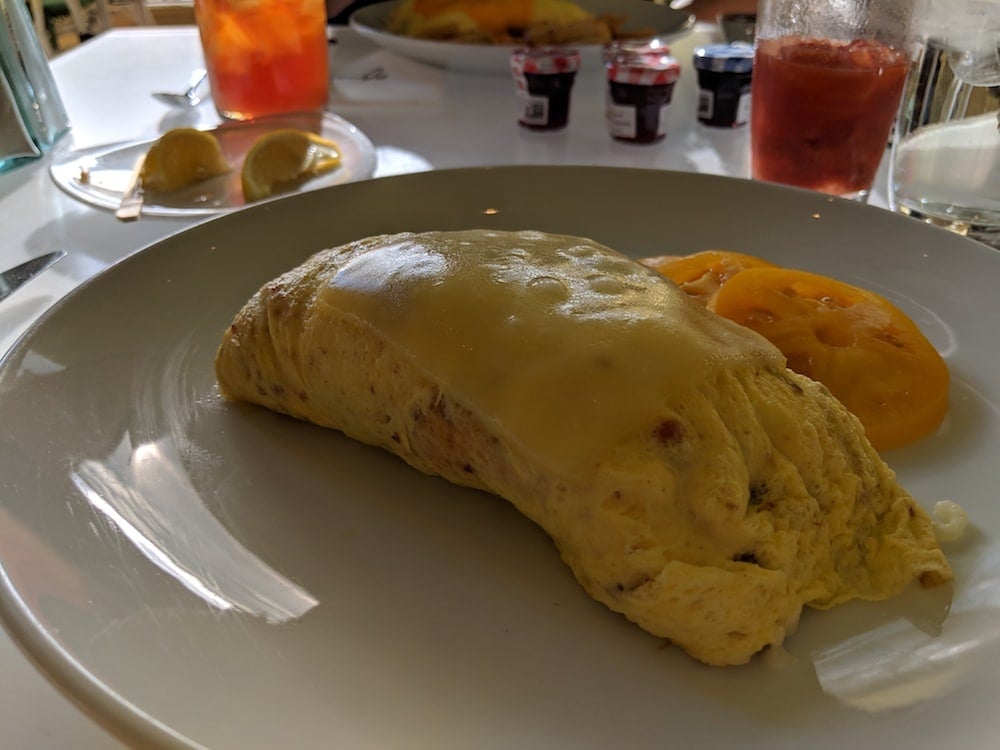 Arriving at around noon, we were offered a choice of breakfast or lunch menus, and looked at both for good measure. There's an extensive list of selections as you might expect, with hearty brunch choices like Crispy Fried Chicken and Waffles, massive omelettes stuffed with goodies like half an avocado and bacon (served with a salsa that I wished I could have purchased!), a rich sounding Croissant French Toast, and a selection of different eggs benedict.
Sandwiches and salads also abound, and as you'll find at other Wynn dining locations, there are a number of Hawaiian-inspired options (poke bowls), smoothies and fresh juice bar selections, and a full vegan menu. Lighter calorie meals are also flagged throughout the menu. (Can't comment – didn't eat those.)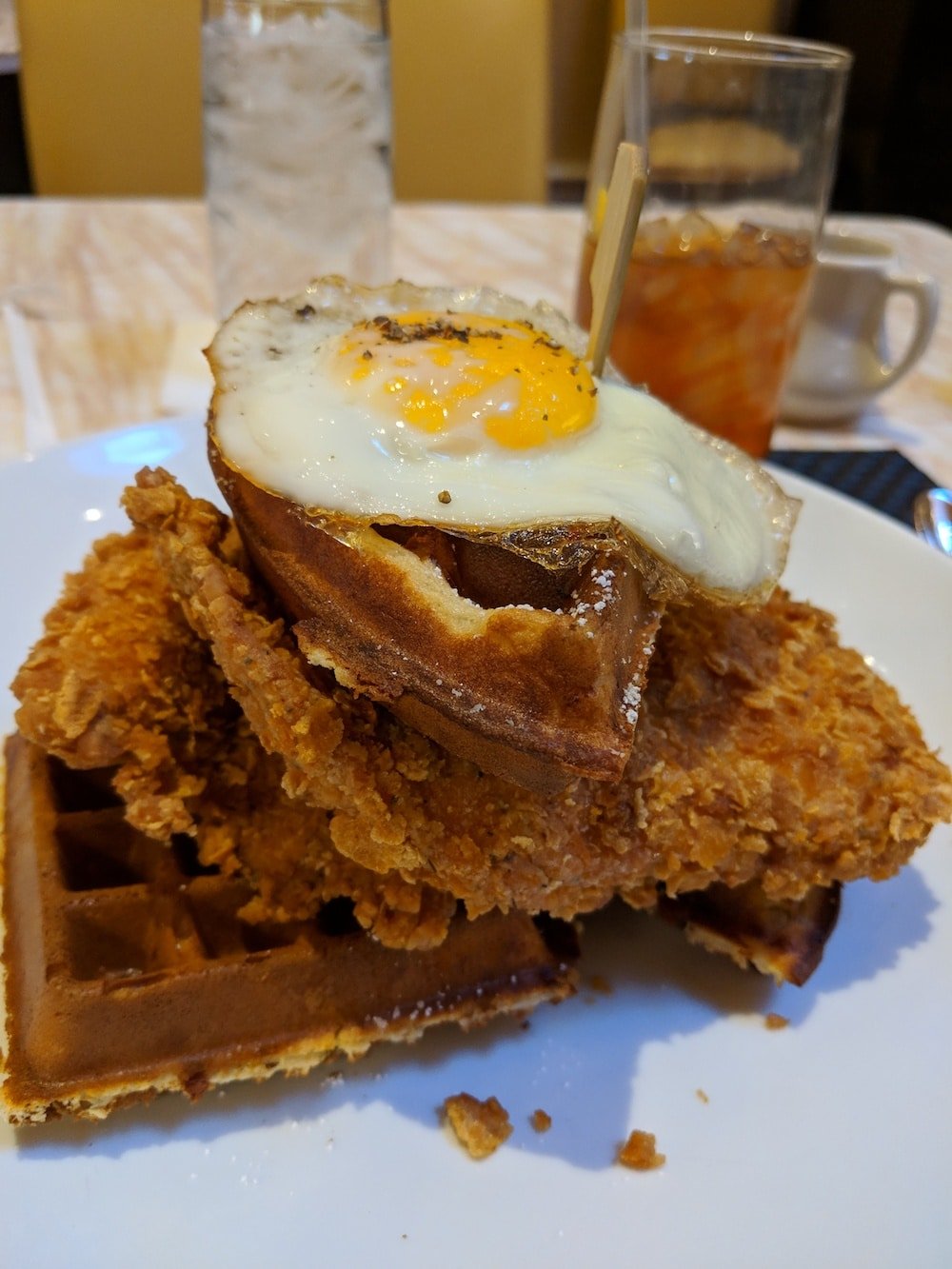 The service was great both times we dined here on our trip – friendly, attentive, and well-paced. Prices hover around the $20 mark (US) for most plates – we found the portions to be more than generous, and well-prepared.
Note to Blood Mary/ Caesar lovers – we ate here to kick off our first full day in Vegas, and maybe it was just that beginning-of-the-vacation magic but the Wynn Signature Bloody Mary I sipped on was absolute savory/spicy heaven, one of the best I've ever had.
If you're staying at the Wynn, or just hanging out at the Wynn casino on the earlier side of the day, consider relaxing poolside with a meal (or Bloody Mary!) at the Terrace Point Café.
For more information or to view the full Terrace Point Café menu, visit www.wynnlasvegas.com