Deck the Halls…
We returned to one of our favourite Canadian holiday destinations this past December, The Post Hotel (Lake Louise, Alberta). Believe it or not, it was our first time there in the winter.
While not technically the Christmas holidays at least according to the school calendar – more mid-month – the spirit of the season was alive and well all around the tastefully-decorated hotel, including the dining room.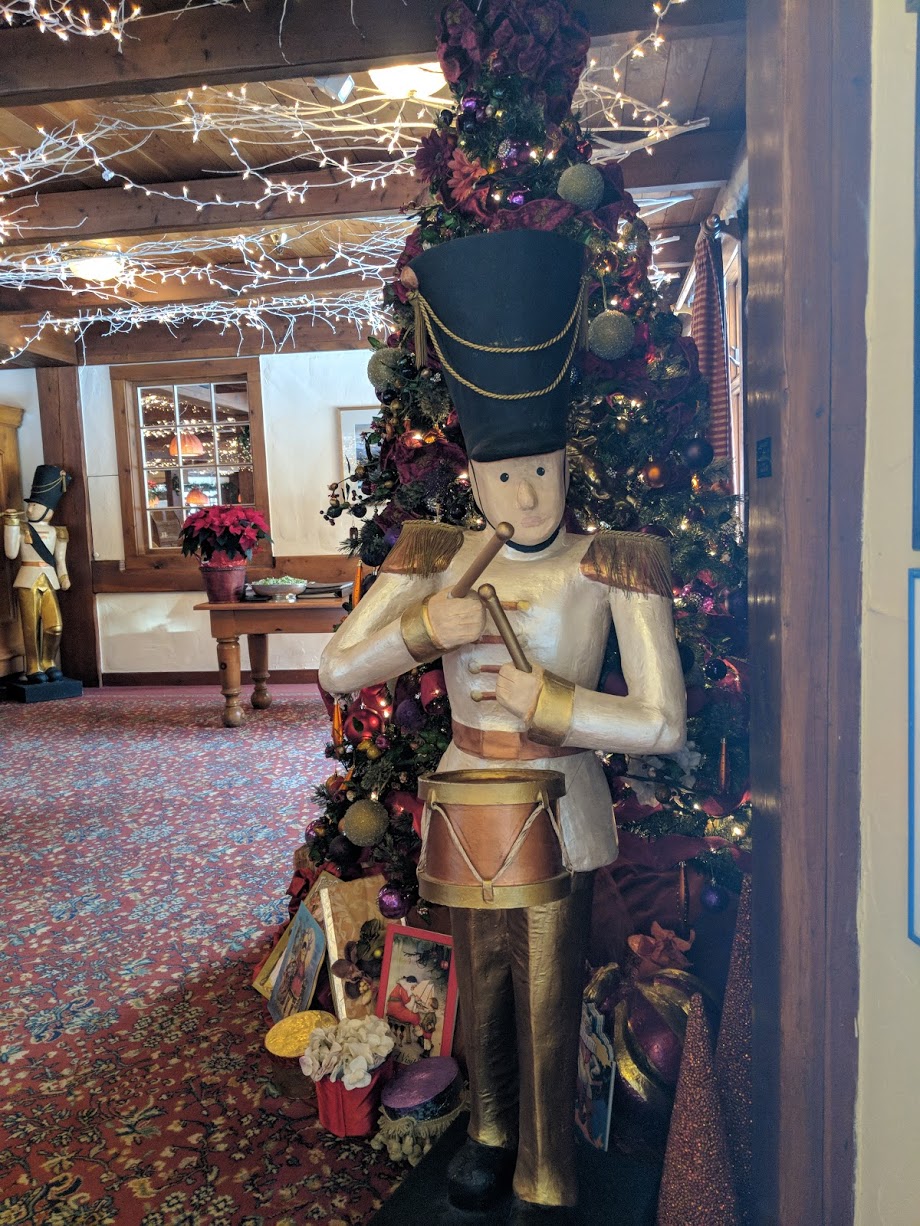 Not only were lovely winter-wonderland features subtly incorporated into the room, like the white branches dotted with lights gracing the ceiling, the windows overlooked a lovely skating rink created each winter at the hotel surrounded by pine trees lit with more white lights. With the Rocky Mountains in the backdrop, even in nighttime silhouette, it's as magical as it sounds.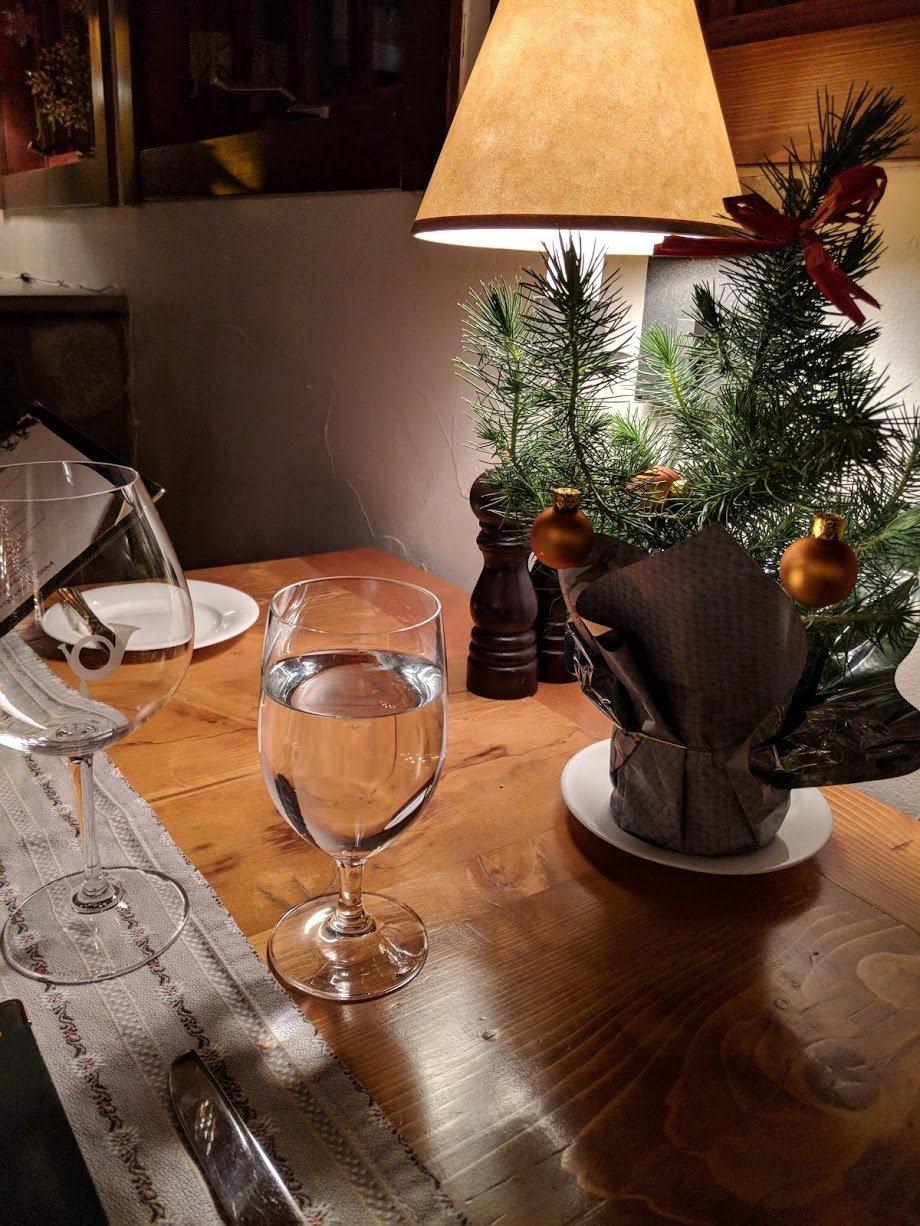 A highlight of our stays at The Post is of course the dining. With a wonderful menu and impressive wine list, a beautiful dinner at The Post is the finest way to end the day. (Studying the large wine list in our room in anticipation helped us to savor the experience even more. Find the menus and wine list here.)
Here's an overview of our festive dining experience at the Post over the course of our four-day December vacation.
Day 1 – Oh, What Fun…
Our trip was shorter than in previous years, so we vowed to make the most of our dining – not at all difficult to do. In fact, at our very first dinner, we decided to go for it – cocktails followed by the six-course Gourmet Tasting Menu and Wine Pairing.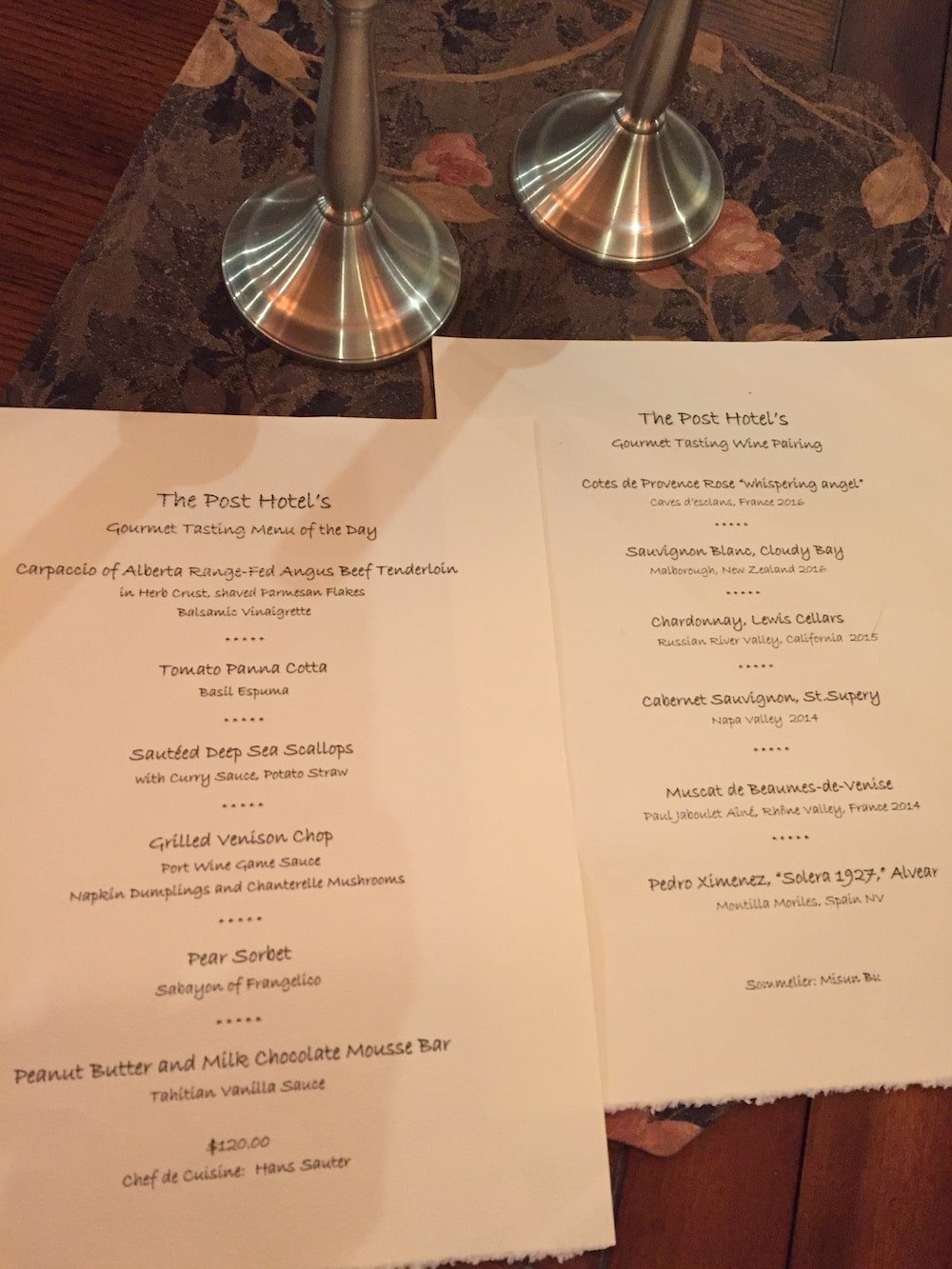 The Wine Pairing was welcome new addition to the experience since, as with most tasting menus, it's hard if not impossible to pick a wine to match the range of offerings. For instance, this particular menu featured both Carpaccio of Angus Beef Tenderloin and Sauteed Deep Sea Scallops with Curry Sauce — no wine solution on earth is going to solve that one. But pair the beef with a glass of Cotes de Provence Rose "Whispering Angel" and the scallops and curry-sauce with a beautiful California chardonnay (Lewis Cellars), and things start to make more sense to the taste buds.
My favourite dish on this menu turned out to be the second course, a cold offering – Tomato Panna Cotta with Basil Espuma. It was creamy, rich and flavourful and matched very well with a crisp glass of New Zealand Sauvignon Blanc (Cloudy Bay, 2016).
The venison chop was also lovely, served with a rich port wine game sauce, delicate napkin dumplings and earthy chanterelles mushrooms (so good!). This was paired wonderfully well with St. Supery Cabernet Sauvignon (2014, Napa Valley).
I didn't think I could handle much more, but I ended up being head-over-heels for the dessert, a warmed Grand Marnier and strawberry confection served with warm vanilla cream. Incidentally, this was a substitution for the Peanut Butter and Milk Chocolate Mousse Bar with Tahitian Vanilla Sauce to accommodate a nut allergy. For anyone with dietary concerns, the Post is wonderfully accommodating and able to make sensational switches so you don't feel you're missing out – it's great!
Day 2 – Let It Snow…
With little planned other than a walk around Lake Louise and a trip to the Temple Mountain Spa later in the day, we took it easy in the morning and enjoyed a lovely lunch in the dining room. We've always found lunch to be a quiet affair at the Post; compared to breakfast, the place seems practically deserted and that suited our relaxed mood just fine. We ate well – Eggs Benedict for him, and a truly delicious Ahi Tuna Nicoise salad for me. The range of items offered on the lunch menu is impressive. Soups, salads, burgers, some 'breakfasty' items, and heartier entrees – there's something for everyone and for every mood. Here's a pic of the generous breakfast skillet to give you a sense: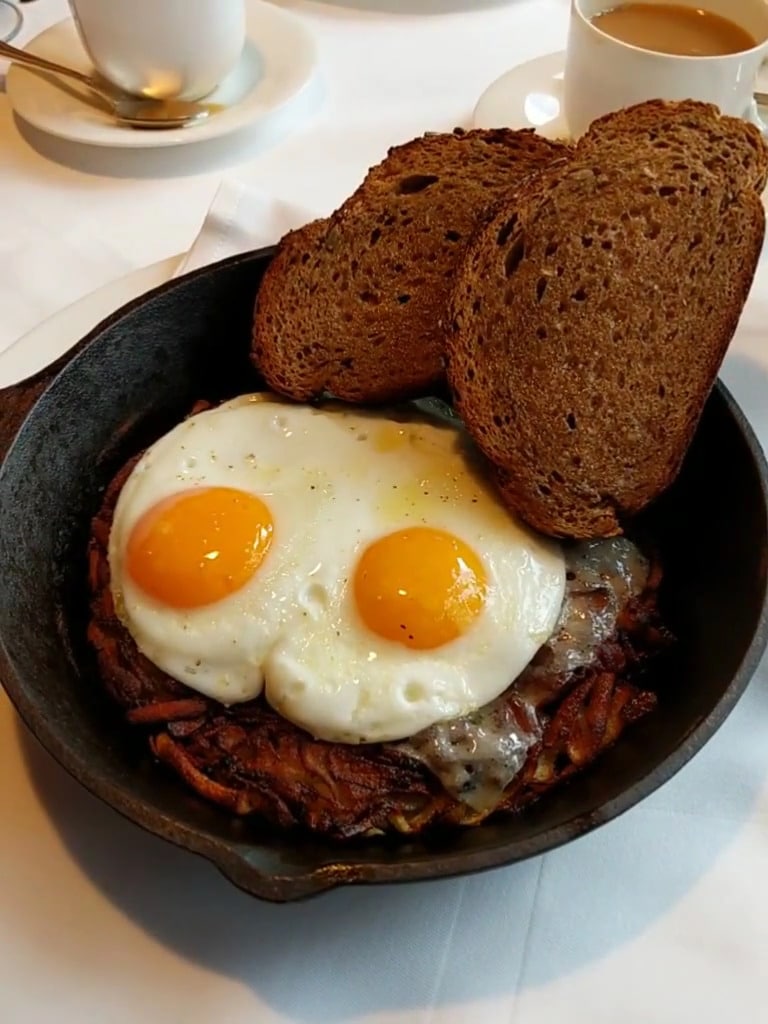 As the Tasting Menu was identical to the previous evening, we went in a different direction at dinner. Over the years, we've found the foie gras irresitable. That night, it was Pan-Seared Québec "Rougie" Foie Gras White Port Wine poached Apples, Celery Purée paired with a glass of Sauternes, of course. I sampled the Bisque of Atlantic Lobster with Diced Lobster, which was prepared with a root vegetable puree. Great with the sweet meat of the lobster!
My main course was perhaps my favourite of the trip: Roasted Alberta "Valley Ridge Farms" Free-Range Chicken Breast, with Thyme, and Chicken Jus Gnocchi with Chanterelles. The chicken was incredible tender, juicy and flavorful. The gnocchi was fantastic, every one a rich, tender morsel balanced by the earthy chanterelles.
For him — the Roasted Alberta "Driview Farms" Rack of Lamb with Herb Crust Lamb Jus with Rosemary Tomato, Spinach and Barley Risotto. The lamb was quite good, but the risotto was the surprising stand out, namely the barley which we were both a little skeptical about. It lent a heartiness to the risotto that seemed to make it better stand up to the lamb.
Our wine was the star of the night, Realm Cellars, "Farella Vineyard" Coombsville 2013. Deep and delicious, it paired beautifully with both of our entrees. A nice find from the extensive wine list.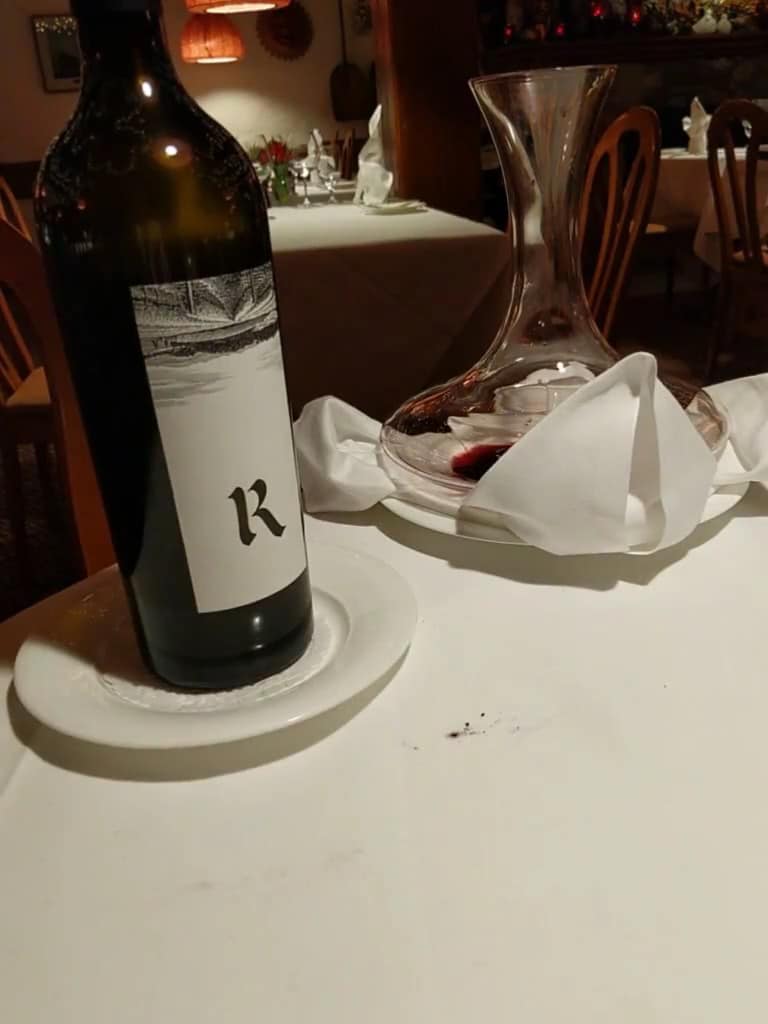 We capped this wonderful meal with a scrumptious cheese plate accompanied by a very fine vintage port, Quinto do Noval 2000. Dark, bold and unctuous, the sommelier graciously cellared it afterward for us to enjoy the following few evenings of our stay.
Day 3 –The Most Wonderful Time of the Year…
We were determined to work a bottle of fine champagne into our 'fours days of Christmas', and yet there were so many intriguing reds to choose from – what to do?
Both.
With our final dinner already planned for Fondue Stubli, we treated ourselves on this last night in the dining room to an exceptionally decadent treat, a bottle of champagne, Krug, "Vintage Brut" 2000. Everything that sparkles in a glass wants to be this. It was phenomenal and went beautifully with our first two courses: I had the Organic Butterleaf Lettuce Salad Mustard Chive Dressing; for him – the Alberta Heirloom Tomatoes with Buffalo Mozzarella Peppery Olive Oil and Aged Balsamic.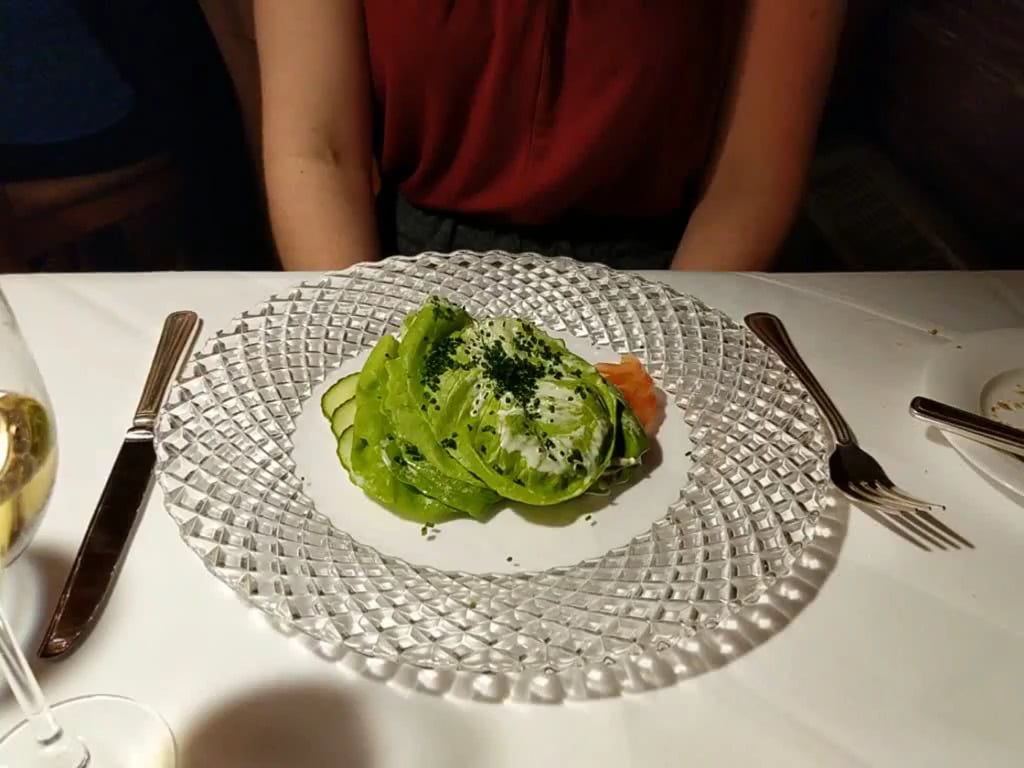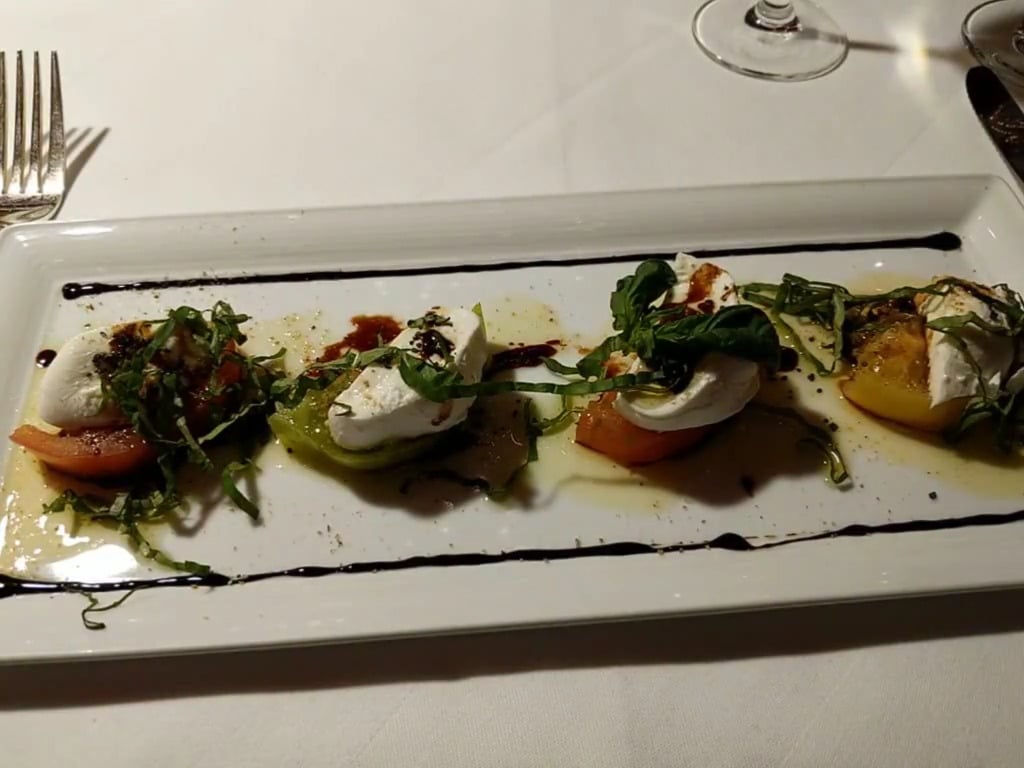 The salads were fresh and beautiful, but what came next was awesome: Atlantic Lobster Risotto with Salsify for me, and Homemade Cheese Tortellini Assorted Mushrooms in Creamy Sauce for him.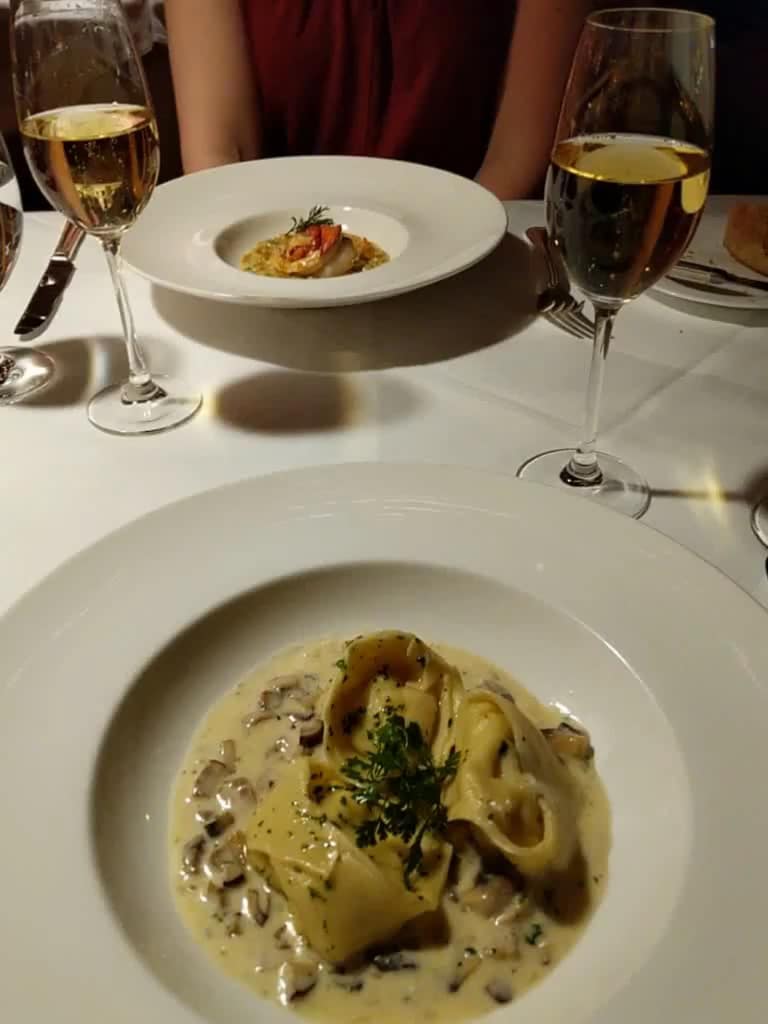 I actually can't believe we ate this much or this well. But when you embrace dinner as your evening entertainment, it's really not that hard. Our main course was the evening's special dish not listed on the menu. A rib eye prepared for two with port wine sauce, bearnaise, market vegetables and roasted potatoes.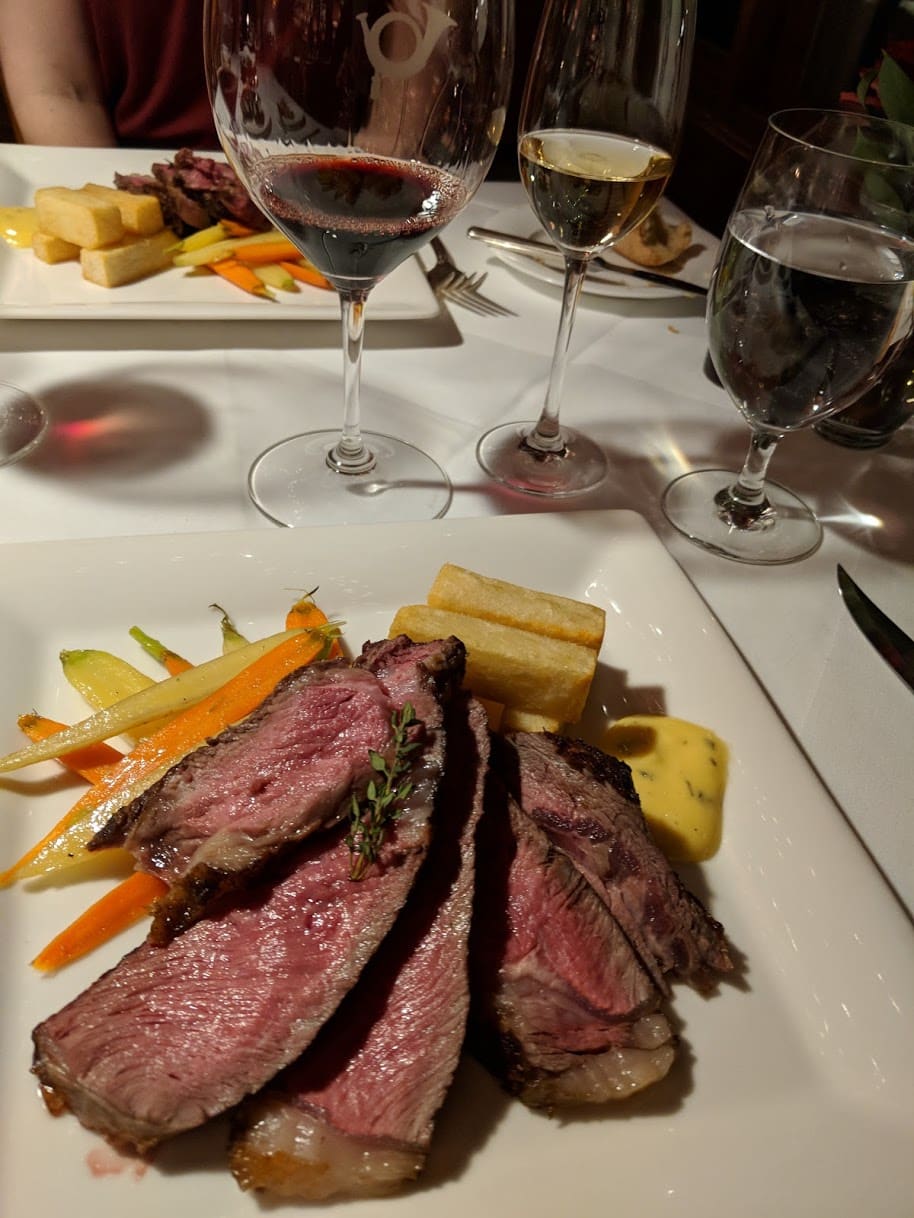 To complement the rich beef and sauces, we enjoyed Chateau Trotanoy (Pomerol 2005). It had a gorgeous deep colour, matched with deep tastes. Very rich, smooth and wonderful.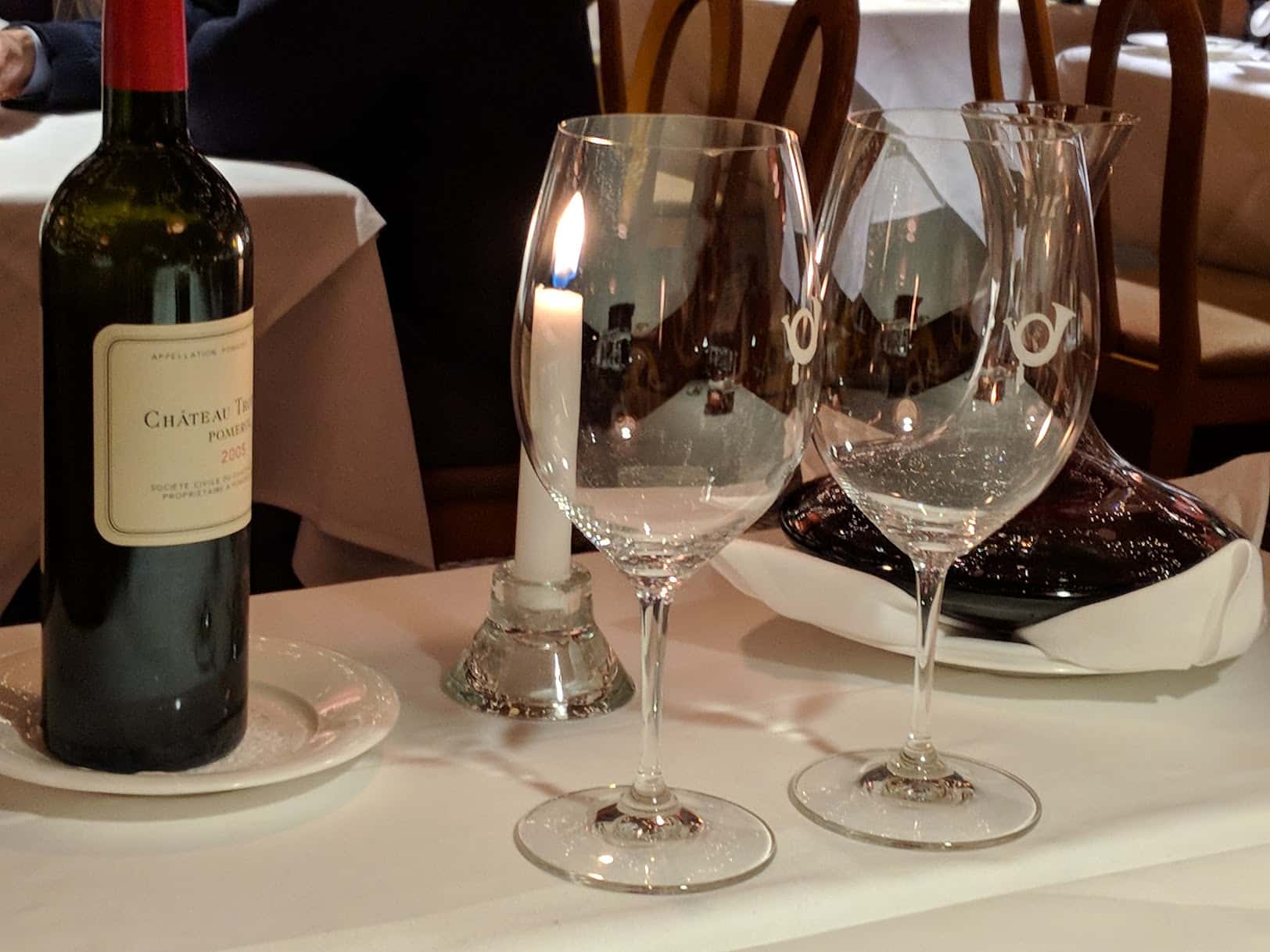 Day 3 – Fa la la la la…
Fondue Stubli
Tucked away just off the Post's main dining room in a nook that was once a cigar room, you will find Fondue Stubli, where magical pots of melted cheese and chocolate and charcuterie boards heaped with treats will bring you comfort and joy.
The Charcuterie plate at the Fondue Stubli is outstanding — just look: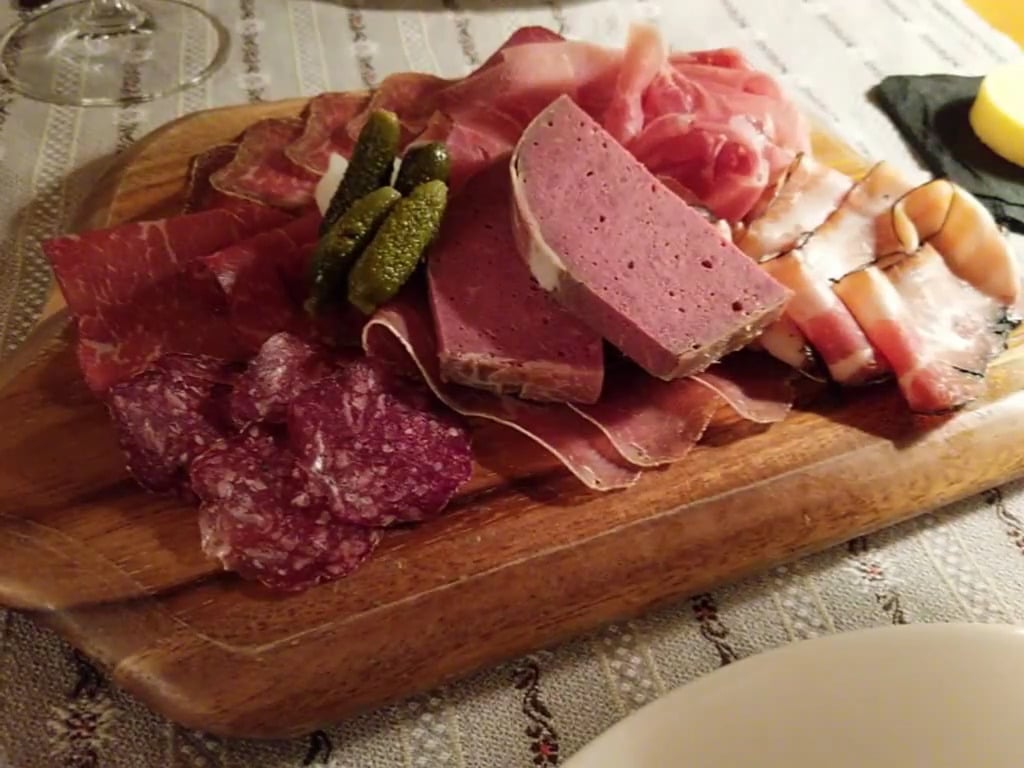 As you can readily see, it's incredibly generous, and beautiful to look at – to say nothing about its deliciousness. The pates prepared in house are particularly wonderful, and the other meats and cheeses scrumptious.
We paired this and the much anticipated traditional cheese fondue with a bottle of Peter Michael Mon Plaisir 2012, a chardonnay that was at once rich and fruity. It tasted like a summer day but matched perfectly with the wintery, mountain-top fare in the fondue room.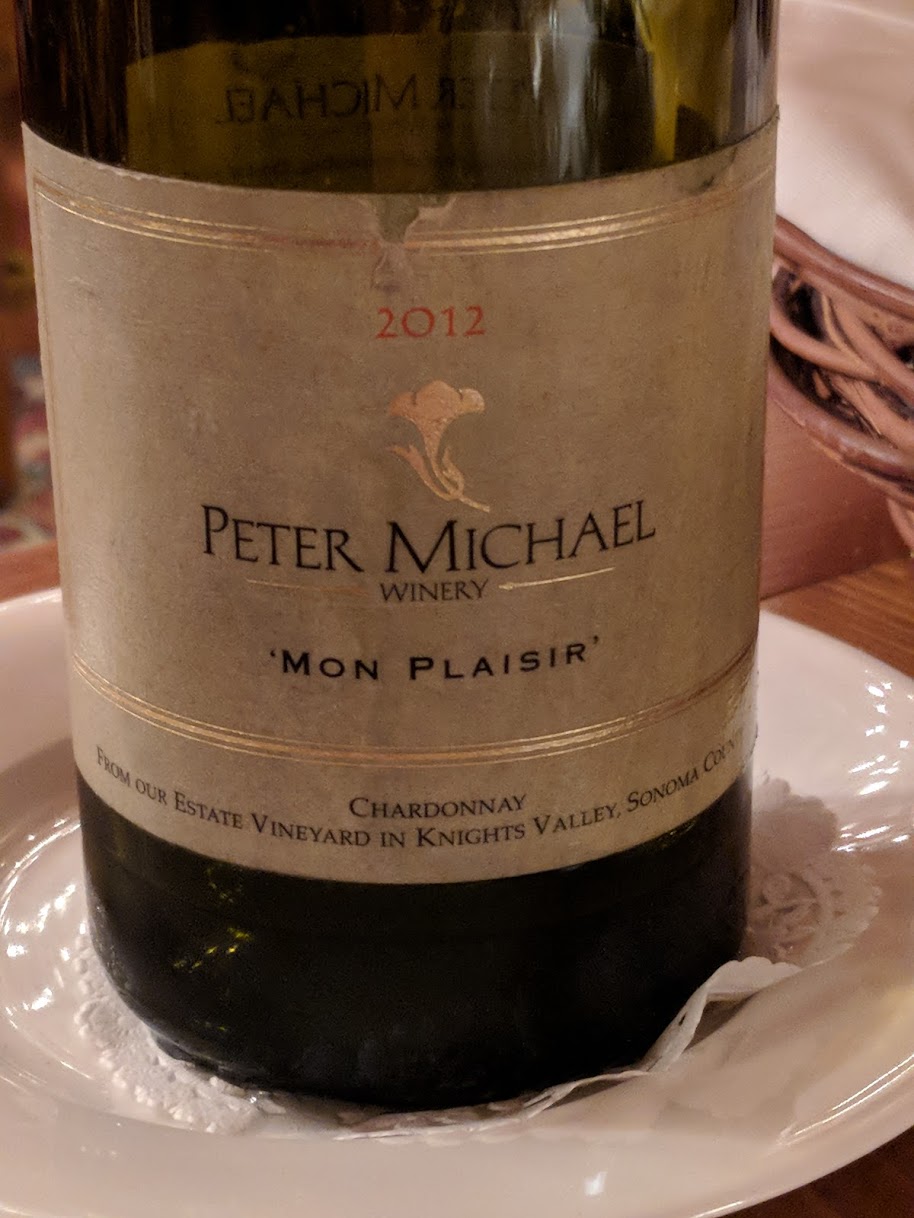 The Traditional Swiss Cheese Fondue is also remarkably generous. It could easily feed a hungry table of four, although we did very well considering it was just two of us – and we had the charcuterie to start. The fine cheeses and preparation make this the best cheese fondue we've ever tasted – as the Swiss intended.
The chocolate fondue remained tempting despite the filling meal. I declined – maybe on Day One, but on Day Four I truly couldn't do it! – and enjoyed with my eyes instead. But my partner valiantly made his way through a portion of it, sipping that Quinto do Noval 2000 we had set aside. He assured me the fondue tasted as good as it looked, and it certainly makes for a pretty picture:
Chocolate Fondue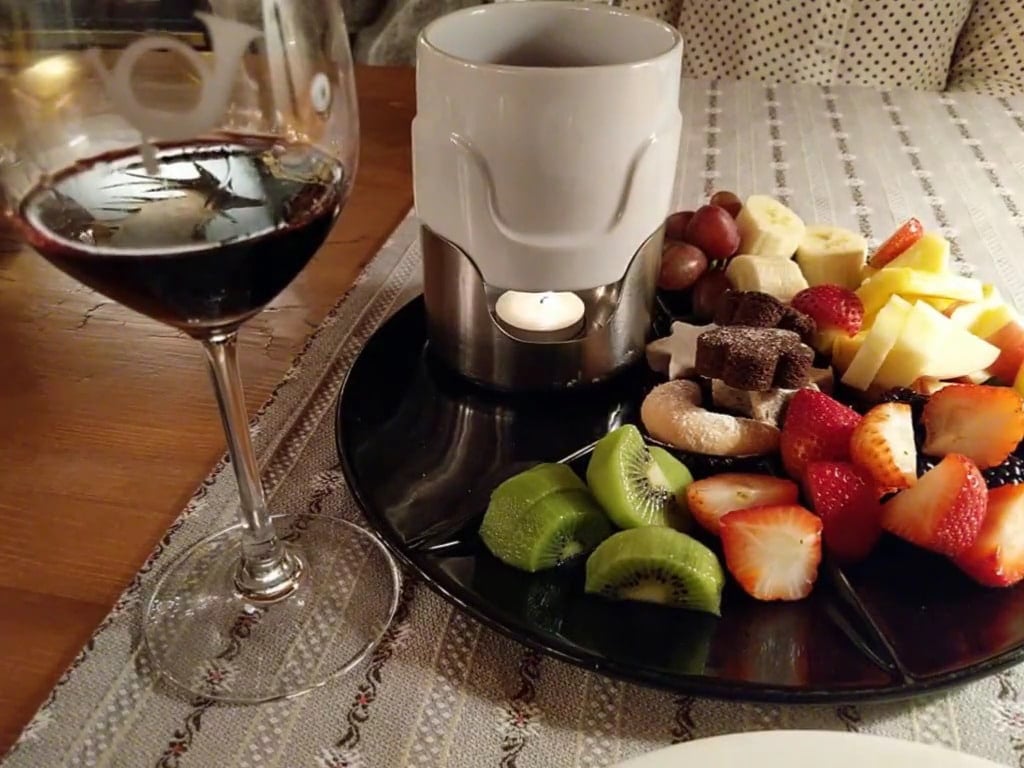 It was a whirlwind of winter wonderland and gourmet food and wine to warm us each night. We would readily return to the Post at this time of year, and highly recommend it!