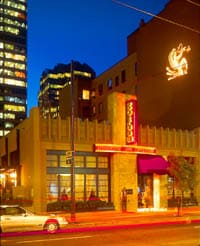 There's something dark, elegant and suggestive of extravagance in the name Gotham. Gotham Steakhouse and Cocktail is a high-end steakhouse in downtown Vancouver, Canada. As its name might suggest, the interior of the restaurant is dark, elegant and yes, even somewhat extravagant in its brooding glamour. Tones of rich, chocolatey brown abound on the walls and in the furnishings, larger than life artwork evokes a stylized version of the swing-jazz era.
The menu is brief and honest as should be expected from a restaurant under the same ownership as Hy's Steakhouse. At Gotham, there is even more emphasis on serving the best version of traditional steakhouse fare. You are offered simple appetizers, like shrimp cocktail, fried calamari, oysters, crabcakes, beefsteak tomato and red onion salad with blue cheese. We highly recommend the Caesar Salad; we're always seeking out a version with the best spin on this familiar recipe (must include copious quantities of garlic, of course). Gotham's take on Caesar was a hit.
Accompaniments to your steak main course (would you really choose anything else?) are served "family style" to share. To put this in perspective, even the potato was supremely shareable and at the recommendation of our server, this is precisely what we did. Half of an enormous, Baked Idaho potato was served to each of us. Even looking at this beast gave me carpel tunnel syndrome. We soon stopped gawking and started eating as we drowned this perfectly baked treat in butter and sour cream.
The steak was quite divine. Devoid of decorative sauces or distracting spices, we were served generous portions (the porterhouse being consumed next to us nearly tipped the table) of perfectly medium rare, beefy goodness. Definitely a steak worth writing home about and coming back for.
We accompanied this much anticipated meal with an absolute treat – the Torbreck RunRig 2001 (Barossa Valley, Australia). This wine is a true gem – a deeply-coloured, full-bodied shiraz with intense flavours of berry, espresso and spice and a wonderfully long finish. It is sure to please palettes that seek out the bold and the beautiful! You need something big to go with your honest-to-goodness steak at Gotham, so go large and get the RunRig or something like it (if you can!).
We recommend Gotham for its swing-era ambience, friendly service, and food that does not pretend to be anything other than it is – simple, top quality, and awesome.
For more information or to make reservation, call (604) 605-8282 or visit www.gothamsteakhouse.com.