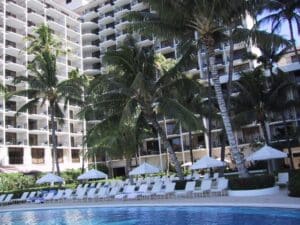 Halekulani, the "House Befitting Heaven," is aptly named. Located in Waikiki, the hotel overlooks majestic palms, a private strip of sandy beach, and then beyond into the endless stretch of the blue Pacific. Serenity washes over you at every turn at the recurring sight of native Hawaiin flowers and plants, and in the the welcoming rooms decorated in soothing, muted cream tones. The swaying sound of traditional Hawaiin music floats through the evening air from the lanai of House Without A Key, the hotel's popular outdoor lounge. Comfort and serenity truly await in this corner of Hawaiin paradise.
Situated directly oceanside, Halekulani looks out onto Gray's Beach, part of the greater Waikiki beach, traditionally associated with healing and renewal. This location says a lot about the feelings of well being this resort successfully inspires in its guests. Halekulani is close enough to the bustling shops and restaurants of downtown Honolulu – a short walk will get you in range of almost any store or eatery imaginable. Yet with its palm-lined ocean view, serene open air courtyards, and abundance of lush Hawaiin flora, the hotel transports you to a place of peace and calm.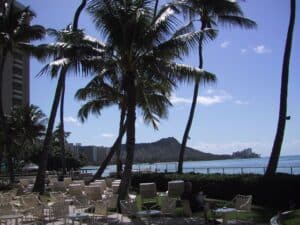 The lobby itself is remarkable. Without doors or windows, the entrance welcomes you in along with the perpetually perfect Hawaiian air. An enormous, stunning floral centerpiece is the first thing that comes into view, and then the vast open grassy courtyard just beyond. A stroll toward the courtyard reveals several tranquil sitting areas, with comfortable chairs and love seats. The colors of the furnishings and décor throughout the hotel are muted and natural, allowing the vibrancy of the fragrant blooms and lush greenery to take center stage. Stunning stone fountains do double duty in the front seating area by delivering a sense of calm and effectively masking the sounds of traffic which, unbelievably, are quite present just beyond them.
Heading toward the inviting ocean and blue sky, past a row of beautiful shops (artwork, jewelry, resort clothing and sundries) you'll find Halekulani's restaurants and the gorgeous pool area. The pool itself is characterized by a stunning orchid pattern, made of over 1 million glass mosaic tiles, inlaid in the floor of its 46-by-82 foot dimensions. The lounge area is comfortable and spacious, with shade provided by enormous palm trees, should you desire. Towels and fresh, comfortable terry lounge chair covers are provided, and attendants circulate to take drink orders. And of course, the view of the ocean is beyond description.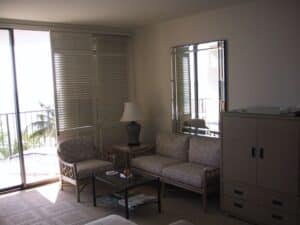 A wonderful feature of Halekulani is the in-room check-in service. Rather than making our initial arrangements on our tired feet in the lobby, a reception staff member accompanied us to our room and check us in there, personally pointing out the room's amenities and giving a brief but informative verbal orientation to the hotel. The only draw back to this service is that the room and the view is so incredible, it may be hard to keep your mind on checking in! Our room was quite spacious, and decorated in creamy muted tones, allowing the azur blue of the ocean and sky beyond the window to be the focal point (lof course, you should be aware that not all rooms have an ocean view). We had a balcony that allowed us to gaze over the tops of the high palm trees and to catch a bird's eye view of the famous "Orchid" pool and the evening hula show at House Without a Key.
Our bathroom was fairly large with a soaker tub and separate shower. It was regularly restocked with good-quality amenities. We appreciated various small but memorable touches throughout our stay, including the bowl of fresh Hawaiian fruit (guava, papaya, banana) awaiting us on our arrival, consistently prompt and thorough housekeeping service, and the presence of little gifts on our pillow left for us at turn down. The excellent service at Halekulani is definitely worthy of further note. Everyone was genuinely friendly, extremely accommodating, and seemed truly concerned that our stay was carefree. We became especially fond of the staff who parked and retrieved our car, each day offering directions and a willingness to help us with any question or concern.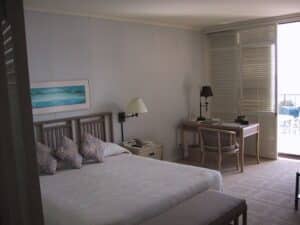 Halekulani boasts several dining options within the hotel itself. The House Without a Key is a gorgeous open air lounge area, great for drinks and snacks in the evening, and also open in the mornings for a buffet breakfast. Even locals are drawn to the place, especially for Mai Tais and appetizers at sunset, to watch the sun sink into the ocean beyond the stage to the tune of Hawaiian hula music and mesmerizing hula dancing. This place quickly became a favorite of ours. We sipped many an orchid-bedecked Mai Tai, and tried tasty appetizers such as coconut shrimp, spring rolls and the complimentary "Maui Chips".
The aptly named Orchids (several varieties of this graceful flower grow throughout the restaurant) restaurant is also open to the air and the ocean. Breakfast is served here (the sweetest pineapple you'll ever taste!), and a tantalizing dinner menu is also offered (reservations are recommended). Finally, La Mer, Halekulani's premiere restaurant offers elegant fare and an award-winning wine list. For lighter snacks, drinks or afternoon tea, you may also visit Lewer's Lounge and the Veranda area. This location also features musical entertainment on certain evenings.
As the Halekulani is located in the heart of Waikiki, you're in walking distance to huge public beaches and lots of shopping. Nearby stores are sure to satisfy every taste and price point, with the curious mix of swanky shops like Coach in Waikiki's "Luxury Row" alongside ubiquitous souvenir and sundries stores. You will not go hungry either – an impressive array of restaurants lines the streets near Halekulani. A particular favorite seems to be The Cheesecake Factory. You'll recognize it by the throngs of people outside its doors holding those restaurant pager gadgets willing to wait sometimes over an hour and a half for dinner!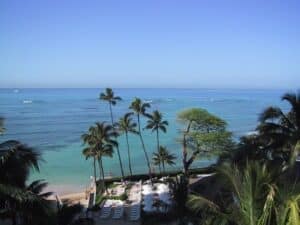 A short distance away are other worthwhile attractions. The lush Honolulu Zoo is practically down the street from the hotel, and is a pleasant way to spend an hour or two. Not too far away is Diamond Head, perhaps the most famous volcano crater in the world. Diamond Head can be seen from Halekulani's pool area and the open-air areas of Orchids and House Without A Key restaurants. Be warned that if you are going to climb Diamond Head, it is a steep hike – be sure to wear proper foot gear and bring plenty of water. Despite what you may hear about stairs and railings, this is a long, hot walk. The view is beautiful, but you will work for it.
Halekulani staff will be happy to arrange transportation for your touring needs. We recommend taking taxis to restaurants that are just out of driving range to save time navigating Honolulu's often baffling maze of one-way streets, and to spare yourself the challenge of actually finding parking (you may want to consider this even if you have rented a car). A favorite dining discovery of ours was Alan Wong's, and we're convinced that the experience was enhacned by the fact that we didn't have to locate it and negotiate parking by ourselves! Thanks to a cab ride, we arrived in time and sipped our wine without a care in the world!  However, in general, we would certainly recommend renting a car so that you can get out there and experience Oahu. We drove almost the entire perimeter of this beautiful and dynamic island, taking in the phenomenal surfing beaches like Waimea, Makaha, and bohemian surfing towns (you must go to Haleiwa on the North Shore). You can't go wrong taking in the sights at your own pace, stopping where and when you want to and being open to discovery and adventure.
It's hard to say too much about the  first-class treatment and slice of paradise we experienced at Halekulani. We would highly recommend it to the traveller looking for the best in rest, relaxation, and luxury.
Overall Experience
We give Halekulani 5 Stars- Outstanding!
Halekulani is located at 2199 Kalia Road, on Waikiki Beach, Honolulu, HI. For hotel reservations, call toll free 800-367-2343. For more information, call 808-923-2311, fax 808-926-8004 or visit www.halekulani.com.