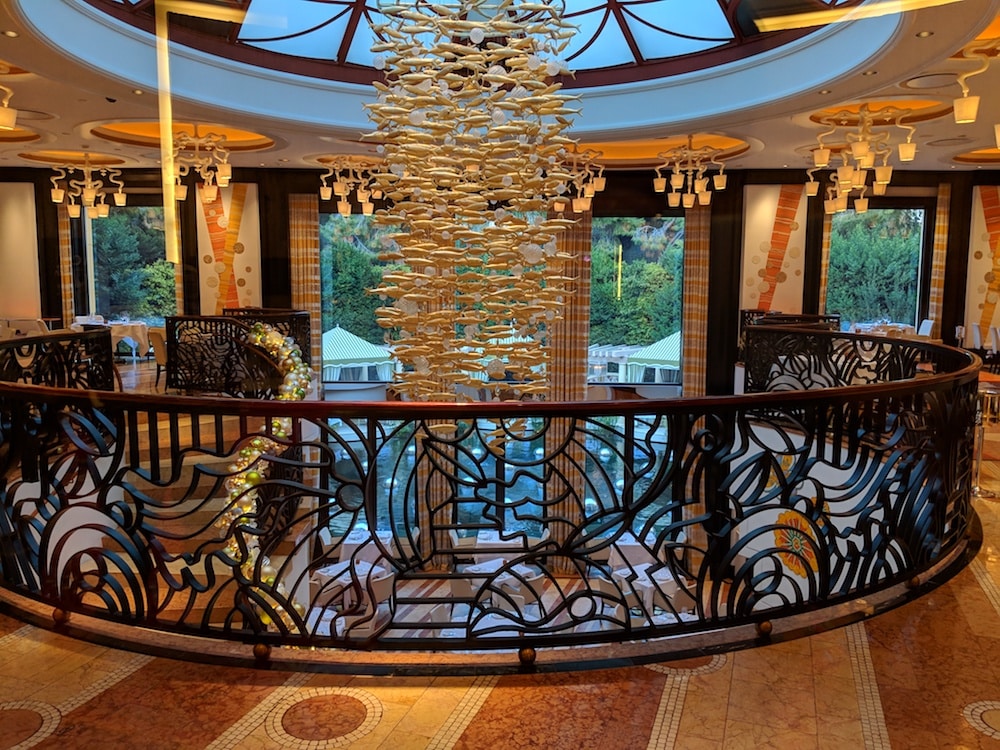 Costa di Mare – a gorgeous, elegant, but also friendly and vibrant Italian restaurant in the Wynn Las Vegas Hotel. Our experience from start to finish tops the list of our dining adventures in my books. From the coastal Mediterranean cuisine, to the stylish decor, and to the excellent – even exuberant – service, our evening at Costa di Mare was one to remember. First of all – what an entrance!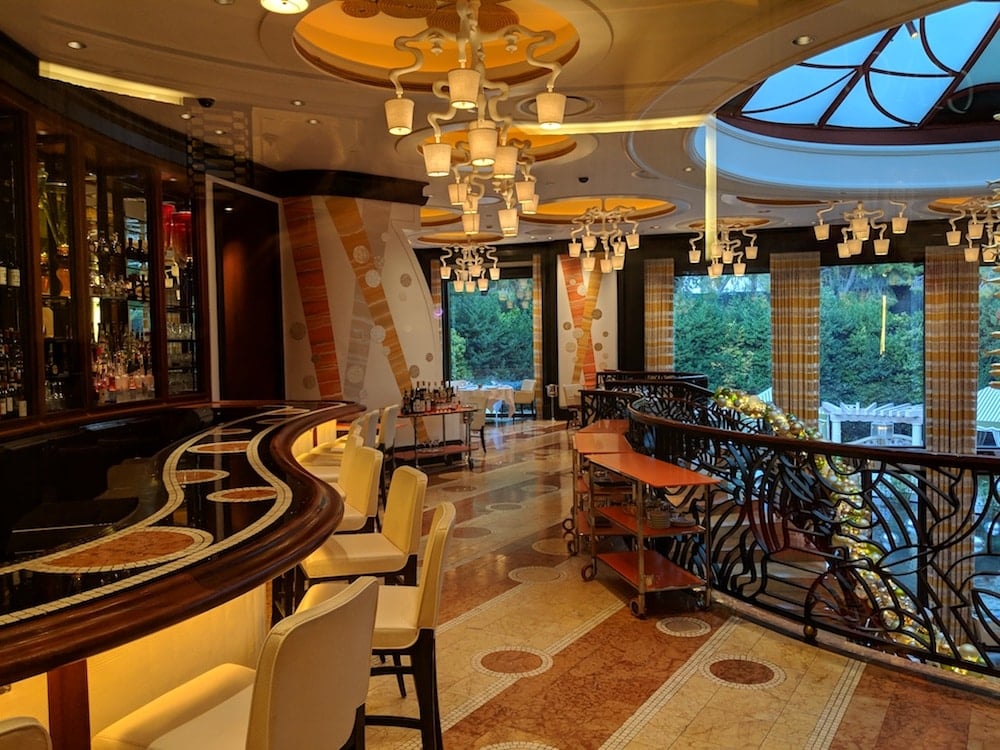 Curving lines, domed ceiling, and a circular balcony overlooking the main dining area give the restaurant an open feel and make it particularly inviting. The wall of windows overlooking the lagoon adds to the restaurant's sense of glamour and beauty.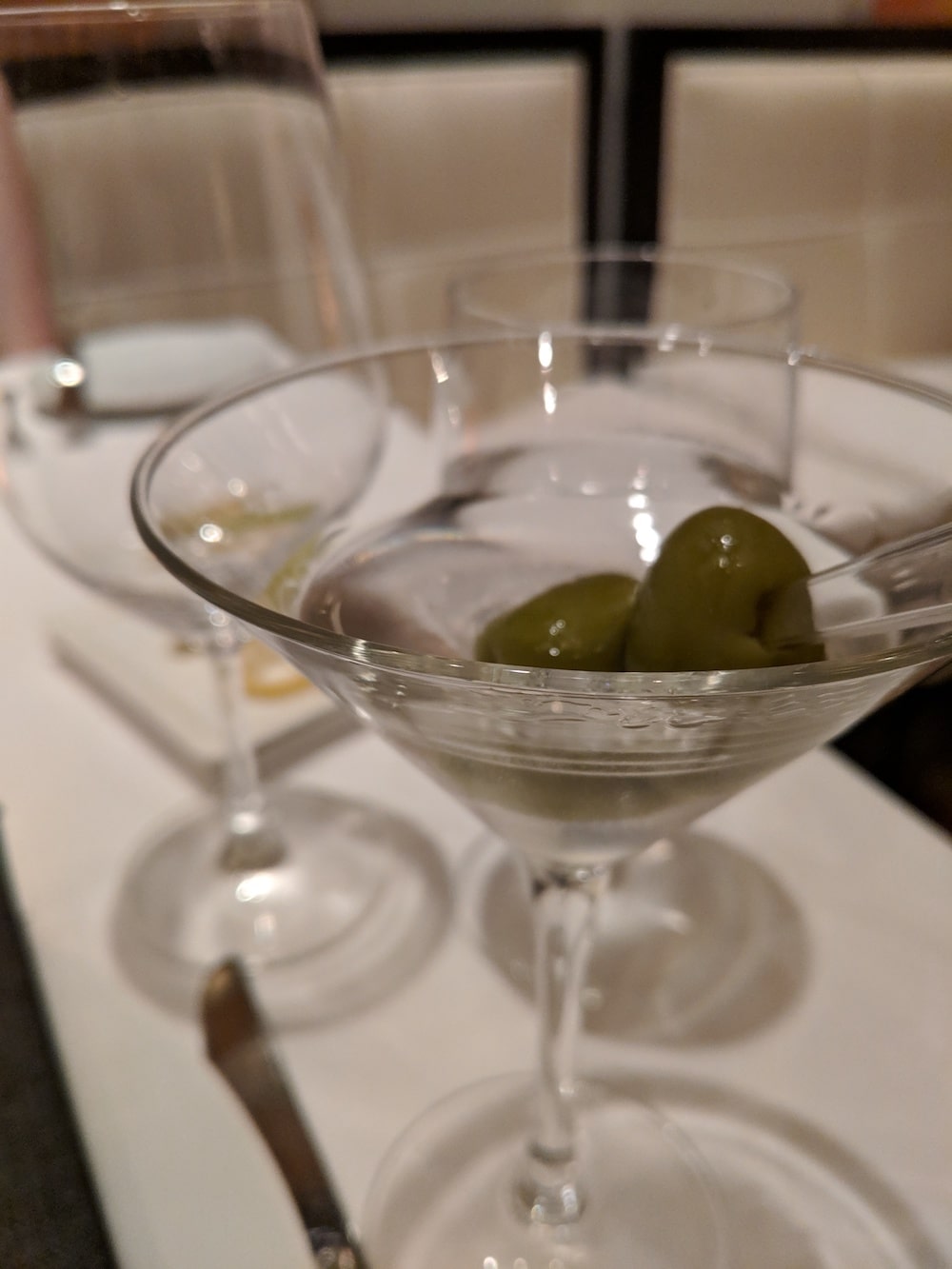 Starting with a terrific vodka martini, it was time to peruse the menu. At first glance, it was somewhat overwhelming: the sheer number of dishes to choose from,  the parade of dishes offered even in the curated tasting menus….I was hoping for expert guidance, and everyone delivered.  All or our servers were attentive and extremely knowledgeable, demystifying the process but more than that, setting the tone that made us feel like welcomed guests for a refined family feast. This is exactly how I would characterize our dinner – elegant enough for a couples evening, but with the warmth of being taken care of like family members.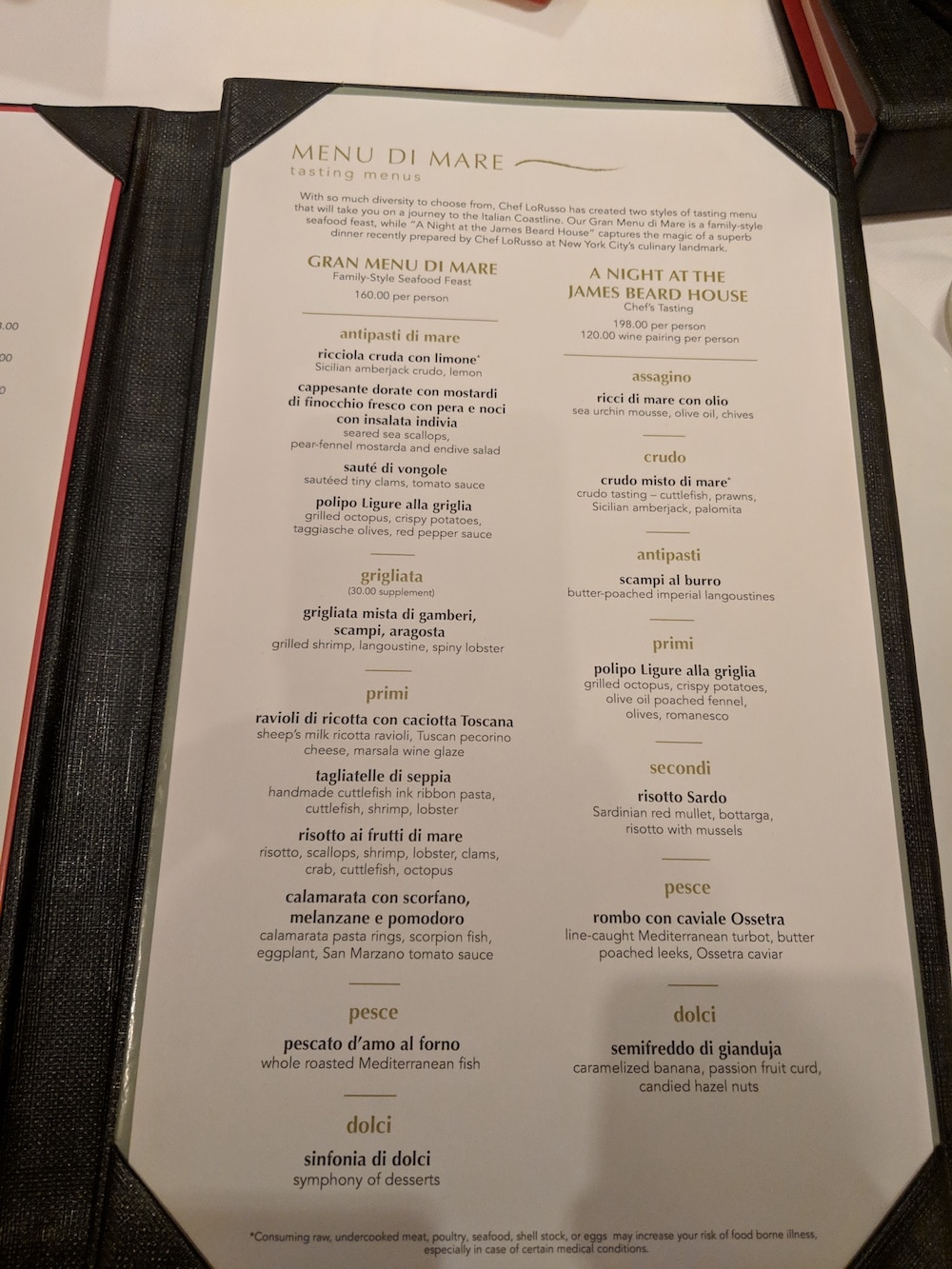 In the end, we went for it all – the Gran Menu di Mare tasting menu. An example  of the sort of guidance we received from our wonderful servers: we had a discussion right at the outset about what sort of wine could (possibly) pair with the variety of foods we were about to sample. The sommelier was immediately dispatched to our table, selecting gorgeous Italian wines – white and red – that we are likely never to find again, but that we enjoyed immensely. To ensure seamless blending of food and wine, the sommelier arranged to have certain dishes from the tasting menu modified or altered once we'd made our selections to keep things on point. This attention to detail was characteristic of everything that happened during our meal.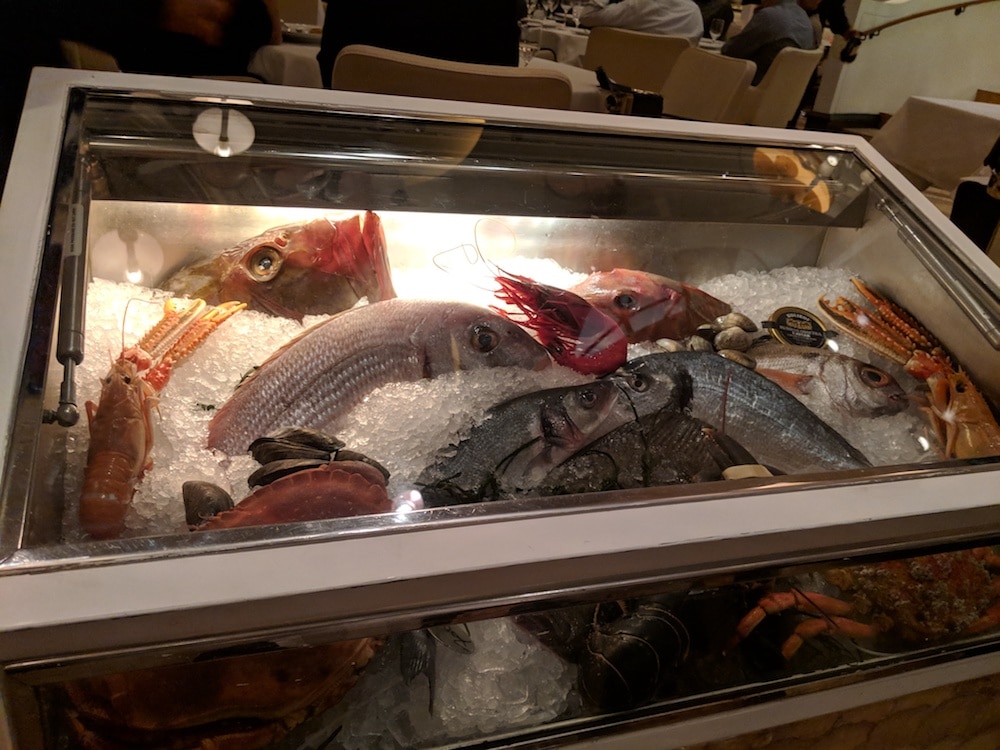 Fresh from the sea
Everything on the tasting menu is served family style and it all sounded – and was – delectable. Seafood was at the heart of nearly every dish, and yet the preparation in the fine Italian coastal style was not something we've experienced often. Not only was there fish flown in fresh from the Mediterranean that we had never tasted before, the combination with San Marzano tomatoes, olives, and pasta made for bright and surprising combinations.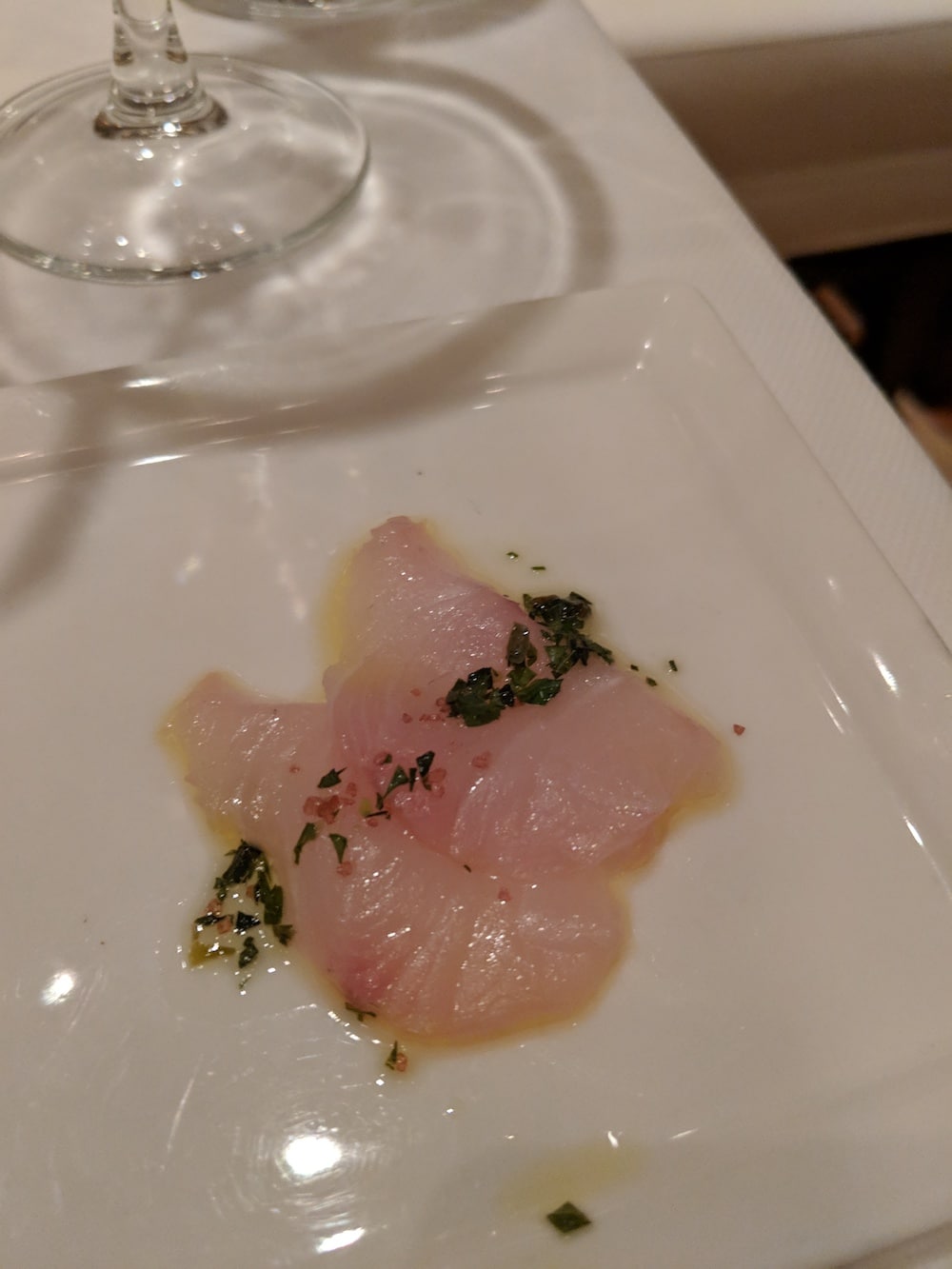 The ricciola cruda con limone was a simple dish, but utterly delicate and sumptuous. We were off to a marvelous start.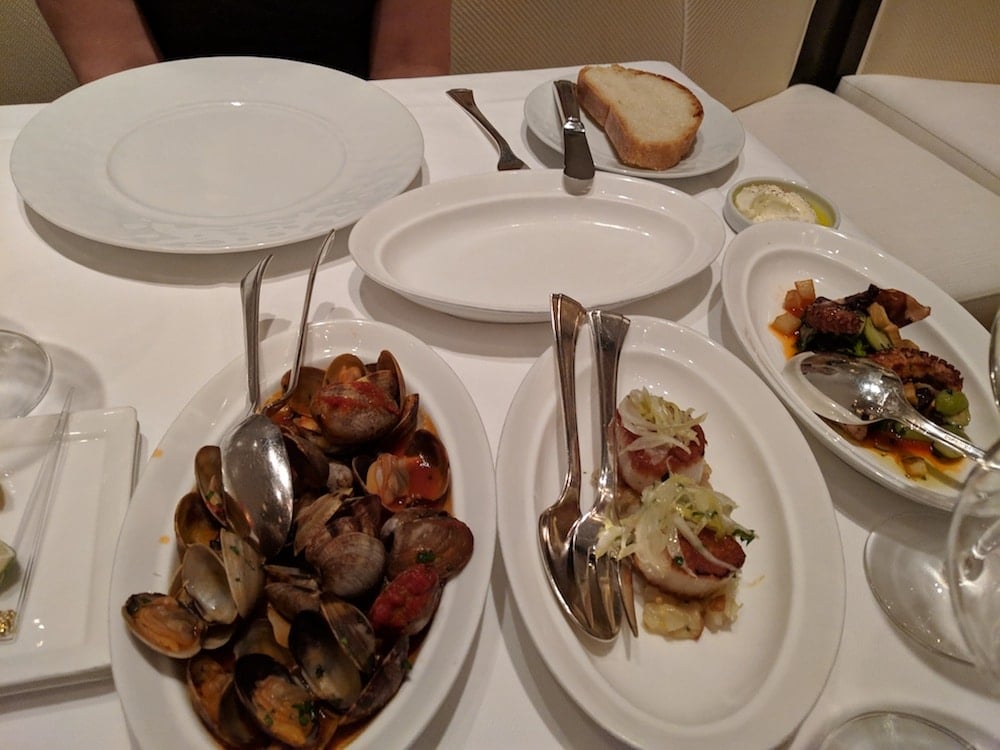 The festival of food continued with a trio of dishes: clams with tomato sauce, seared sea-scallops with a fennel and endive salad (refreshing!), and a heartier dish of grilled octopus with olives, potatoes and pepper sauce.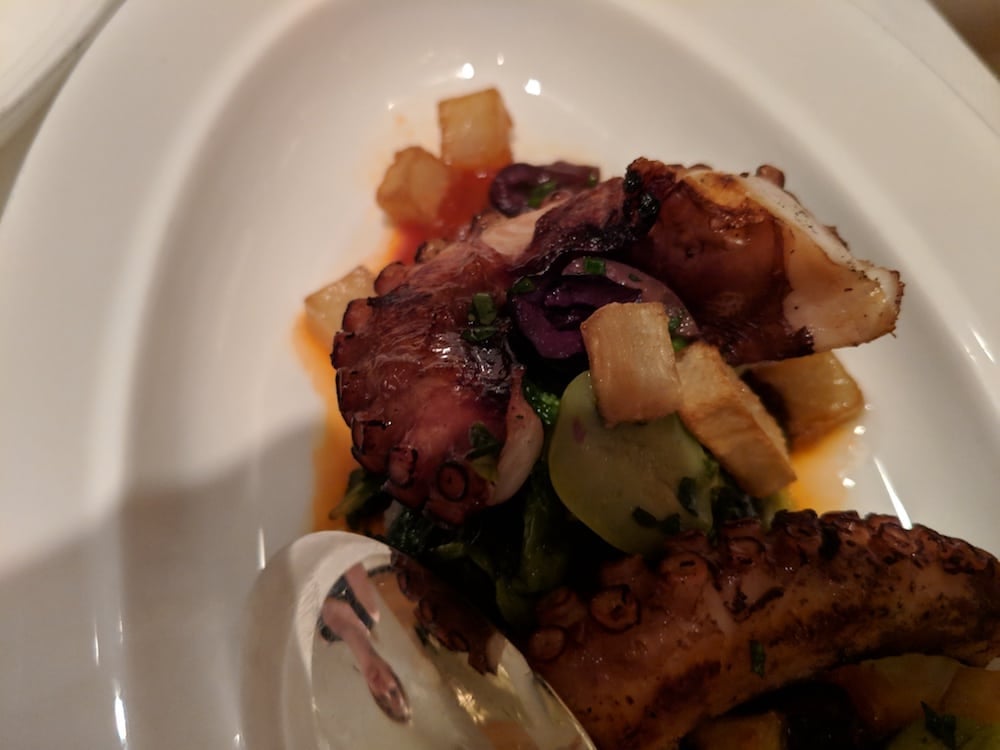 We added the grigliata, grabbing the chance to enjoy the fresh shrimp, spiny lobster, and langoustine. The preparation was simple so that the beautiful flavor of the grilled seafood took centre stage.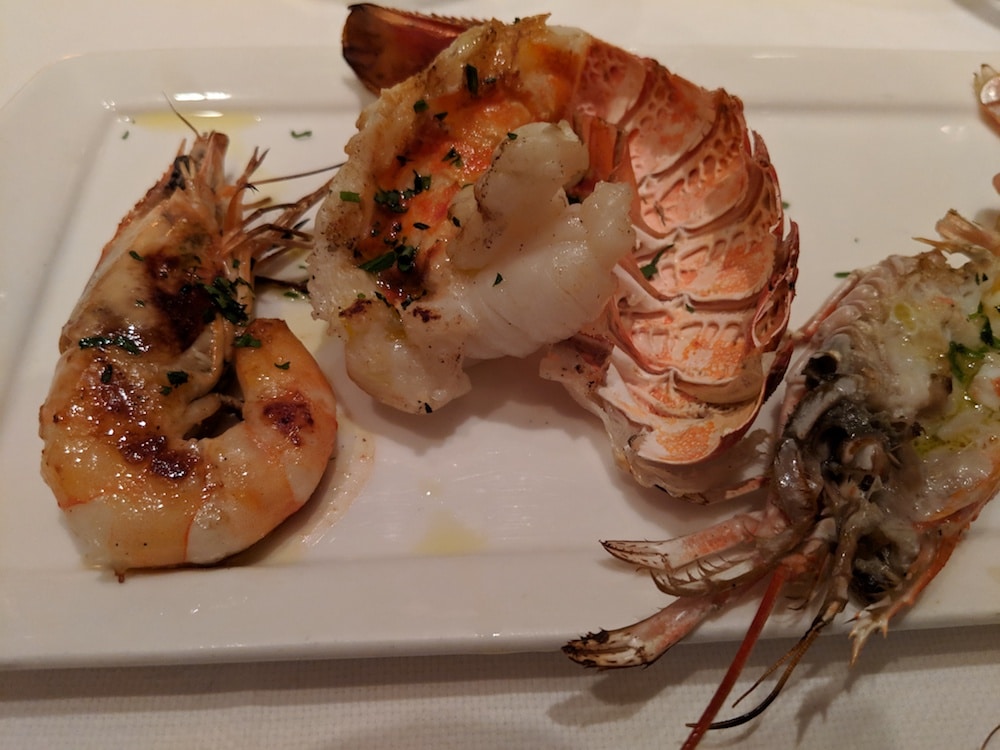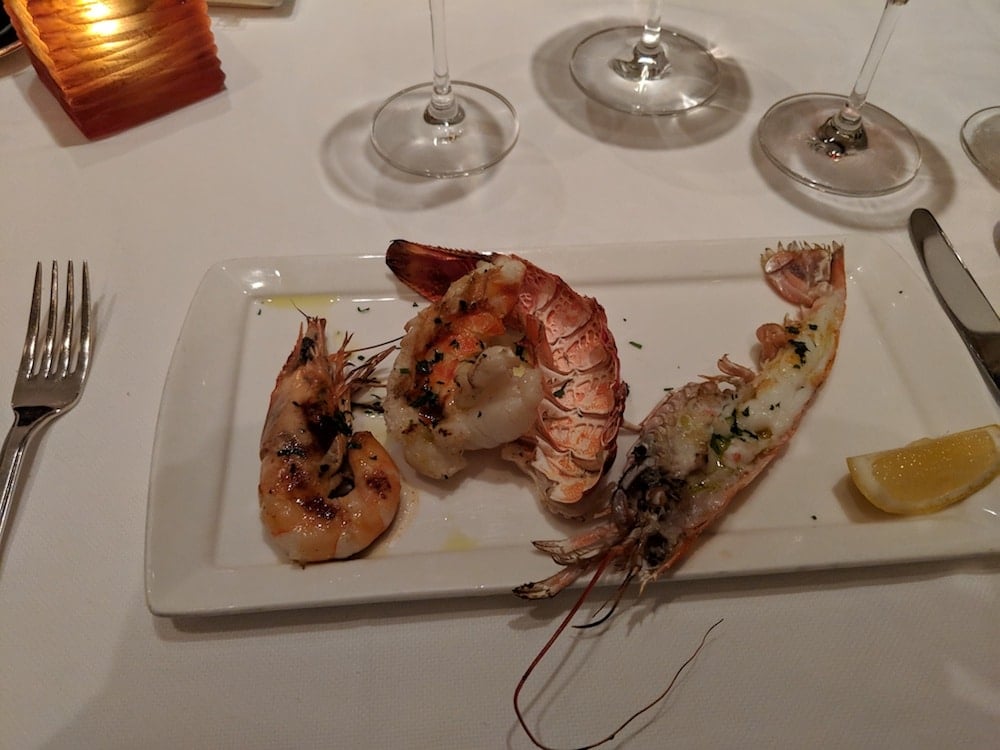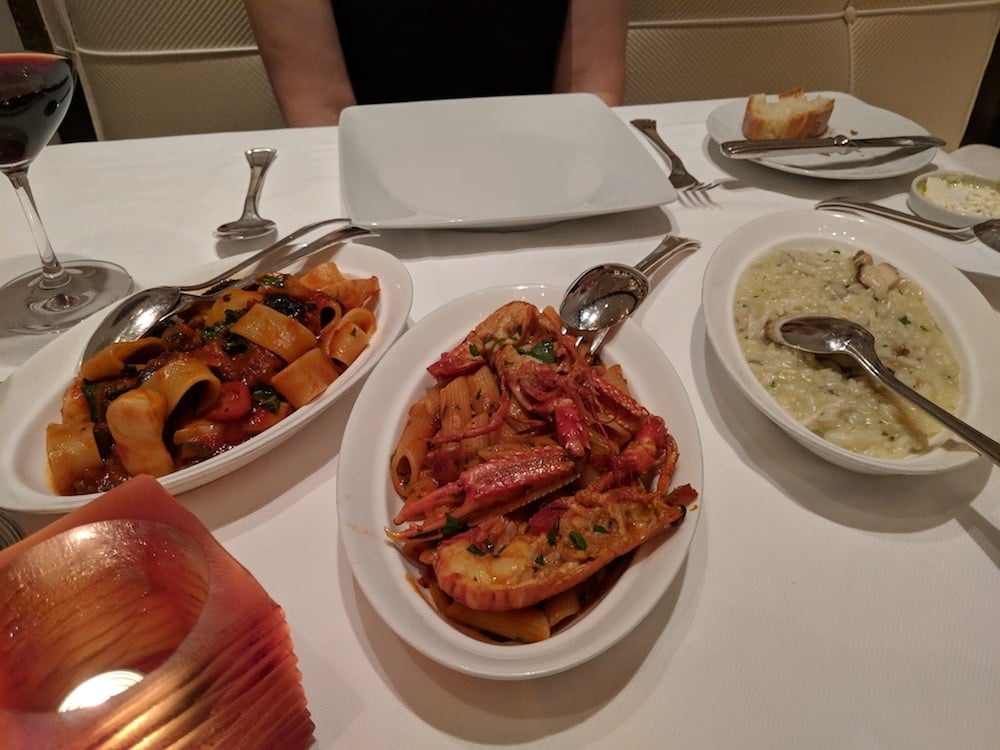 The main course consisted of a number of seafood dishes – a beautiful, velvety risotto with scallops, cuttlefish, lobster, and more (above right). The center dish in the photo above was a rich seafood, pasta and tomato sauce concoction,  a substitution to pair with the red wine we were enjoying at this stage of the meal. On the left was a flavor party: calamarata pasta rings, scorpion fish, eggplant and San Marzano tomato sauce – of all the dishes we enjoyed that night, this is the one that stands out in my memory, summing up the spirit and style of this exciting cuisine.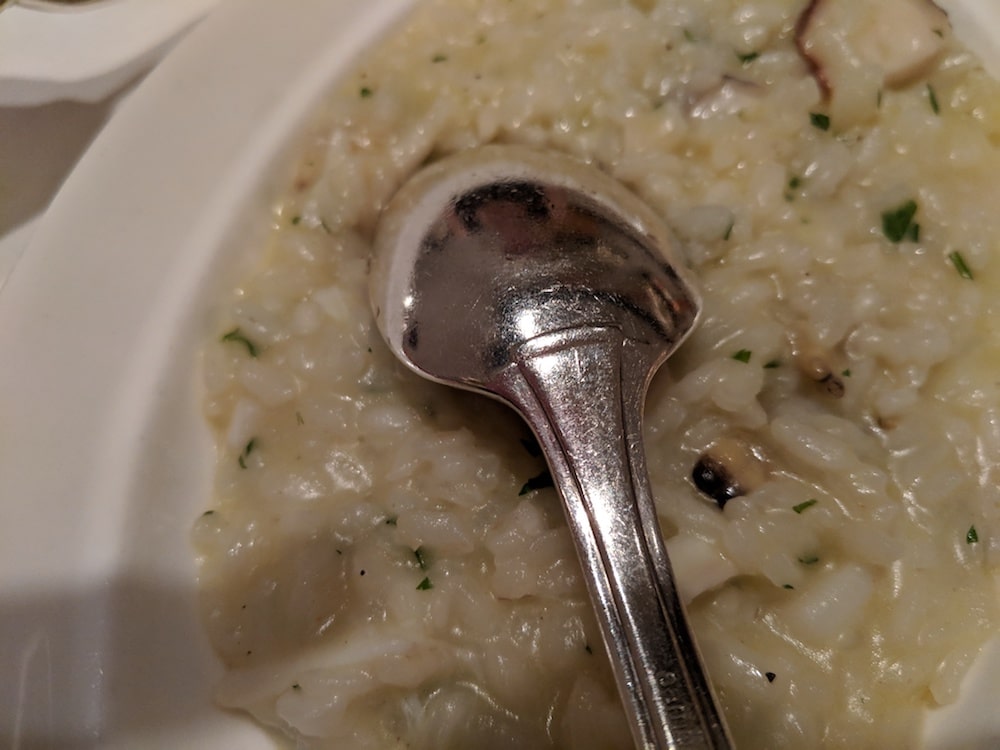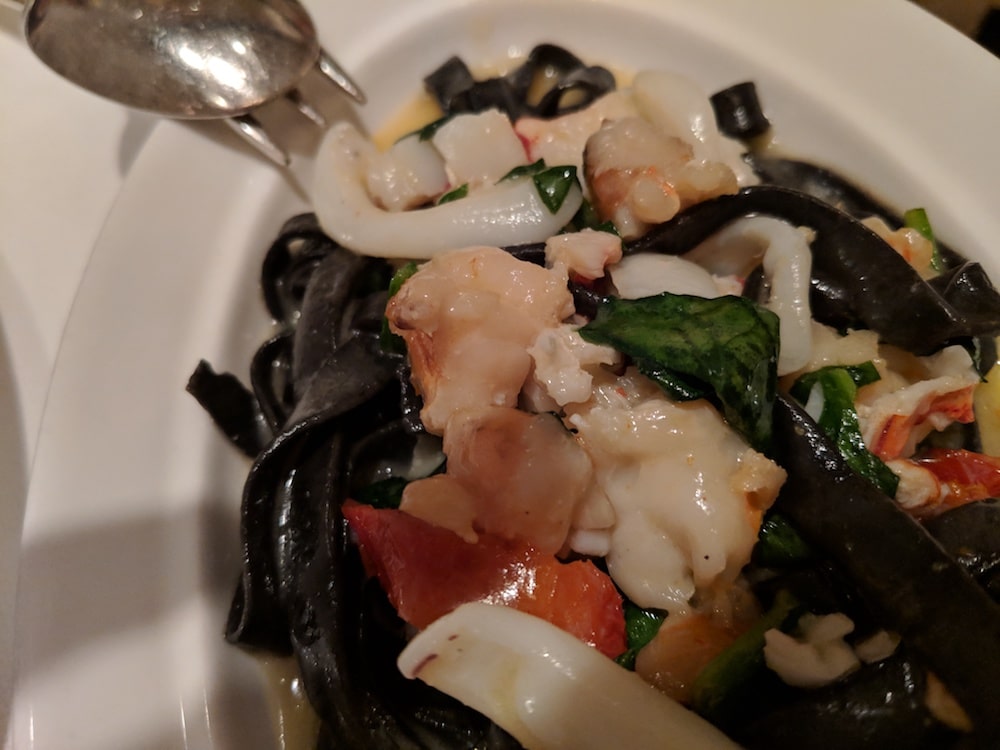 Shown above was the fourth dish in this course – an incredibly tasty combination of cuttlefish ink ribbon pasta, shrimp, and lobster.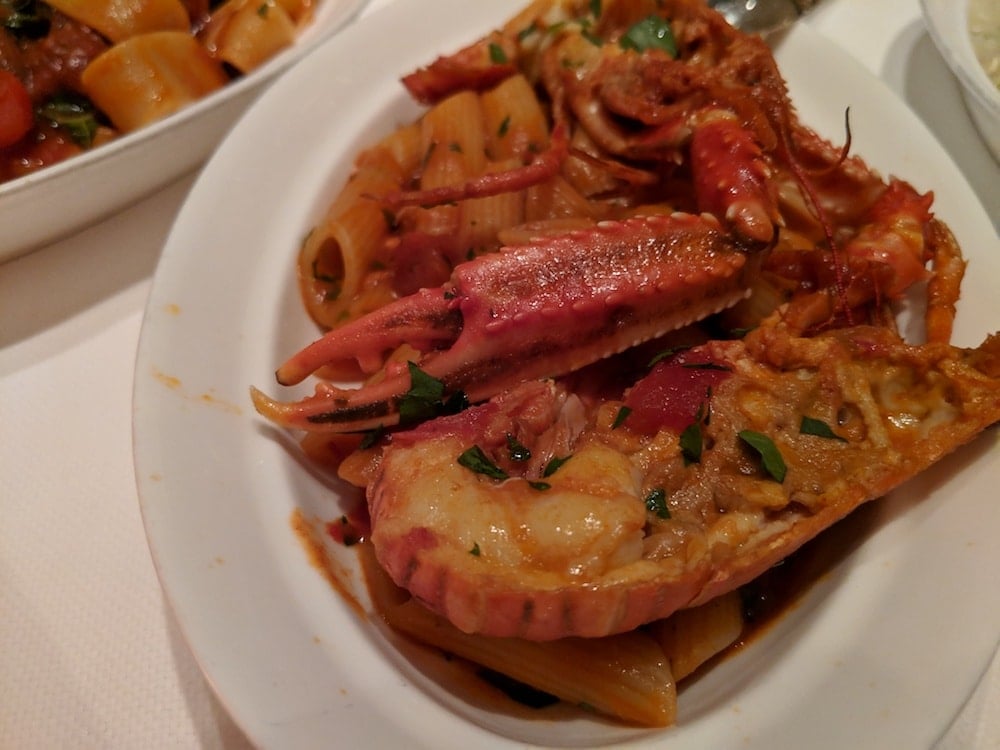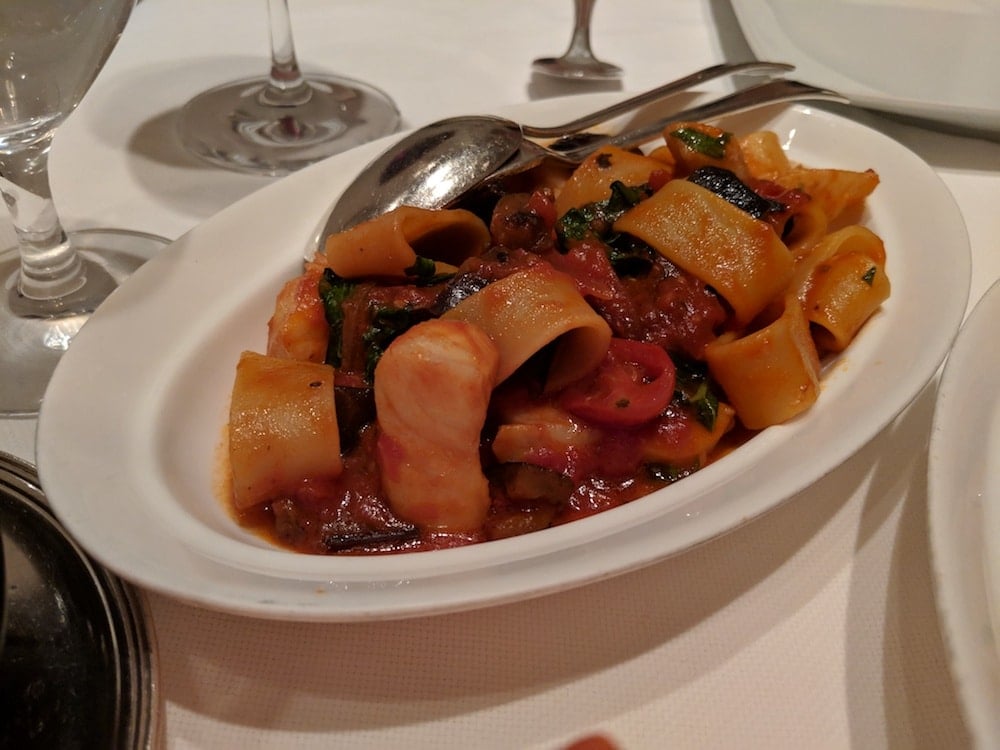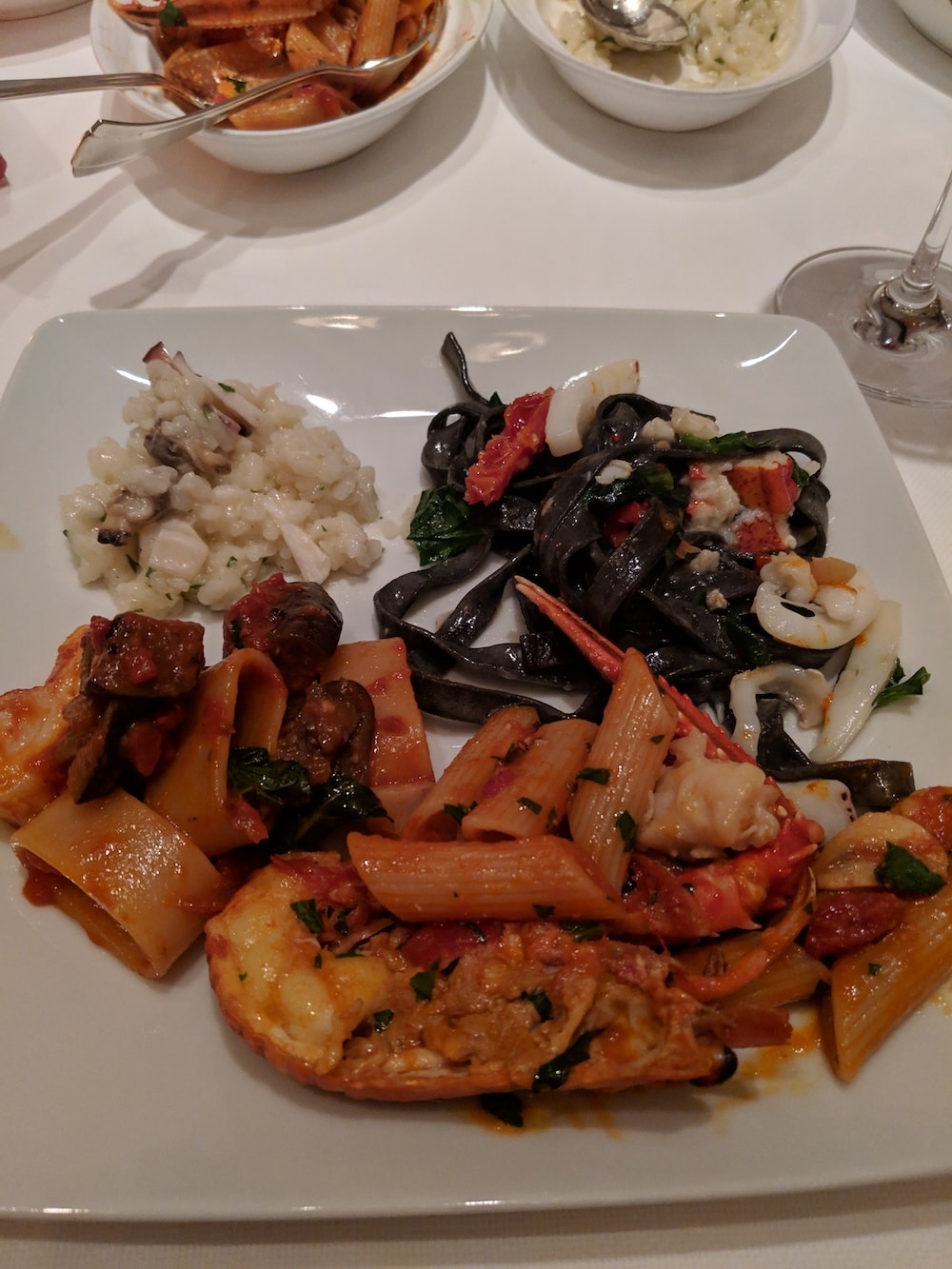 Unfortunately, we neglected to snap a photo of the impressive next course, pescato d'amo al forno – a whole-roasted Mediterranean fish. It was brought out to the table gleaming and whole, then expertly filleted and presented on our plates. The fish was paired with tomato and olive sauce absolutely bursting with flavor – another dish that stands out in my memory as emblematic of our Costa di Mare experience.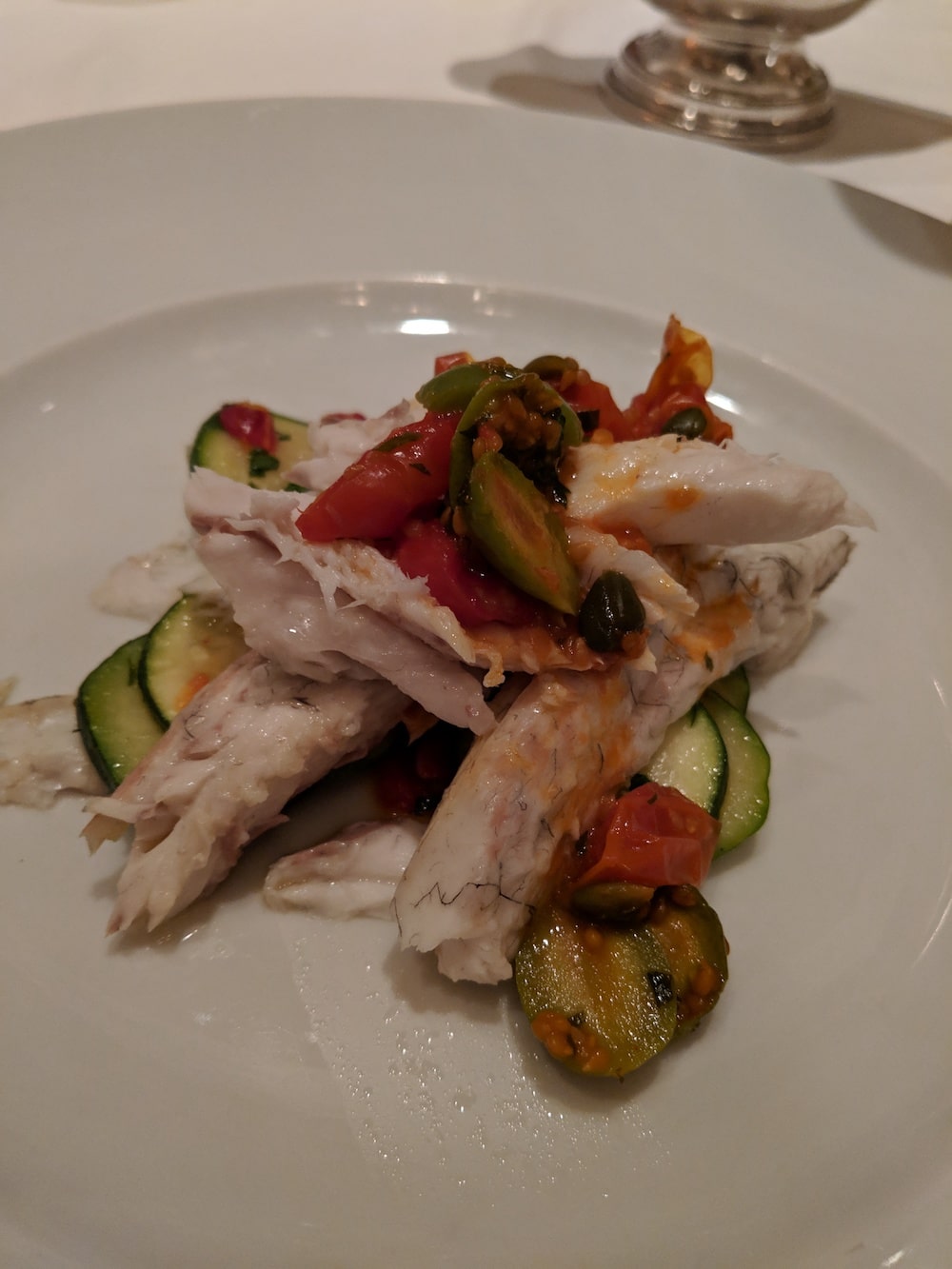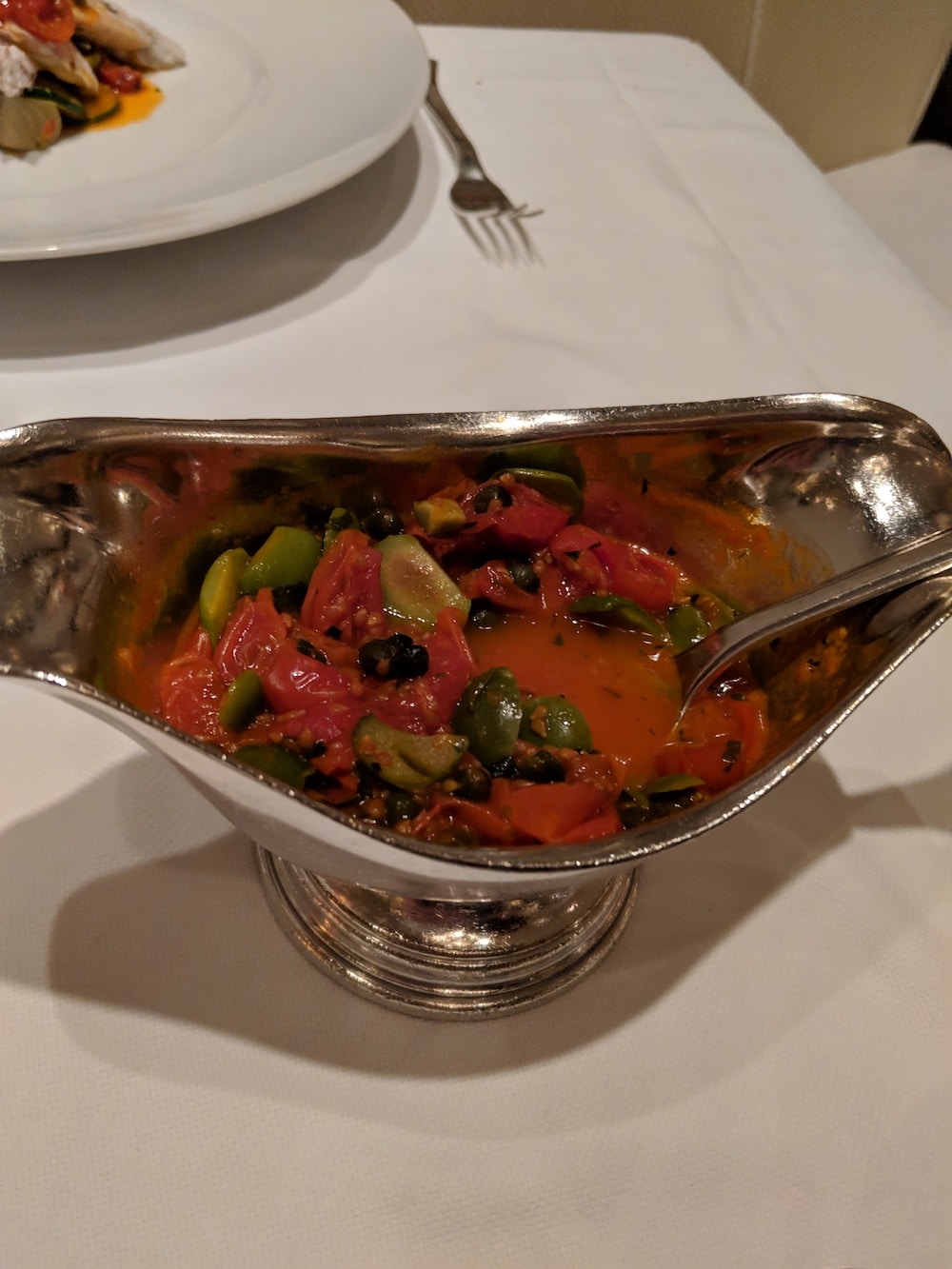 Here is where things began to drift into the unbelievable. We had already enjoyed copious flavors and textures. But dessert was still to come. And not just a small slice of tiramisu as you will see below.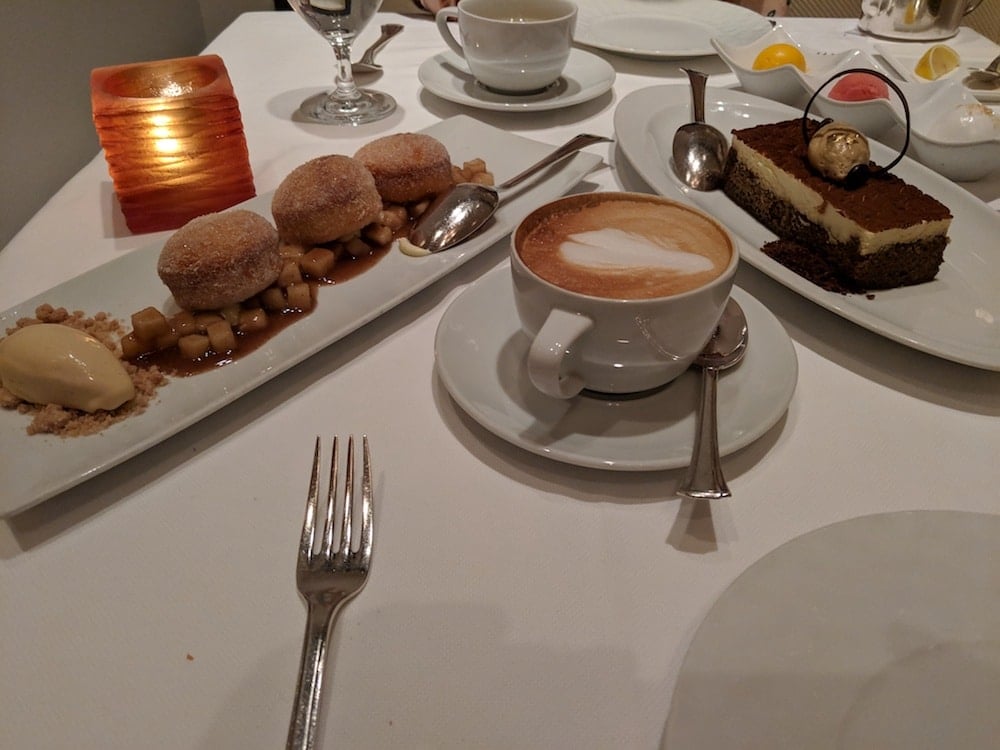 The course is called sinfonia di dolci – symphony of desserts – and it was most certainly that. Sugared 'fritters' on apples and caramel with gelato, tiramisu, and a flight of half a dozen sorbets, all looking too pretty to eat. It was all incredible even though at this point we were reduced to a bite of this and a bite of that.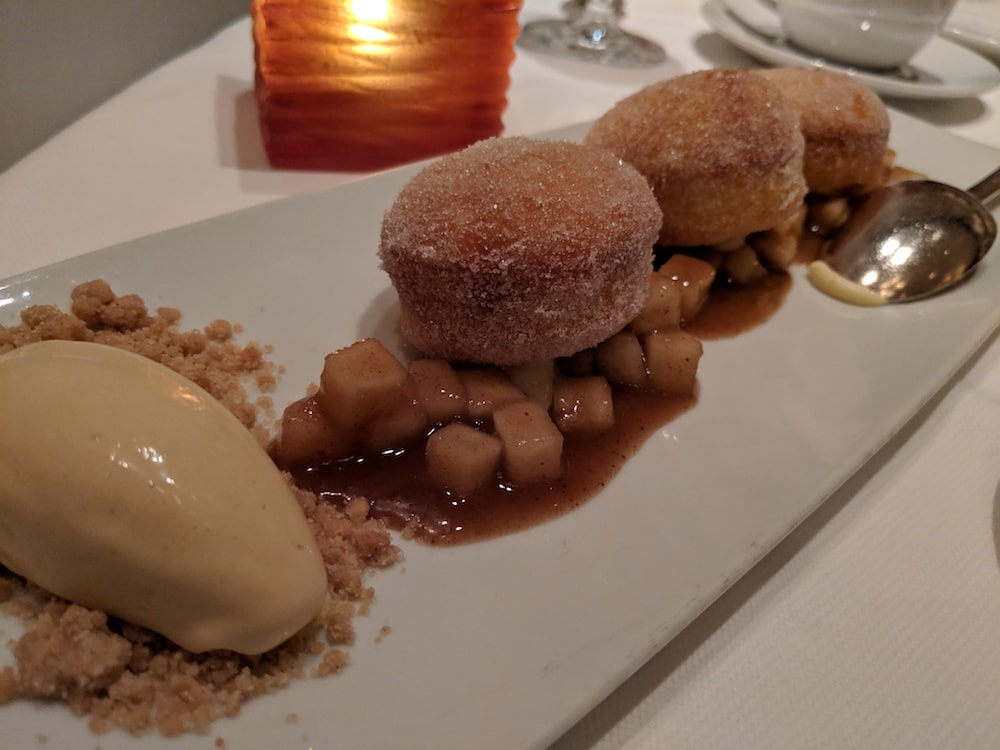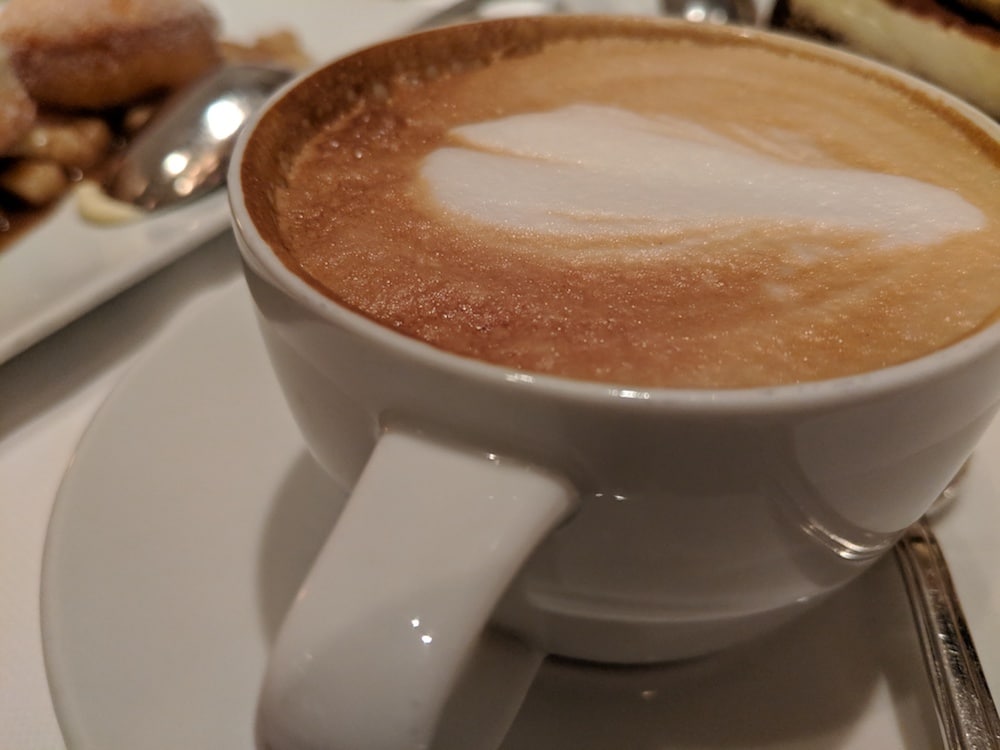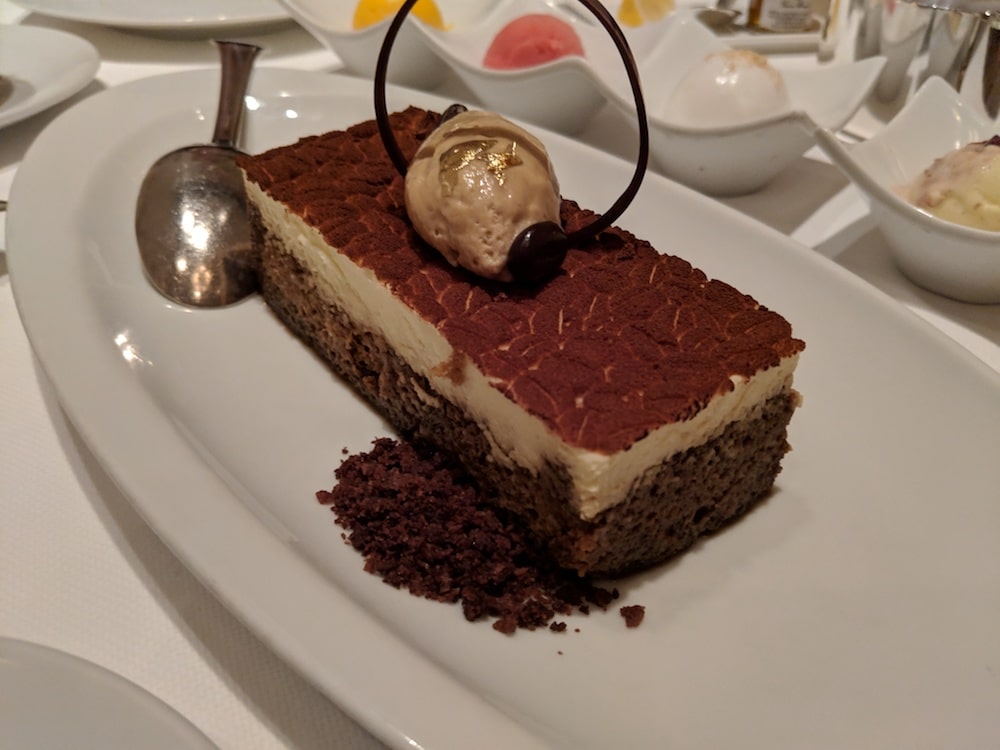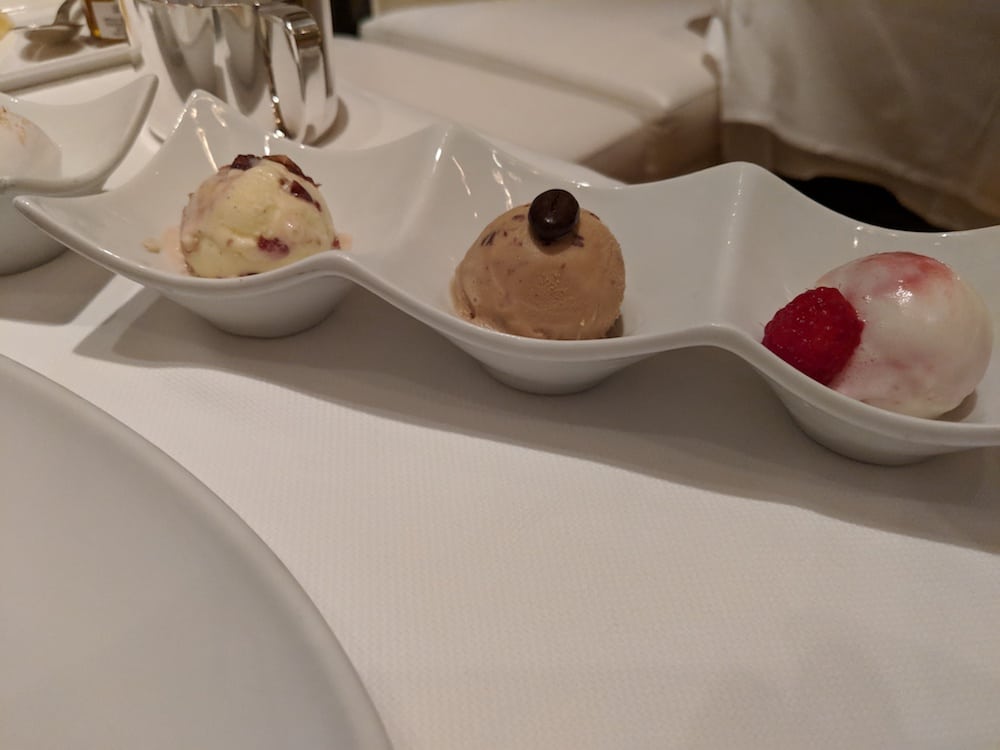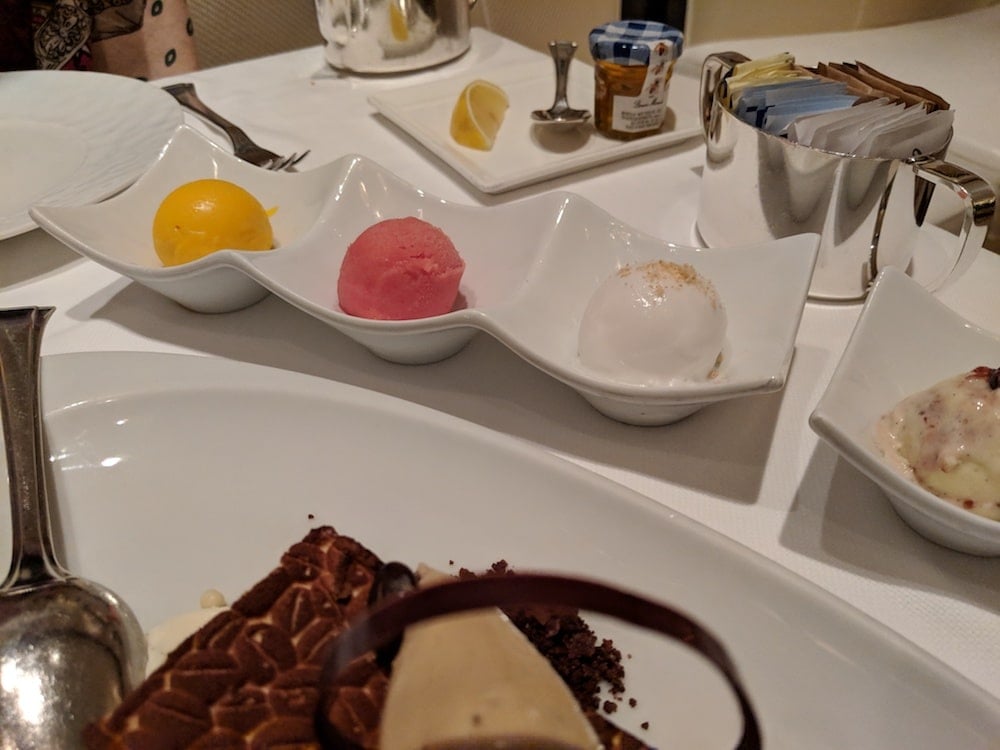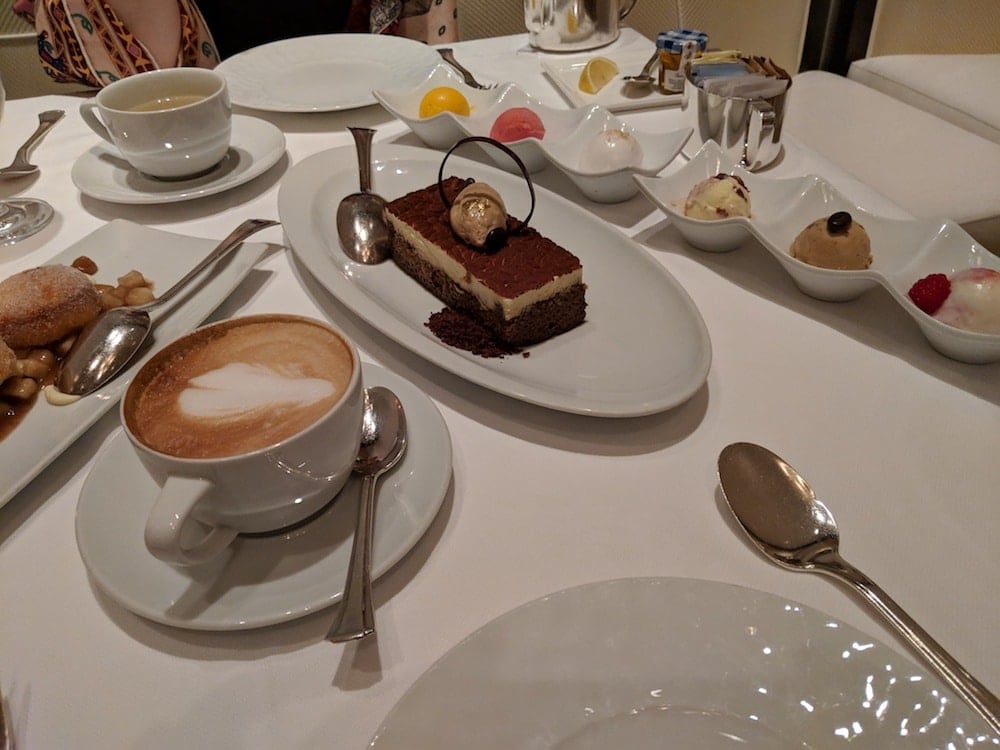 One final but important note – as someone who suffers from severe food allergies (tree nuts/peanuts) it can be a challenge (to say the least) to dine outside the home; for a dinner where there is this much food, with so many ingredients, and where a foreign language (to me) is used to describe the dishes, the challenge becomes even greater. But every single one of the many servers who attended to our table knew my concerns, and intimately knew every ingredient in each dish. Modifications were made for me as necessary. I felt perfectly comfortable, once again like an honored guest in someone's home who had bothered to prepare the finest dishes with me in mind.
This was a delicious meal in beautiful surroundings with genuinely friendly and attentive service. I recommend it to you and am counting the days until my next visit.
For more information on Costa di Mare or to make reservations, visit www.wynnlasvegas.com/dining