The MGM Grand has the distinction of being the most sprawling of the hotels that have transformed the infamous Las Vegas "strip" in recent years. What doesn't it have – there are luxurious rooms, food court style eateries and fine restaurants, shopping, live lions, a custom built Cirque de Soleil amphitheatre, and of course, a massive maze of a casino. Somehow, amidst all this stimulation and grandeur, the exclusive "Sky Lofts"–an impressive private wing of the hotel–provides quiet and rest.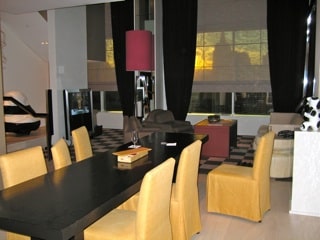 The service at Skylofts was absolutely exquisite, beginning with our pick up at the airport for a chauffeured ride to the hotel. We were greeted by an extremely personable concierge who like a genuine, old friend knew just what to say and what not to say. He led us to a private elevator and escorted us to our suite, offering a tour of its luxurious amenities.
The stark, ultra modern design of the suite is impressive, to say the least. There are two floors dominated by a floor-to-ceiling window with an incredible view of the strip. Though the room is hardly cozy, its minimalist décor and uncluttered openness is definitely comfortable–it's a place that didn't attempt to be "home", and for a brief vacation, this was perfect. This is pure fantasy, the ultimate jet-setting side of Vegas.
Lights, draperies, televisions, sound system–virtually everything is controlled by a state-of-the-art remote control system. The bathroom is a particularly decadent space. The massive glassed-in steam shower and deep jet-tub promise more aquatic refreshment than should be possible in the heart of the desert. A sound system pipes music throughout the suite with several pre-programmed collections of relaxing new age and world beat tunes.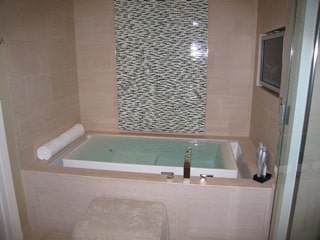 Naturally, there is the expected suite service of the highest caliber. An attendant carefully unpacked all of our belongings upon our arrival and took a few moments to point out several amenities we may have missed, such as how to operate the espresso/cappuccino maker. The room was kept impeccably clean throughout our stay, and small touches like the perpetually refreshed dish of berries on the dining room table made us feel truly welcomed.
Outside of the room is an entire world of rest and play. We could easily have spent our whole vacation in this single hotel. There is the casino of course, who's blinking lights and groovy noises are strangely captivating, even to the non-gambler. Casual dining, like the Rainforest Café, is fun for families and those who enjoy heaping plates of food while sitting under a jungle canopy with simulated monsoons and animatronic animal antics–you know the type. Then, by way of utter contrast, for the ultimate in gastronomy and sophistication, there is Joel Robuchon Restaurant, named for the world famous French chef at its helm, offering a menu of culinary art and astronomical prices.
Take in a show–whether it's Barry Manilow, the comedian du jour, or Ka–Cirque du Soleil's spectacular show with all the thrilling and physics-defying acrobatics Cirque is famous for.
MGM Sky Lofts is all you could hope for in Vegas–luxurious, spacious, filled with amenities, away from the din but close enough to it when you actually want to embrace that signature Vegas insanity.
Overall Experience
We give the Skylofts at MGM Grand 5 Stars- Outstanding!
The Skylofts at MGM Grand are located at 3799 Las Vegas Blvd South, Las Vegas, NV 89109. For hotel reservations call 1877-646-5638 or contact [email protected]. Visit www.mgmgrand.com for more information.