It seems to me that you could spend a lifetime exploring Canada. "From Sea to Sea", there are so many breathtaking sights, pristine landscapes, and fascinating cities to experience. And no matter where you go, you're sure to find that comfortable and friendly Canadian character.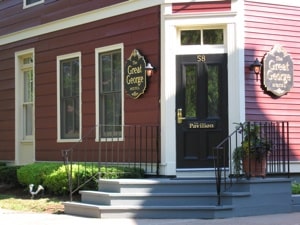 Charlottetown, the lovely, waterfront capital of Canada's Prince Edward Island, is no exception. A gem of the maritime provinces, Charlottetown offers something for everyone. The wharf is the centerpiece, where you'll find pleasing views, great seafood eating (especially Flex Mussels – not to be missed!), and unique shopping. You can get to know Charlottetown by foot (or walk off all those seafood dinners!) by following the boardwalk along the shoreline – a pretty stroll passing by parks and greenspaces, and quaint neighborhoods. For history buffs, the road to Canadian Confederation starts here. (You may want to plan on a visit to Founders Hall, a museum/history pavilion and brush up on your confederation facts or stroll by historic landmarks with costumed re-enactors.)
If you rent a car, which we highly recommend, Charlottetown is a great base and starting point for day trips which take you to red sandy beaches, through scenic farmland with gorgeous rolling hills, from lone lighthouse to lighthouse standing guard over the rocky shoreline, and to the recreated dwelling place of the Island's most famous red-head, Anne of Green Gables. We were thoroughly charmed by the beaches and views at St. Peters, a small town not far from Charlottetown. We also found Cavendish, the tourist-magnet of the Island, to be less busy than we had assumed. Certainly, our visit to Green Gables was relaxing and interesting, and not jam-packed shoulder to shoulder with Anne fans. A fan of the Anne books myself, I was overjoyed at the re-creation of Lovers' Lane and the Haunted Wood, two short walking trails nestled among the trees on the Green Gables property. And I was truly inspired by the educational film about Lucy Maud Montgomery's remarkable life and career.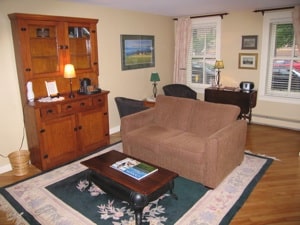 Our enjoyment of Charlottetown was enhanced by the unique character of our hotel, The Great George. Actually several heritage buildings re-developed into Inns, each with their own personality, The Great George will certainly be an important part of your stay. The location of the hotel was quite wonderful, putting us in walking distance of the major attractions of Charlottetown, such as the wharf and its restaurants, the boardwalk, local arts and crafts stores and galleries, the arts and entertainment centre, and also more "generic" shopping destinations – which you just sometimes have to visit!
The Inns at The Great George are linked by The Pavilion Building which, in addition to housing several guestrooms, is the location of a common lobby area. The lobby is furnished like a large, elegant sitting room with plenty of vintage chairs, sofas, and loveseats for lounging with the paper with coffee in the morning, or a drink in the evening. A buffet breakfast is served to guests each morning, with a fine selection of pastries, cereals, fruit, coffee and tea (get up early before the fresh-picked raspberries run out!). Attendants are quick to provide you with small folding tables, and remove dishes quickly, making you feel like a valued guest and surpassing the more usual, "functional" continental breakfast experience. You will also find helpful staff in the Pavilion who generously provide maps, brochures, and great suggestions for island day trips and thing to do closer by.
As for our particular accommodations, we stayed in a spacious suite in the Witter Coombs House. The long room was divided into a generous sitting area, complete with a fireplace, and a sleeping area enhanced by a luxurious Jacuzzi tub. A large bathroom with separate shower completed the room, and high-quality Aveda toiletries were generously provided. The décor was tasteful and comfortable, and housekeeping services was attentive.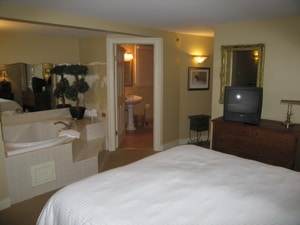 The shortcomings of The Great George are few, and mostly due to the same factor that makes it charming: its heritage character. For instance, though air conditioned, the wall-unit was quite noisy and took away slightly from the overall feeling of comfort and relaxation here (though the cool air in the hot August weather was appreciated!). Our particular suite was also adjacent to the parking lot. This proved to be a busy and noisy place, even late into the night with guests coming and going, and visiting with one another on the patio. The parking lot is in itself another drawback for The Great George- space for vehicles is extremely tight in the lot, and street parking is highly restricted. Though this never ultimately resulted in a problem for us, parking was an issue and there was always a lingering feeling of uncertainty about whether or not we would get a space for the night.
These small shortcomings aside, our overall feeling and experience at the Great George can be characterized by elegance, and a sense of welcome. Being in walking distance to the most picturesque sites of the city and the best seafood dining was invaluable. We look forward to a future visit to The Great George, perhaps to one of its other Inns to experience another unique accommodation of this fine establishment.
Overall Experience
We give The Great George 4 Stars – Excellent!
The Great George is located at 58 Great George Street, Charlottetown, Prince Edward Island. For hotel reservations call 1-800-361-1118, or visit www.thegreatgeorge.com.