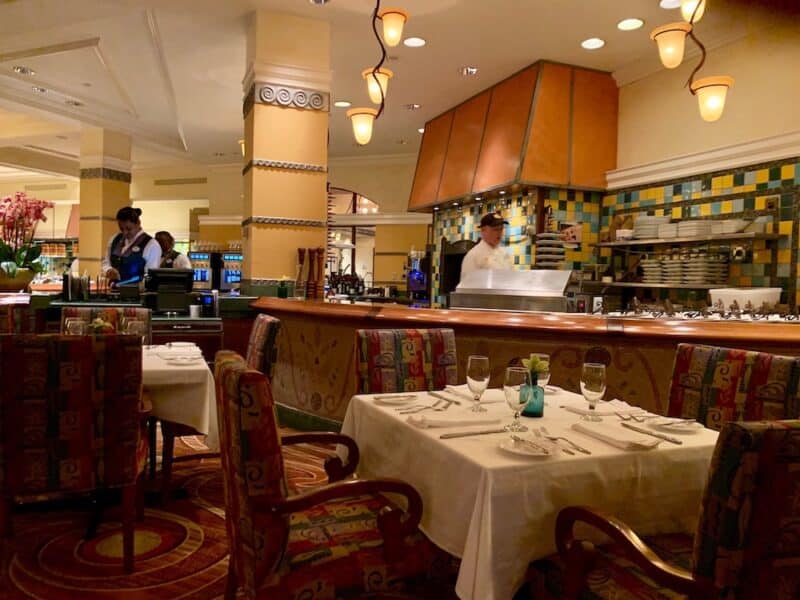 Citricos at Walt Disney World's Grand Floridian Resort and Spa is a fine dining/signature restaurant, and it won't disappoint. Airy and comfortably elegant with large windows, it's a welcoming environment whether it's a date night or a family affair. We found the service to be exceptionally attentive and friendly, and the American/Mediterranean influenced menu with entrees in the $35-$50 USD range is definitely diverse enough to please a range of palettes.
In fact, after dining here on the first evening of our trip, we made a second reservation here to replace an evening at EPCOT a few days later we decided to skip. Not only was it a convenient choice for us as we were staying at the Grand Floridian, there were other dishes and wines that we knew we'd like to sample.
So…we dove right in with a martini with blue chesse-stuffed olives to toast and kick off our Disney vacation! Then we were ready to order some appetizers…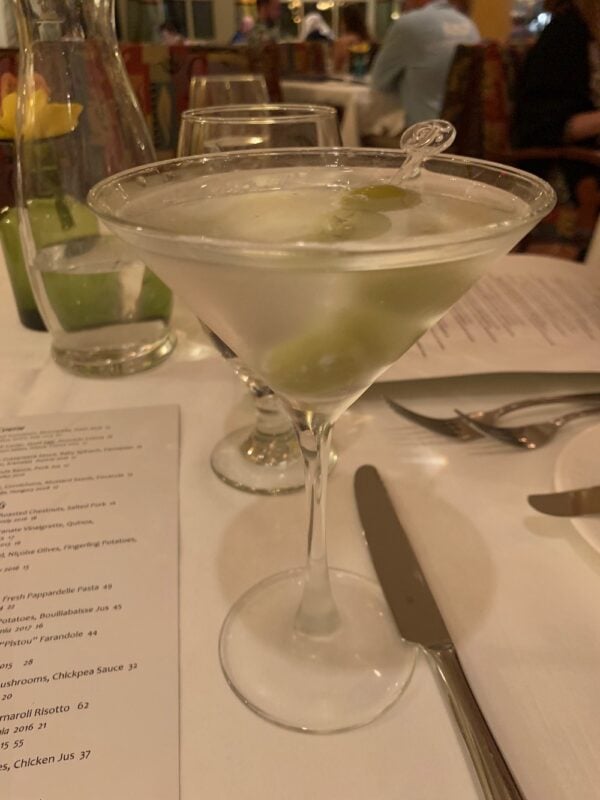 Lots of intriguing, tasty options to start a meal. At our first meal, we began by sharing two appetizers: Florida Shrimp with pasta and a bright and briny puttanesca sauce, and a delectable Tuna Tartare. Both were very tasty and generous enough to share – two appetizers between us proved to be quite filling.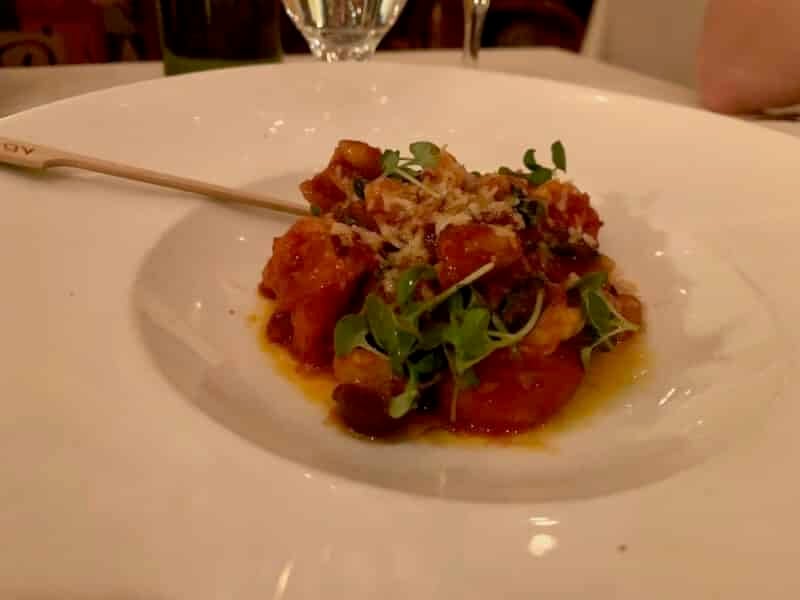 (Allergy sufferers – take note of the little wooden 'flags' in the dishes marking an allergy-awareness request in the prep; an elegant way to indicate that the kitchen prepared an item with a stated allergy in mind, in this case tree nuts and peanuts. We noticed this particular protocol at most of our table service meals at Disney.)
We went in another direction with appetizers on our second visit: for him – a rich, smokey arancini dish with smoked tomatoes, mozzarella and an herb aioli. I chose a simple Salade Verte; it was generous and very fresh, a lovely salad.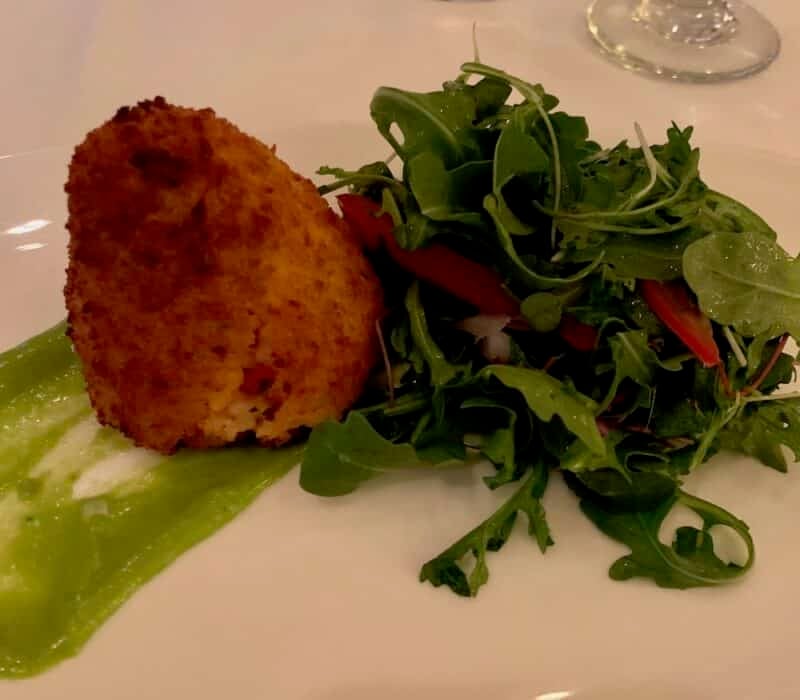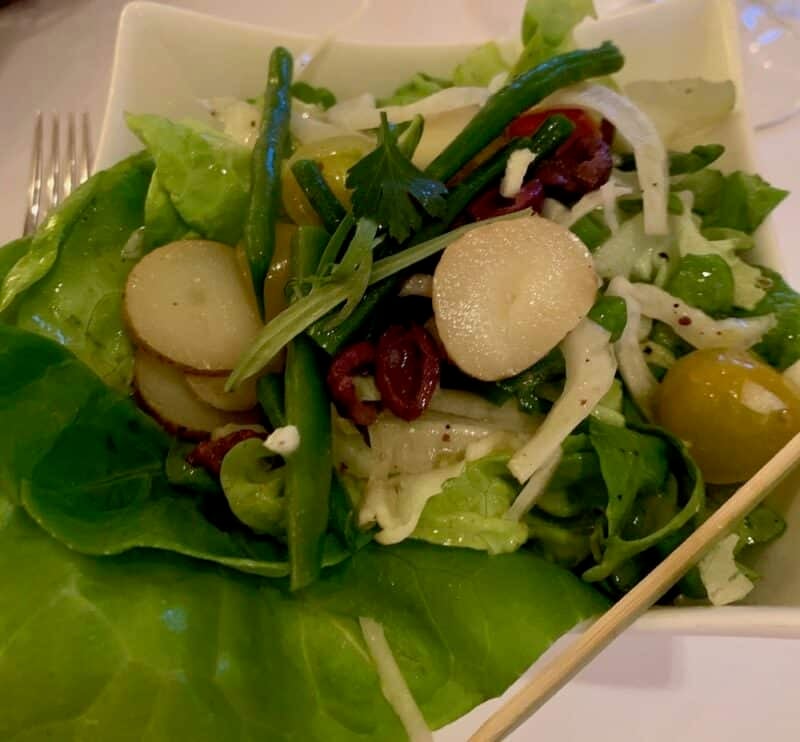 As mentioned, there's a nice variety of dishes on the Citricos menu, so hard to go wrong no matter your mood or desired wine pairing. If you're like us, quite often the wine you're craving dictates your choice of meal. On our first visit, we were in the mood for a Chardonnay, and the Chateau Montelena 2015 caught our eye.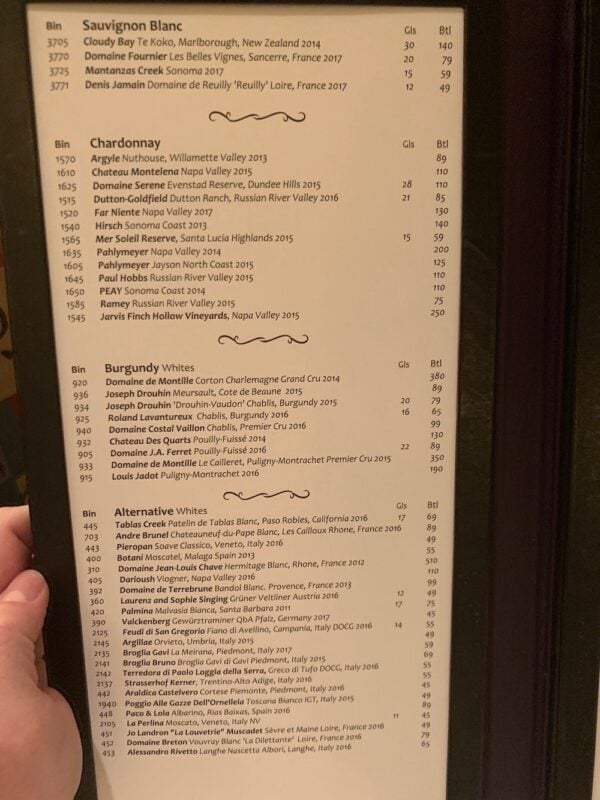 To pair with our fantastic wine: for him – the Oak-grilled tuna with a cannellini bean ragout, ham hock and vegetable pistou. I had the 'Chicken Mediterranean' served with yummy, creamy polenta, and bright, flavorful tomato fondue. The chicken itself was very tender – an excellent dish. And of the two, I'd say the chicken was the winner – we would have preferred the tuna to be paired with simpler ingredients to let it's own fresh taste shine through (we found that the beans and ham hock overwhelmed it just a tad.)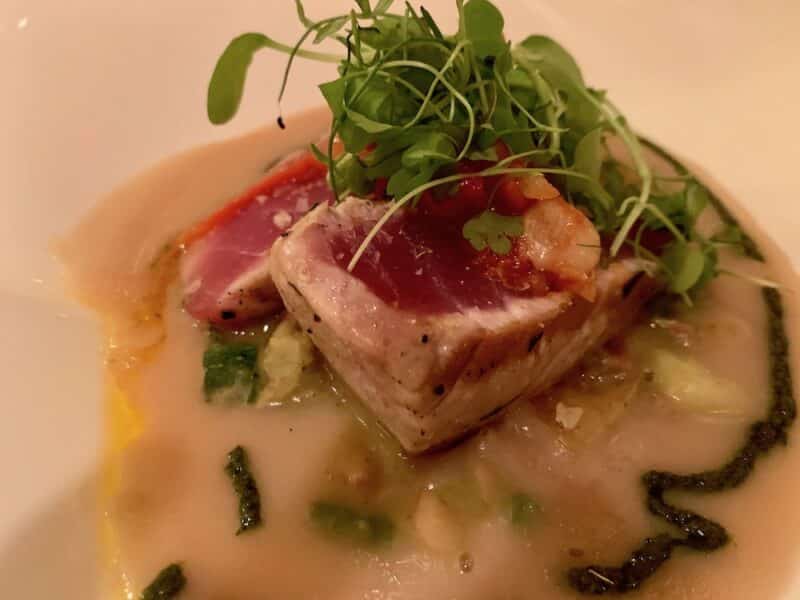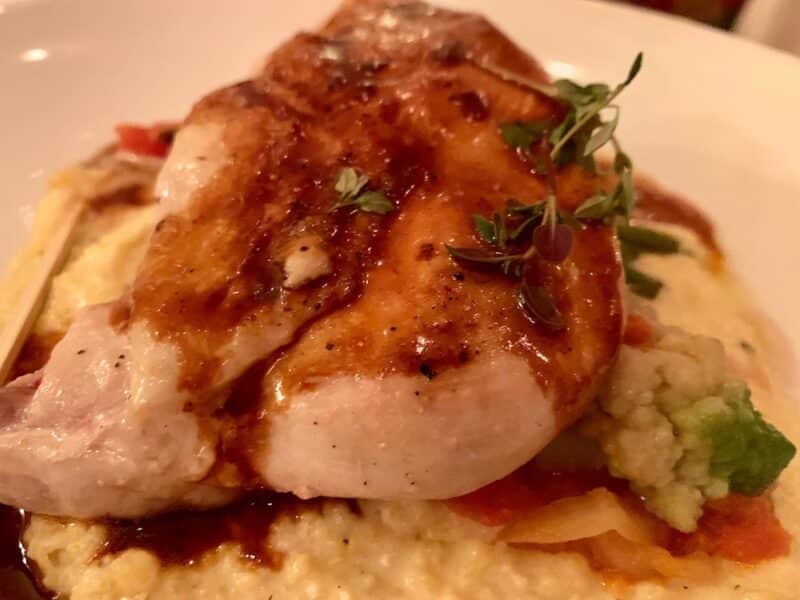 On our second evening, once again wine choice preceded choice of entrees. This time, we went bold and red, delighted to find the hard to get and very well-reviewed Justin Isosceles Reserve (2014).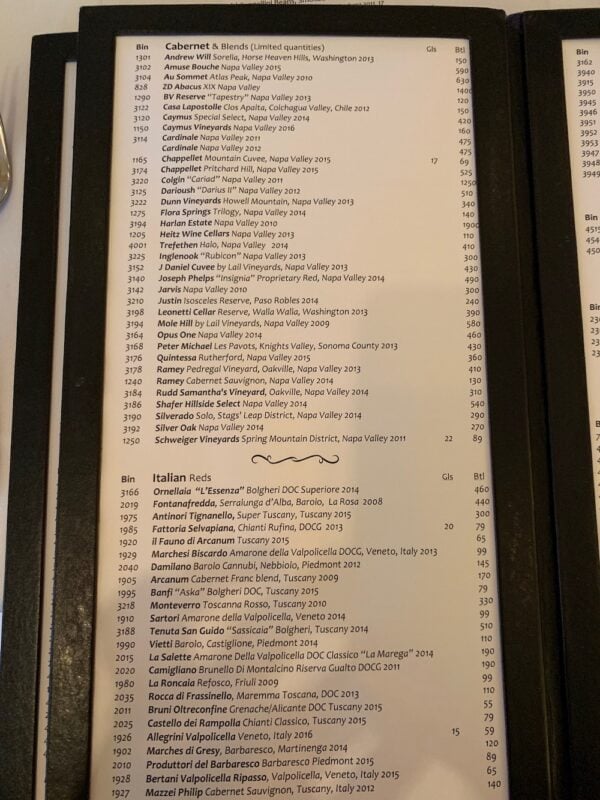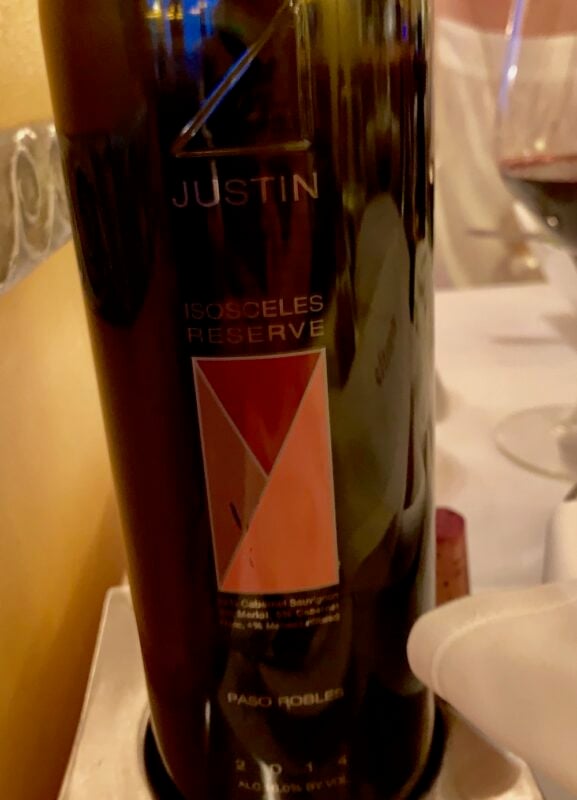 The huge wine lived up to the big expectations, with a deep, rich color, dark/black fruit flavors, with some warm spicy notes. Really enjoyed this bottle!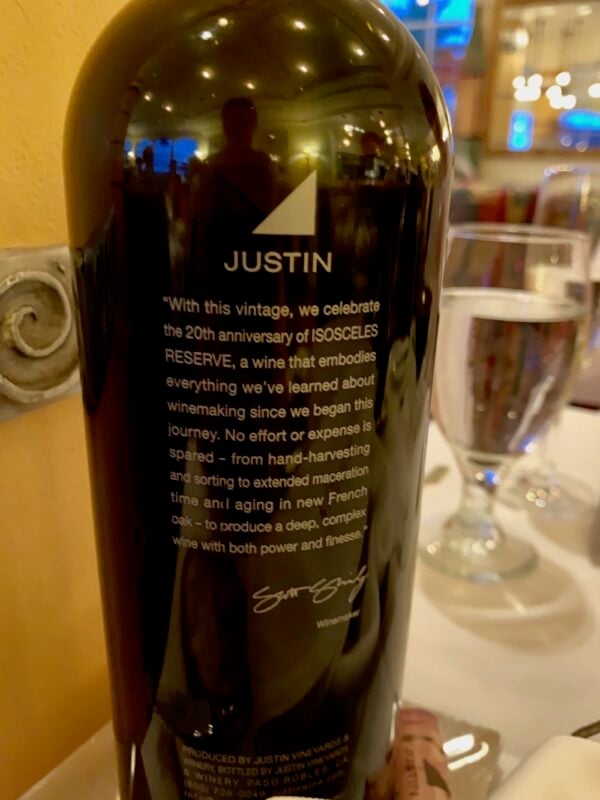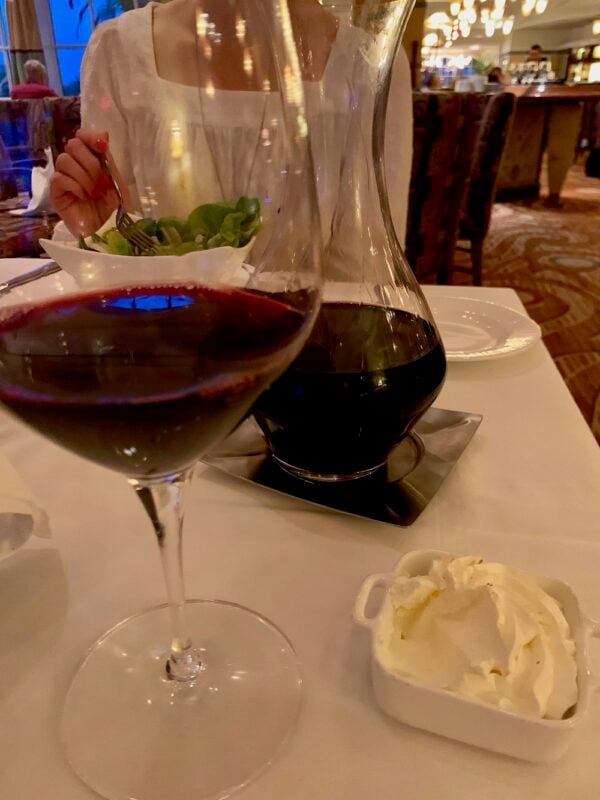 We needed some bold food flavours to go with such a powerhouse of a wine. For him – the oak-grilled beef filet with a rich potato purée, bordelaise sauce and asparagus.
I chose the beef short ribs with Pappardelle. The meat absolutely fell off the bone. I don't believe I used a knife at all – great dish!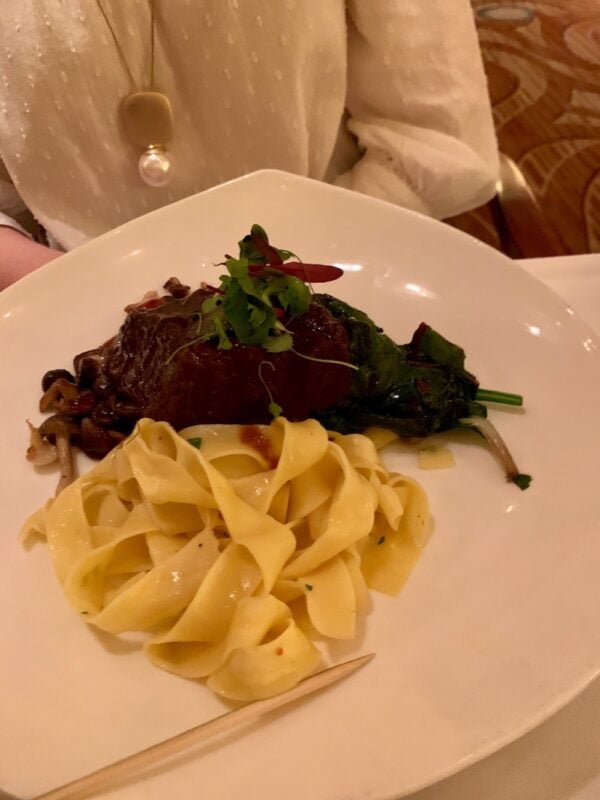 To this already very complete and hearty meal we added a treat to share: Truffle Fries with shaved black truffle and parmesan. You could smell that earthy, buttery warm truffle scent from yards away as our server carried it toward us. Under his breath he announced: "Your plate of awesomeness" which it really was. It didn't matter how much else we had consumed – this plate was going to be conquered! 🙂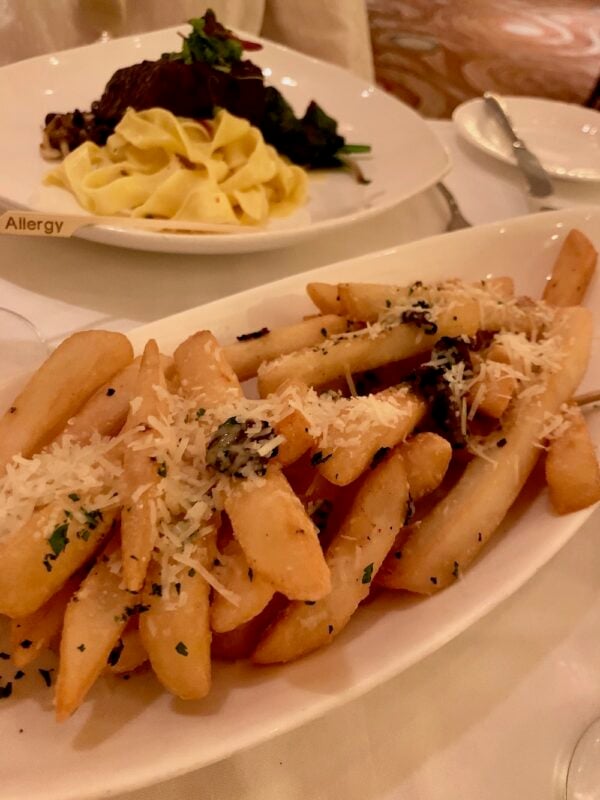 Citricos does a fine job of beginnings, main courses and sides – and also has some very pleasing dessert options.
On our first visit, we finished the evening with a cheese course. A lovely cheese menu was brought out describing the evening's selection: a blue cheese, a soft-ripened cheese, and a goat's cheese with a memorable lavendar/fennel flavour.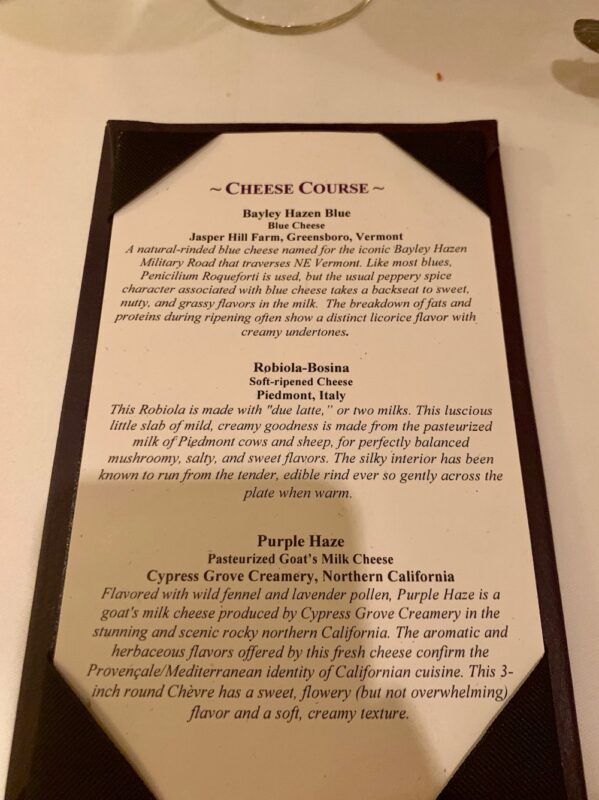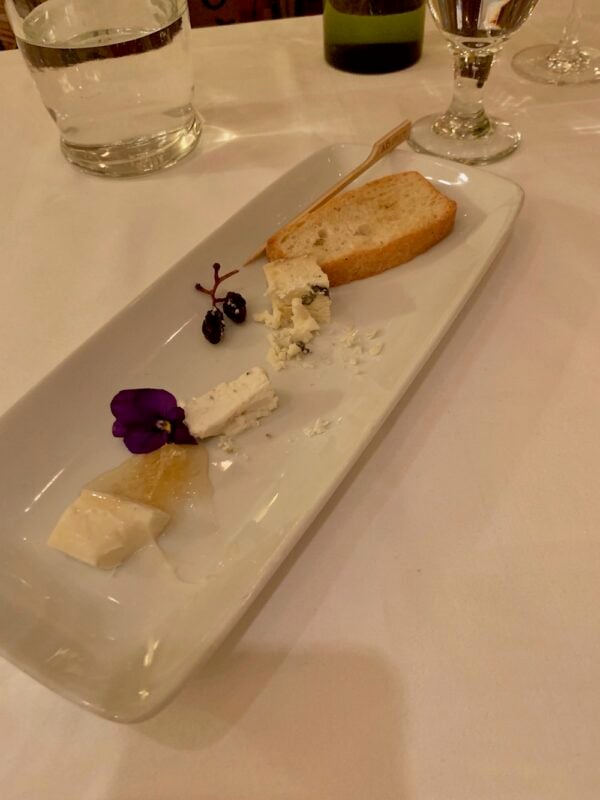 Having been seated near the open kitchen, on our first visit we spotted waiter after waiter delivering a chocolate concoction that we knew we'd have to try if we returned (the exquisitely handcrafted chocolate tiara sells it, whether you're a princess or not!). We were back a few days later and eagerly ordered the Warm Chocolate-Banana Torte to share. Yes, it's as good and chocolatey as it looks.!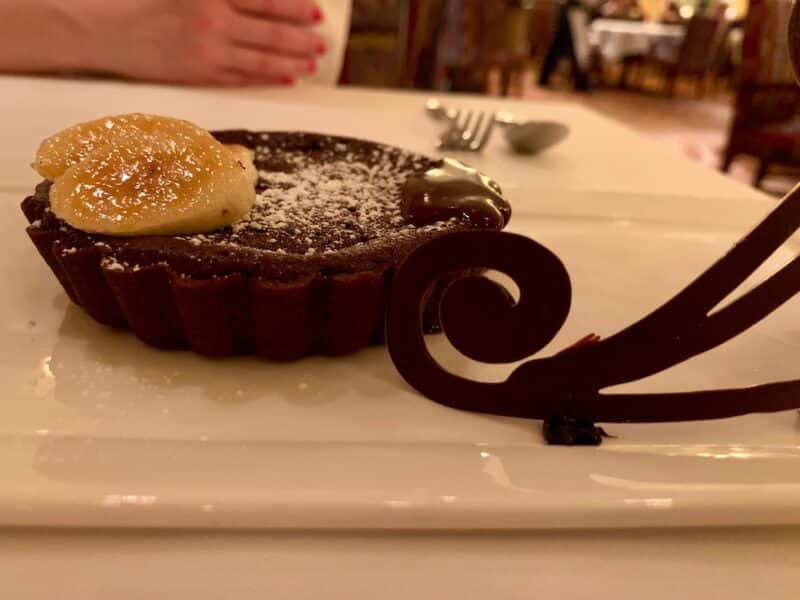 A final surprise capped the evening – a window view right from our table of Magic Kingdom's stunning Happily Ever After fireworks show. This photo gives you a mere hint — believe me when I say it really looked terrific in person. An unexpected perk of being at Citricos at the right time (fireworks began at 9pm) and in the right 'wing' of the restaurant – near the back by the large windows facing in the direction of Lake Buena Vista.
To view the Citricos menu, check availability and make reservations visit www.disneyworld.disney.go.com