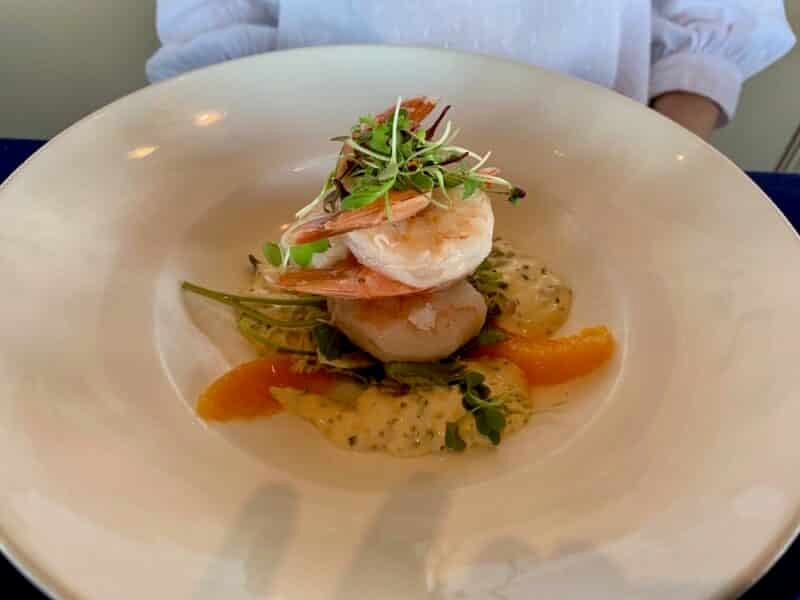 Narcoosee's is a lovely seafood restaurant located at the edge of Disney's Grand Floridian Resort, right on the Seven Seas Lagoon with great views of Cinderella's castle at Magic Kingdom. Booking a later dinner time may provide you with a window seat to take in the theme park's fireworks display across the water. You might also catch a glimpse of the Electrical Water Pageant floating right by the restaurant's verandah on the lagoon.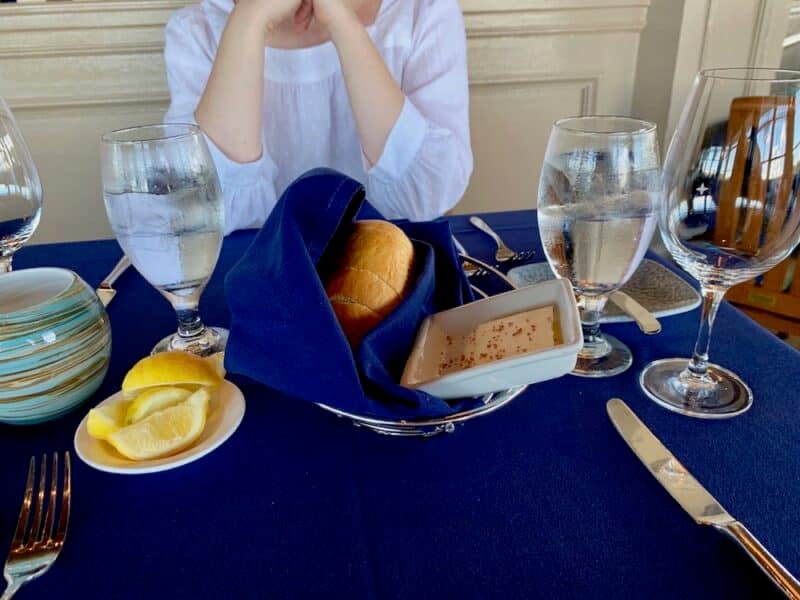 On this past visit, we dined very early (around 5:30) – too early to see the lights shows from the restaurant. But that's because we actually had plans to be at Magic Kingdom for the fireworks show. Nonetheless, it was still a very pretty scene looking out at the water and the castle beyond as daylight poured in through the large windows. Inside, the restaurant decor is inviting, tasteful, and fresh and with a crisp New England feel. It's the perfect backdrop for the mostly seafood-inspired menu.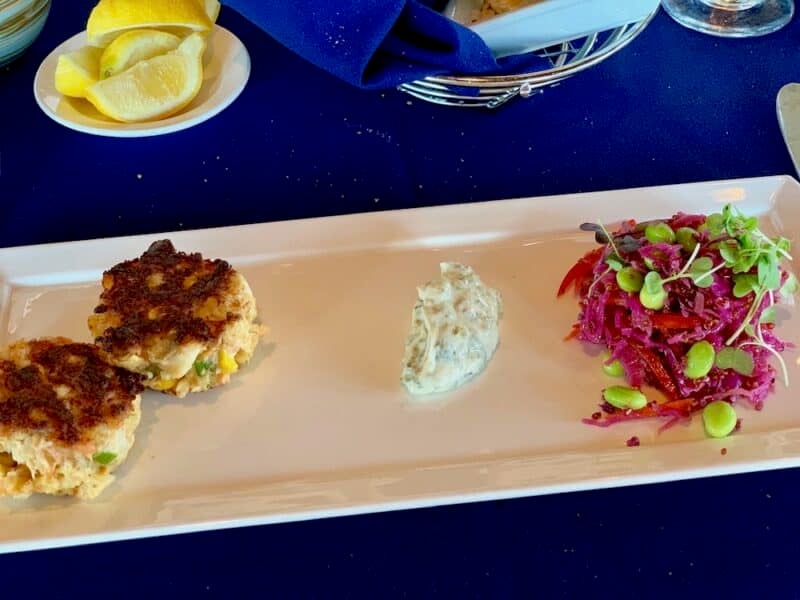 After some scrumptious fresh bread and butter, we shared a pair of appetizers. The slow-poached and chilled shrimp – very meaty and sweet – served with frisee salad and pickled shallots is pictured at the very top of the article. Above, you'll find the shrimp and crab cake appetizer with a citrus remoulade and red cabbage slaw. Both appetizers were generous and priced like all Narcoossees's starters and salads around the $15-20 mark. As is often the case, the appetizers may have even outshone the entrees.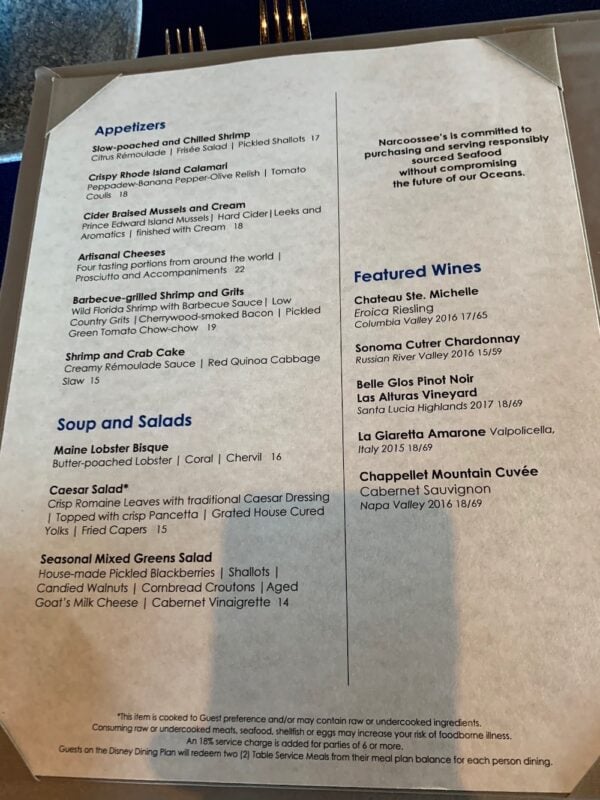 The restaurant has a nice wine selection – take a look!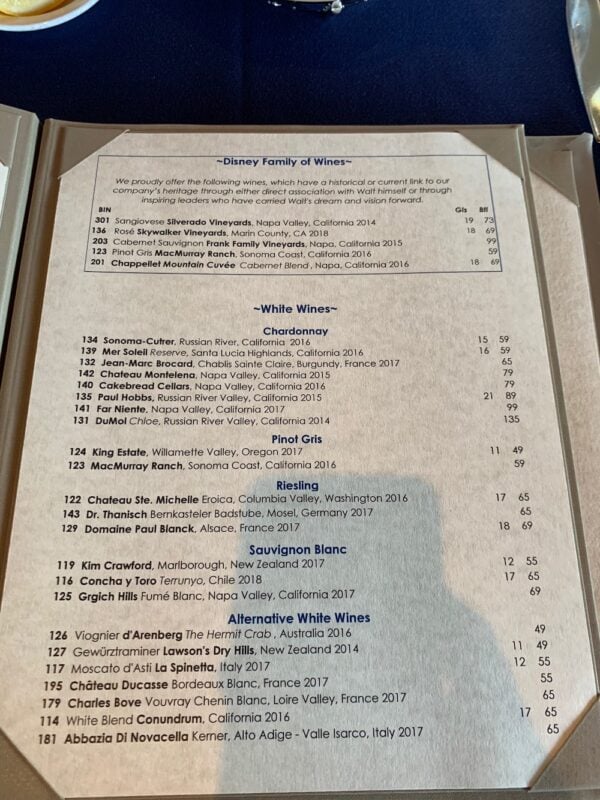 We went with a few glasses of Mer de Soleil Chardonnay that paired beautifully with both our appetizers and entrees.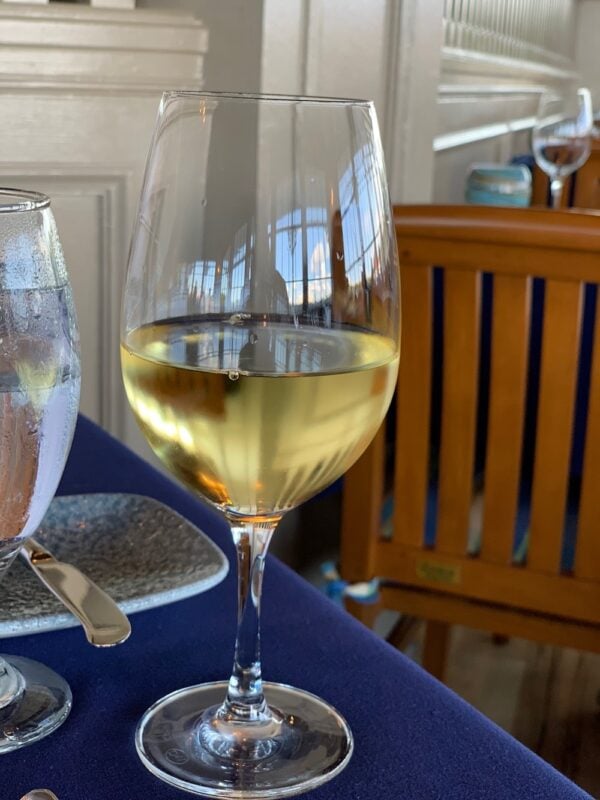 Narcoosee's entrees are quite special and I would expect pleasing to most seafood-loving palettes. Priced in the $40-70 (for the lobster options), we found both of our meals beautifully prepared and generous. Family-style enhancements (vegetables, potatoes, sauces) can be added, although most if not all entrees seem to be complete meals.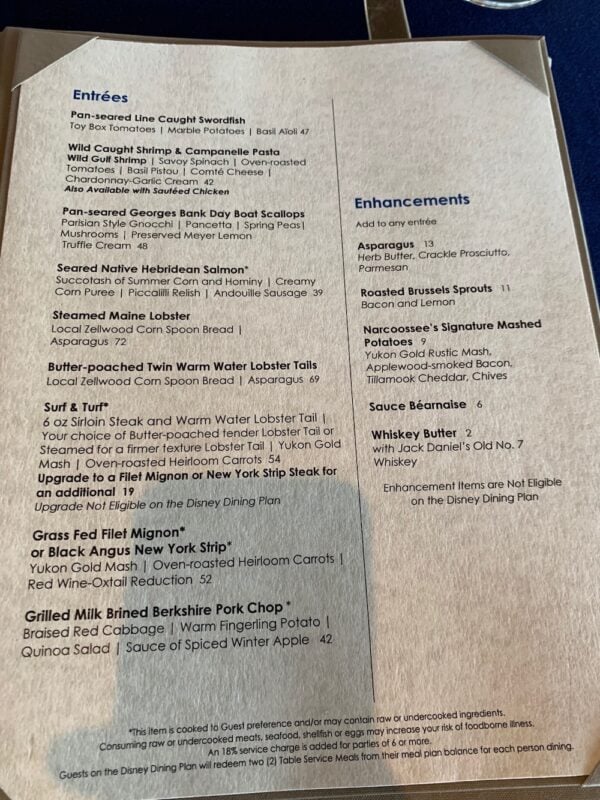 I enjoyed the Butter-poached Twin Warm Water Lobster tails. I'm not sure if the photo captures how large the tails were, but it made for a hearty meal. I'm accustomed to Maine and Canadian maritime lobster and this was much different. The meat was softer, lacking the crisp bite of the cold water variety. Very interesting, and quite lovely with all that butter (but what isn't.)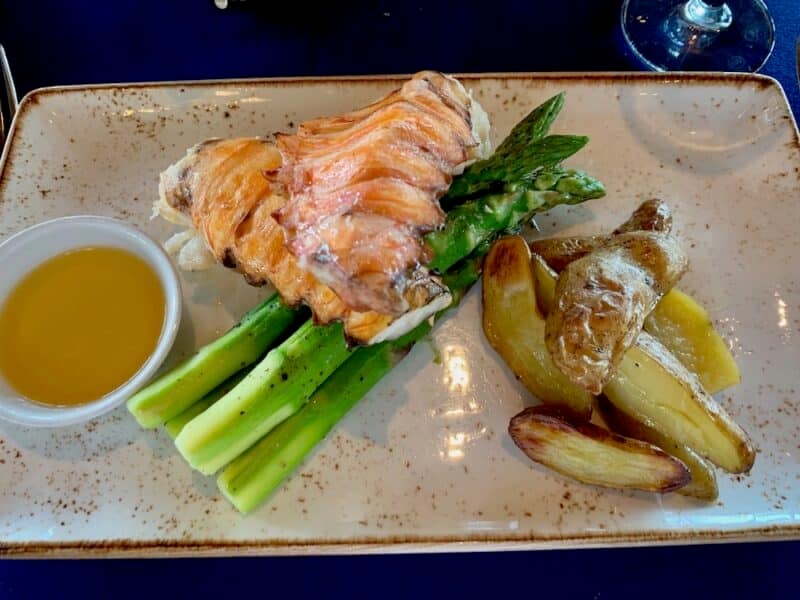 For him – yet another lobster tail appeared, along with a filet mignon, vegetables and potatoes. (The filet was a $19 upgrade to the entree, which otherwise came with a sirloin steak.) It was nicely prepared, perhaps not the best steak at Disney (see my review of Shula's), but a treat of a meal nonetheless.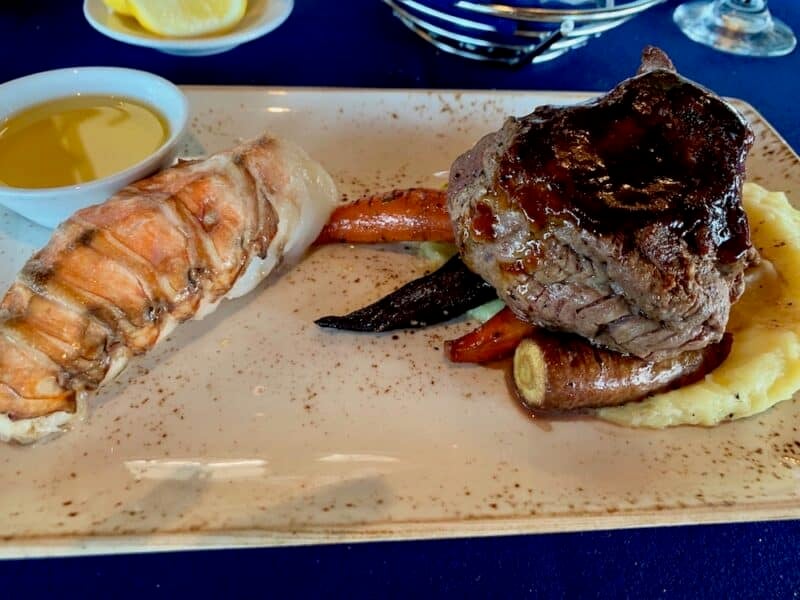 Below is the two page wine list, nicely curated for the mostly seafood experience at Narcoossee's.
As I noted above, the Mer de Soleil Chardonnay was perfect for the appetizers and my lobster tails. For him – we added a glass of Chappellet Mountain Cuvee 2016, a Cabernet Sauvignon blend to pair with the 'turf' side of his plate.
No dessert for us as we had plans for sweet treats later in the evening. So, after this early dinner at Narcoosee's, we hopped the monorail departing from the Grand Floridian Resot and headed to Magic Kingdom to watch the spectacular new Happily Ever After Show. (We did in fact purchase tickets booking space for a special viewing area and dessert party – I'll be reviewing this shortly! – but we had more than enough time to stake out a spot for the 9pm show without these arrangements.)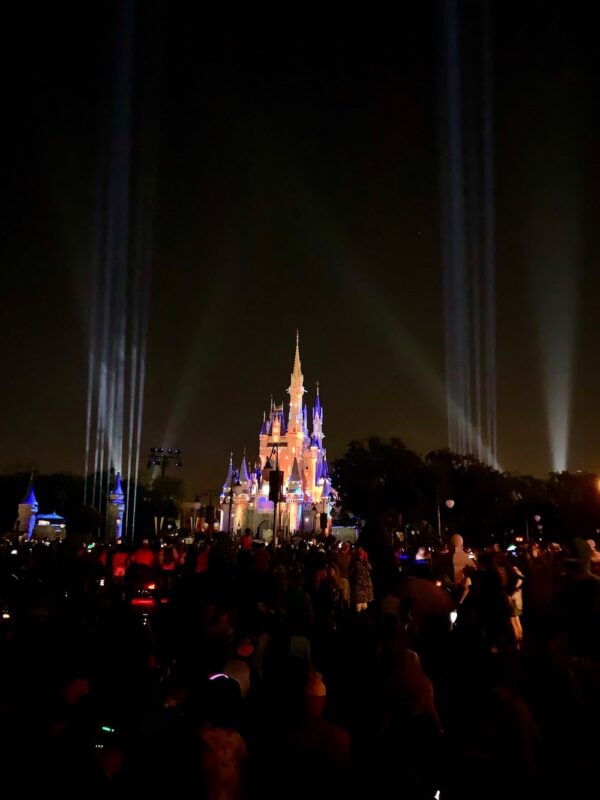 Go to www.disneyworld.disney.go.com to view the Narcoosee's menu, explore a photo gallery, and make reservations.