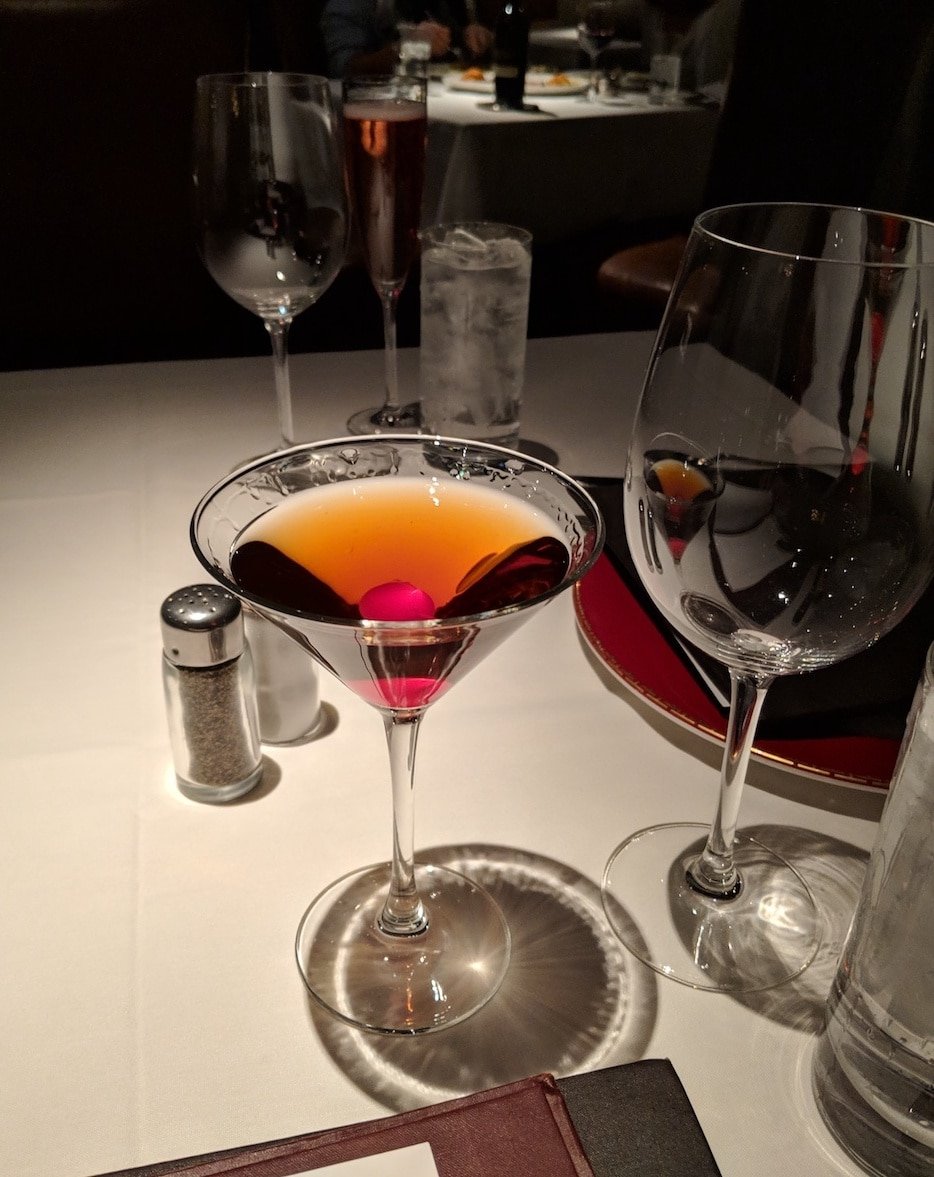 Delmonico Steakhouse is a longtime fixture of the Venetian Hotel in Las Vegas, and just a short and pleasant walk away from the Wynn where we stayed this time. While other restaurants in the Venetian have come and gone, this classic steakhouse owned by celebrity chef Emeril Lagasse endures.
We've had the pleasure of dining here several times over the years and enjoyed our latest experience this past December, although some of its past magic seemed missing. It could be that we've been here a few too many times, have experienced better steakhouses, and that some of the novelty has worn off.
There is a slightly tired look to the decor, a spareness that may have been more fitting about fifteen years ago. Compared with the fresh, open and even whimsical decor characterizing most of the restaurants at the Wynn, Delmonico felt a bit drab and buttoned up – could use a bit of re-imagining. Note that we were not seated in the larger section of the dining room, whose low vaulted ceilings have always intrigued us and made us think of a Tuscan wine cellar. We were seated in a room that was rather square and dimly lit, but maybe also quieter than the main area where large groups seemed to have been assembled.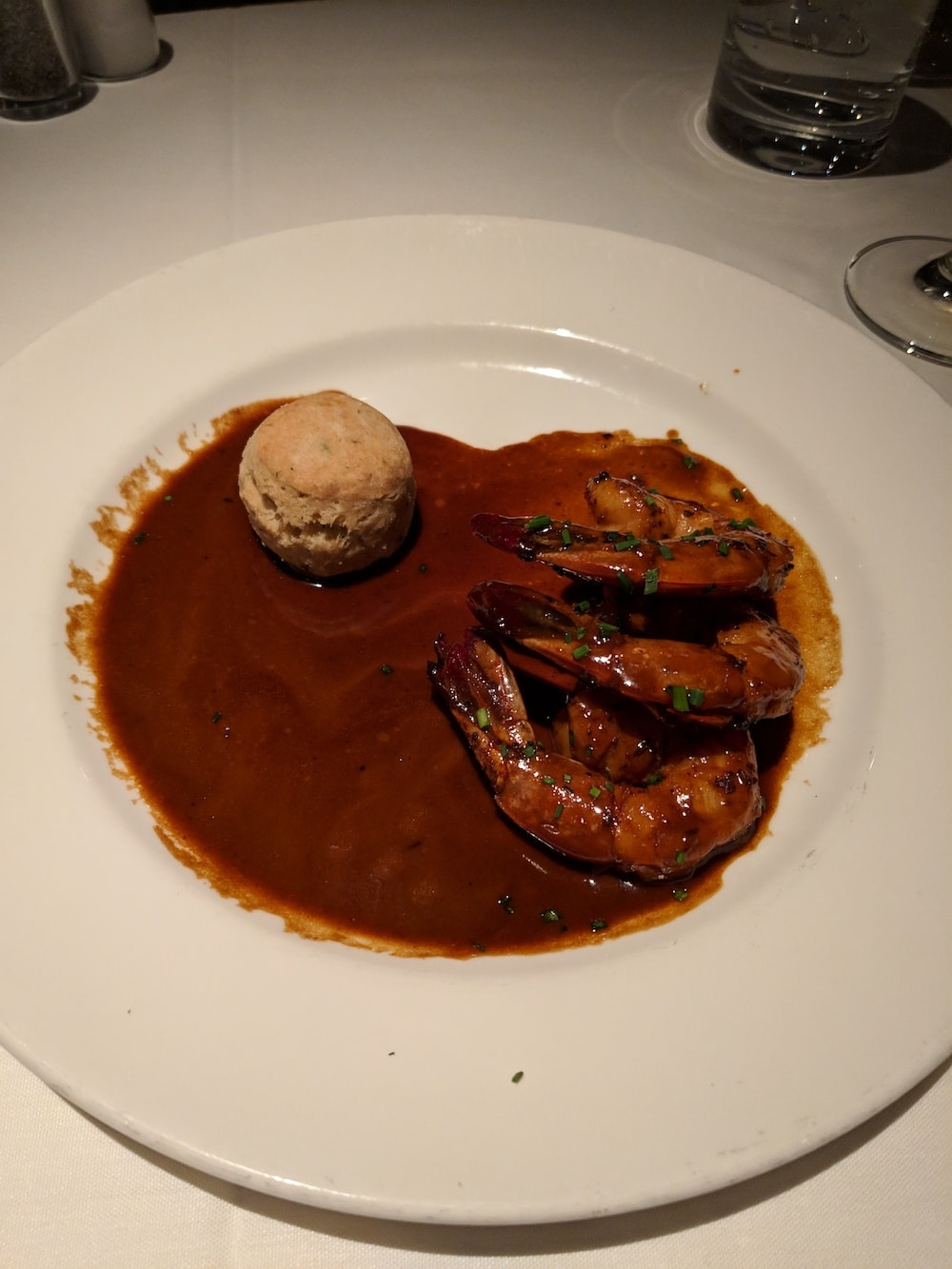 We started with Emeril's New Orleans Barbecue Shrimp, apparently the most popular appetizer on the menu which we have never tried. Unfortunately, it didn't set the best tone. Somewhat overcooked and the promised 'New Orleans flavors' a little lacking, even dated maybe? The rosemary biscuit was tasty.
Having said all this, the steak, wine, bourbon selection and overall service was excellent. And let's get to the wine. Apparently boasting over 2,300 selections, the wine list at Delmonico was indeed  impressive and studded with rare finds. We wanted something big – make that huge – to go with our steak.  With some guidance from the knowledgeable sommelier, we selected the 2008 Schrder Cellars Cabernet Sauvignon (one of their last bottles, apparently).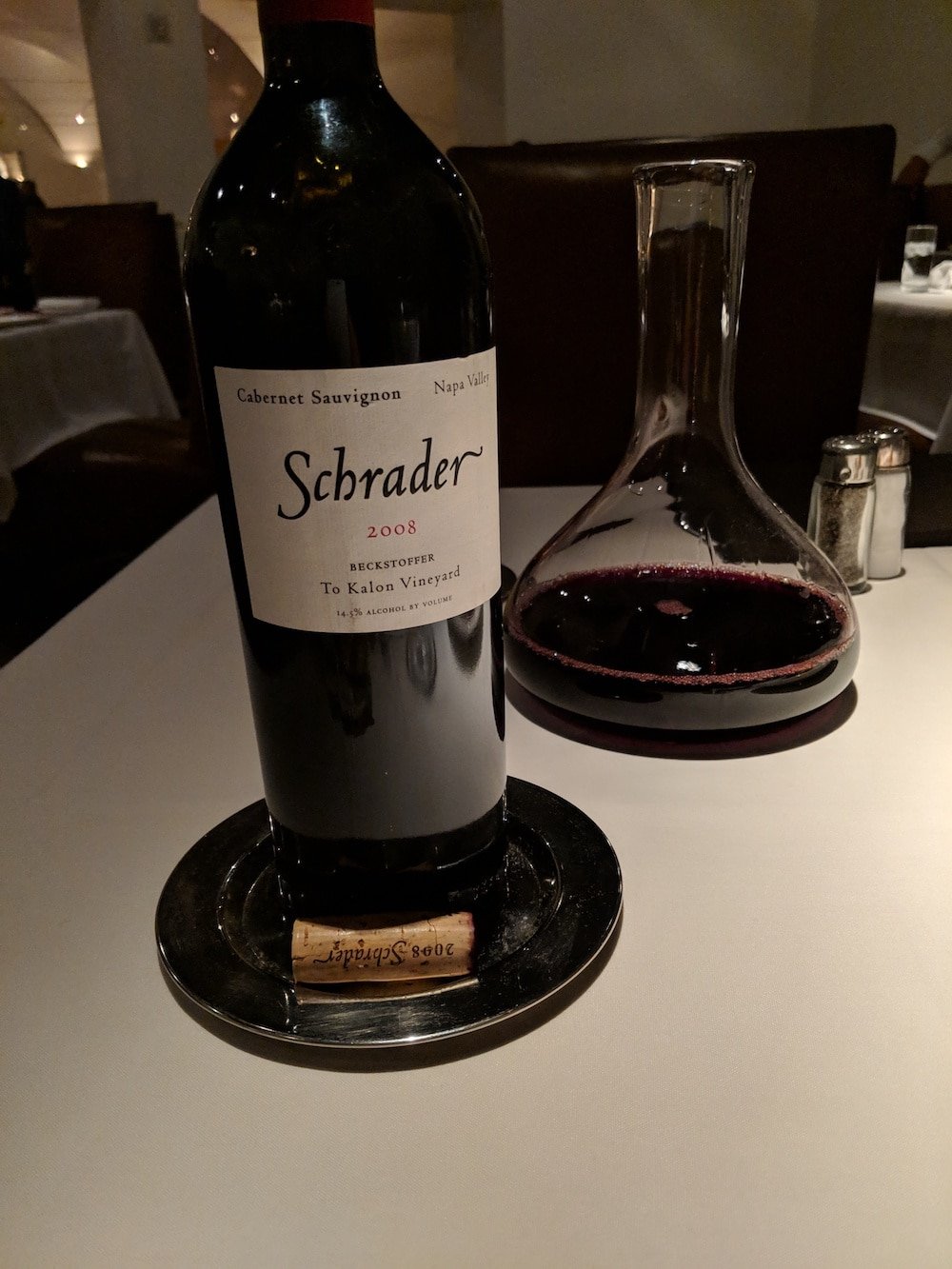 The wine had a dark, velvety red-black color, with deep dark fruit flavors, like cherry and blackberry. It opened up in the decanter as the evening wore on, and we sipped it slowly, savoring and enjoying. It may well be the first and last time we will ever have this rare, elegant, and bold wine. A perfect match for the rich beef and hearty steakhouse sides.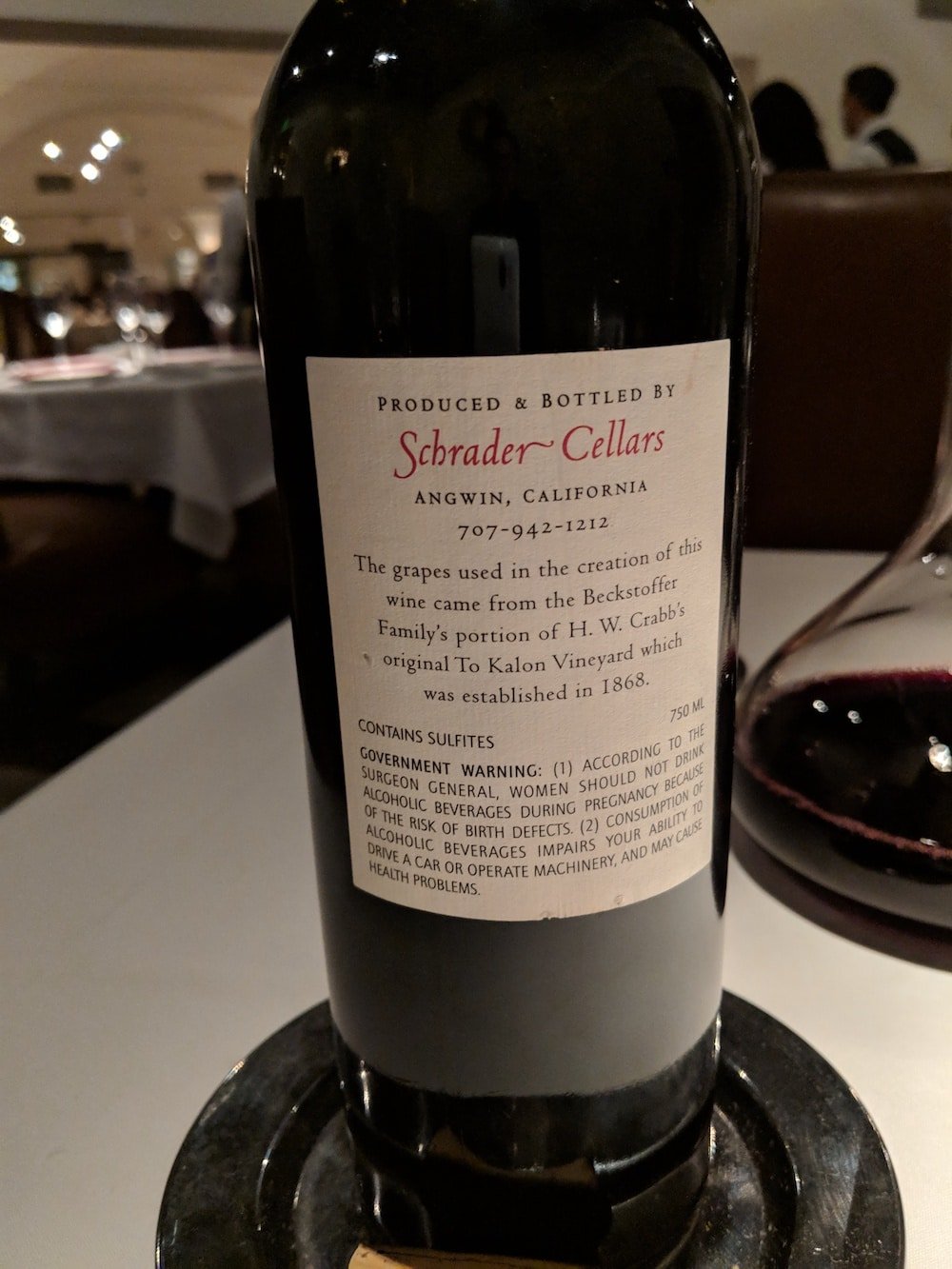 For him – the 20 oz. bone-in ribeye, and for me the 9oz. filet mignon, both topped with a generous pat of herbed butter. Beautifully cooked, but oh so much food. (Speaking of fifteen years ago, our appetites are not perhaps what they once were…)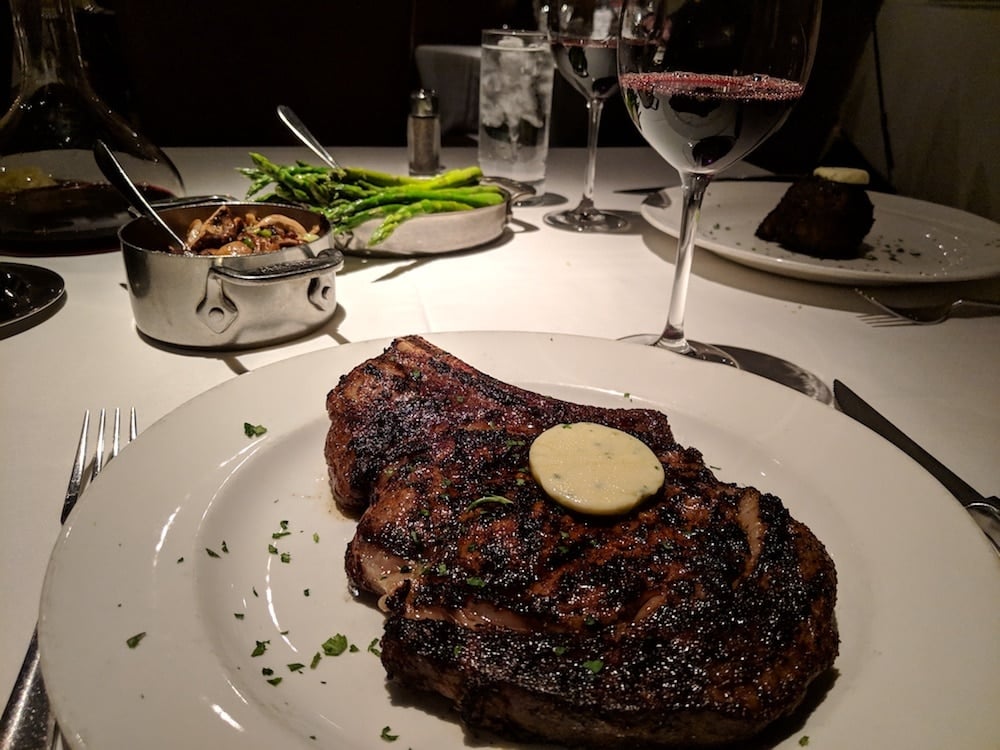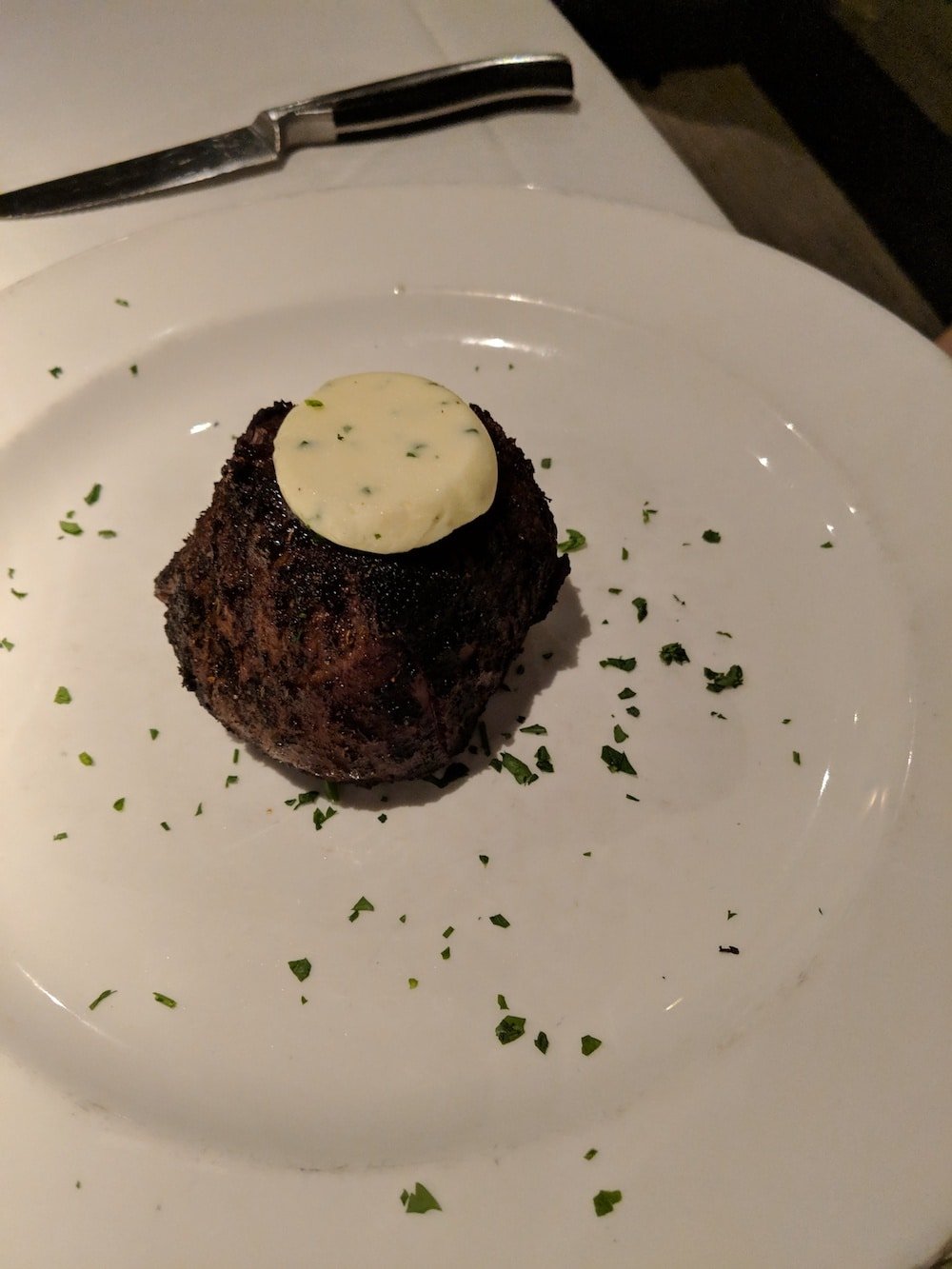 Classic sides, served family style, included buttered fresh asparagus and sauteed garlic mushrooms (very good and garlicky.)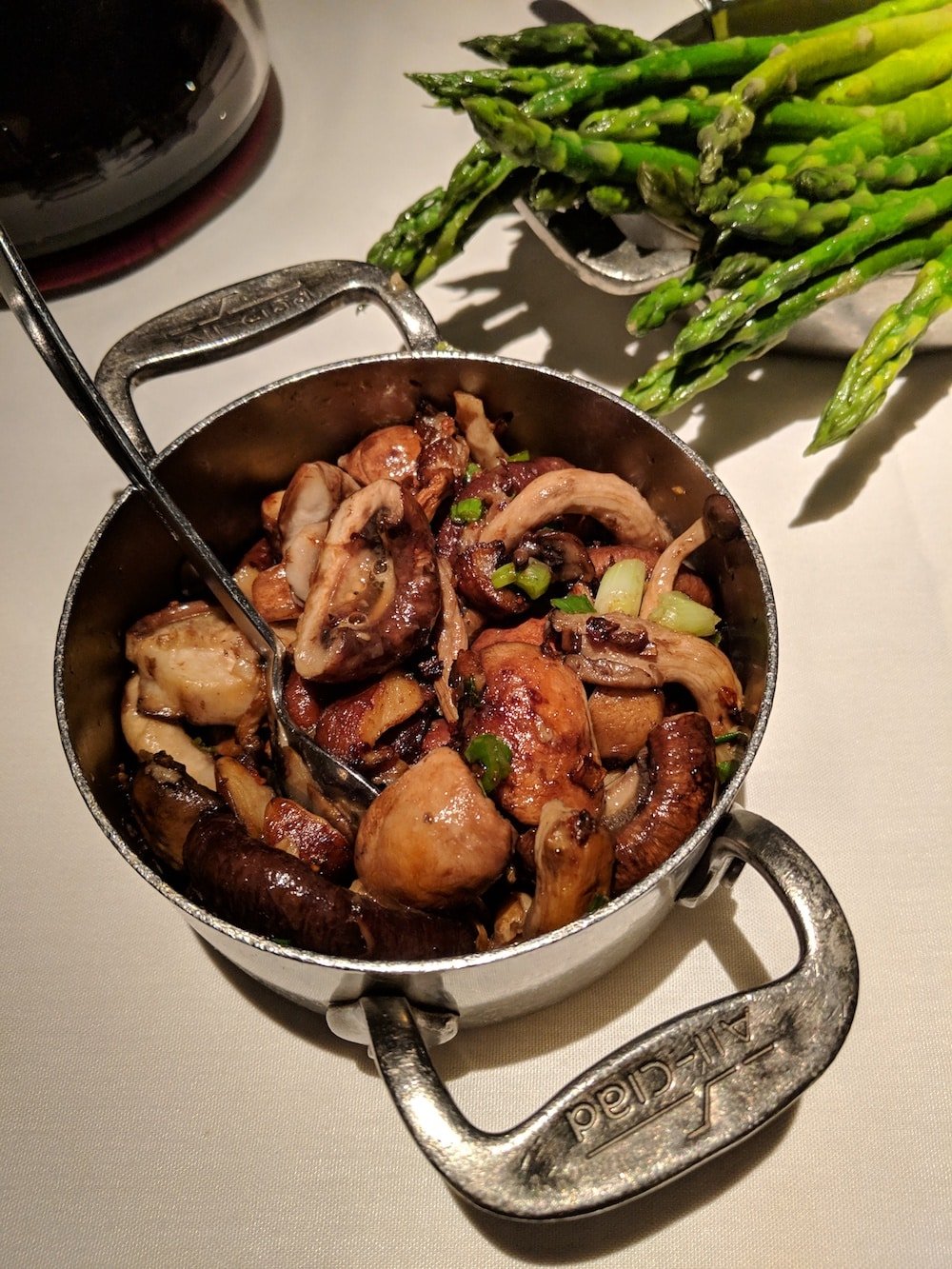 No, we didn't finish every morsel of our meal but we did enjoy it.  And the bourbon list that came out afterward was more than impressive, listing page after page of different bourbons…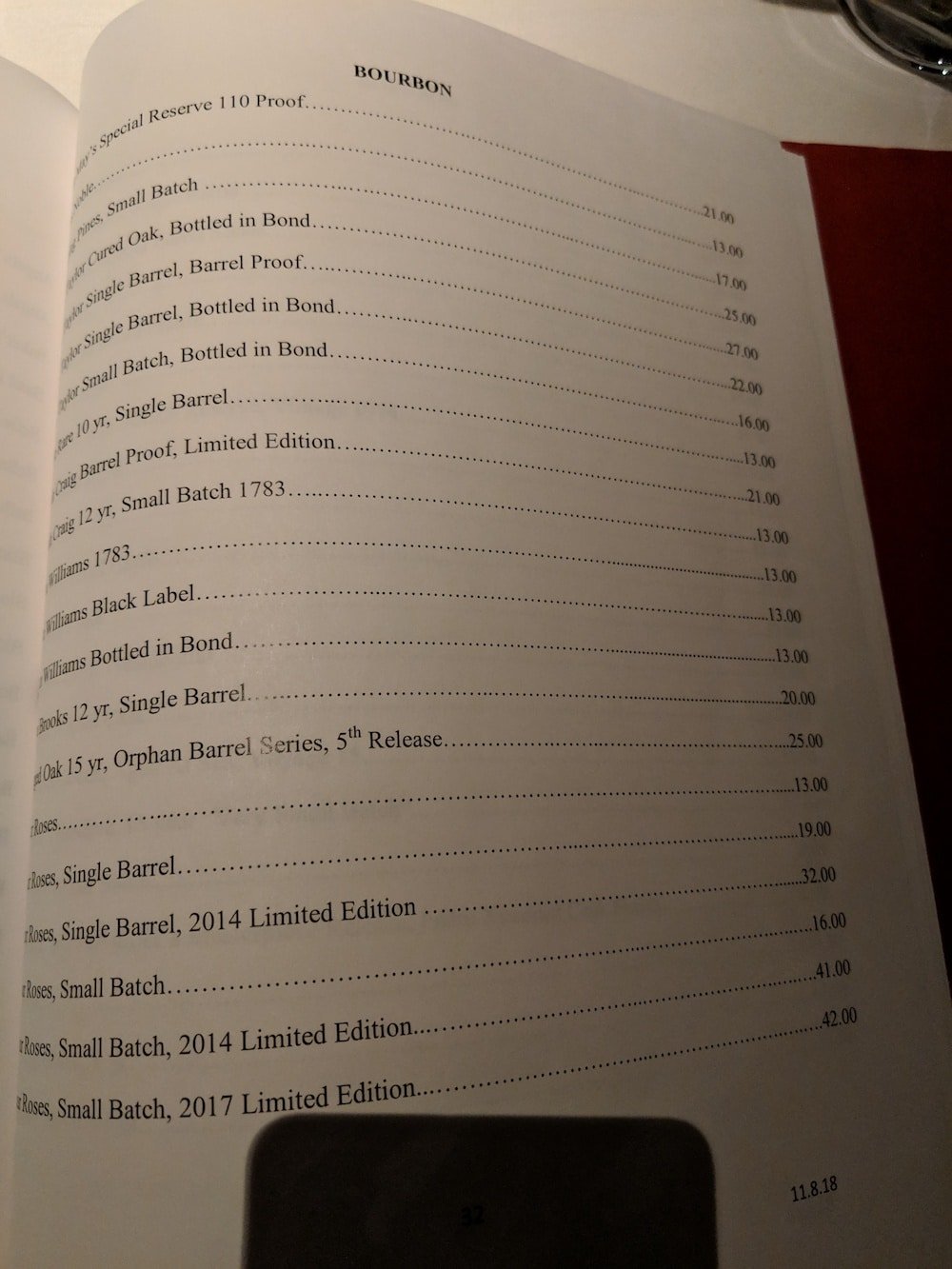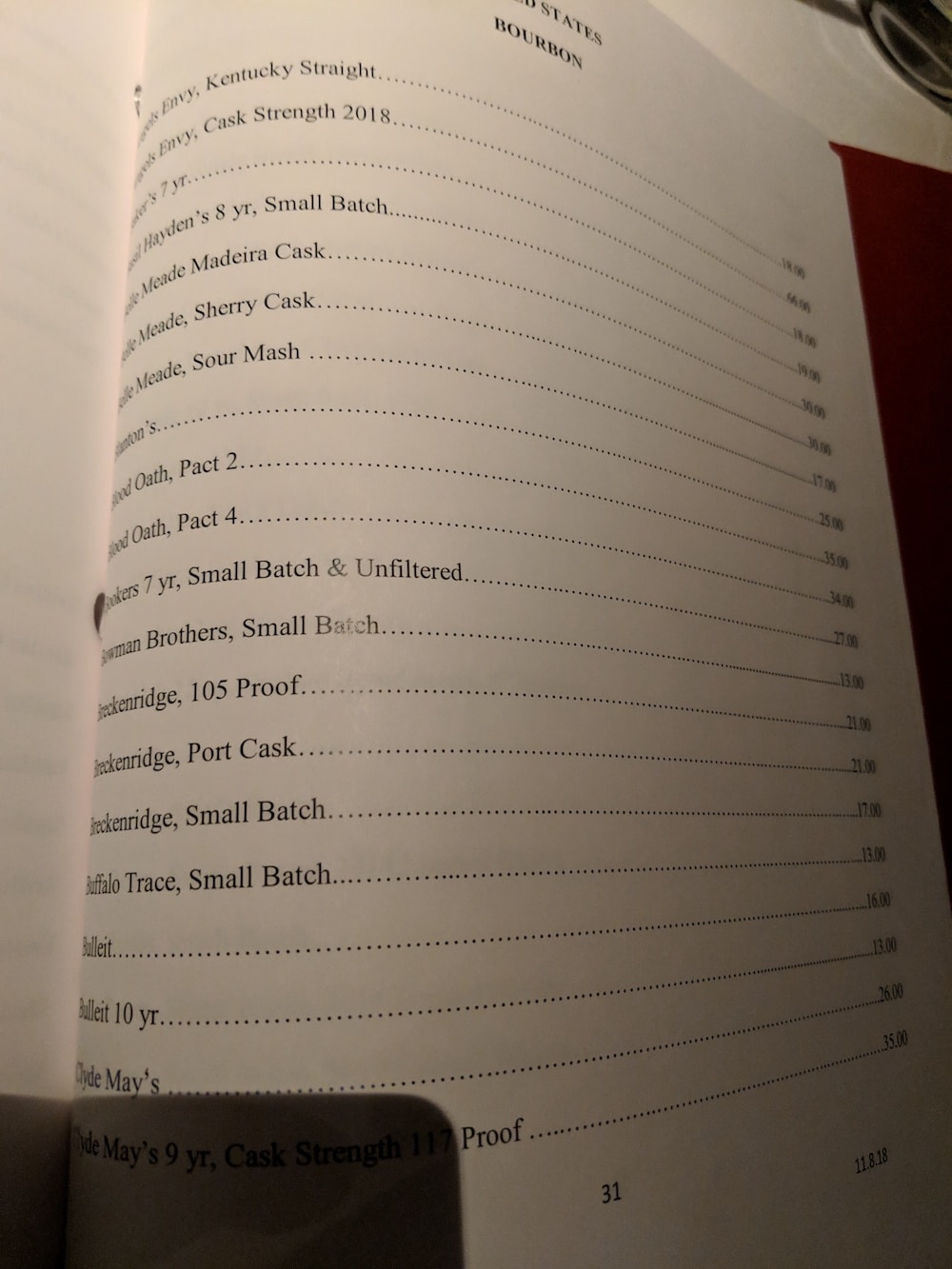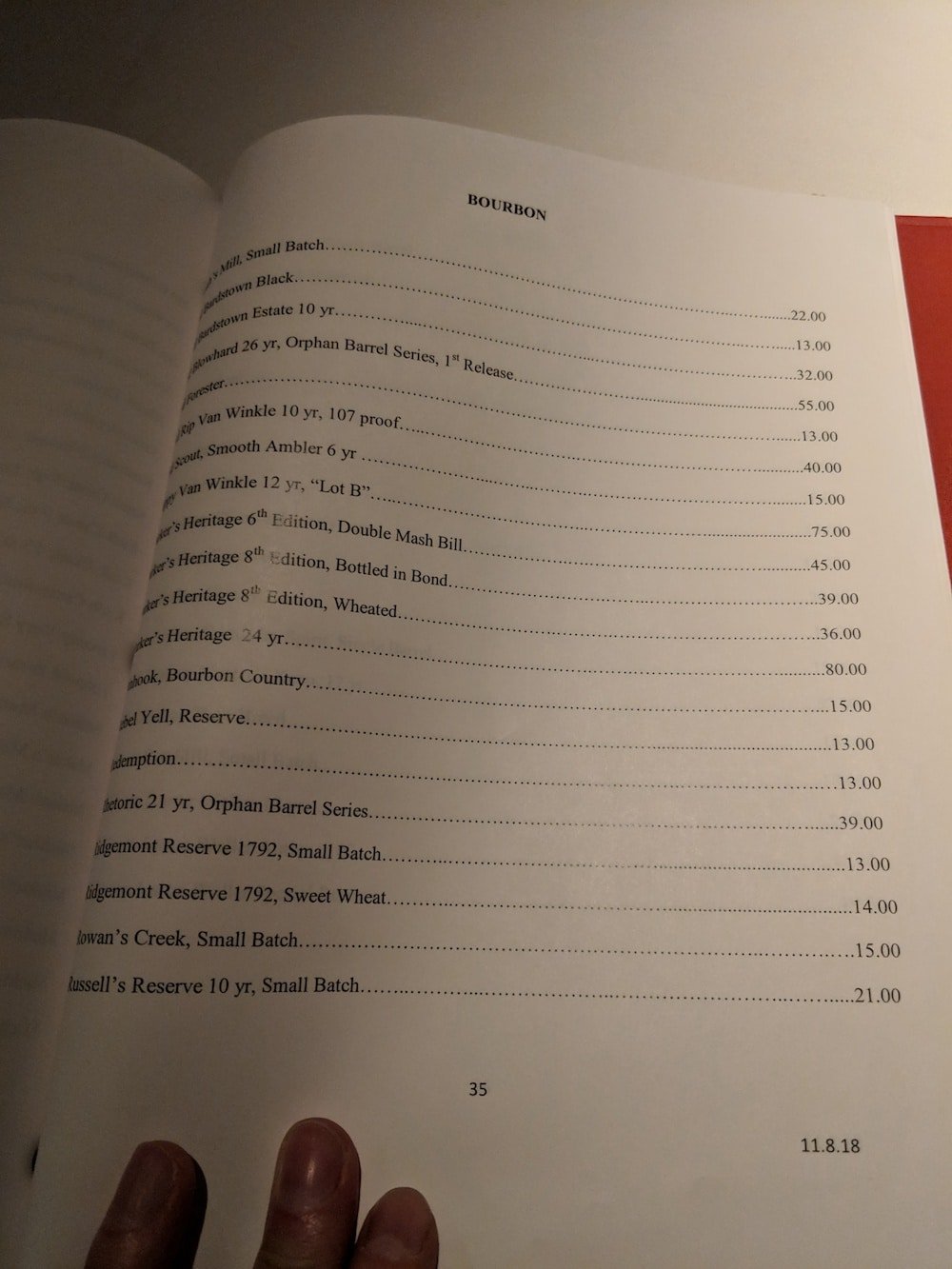 Have not seen the likes of this before! I was content to finish the last sips of the Schrader cab, but for my partner – a glass of Pappy Van Winkle – Van Winkle Special Reserve 12 Year Lot B. The smell, deep color, and full-bodied taste was exactly what he was looking for.  His theory is you need to grab this whenever you see it, and those occasions have been few and far between. An impressive bourbon menu for the whiskey lover!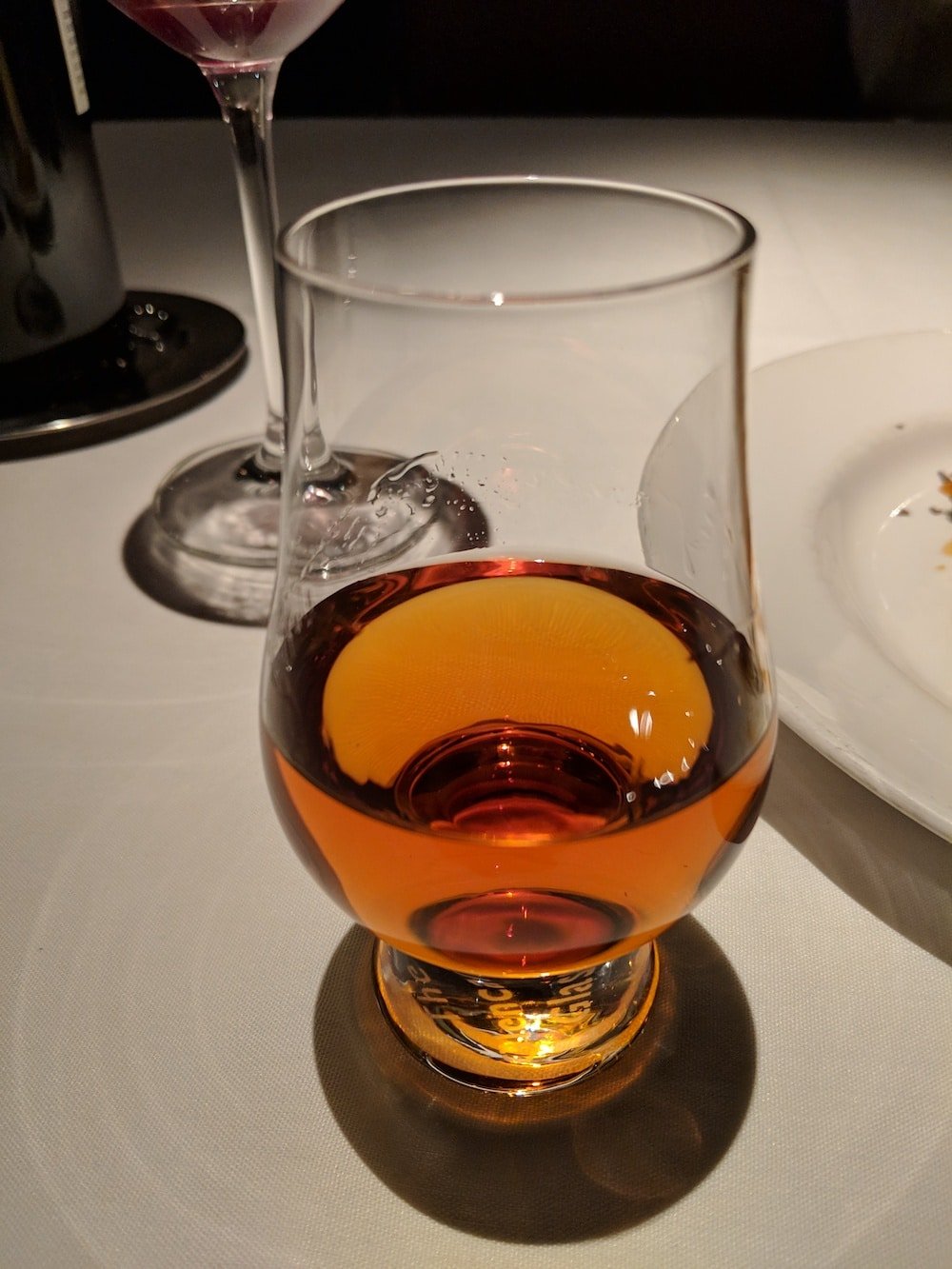 Last but not least, we move on to dessert. Emeril's Banana Cream Pie has been something of a legend in our fond recollections of  past Delmonico experiences. The mounds of chocolate shavings and generous drizzle of rich caramel sauce have loomed large in our minds over the years. It's funny, it was certainly tasty, but not as unique and wonderful as we remembered  – of course, it could be a matter of letting good things grow better in your mind.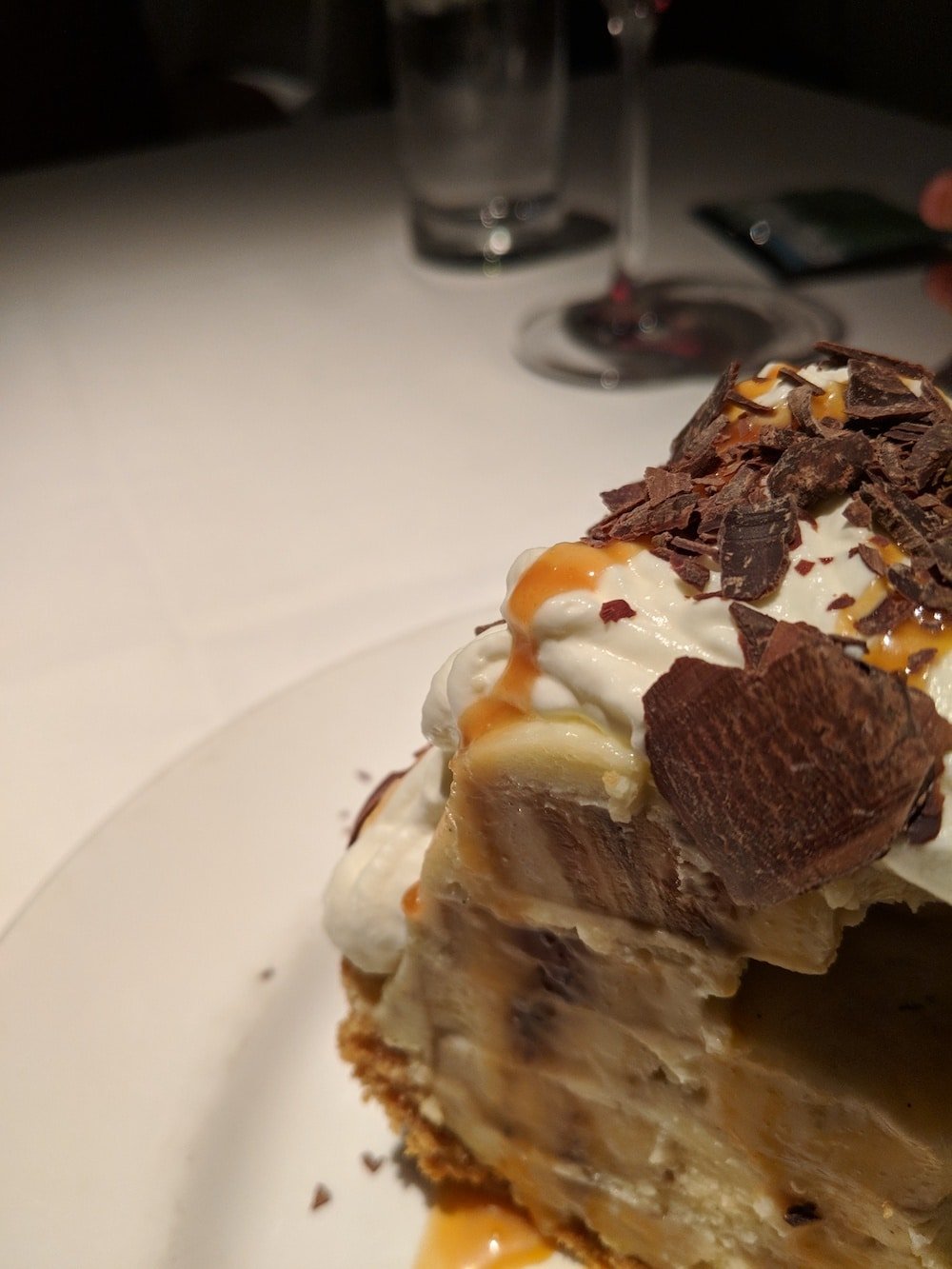 Emeril's Banana Cream Pie
Though it didn't quite match the past experiences of our memories, Delmonico Steakhouse has much for you to enjoy – excellent steak, stellar wine selection,  great service and an amazing selection of bourbons.
For more information about Delmonico Steakhouse at the Venetian, Las Vegas, visit www.venetian.com