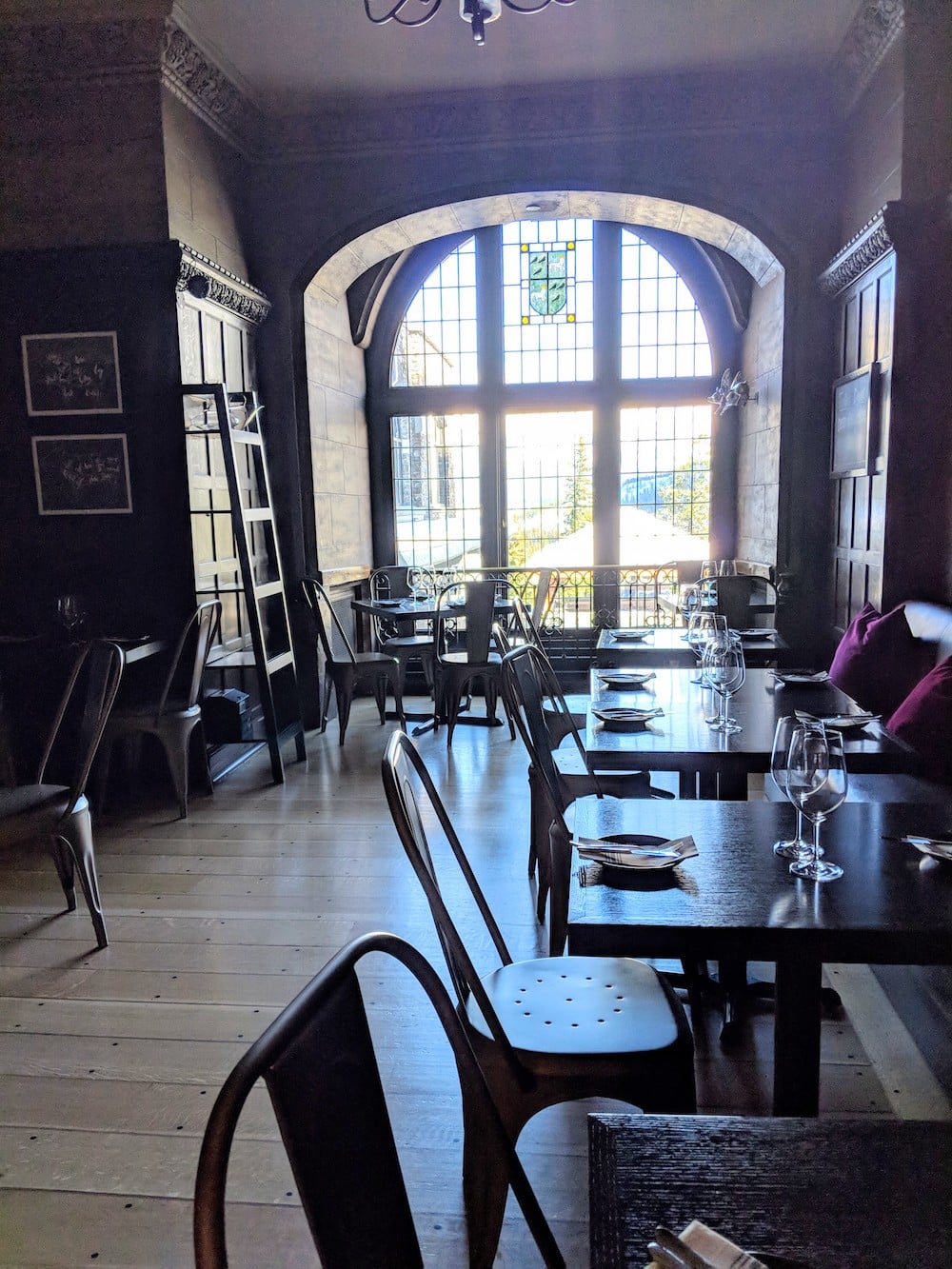 We've been staying at the iconic Fairmont Banff Springs Hotel for almost twenty years. This small, tucked-away room had always intrigued me. Formerly, in the hotel's heyday, the space served as the elegant  'Writing Room' for its guests.  What an incredible spot this would have been to pen a missive or two about one's adventures in the Rocky Mountains.
The stonework, woodwork and large vaulted window with lovely stained glass panels show the care and attention that went into even the nooks and crannies of the 'castle in the mountains'. It's truly impressive to look at, and fun to imagine guests of long ago sitting near the window perched over pen and paper, looking up at the breathtaking mountain view.
For some time now, the small but beautiful room has served as a wine bar. Reservations are an absolute must as there are only about eight tables in all, plus a few seats right up at the bar. It's well worth making the booking — quite honestly our meal here was one of the most enjoyable of our hotel stay, owing a lot to the cozy and unique atmosphere. And ambience aside, the menu is also terrific: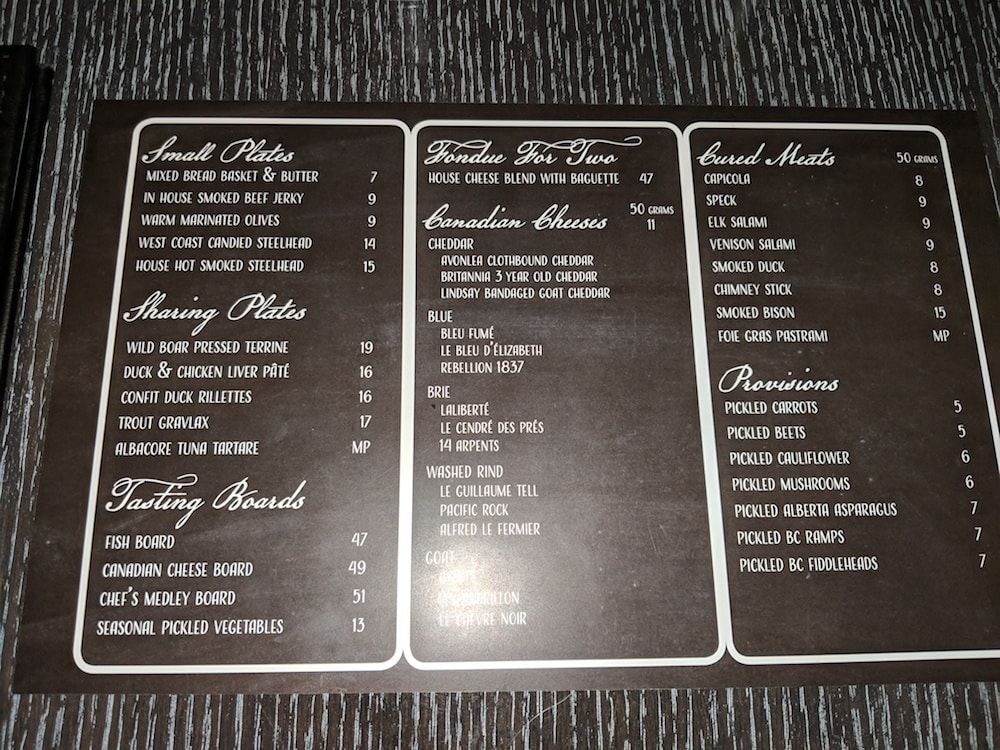 Cured meats, smoked fish, handcrafted pates and terrines, a selection of delicious Canadian cheeses, fresh baked breads, artisanal crackers, pickled vegetables and warm olives — and of course a nice selection of wine by the bottle or by the glass. I often think of this as my style of  eating – small bites of delicious meats and cheese and treats presented on beautiful boards while sipping wine. In a setting like this, it can hardly be better.
As you can see, the presentation is spectacular  – rustic and artistic at the same time.  We started off with a wooden 'basket' of warm bread and fresh butter, along with a mason jar of warmed olives – so good. We then moved along to the Chef's Medley Board, quite willing to be surprised and delighted by her customized selections – which we were. The cured meats were delicately shaved just before serving, and piled up in generous, tempting mounds of goodness. On our board was paper-thin speck, bison, and smoked duck (in the photo below, start from the bottom and move your eyes up the board). Interspersed among the meats were scrumptious pickled vegetables (cauliflower, beets, asparagus, carrots) and three gorgeous chesses: Britannia 3-year cheddar, Pacific Rock with washed rind, and the lovely Bleu Fume (we love a pungent blue, but this milder take would be  more widely appealing, I think). Tying the board together were the dollops of homemade jams: blueberry ( – I think! Unfortunately my notes are sketchy on this one), a savory green tomato, and a spicy peach.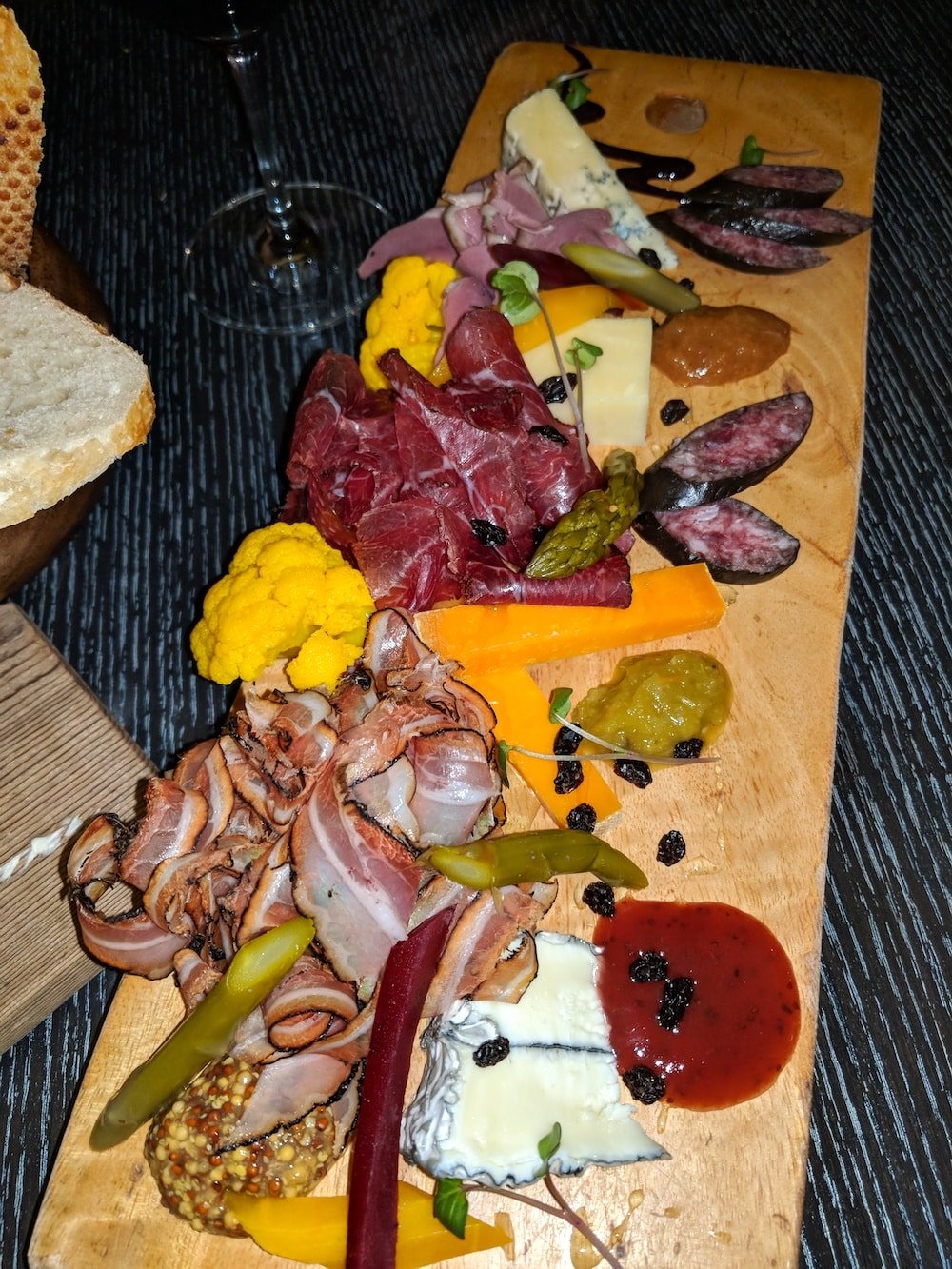 Though wines were available by the glass, we opted for a bottle of Pinot Noir knowing it would pair well with just about anything we ordered – and we planned to keep our options open! We chose the 2012 Sokol Blosser enjoying every berry warm/spicy sip.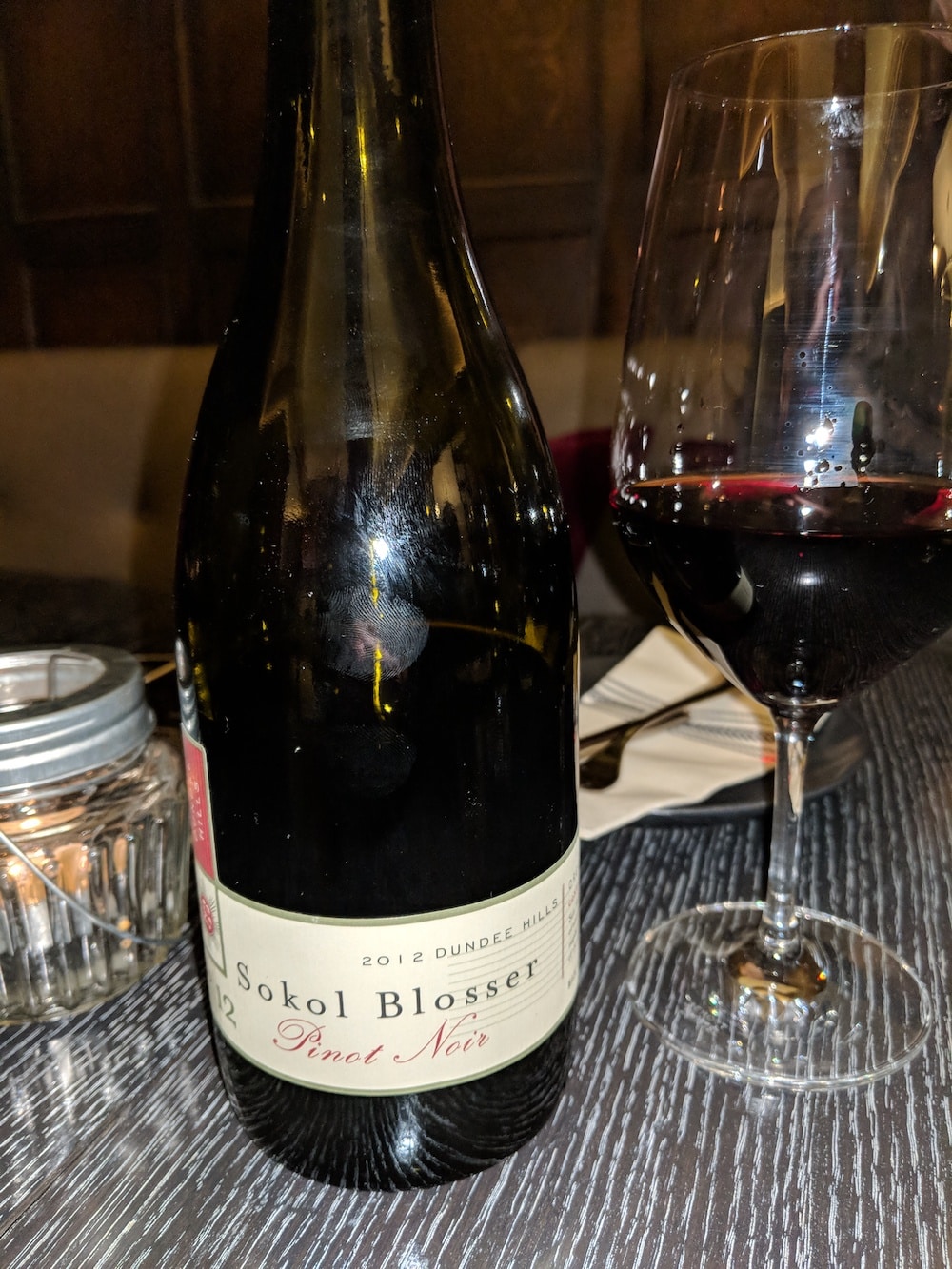 And then, even more fun ensued. Even after feasting on the bread, butter, olives and charcuterie board above, it was hard for us to ignore the incredible fish boards that kept drifting passed our table. We just had to add it to the meal.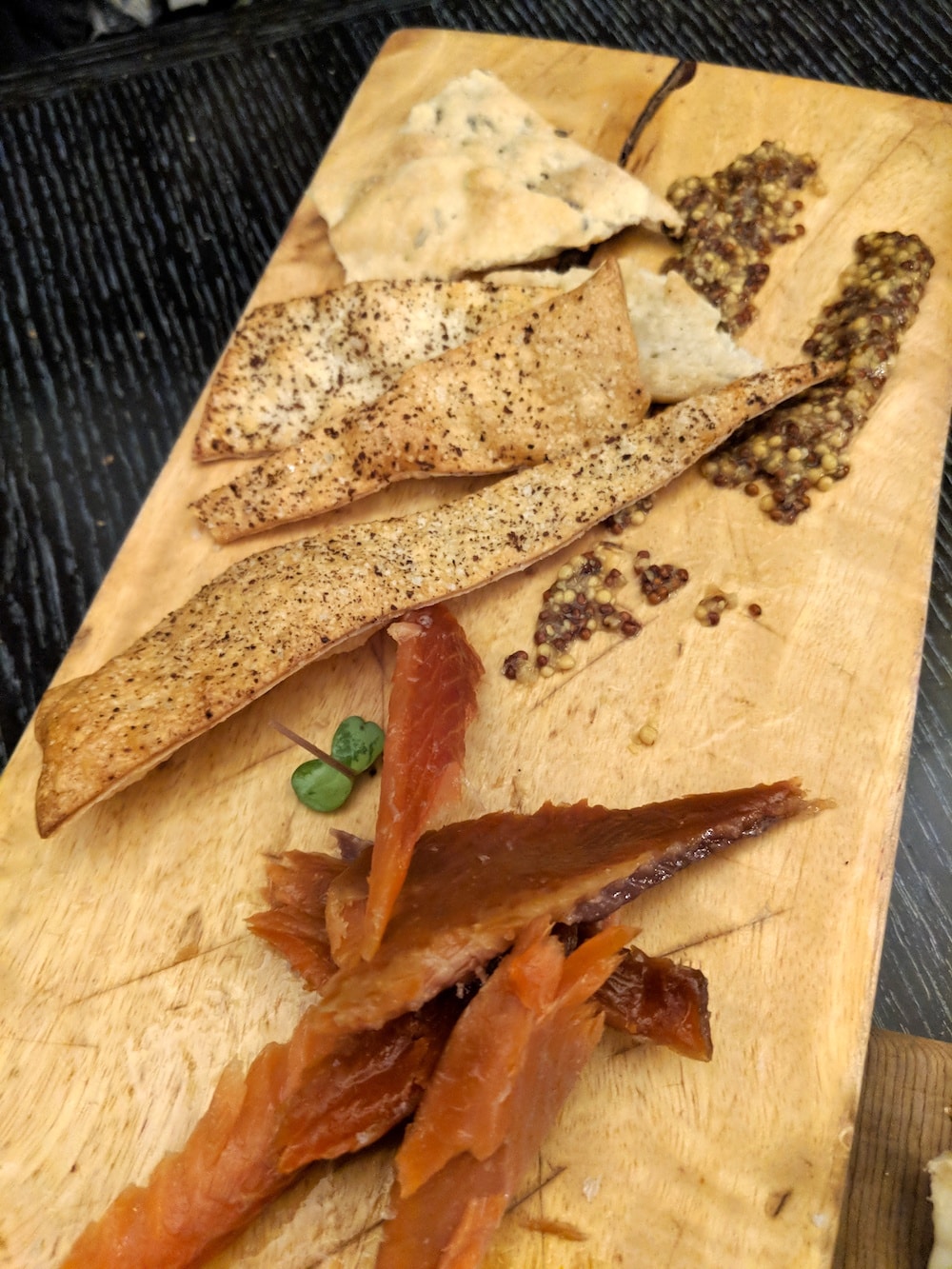 The fish board was another feast for the eyes, with delicate pieces of house hot smoked salmon, crispy black pepper crackers, crackers baked with licorice-y caraway seeds, and a dollop of grainy mustard.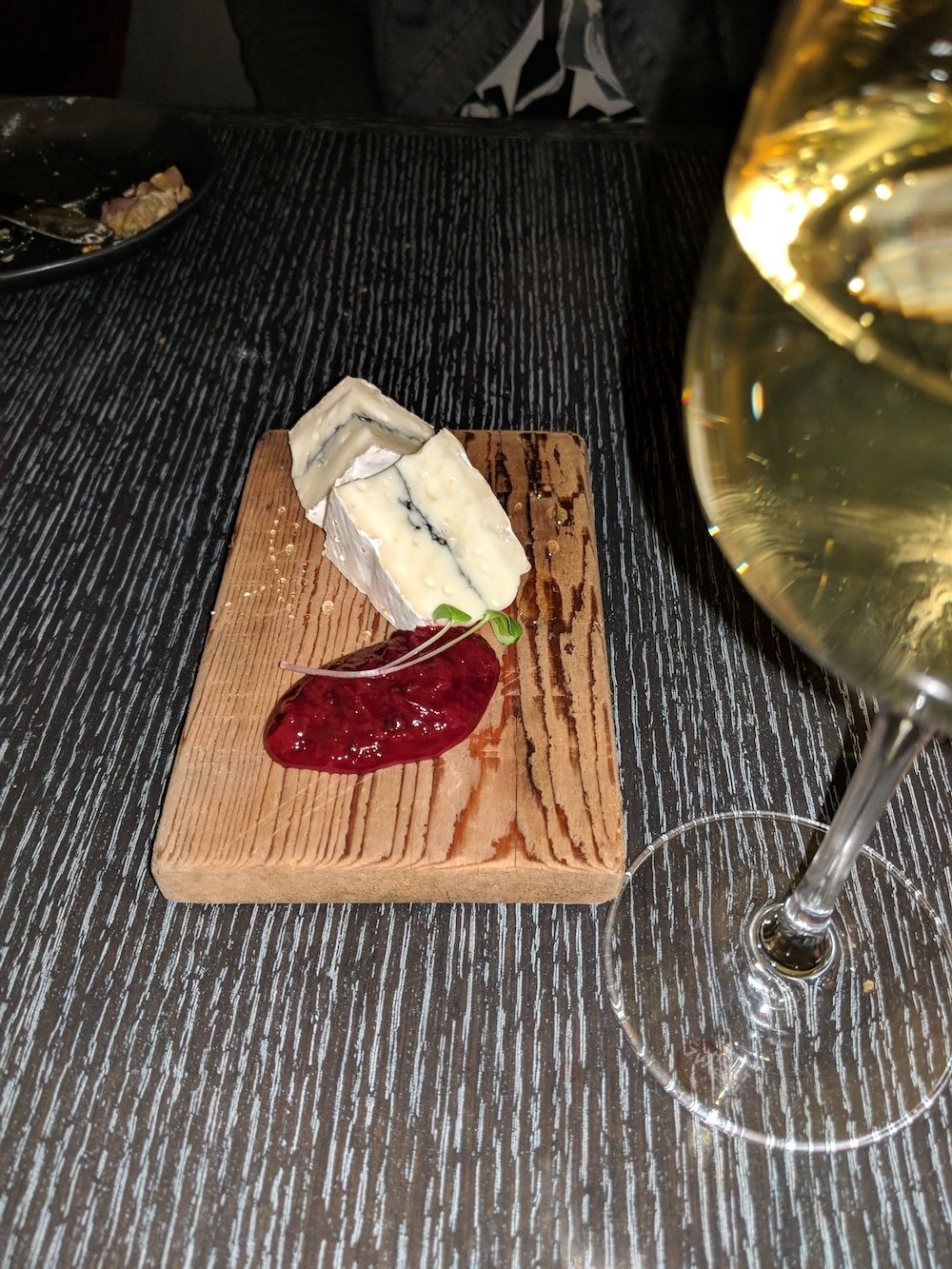 To finish the sumptuous meal of many treats, we ordered a generous wedge of Le Cendre des Pres, a triple-cream Quebec brie with a line of maple ash in its center, and fruity jam. Paired with a glass of Chardonnay, the night was complete.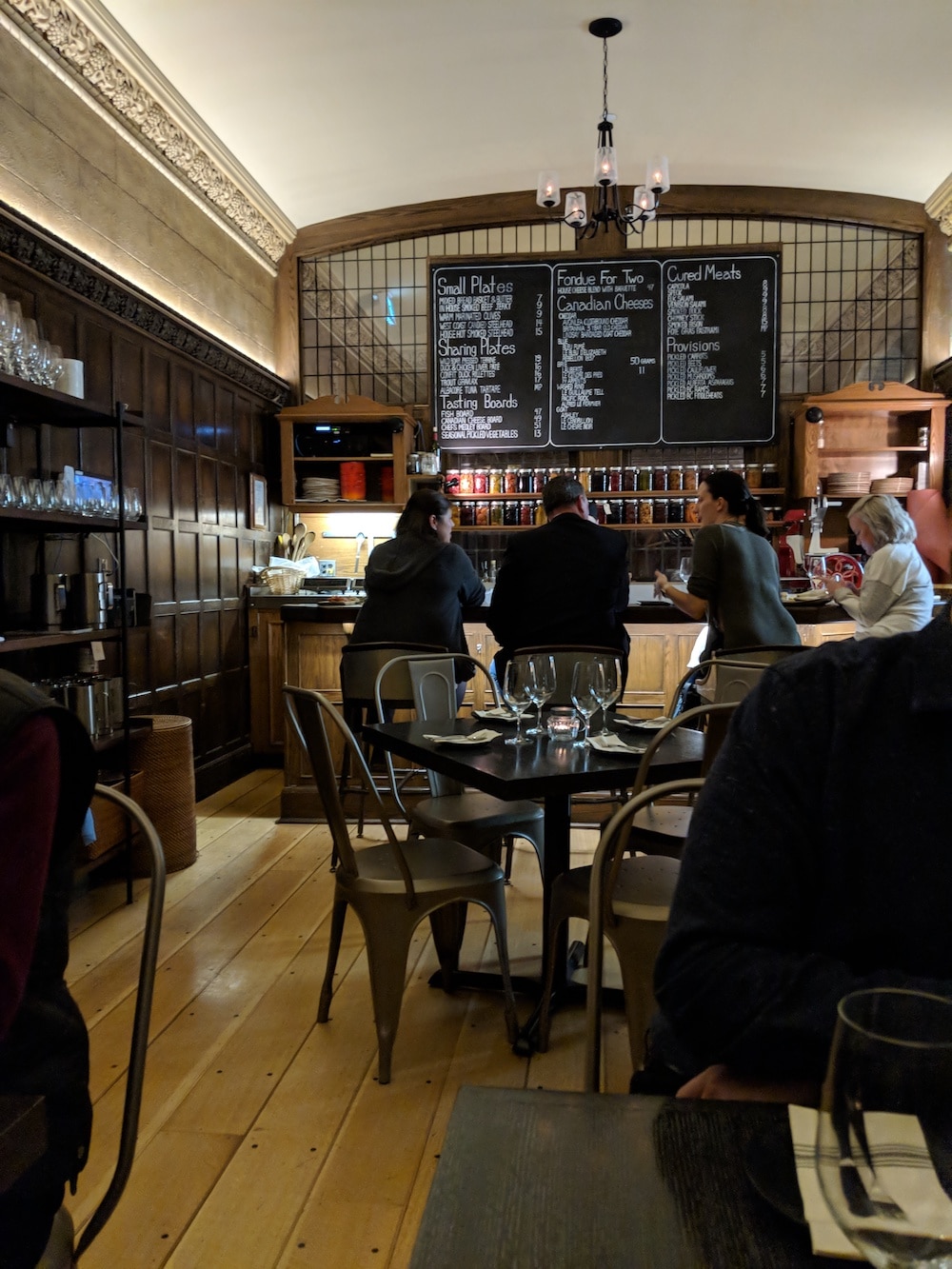 I have to make a special note of the truly great service we enjoyed here at Grapes. There were only two servers for the room, as well as the chef busily preparing boards behind the bar. Despite the small size of the room, the constant orders of boards, small plates, and 'a little more this and that' kept them very busy. They remained very helpful and friendly, with an excellent knowledge of the menu. Impressive!
Make a stop at Grapes a must on your next stay at the Fairmont Banff Springs (but make reservations!).
For more information about Grapes Charcuterie Bar Cellar, call 403-762-6860 or visit the restaurant's webpage at www.fairmont.com . Reservations can be made by calling 403-762-6860 or through Open Table.