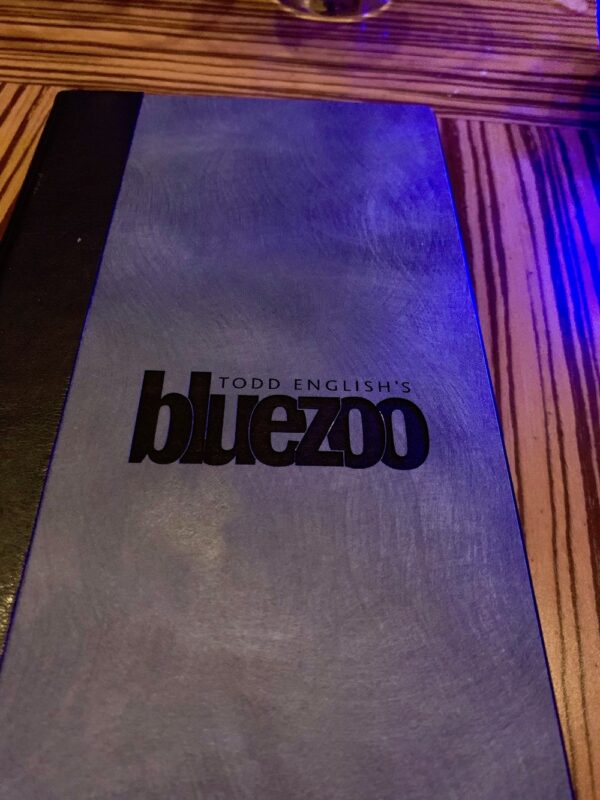 Todd English's bluezoo, an upscale seafood restaurant, is located at the Walt Disney World Dolphin Hotel. It has a hip, sophisticated vibe from its 'blue-lit' decor, creative menu, and excellent service. Dare I say it even has a somewhat 'un-Disney' like quality to it, making for refreshing change from days spent park hopping. You're still going to see some families and groups, but in our experience, this is one of the more 'hip date-night' locations to eat at when doing Disney.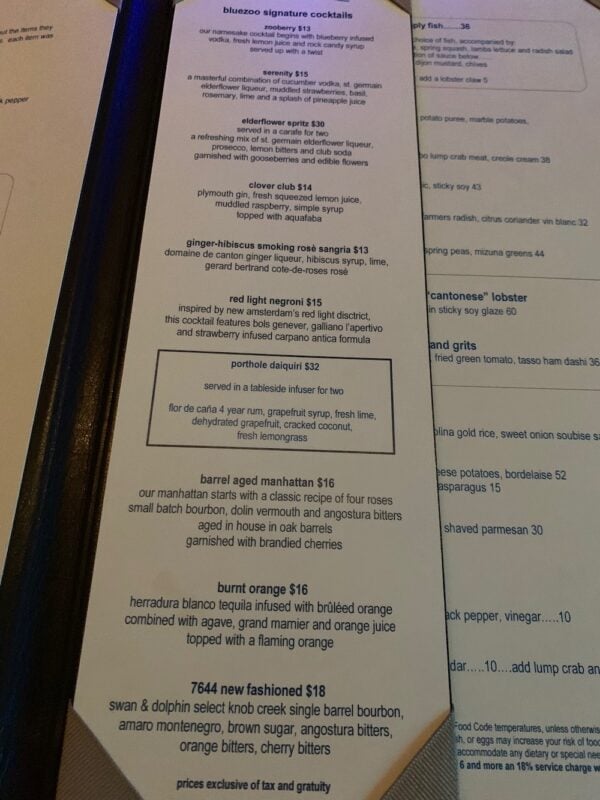 Bluezoo has a really great cocktail list. I was drawn to the concoction aptly named 'serenity', and it was fantastic. It's as cool and refreshing as it sounds made with cucumber vodka, elderflower liqueur, a pleasing mix of muddled strawberries, basil, rosemary, and spiked with some lime and pineapple juice. Sooooo good and tastes rather like the grown up, fruitier cocktail cousin of spa cucumber water. For him – something a little more classic, but no less tasty – a Manhattan made with specialty bourbon and garnished with brandied cherries.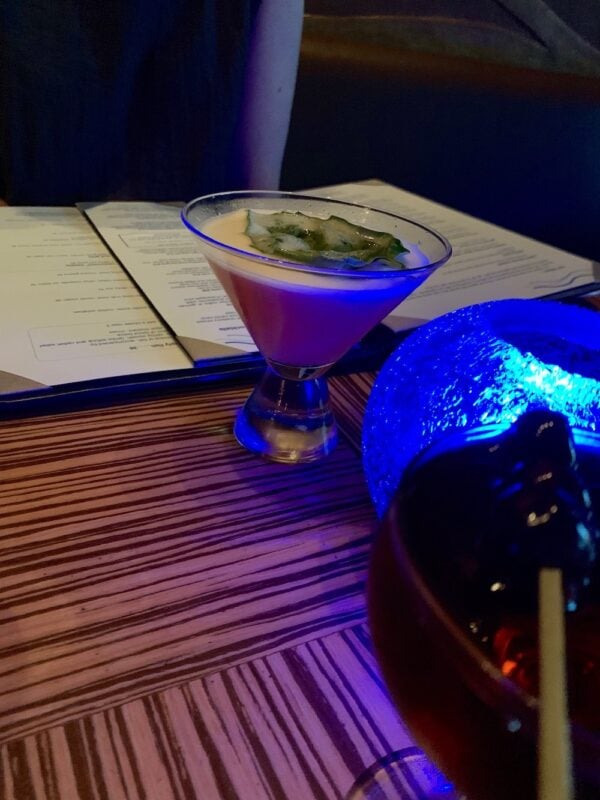 Appetizers are creative, varied (though lots of seafood, of course), and generous. We shared two: the jumbo shrimp cocktail and the scrumptious teppan seared jumbo sea scallops. Unfortunately, I have only a blurry photo of the scallops, unworthy of posting, but it was pretty — to look at, and to eat with tender and tasty morsels of seafood and beef both beautifully set off by a cauliflower purée.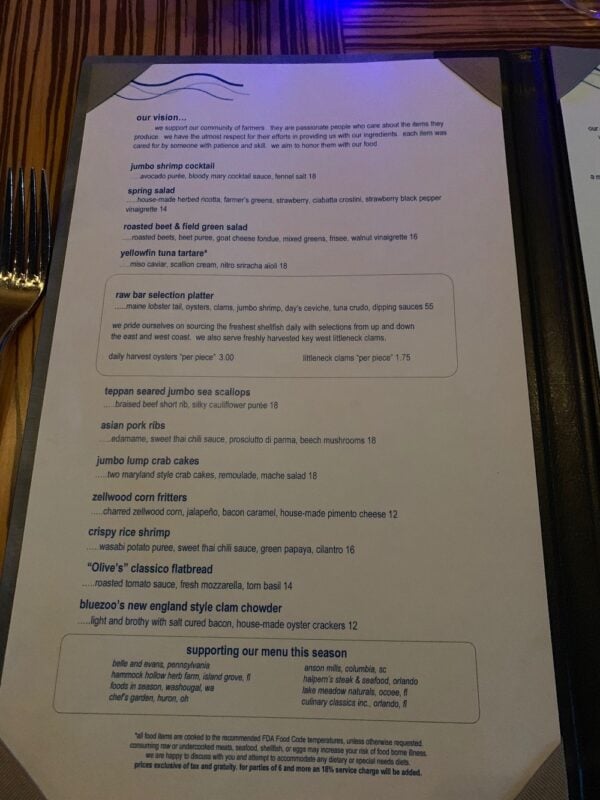 The jumbo shrimp cocktail was really delish, served with interesting handcrafted sauces. The 'bloody mary' sauce was the most traditional of the bunch, and the avocado purée was my favourite: velvety and lovely. There was also a nice garlic aioli and a honey mustard sauce, and lots of fennel salt to tie together. A nice twist on the usual!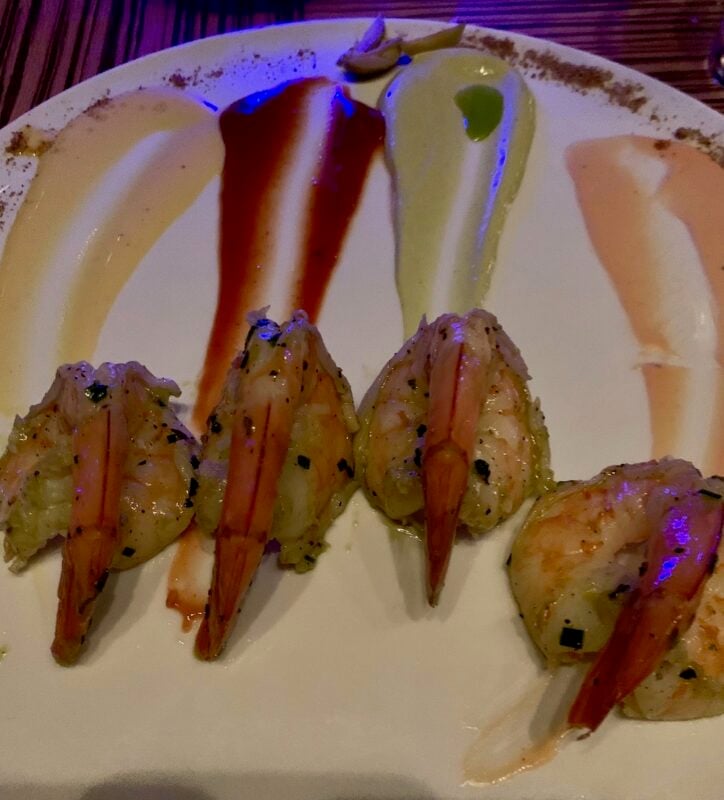 Both of our entrées were superb. I had the Simply Fish: corvina on that particular evening served with roasted zucchini couscous, corn purée, and a caper beurre blanc sauce. The fish was out of this world, delicately crisped on the outside, and flaky and beautiful on the inside. I was more impressed than I thought I'd be with the zucchini couscous – so delicate and tender, with the zucchini adding that subtle bit of green flavor to freshen it up. Great dish!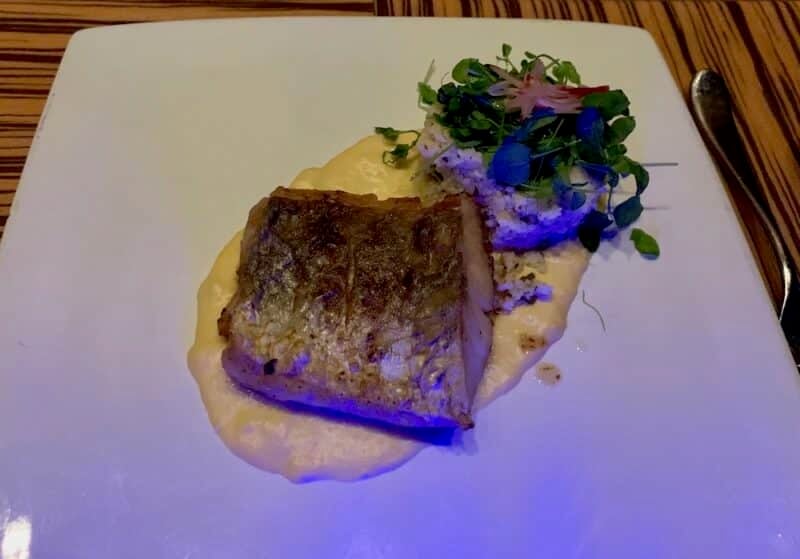 For him – what is probably the most outstanding item on the bluezoo menu bar none: the two-pound cantonese lobster. The tender lobster meat is fried and then tossed in a sweet, sticky, earthy/spicy glaze whose flavour you won't forget. I can literally taste it as I look at the picture below. Spectacular — I really can't say enough about this dish, and words are not going to capture it. If you go, just get it.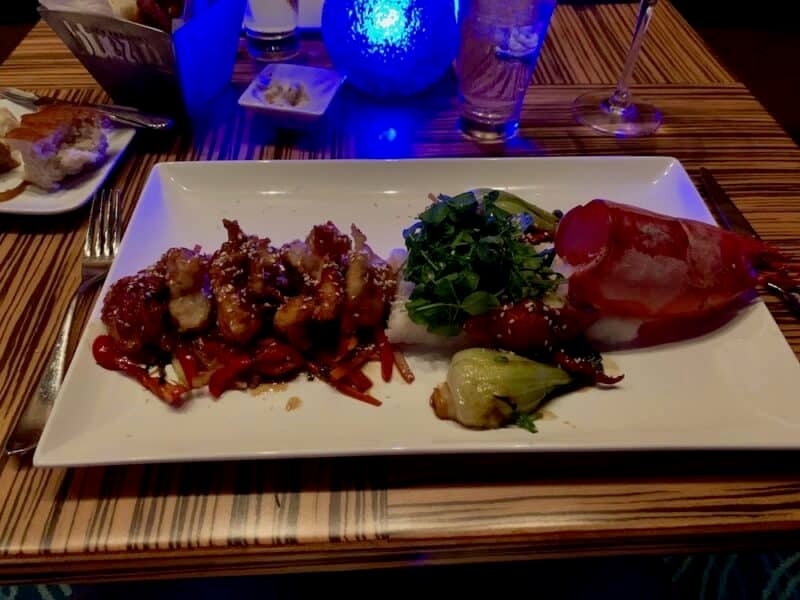 To accompany our fabulous entrées we selected a chardonnay from bluezoo's lovely wine list. We greatly enjoyed our bottle of Newton Unfiltered Chardonnay (Napa Valley, 2014). It was crisp and rich at the same time, especially perfect for drinking with the robust, 'sweet and sticky' flavors of the cantonese lobster.
We highly recommended bluezoo. First, there's its grown-up ambiance roviding a little date-night oasis within the family-centered context of most Disney dining experiences. But mostly it's the wonderful service and outstanding dishes, cocktails, and wines that makes bluezoo top our list as a favorite on our Disney holiday.
For more information or to make reservations, visit https://www.swandolphinrestaurants.com/bluezoo/