Our evening at Per Se, French Laundry's Thomas Keller's three-Michelin-starred Manhattan restaurant, may be one of the finest dining experiences we've ever had. (A brief glance at the menu below and you'll no doubt begin to see why…)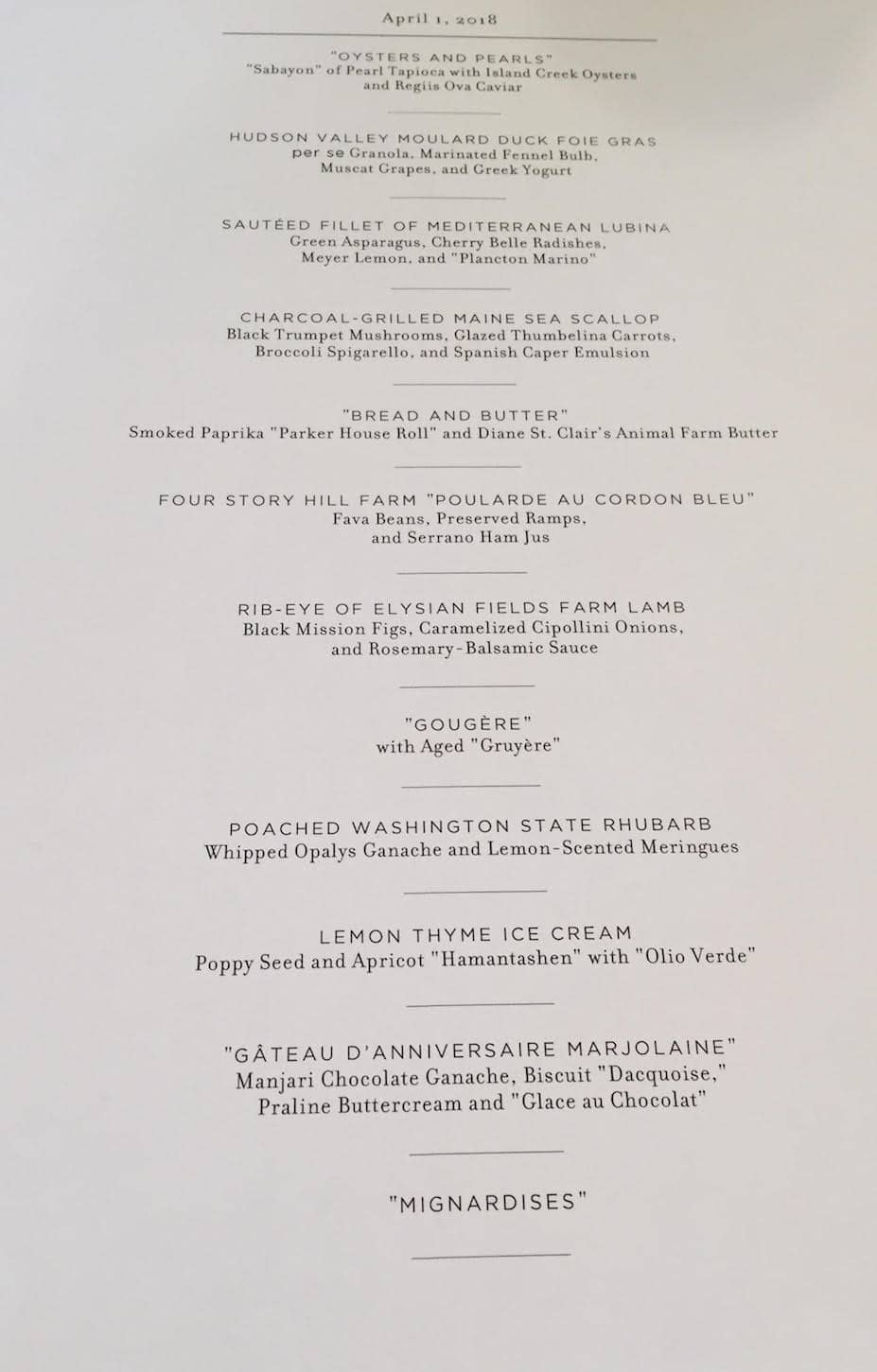 From the phenomenal food and its artistic presentation, to the outstanding service, to the spectacular view – everything about this meal marks it as among the very best. A changing nine-course tasting menu is offered daily, and along with it we enjoyed a wine pairings menu assembled from Per Se's remarkable, award-winning wine list. This is a dream of a restaurant that you need to try.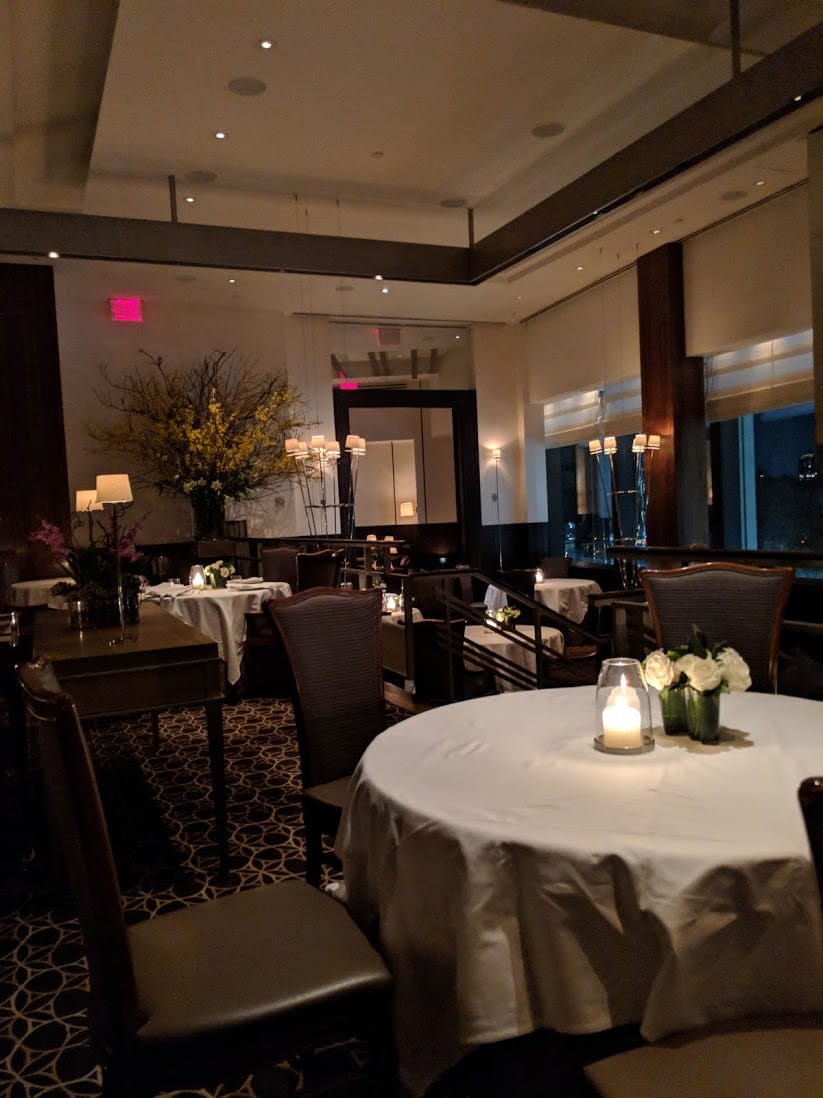 Let me first say that you may read reviews and stories that question Per Se's location 'in a mall'. It's true that the restaurant is located on the 4th floor of the Time Warner Center. I can actually understand the surprise at finding such an upscale in a shopping center. But please don't let this discourage you from eating there, please – you'll be missing out. First of all, the 'mall' itself is very tasteful, including several upscale boutiques. Second, the top floor location and the subdued, elegant decor lifts you right out of the shopping world anyway. Third – the VIEW! Large windows allowing you to take in Manhattan's iconic Columbus Circle, Central Park and the lights of the New York skyline  – this is a feature of Per Se, not a liability. Don't let the word 'mall' evoke the wrong image and cause you to miss out!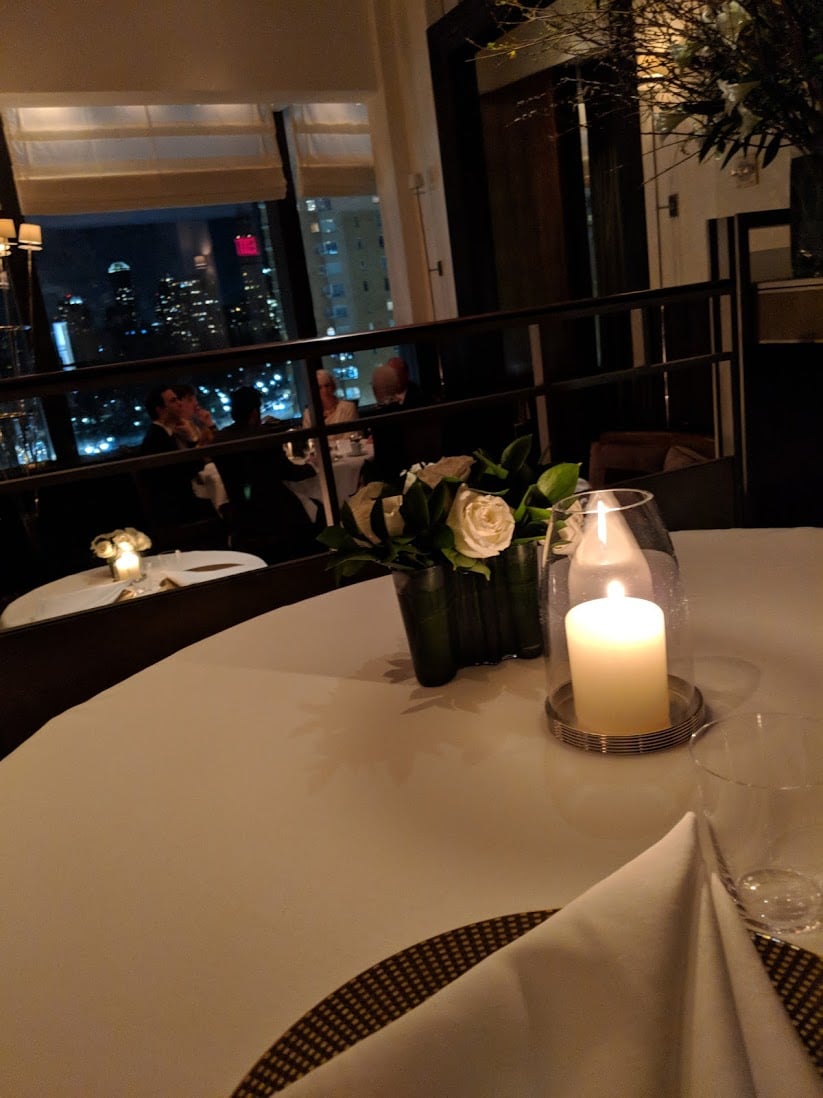 So, with that out of they way, come with me on a little visual journey of our nine-course meal with wine pairings.  Not pictured but implied is the incredible service that was attentive, friendly, and personal  making us feel like honoured guests – it really was impeccable. (As the story goes, apparently a professional choreographer was  brought in to train staff how to move, clear, and serve with the deftness and ease of dancers, and it shows  – or rather, doesn't – adding to the magic of the experience.) Also, as I've said elsewhere, I have number of dietary restrictions. Not only were all those who served us aware of all my allergies, modifications were made where necessary so that I could enjoy each dish without the sense that I was giving anything up. In fact, the maitre d' and I began the evening with a chat where he clarified each of my concerns and then let me know what they had already planned to accommodate me. I was not only put completely at ease – which is really all we 'allergy people' want – but I was truly made to feel that my experience would be just as phenomenal as it would be for someone with nothing to  worry about. They really handled this beautifully, and I would suggest that no matter your restrictions or concerns, the team at Per Se is able to rise to the occasion.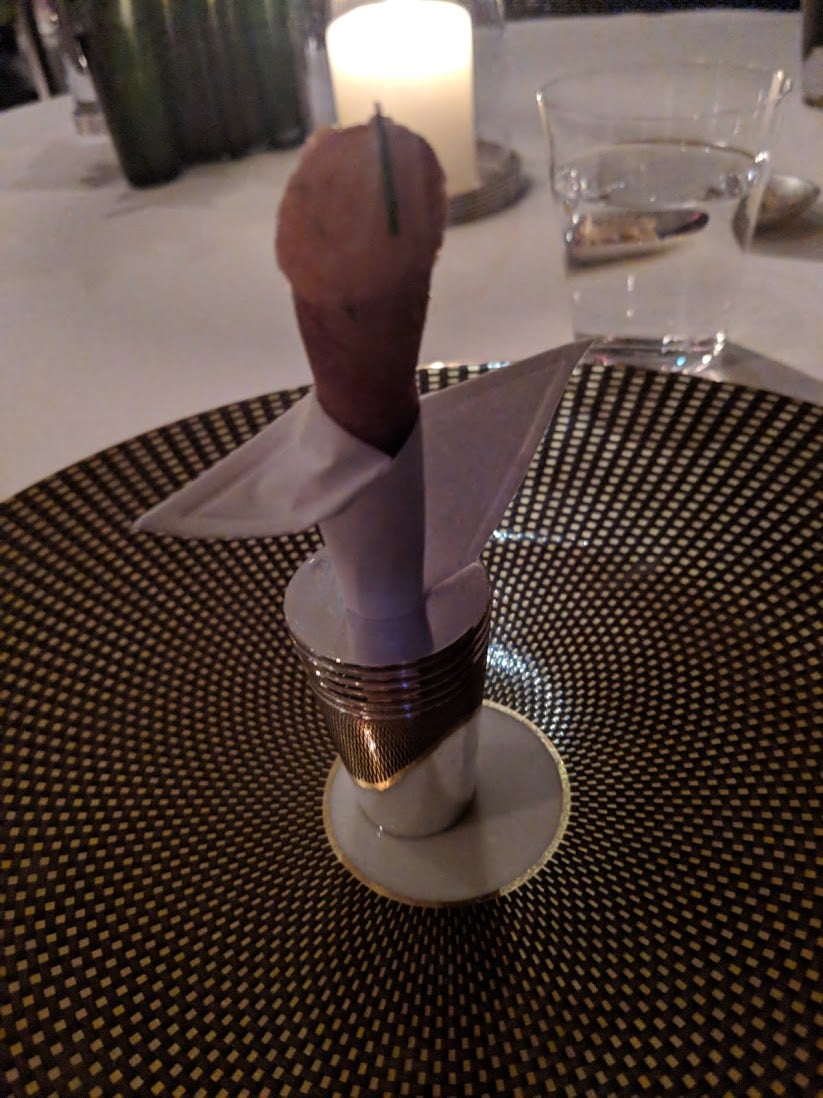 Back to the magic! As you'll see in the photos above and those that follow the art of presentation; design went into the arrangement of each dish, including the gorgeous Amuse Bouche above that began our meal – Thomas Keller's signature Salmon Cornet, a delicate cone filled with salmon tartare and red onion crème fraîche.
We moved on to "Oysters and Pearls" (above), a combination of tapioca with oysters and caviar. This was a rich and creamy dish, with pleasant 'bubble-burst' textures from both the tapioca and caviar. Surprising, and very luxurious.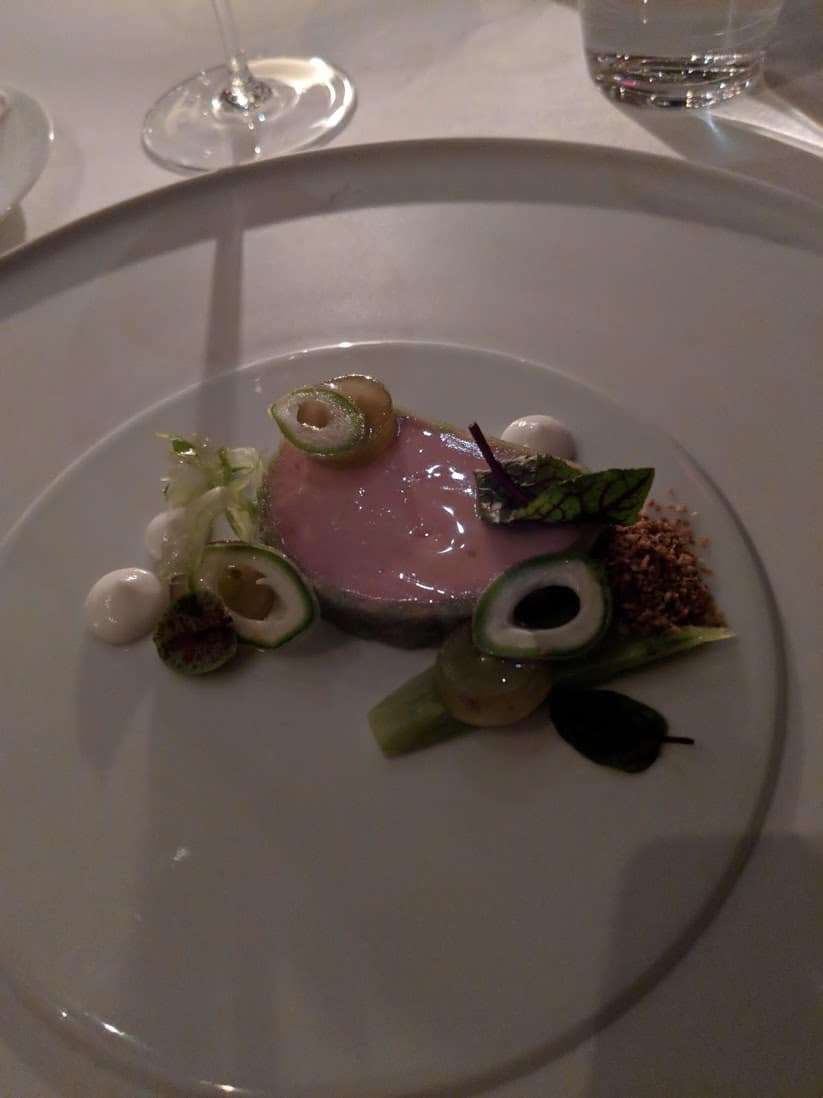 Them came the Hudson Valley Moulard Duck Foie Gras, the first of the dishes bearing some color.  I couldn't help but think I was looking at a lovely painting on a white canvas. It was rich and sumptuous not only to eat, but to look at. We sipped on the proper and perfect (only?) pairing for Foie Gras, Sauternes (the cold liquid gold Chateau d'Yquem).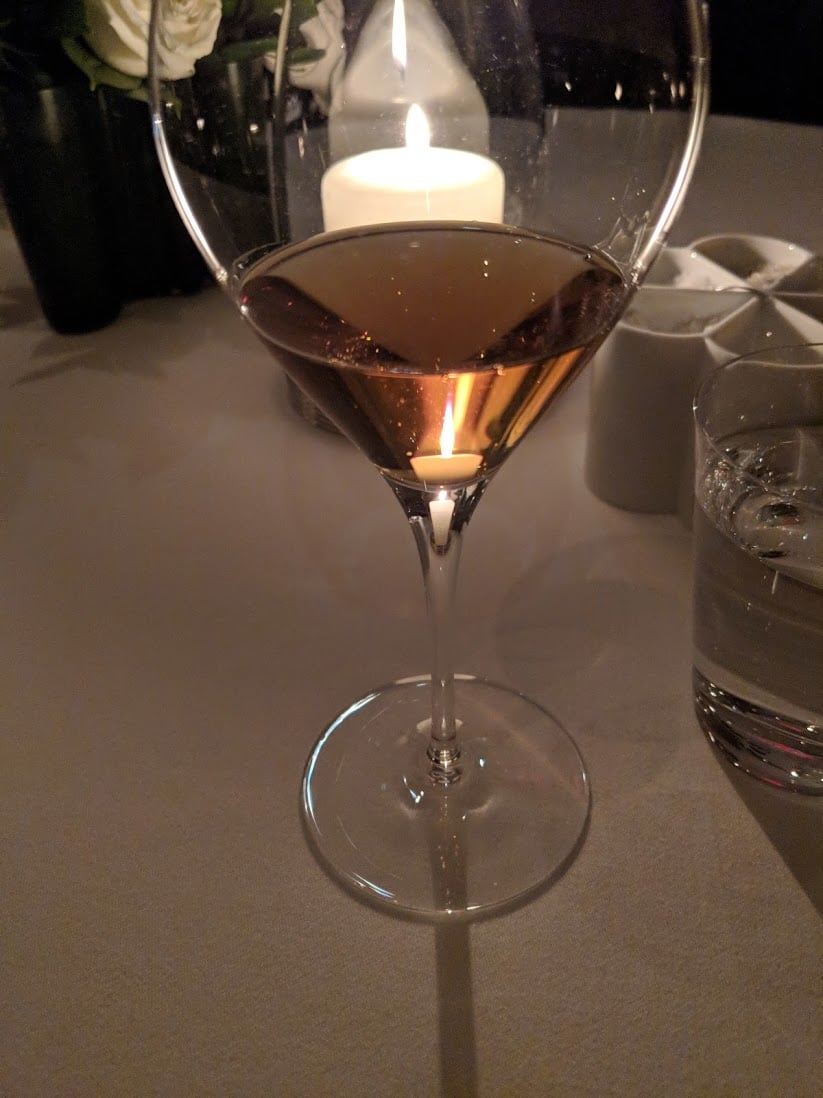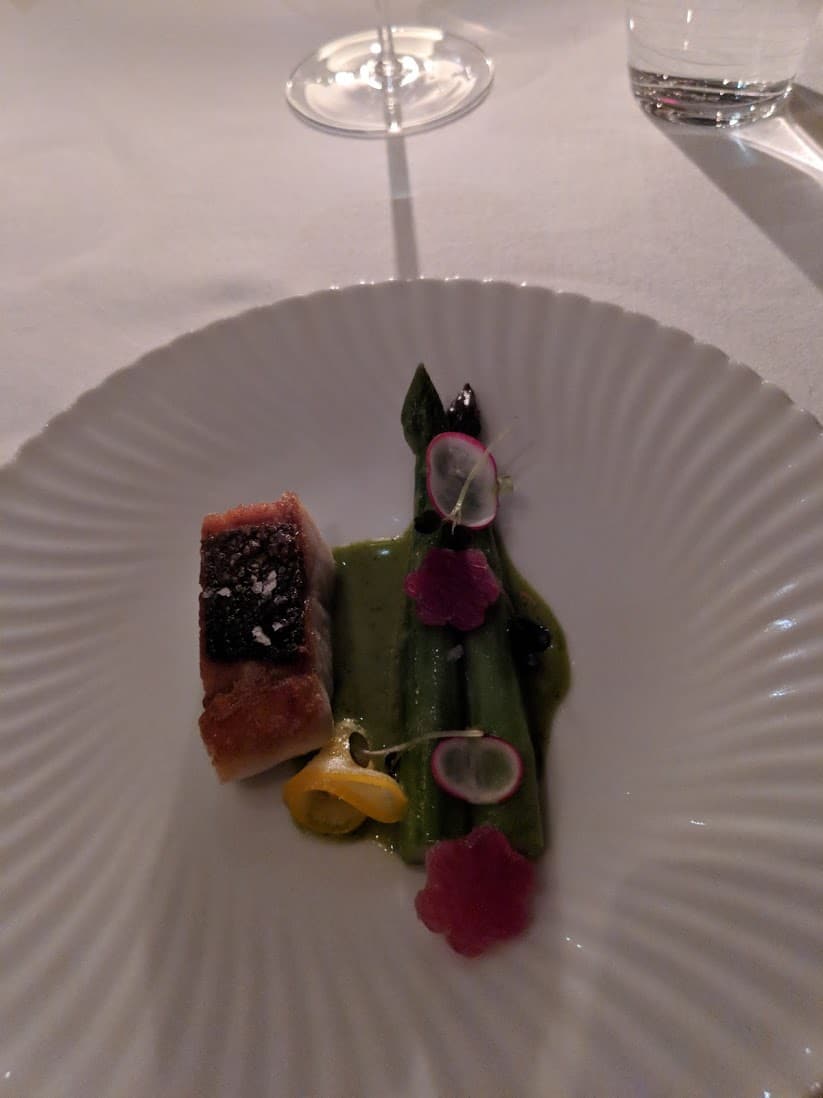 The Foie Gras was followed by the Sauteed Fillet of Mediterranean Lubina (sea bass). It was tender and crips and accompanied by delicate vegetables  (asparagus and radish), along with Meyer lemon and "Plancton Marino".  So pretty, and somewhat 'refreshing' after the rich amuse bouche, "oysters and pearls", and foie gras. This and the next course, also seafood (scallop), was paired with glass of crisp Sauvignon Blanc (Kenzo Estate Napa Valley 2016).
The meaty Charcoal-Grilled Maine Sea Scallop stood up well to the black trumpet mushrooms with which it was served. It also came with a pleasant blend of carrots, brocolli sprigarello (somewhat like brocolli rabe) and a Spanish Caper Emulsion. Very lovely – and hard to believe we were still near the beginning of our meal…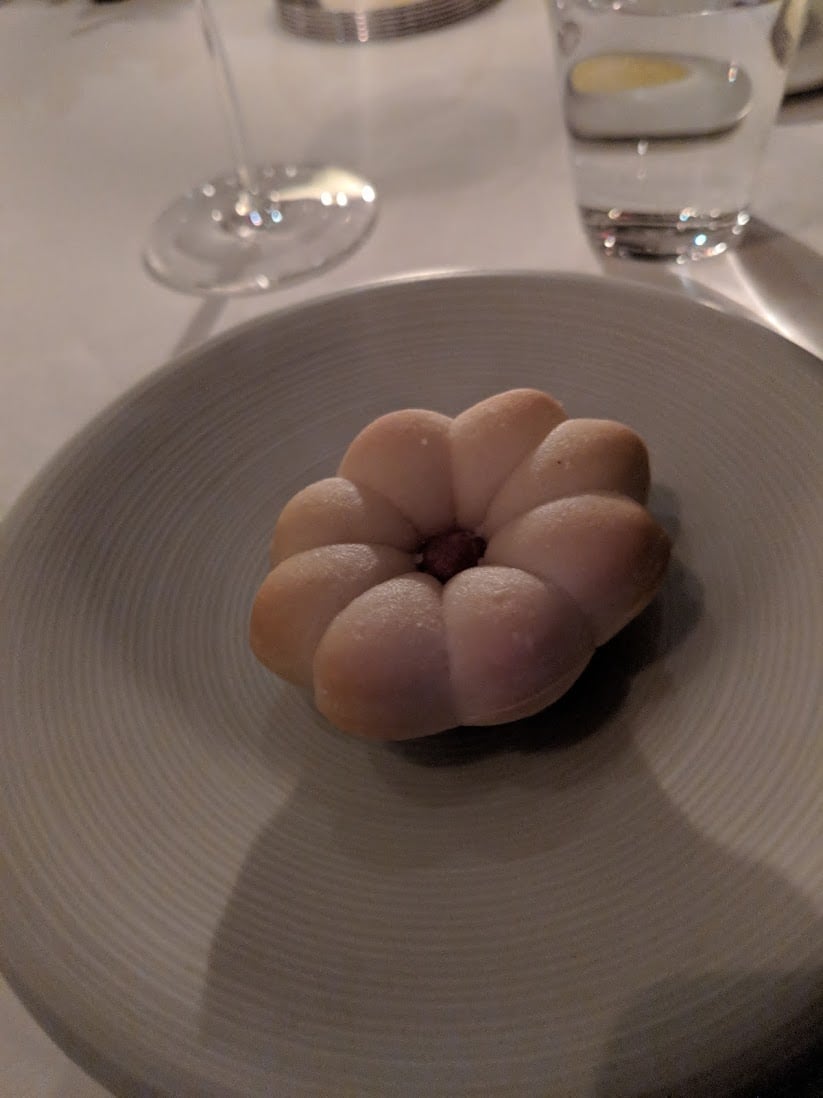 Next , we moved on to "Bread and Butter"  – a course that provided a needed pause before the coming chicken and lamb courses, but that also truly stood out as one of the highlights of the entire meal. Simplicity itself – bread and butter – but is there anything better? When every ingredient involved is absolutely the most perfect version of itself, each delicate bite is heaven. This Smoked Paprika "Parker House Roll" with Diane St. Clair's Animal Farm butter was incredible, I can still taste it. ( In the photo, it looks deceptively like one of those jam-filled shortbread cookies – not the case. Best bread and butter, ever.)
I have to stop right here and acknowledge that this is sounding and looking like a lot – and it is truly decadent. But I can also tell you that there was something about the pacing of the courses – and how each bite was a 'discovery' – that caused the focus to shift from quantity of food and onto pure experience of food, a pleasure.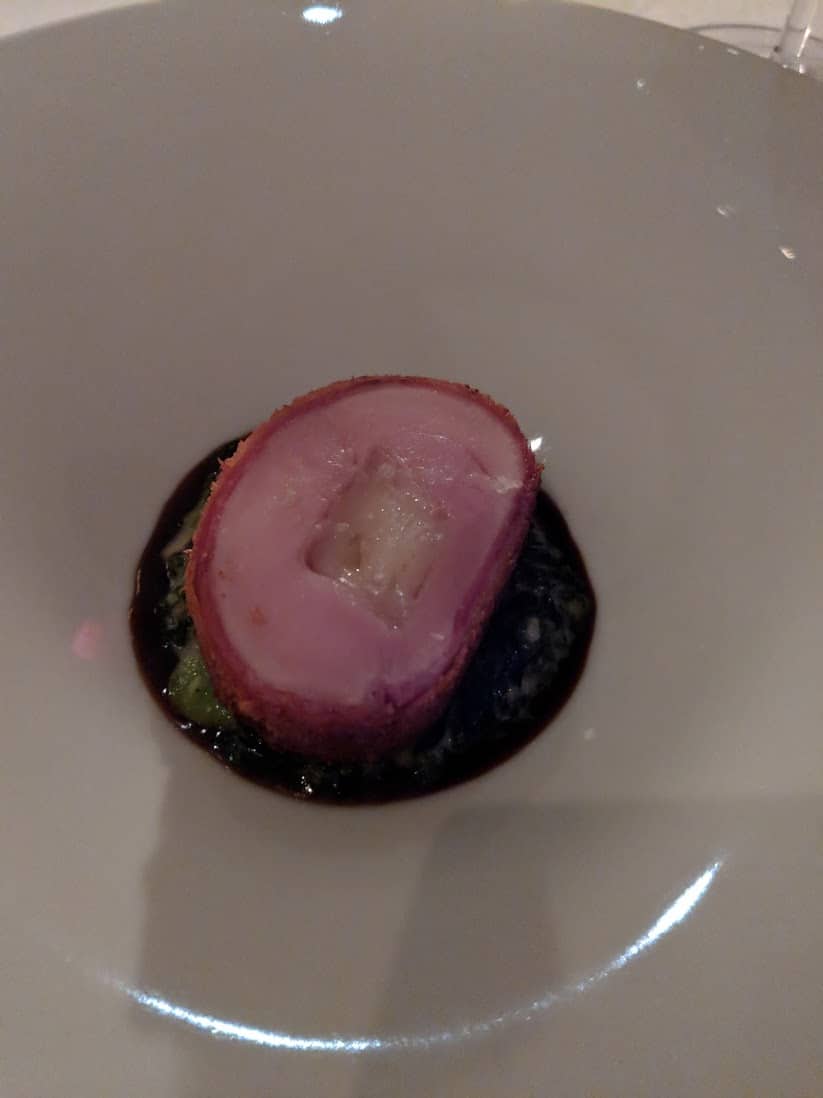 So, in this spirit of extraordinary 'food experience', we moved on to the tender, juicy and flavourful Four Story Hill Farm "Poularde au Cordon Bleu" with Fave Beans, Preserved Ramps and Serrano Ham Jus. Another feast of color, design and presentation not just for the palate, but for the eyes. (Isn't it just so perfect and pretty, that you can just eat it up? Good thing you can!)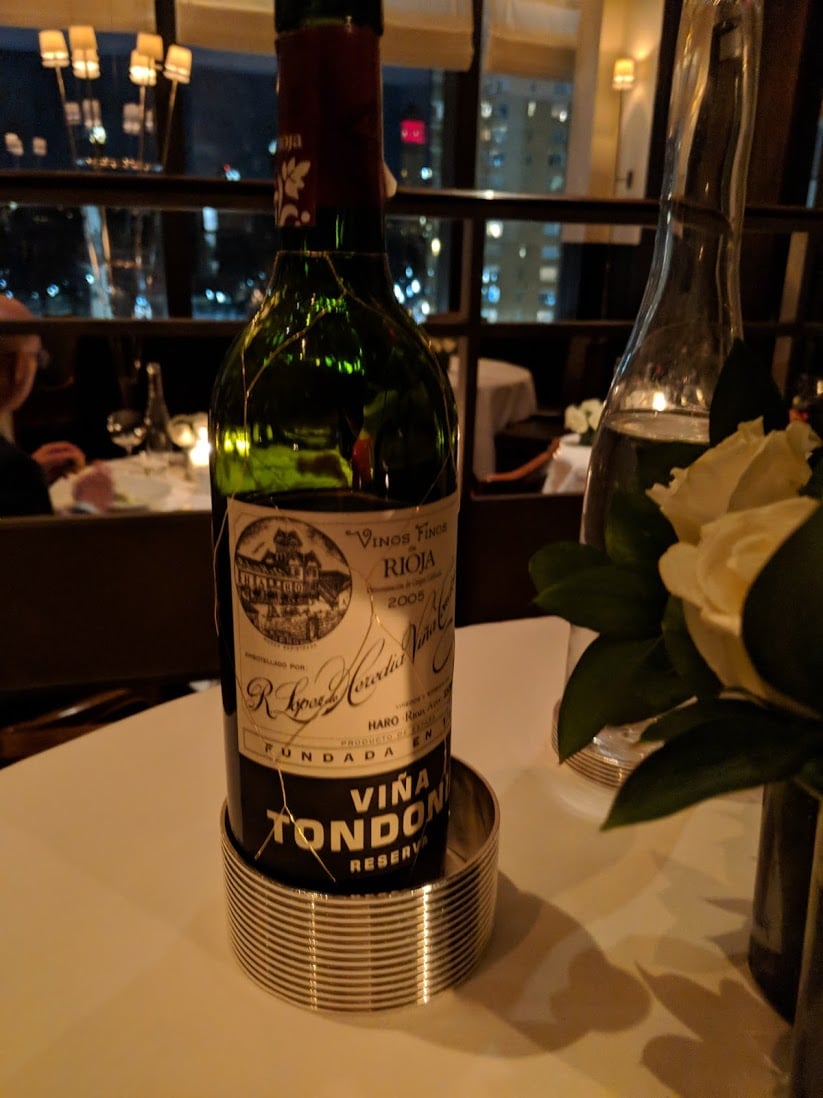 The picture-perfect poularde was paired with a lovely glass Spanish Rioja. (Always fun to start in on those red wines…)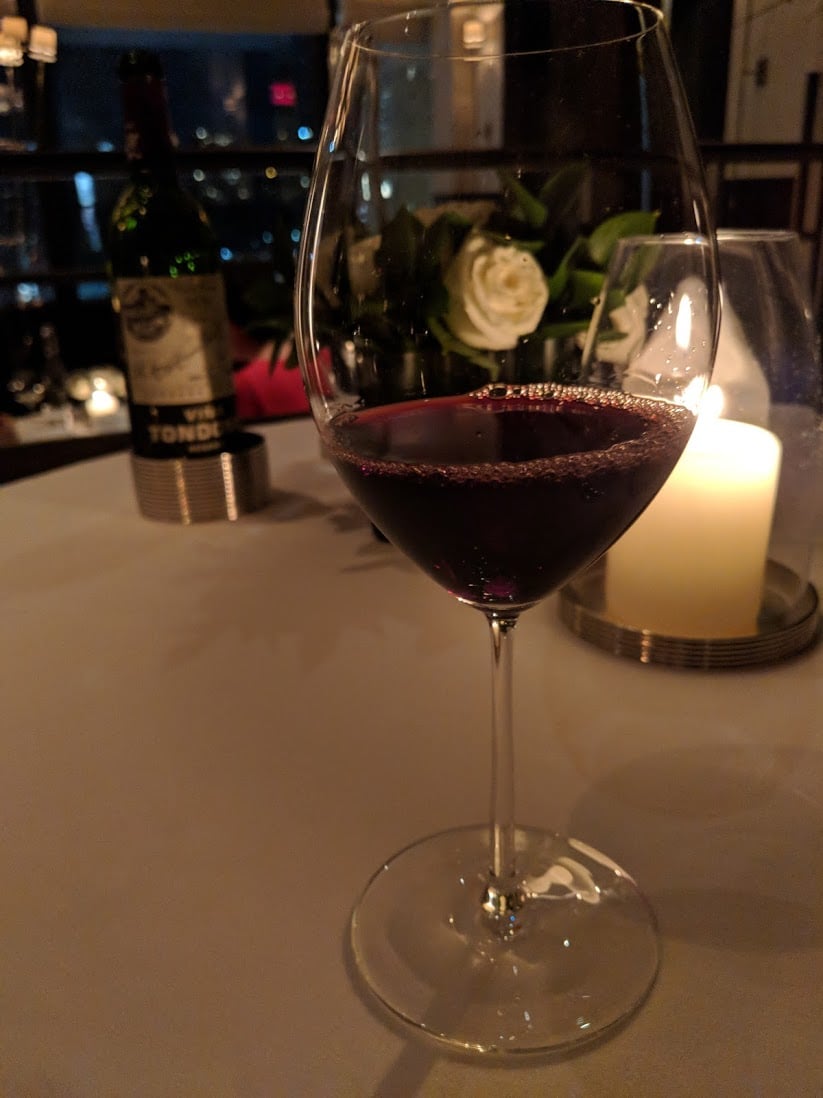 Below is a photo of another standout dish of the evening – the Rib-Eye of Elysian Fields Farm Lamb with Black Mission Figs, Caramelized Cipollini Onions and a Rosemary-Balsamic Sauce.  The lamb was perfectly cooked (as you would expect), but those tender figs! They offered a sweet little bite to play off the rosemary-infused balsamic sauce. Earthy and fresh at the same time.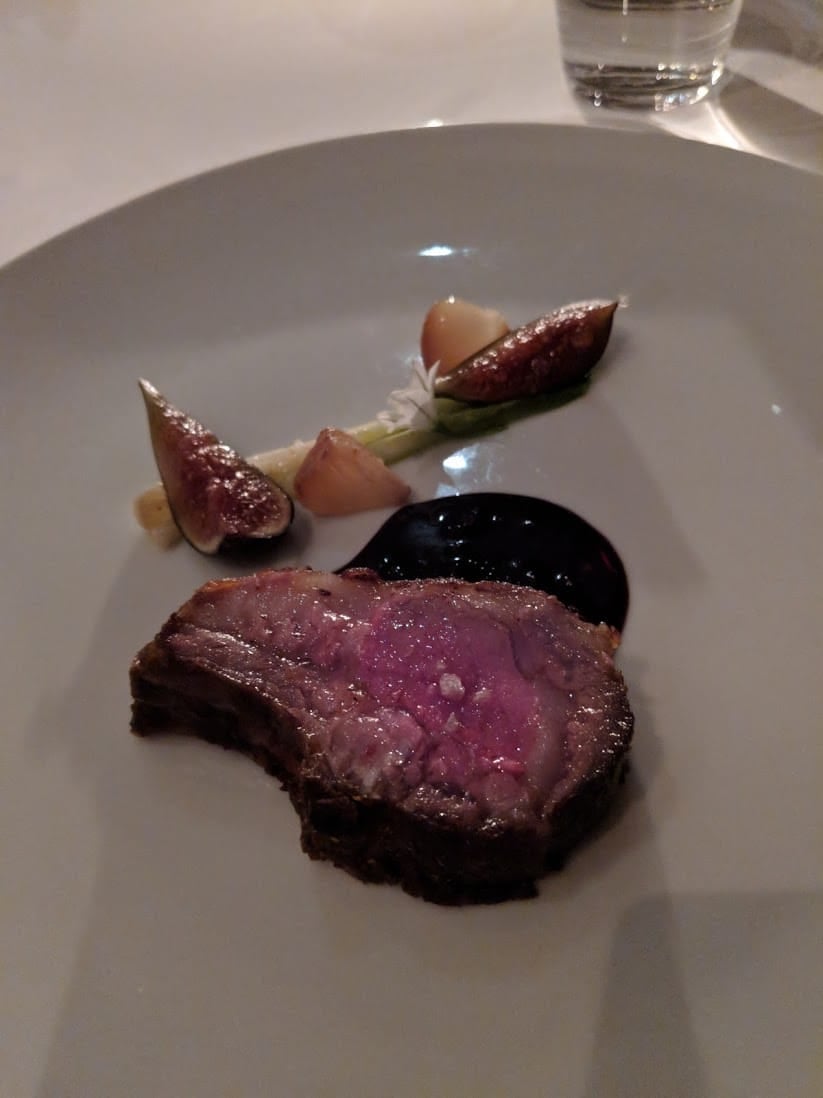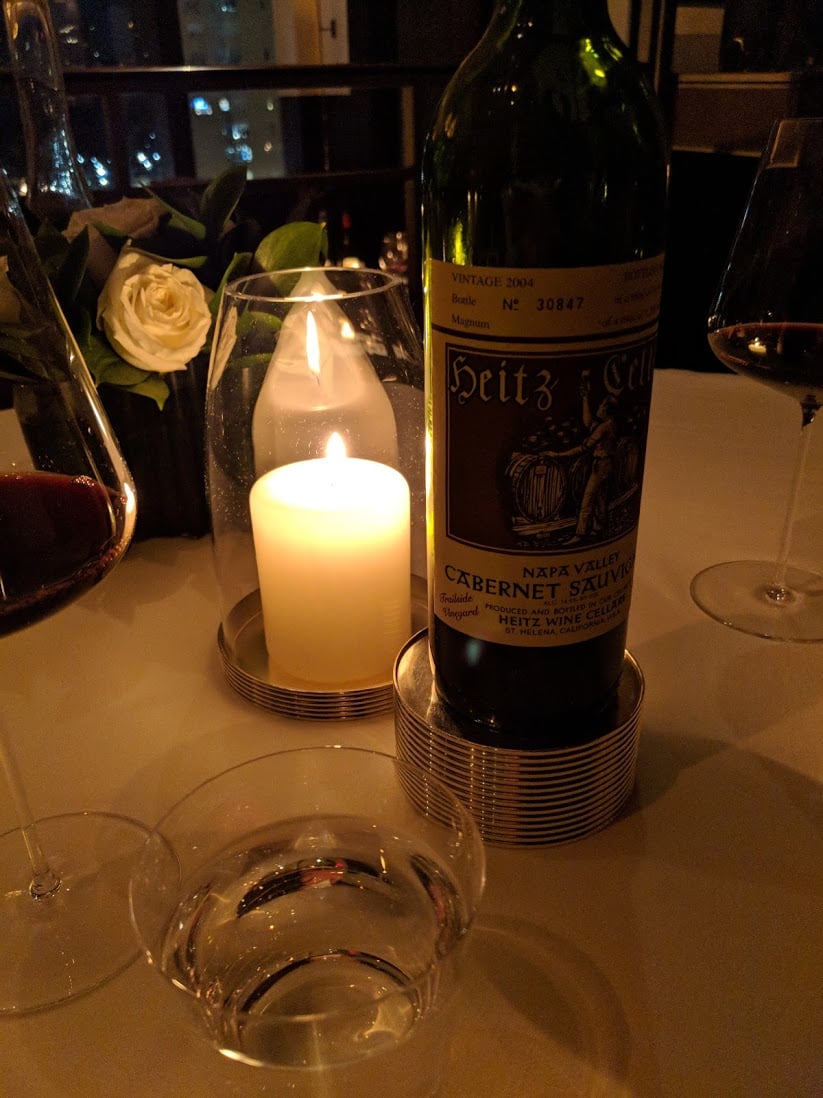 The wine served with the lamb, the Heitz Trailside Vineyard Cabernet Sauvignong (2004) was a jewel red color and went down very smoothly, another beautiful pairing.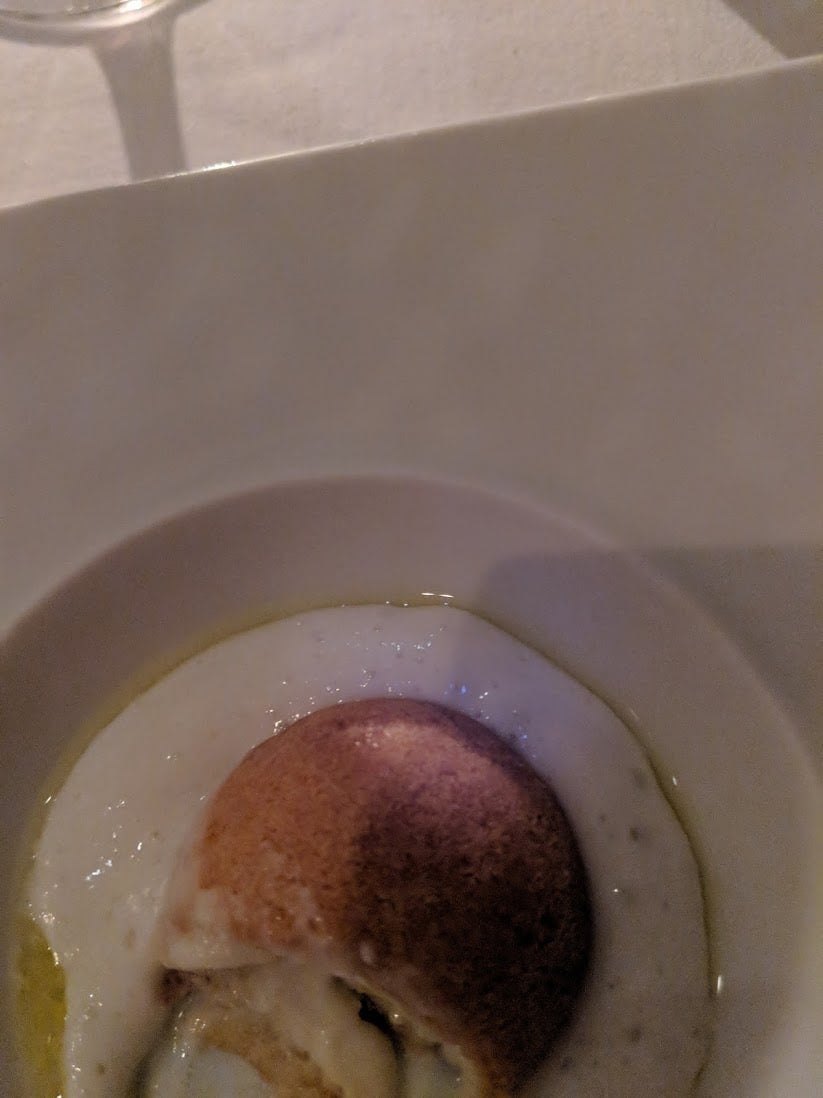 So here I  go with ravings over 'bread' again -pastry really – but another unexpectedly amazing course – Gourgère with Aged Gruyère. Warm and comforting, with hot, bubbling cheese bursting from the center of a perfectly formed choux pastry – what a great twist on the already ingenious idea of the cheese course.
And now we move on to pure fun, even whimsy, as plate after plate of dessert arrived. Note the pure joy on my face and the five dessert dishes you can actually see in the shot (that business to my right is yet another dessert, topped with a meringue confection). Per Se really comes out to play for the dessert course, literally inundating you with sweet treats. The chocolate olive oil magic (topped with gold leaf) pictured below was seriously one of the most divine things I've ever tasted.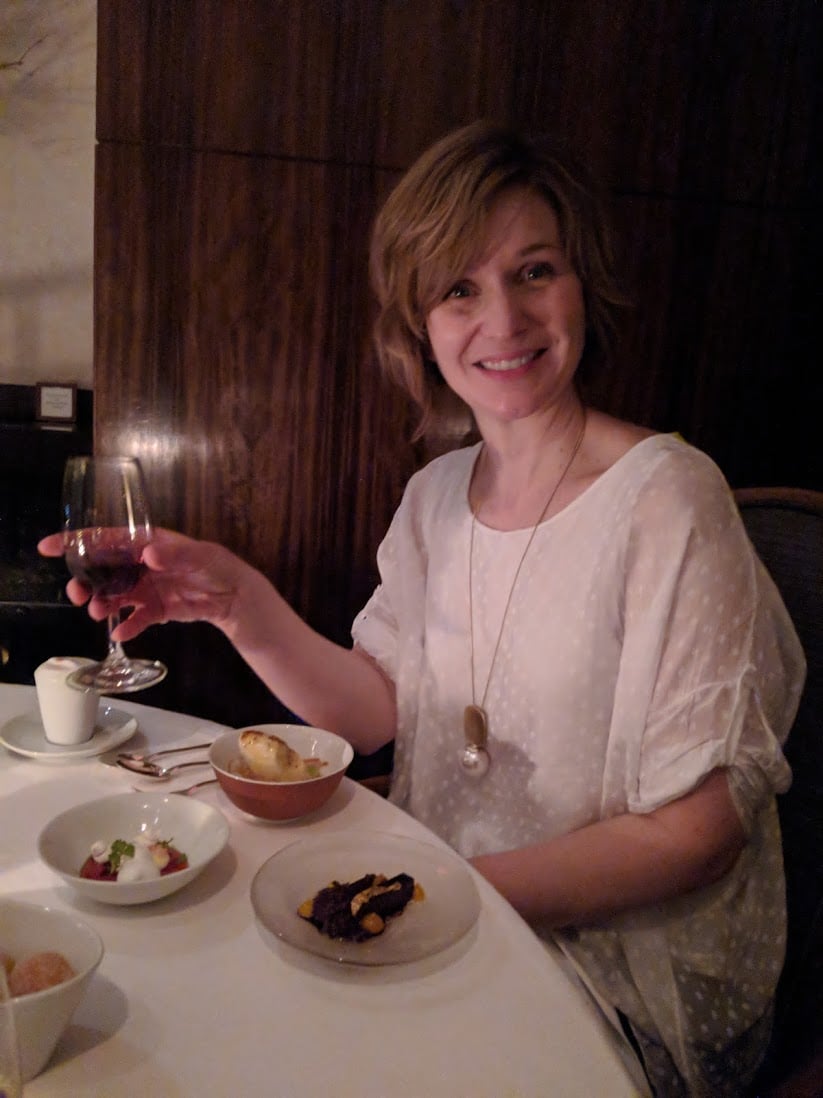 Another dessert shot. If you look closely, you'll see little candy chicks floating on a sweet fruity pond of goodness. It was actually Easter Sunday, so they had a little fun with theme…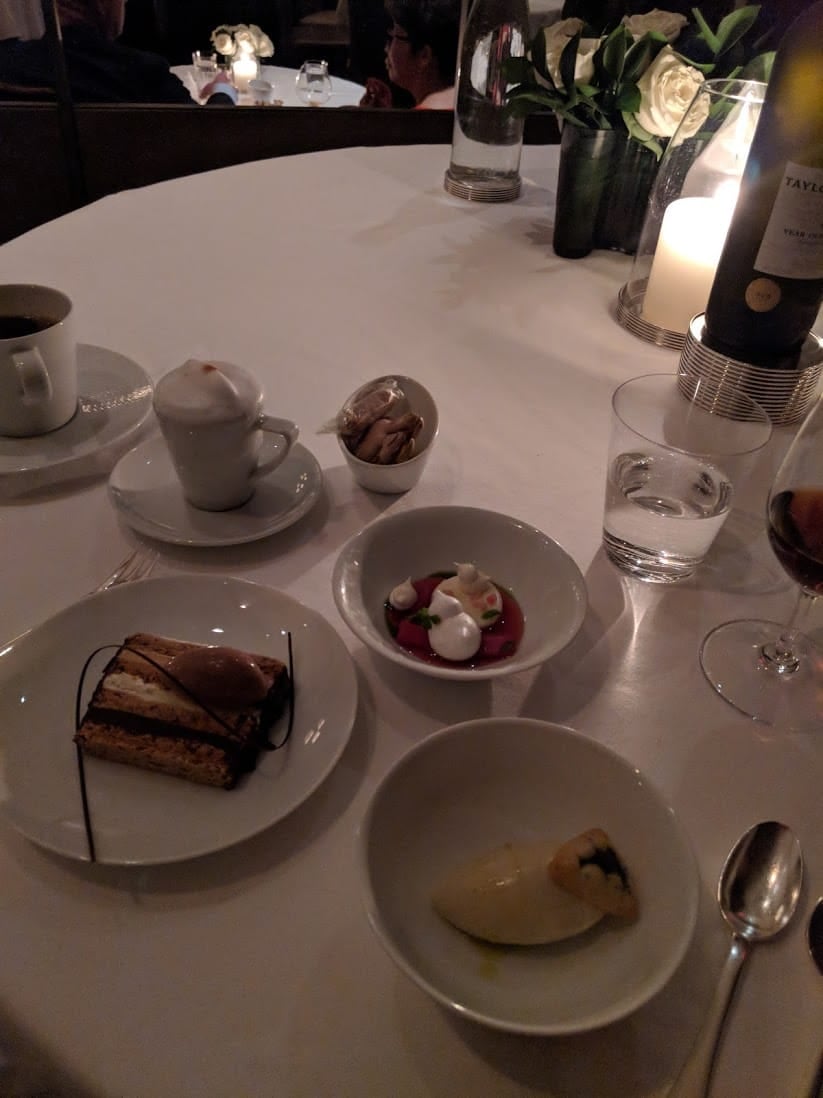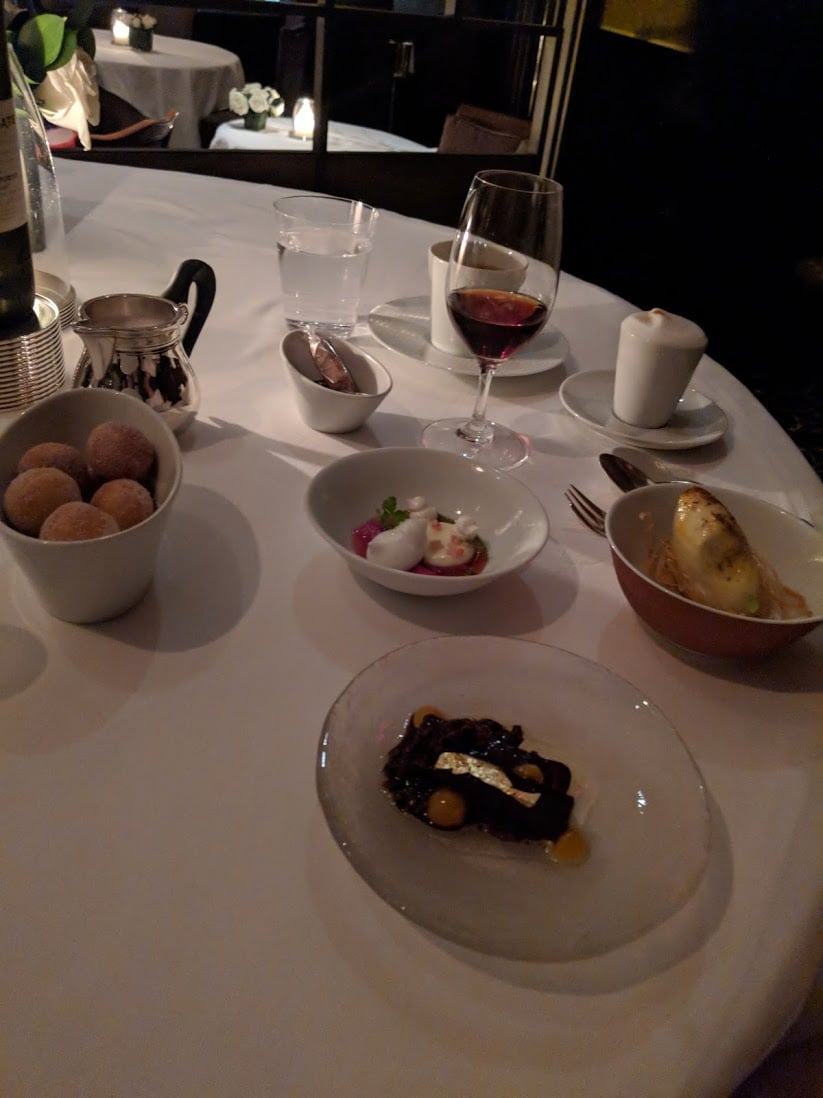 The sweet, delectable items were paired with warming glasses of Taylor Fladgate 30 Year Old Tawny Port.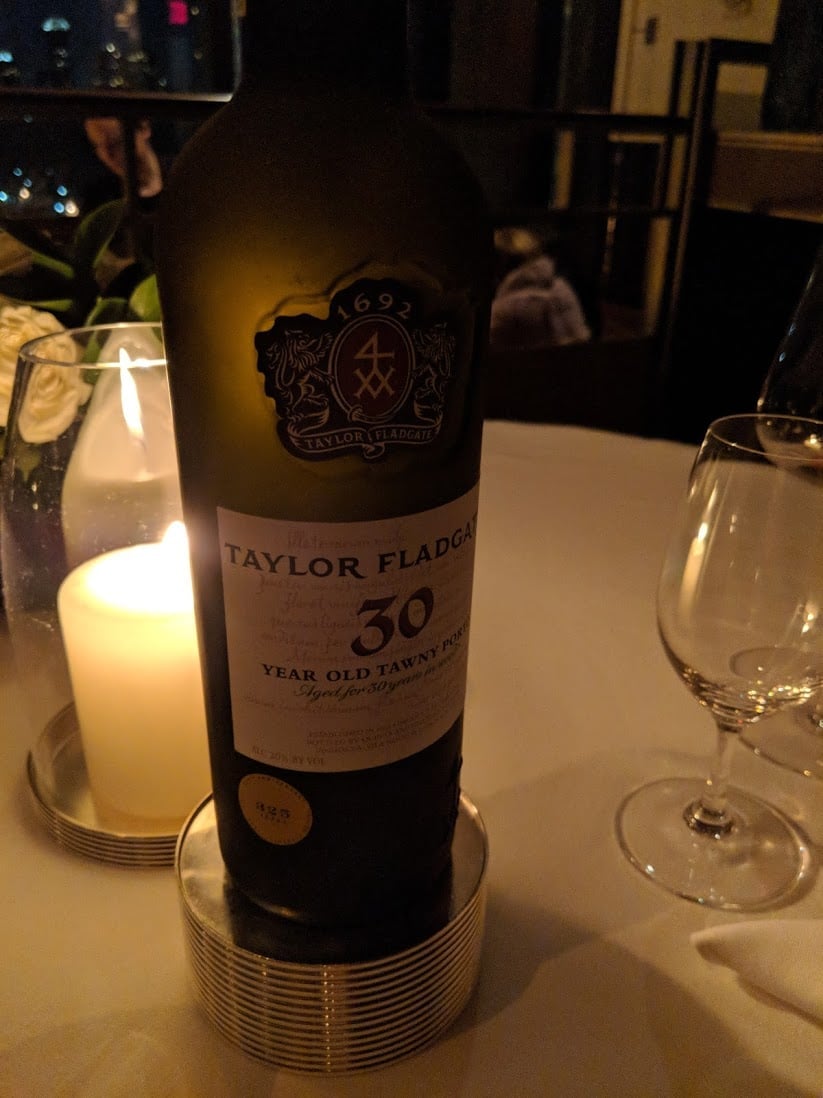 Then, much to my dining companion's delight, Per Se carried the extremely rare and wonderfully flavorful Old Rip Van Winkle Ten Year Bourbon. You just can't find this stuff anywhere –  and the copper-color beverage was bold, warming, spicy, and everything he'd hoped. What a way to end not just a meal, but an epic food journey.
If you love food, wine and culinary adventure,  and you find yourself in New York, do make reservations at Per Se. In fact, it may be the reason you go in the first place.
Visit www.thomaskeller.com/perseny for reservation inquiries, and for more information about menus, pricing and location.