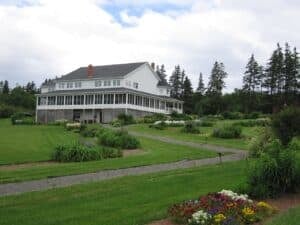 Anne of Green Gables is Lucy Maud Montgomery's most famous literary creation. But there's another character in the Anne books that is arguably just as important as Anne–and that is the setting of Prince Edward Island itself. You can open up any of the stories of Anne Shirley and lose yourself in Montgomery's masterful reflections of Canada's fair island. Or you can go there yourself and experience it firsthand.
We fell in love with Prince Edward Island in the summer of 2007. On that trip, we based ourselves in Charlottetown and explored the central and eastern side of the island, discovering the charm of its red, sandy beaches, sleepy villages, and awesome ocean views. On one of our last daytrips, we discovered St. Peter's Bay, a picturesque inlet and home to beaches, forest trails, and a sense of quiet solitude. We vowed to return here next time.
Two years later, we booked a stay at the Inn at St Peters, an intimate hotel on the St Peters Bay waterfront. A short drive from Charlottetown, the town of St Peters is a lovely, quiet and inviting place. The approach to the town is dominated by the bay itself, and a great, white church across the water, on the same side as the Inn. Head toward the church, turn left, and you are almost there.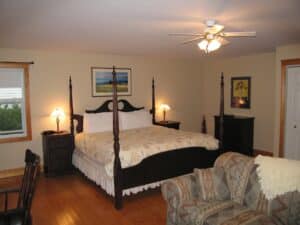 The Inn itself is the ideal place for a restful retreat. Innkeepers Karen and Garth have done a wonderful job creating an environment that is beautiful and welcoming. They extend warm hospitality and a "let us know what you need" atmosphere, yet your privacy is always respected. Reception takes place in the great building, which also houses the large, airy dining room. Accommodations are housed separately from the main building, and just a short stroll away. The grounds are immaculately kept, and gorgeous flowers bloom in neat, winding rows along pretty walking paths. (We were amazed at how green and n bloom everything was for our mid-June stay. The huge clusters of irises were especially breathtaking). The peaceful inlet, lush green grass, and elegant flowers invite calm and relaxation.
Our King Suite was also very pleasing. Spacious, and spotlessly clean, we enjoyed a comfortable sitting area, fireplace, TV and DVD player, as well as a deck overlooking the water. The Suite is a single room, so there is no private bedroom/lounging space. However, this did not affect our enjoyment as we spent our days outside enjoying hikes and scenic drives, and our evenings lingering over delicious cuisine at the Inn's dining room.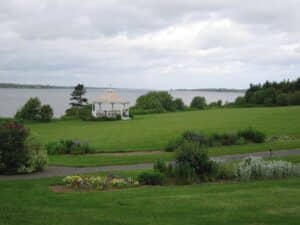 I suppose here's the perfect time to mention the gourmet dining provided by Chefs John Haines and Tracy Wallace. It was certainly a highlight of our stay. Sumptuous first courses included offerings such as "Nova Style" House Smoked Salmon with Avocado Oil and St. Peters Bay Mussels (from but a few feet away!) steamed in White Wine, Butter and Rosemary Cream Sauce. Noteworthy mains included Lobster Ravioli in a Garlic Infused Cream Sauce, and Bacon Wrapped Filet Mignon with Aged Cheddar Croquette Potato, Shiitake Mushrooms, Caramelized Shallots and Balsamic Grilled Vegetables (landlubbers are not excluded here.) A fine wine list added to our enjoyment, and Karen, who was often present in the dining room, shared her knowledge and enthusiasm about wine with us.
We stayed at the Inn for five nights; a rejuvenating amount of time. Our particular vacation package included a nightly three-course dinner, as well as a full, hot breakfast. It was too much food, really, but far better than leaving you wanting. Other packages at the Inn include first-class golf, cycling day trips, and a "City and Sea" package where you share your holiday between the Inn at St Peters, and the attractive Shipwright Inn near Charlottetown's harbour front. We opted for the dining package, and chose our recreational activities depending on our mood day to day.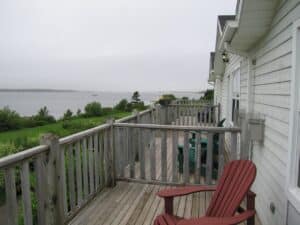 We found ourselves exploring the trails and parabolic dunes in nearby Greenwich park (also home to a spectacular interpretive center – literally just down the road from the Inn), driving along the eastern coastline of the island, stopping in quaint little nearby towns for steamed lobster lunches, and getting acquainted with the quiet, peaceful rhythm of this lovely part of Prince Edward Island. (We developed a particular fondness for Rick's Fish and Chips, a small dining establishment about a five minute drive from the Inn, especially the restaurant's deep-fried scallops. Worth checking out!)
A note on nature – at the time of year we visited (mid-June), we found the mosquito population thriving. Apparently mosquito fogging is not done on the Island. Especially on hiking expeditions in treed areas, we recommend that you bring along bug spray for maximum enjoyment. Beach excursions are another matter – but if you are heading for the trees, be aware that you might have some irritating company.
Charlottetown is a beautiful place to stay, and hardly a big, bustling city. However, for an even deeper sense of peace and seclusion, consider beautiful St Peters Bay.
Overall Experience
We give the Inn at St Peters 4 and 1/2 Stars – Outstanding!
The Inn at St Peters is located at 1668 Greenwich Rd, St. Peters Bay, PEI. For hotel reservations call 800.818.0925, or visit http://www.innatstpeters.com/