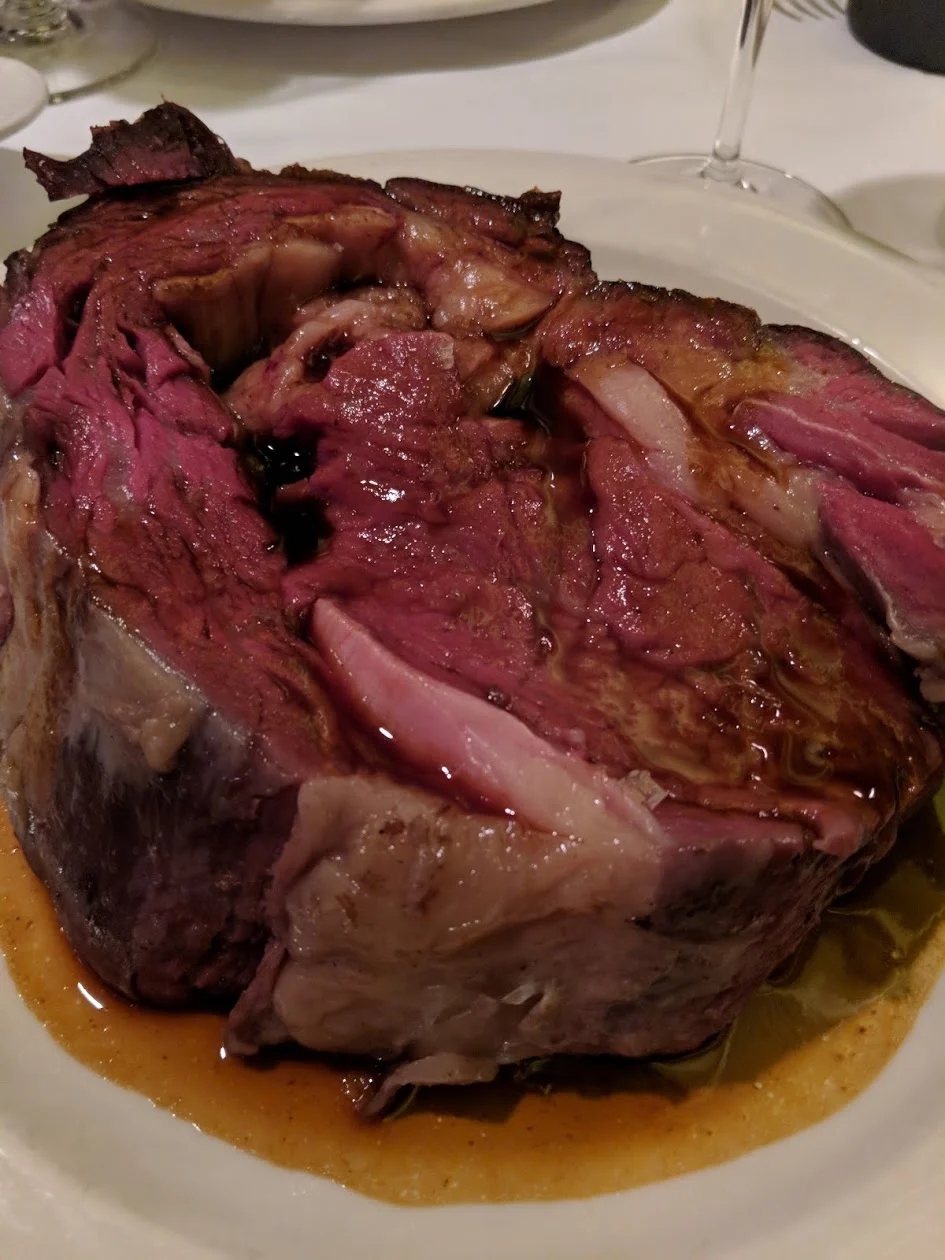 I think this photo of the Prime Rib of Beef (King's Cut) says just about everything you need to know about Keens Steakhouse. This place is seriously old school, with honest, generous fare. You also get the feeling that little has changed over the 100+ years since its establishment – from the menu to the decor to the quality service – and that's a very good thing.
In fact, a reminder of Keens' traditions hangs right above your head as you dine. Apparently the largest of its kind, there is a collection of tens of thousands of churchwarden pipes adorning the ceiling. Keens kept the pipes 'checked in' for patrons at the restaurant for use when they came to dine. Pipes belonged to such illustrious gentlemen as Teddy Roosevelt and Albert Einstein, and other notable members.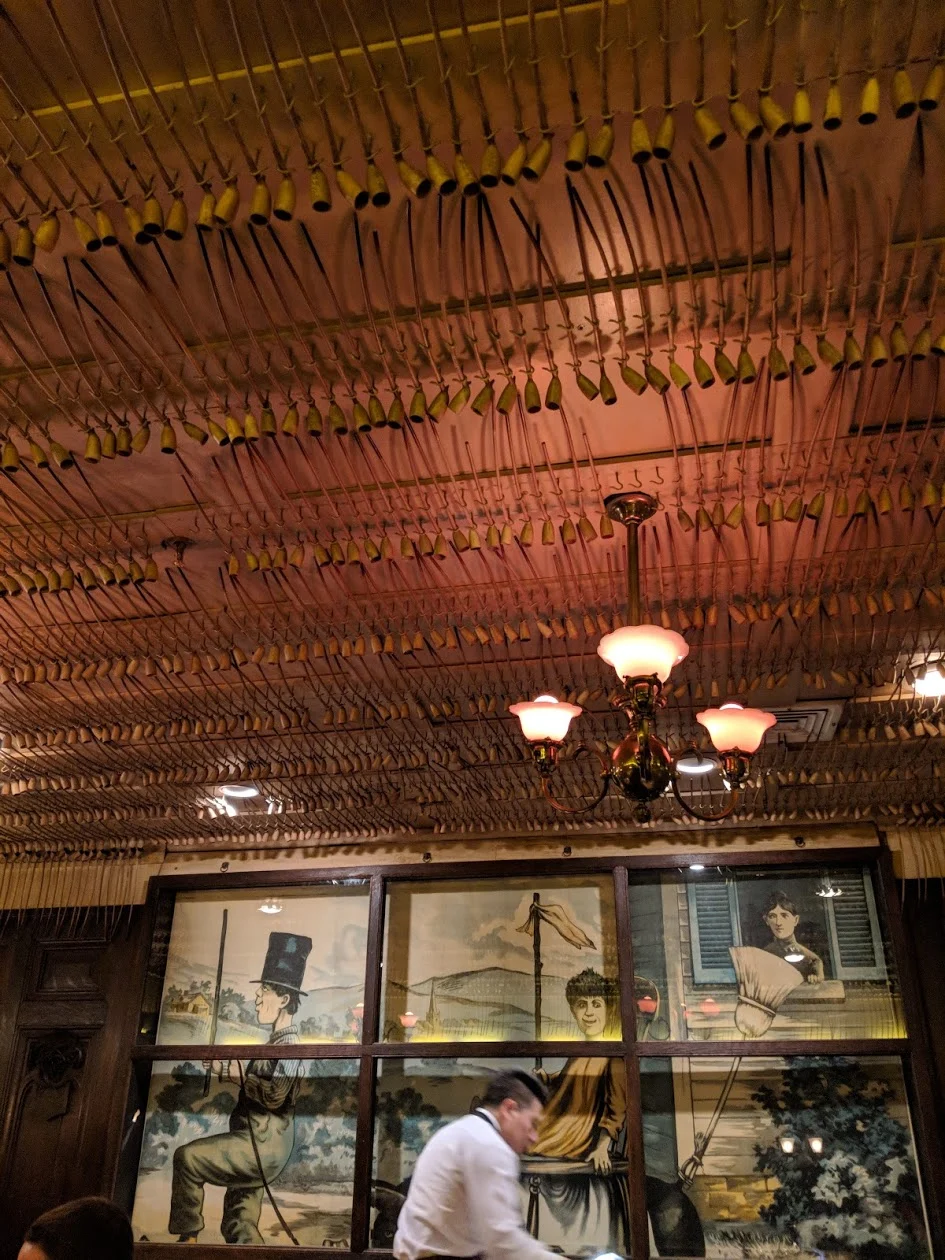 Here's a peek at the menu, more evidence that Keens does a few things, and does them very well: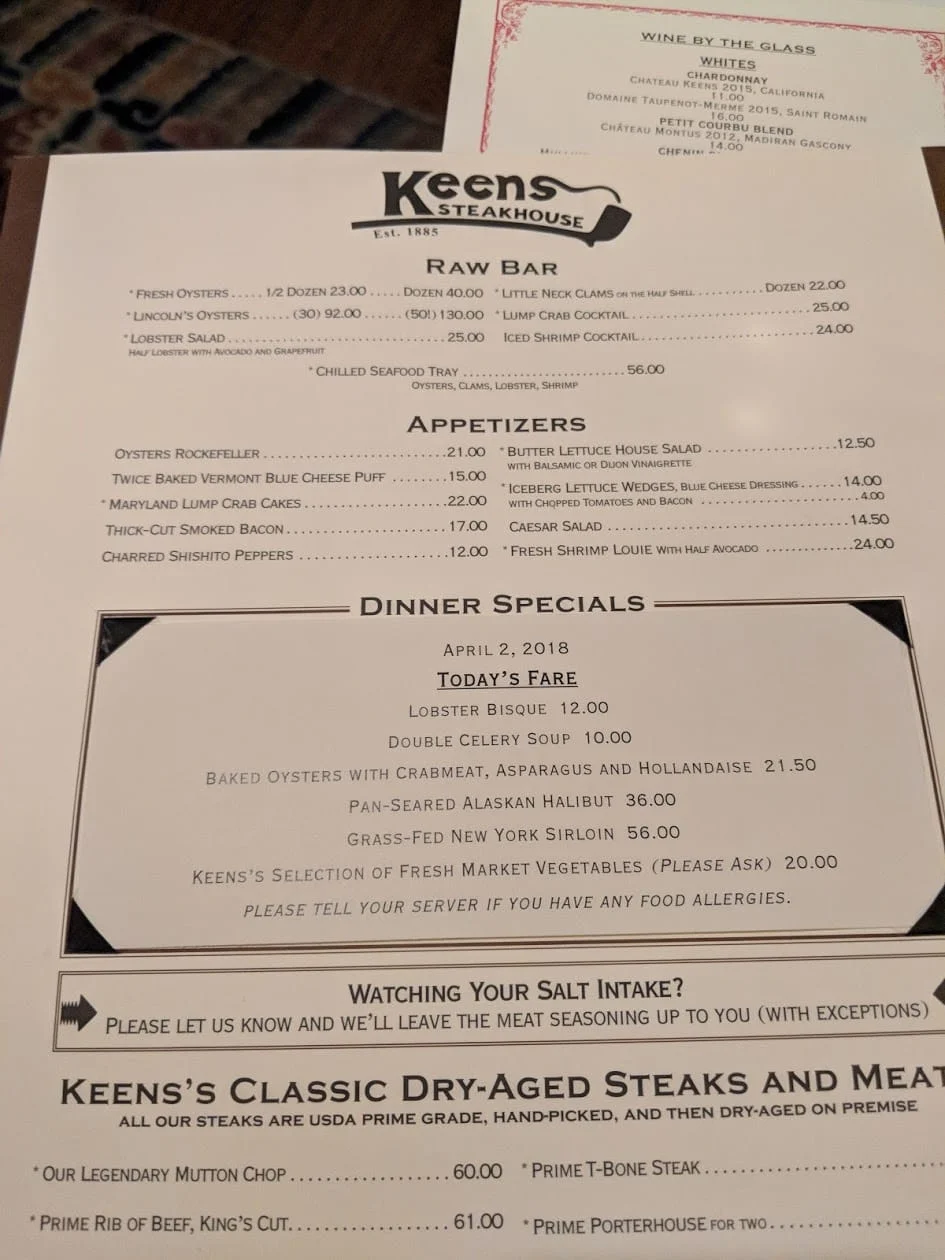 The wine list is similarly to-the-point – hardly the phone book of some places – but we also found it to be expertly curated with great wines to pair with beef. (Terrific selection of after-dinner liquors as well):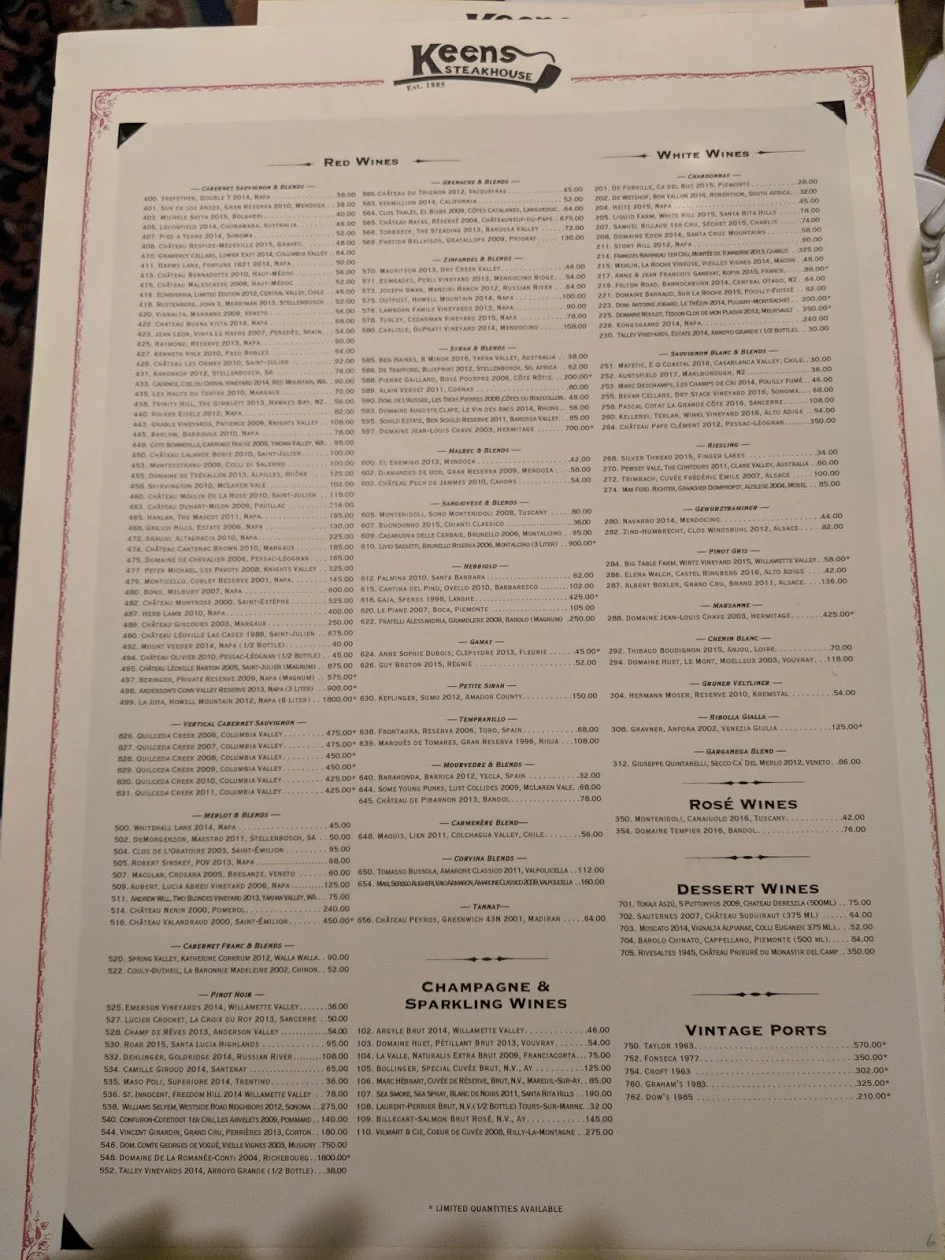 But before getting to after dinner, let's begin at the beginning, which for us (fittingly) was with a Manhattan – very nice!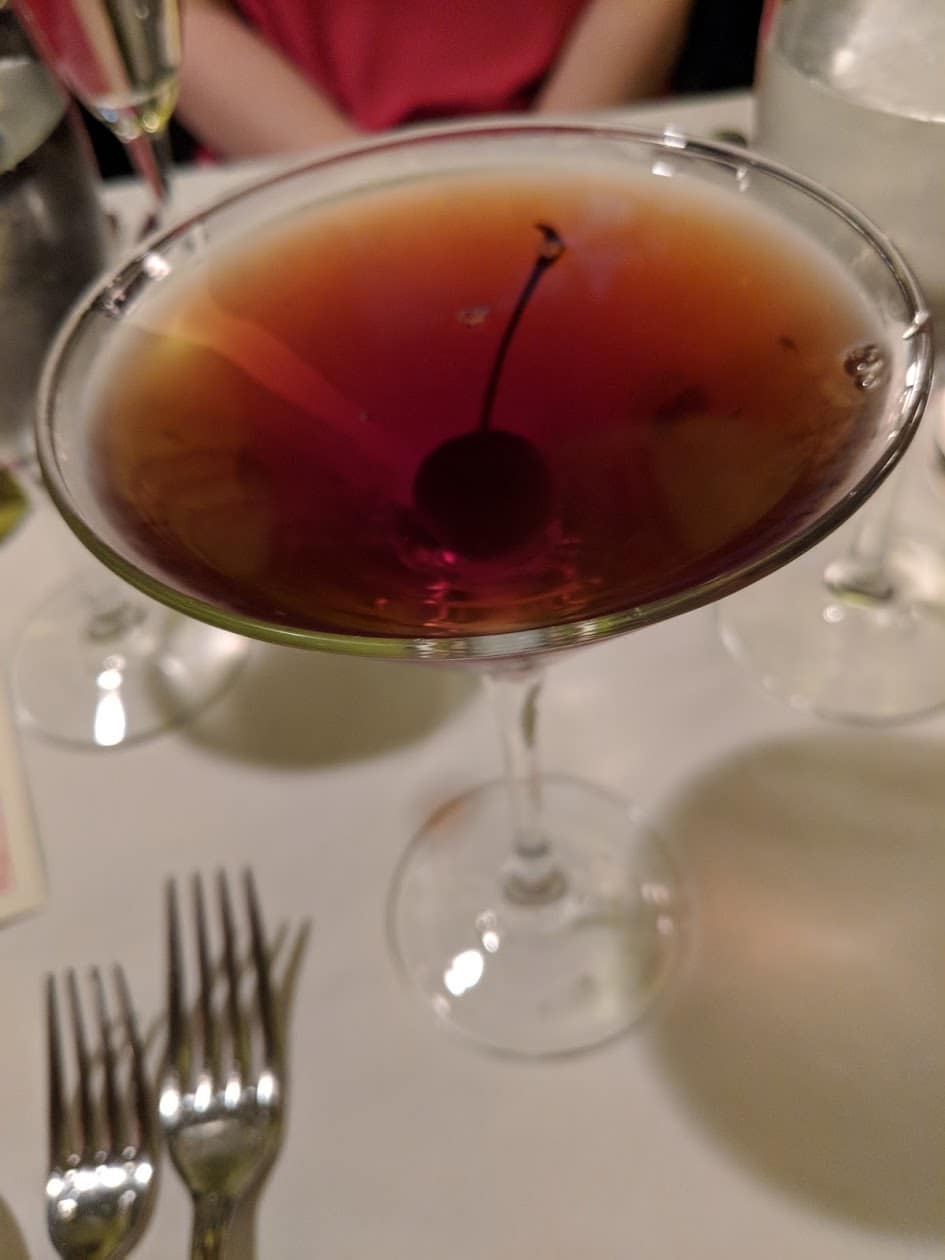 As this was our final evening in NYC, we decided to take our time, enjoy and not hold back in any way. So, knowing beef was still to come, we began by sharing the generous chilled seafood tray complete with lobster tail, jumbo shrimp and a selection of oysters and clams with the expected mignonette, cocktail sauce and accompaniments. It was fresh, cold and tasty and we enjoyed everything thoroughly but for the clams (just personal preference there…)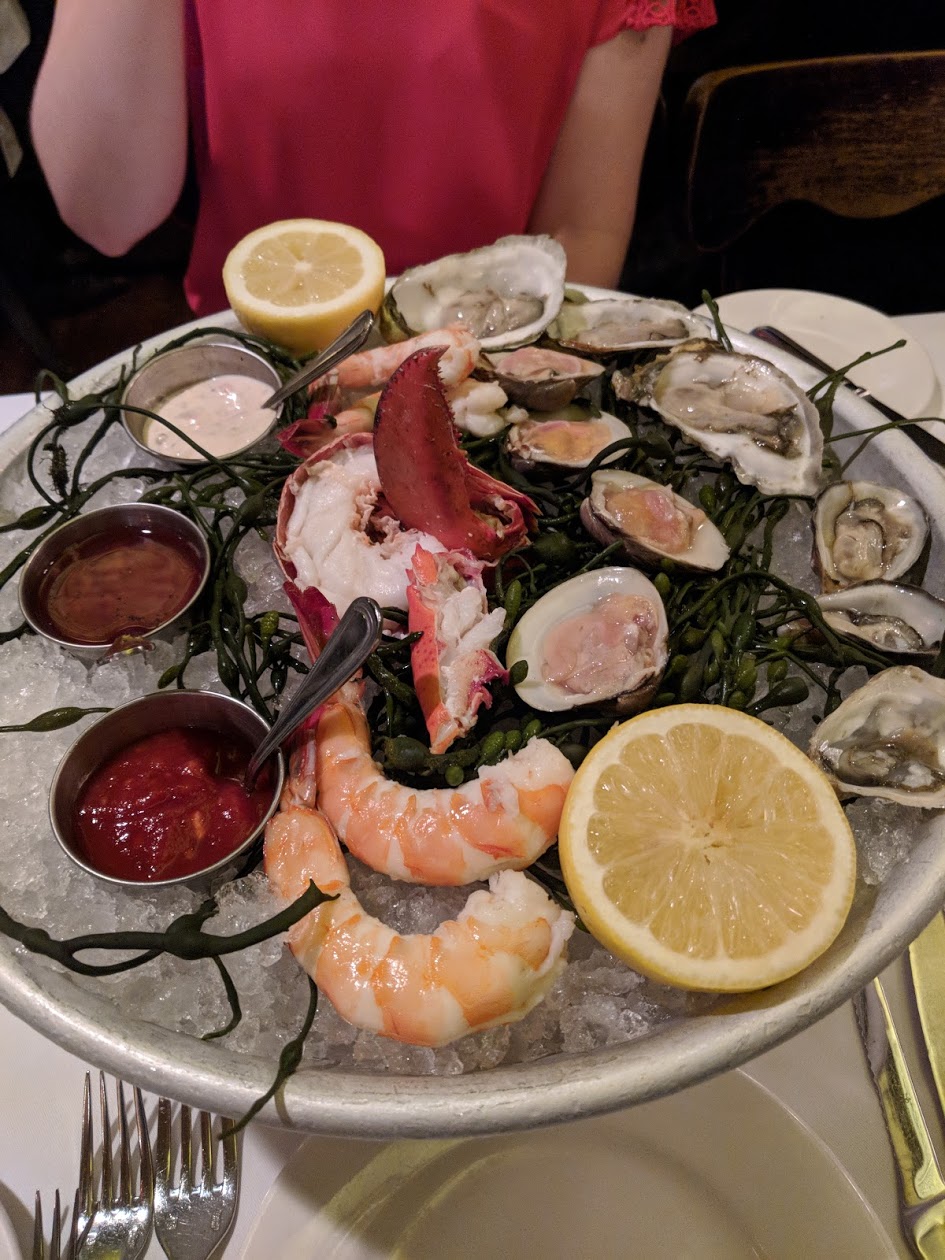 A simple assortment of crunchy crudites and salty olives with creamy dipping sauce, homemade pickles, and invitingly warm rolls were also brought to the table to enjoy. – it was really just what we wanted in its simplicity. A nice touch!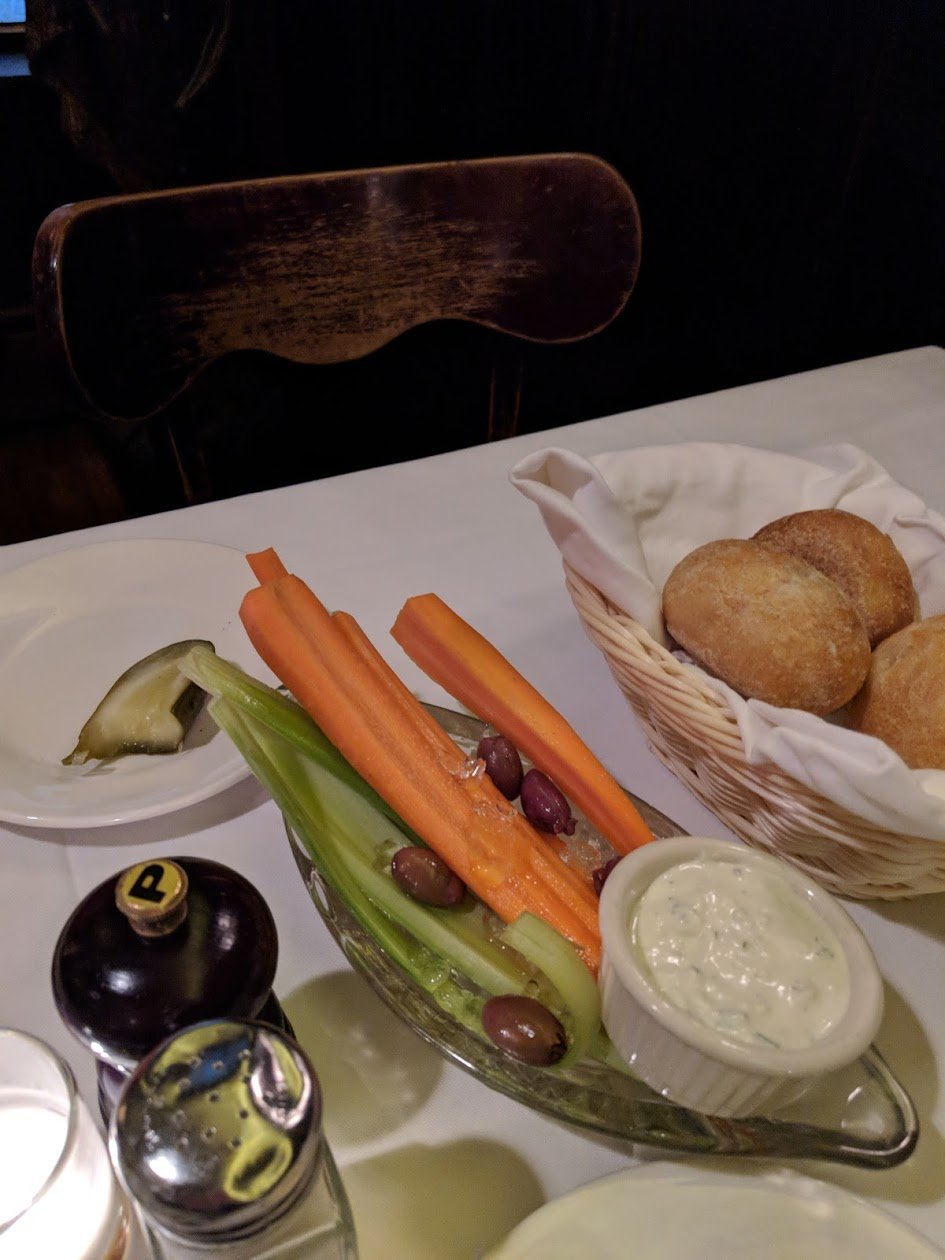 As mentioned, the wine list is short but beautifully on point. To accompany my companion's King's Cut of Prime Rib and my Prime Filet Mignon, we ordered the Peter Michael 2008 "Les Pavots". It was elegant and deep both flavour and colour. A great accompaniment to the hearty flavours of our beef entrees, the accompanying rich sauce and the earthy wild mushrooms.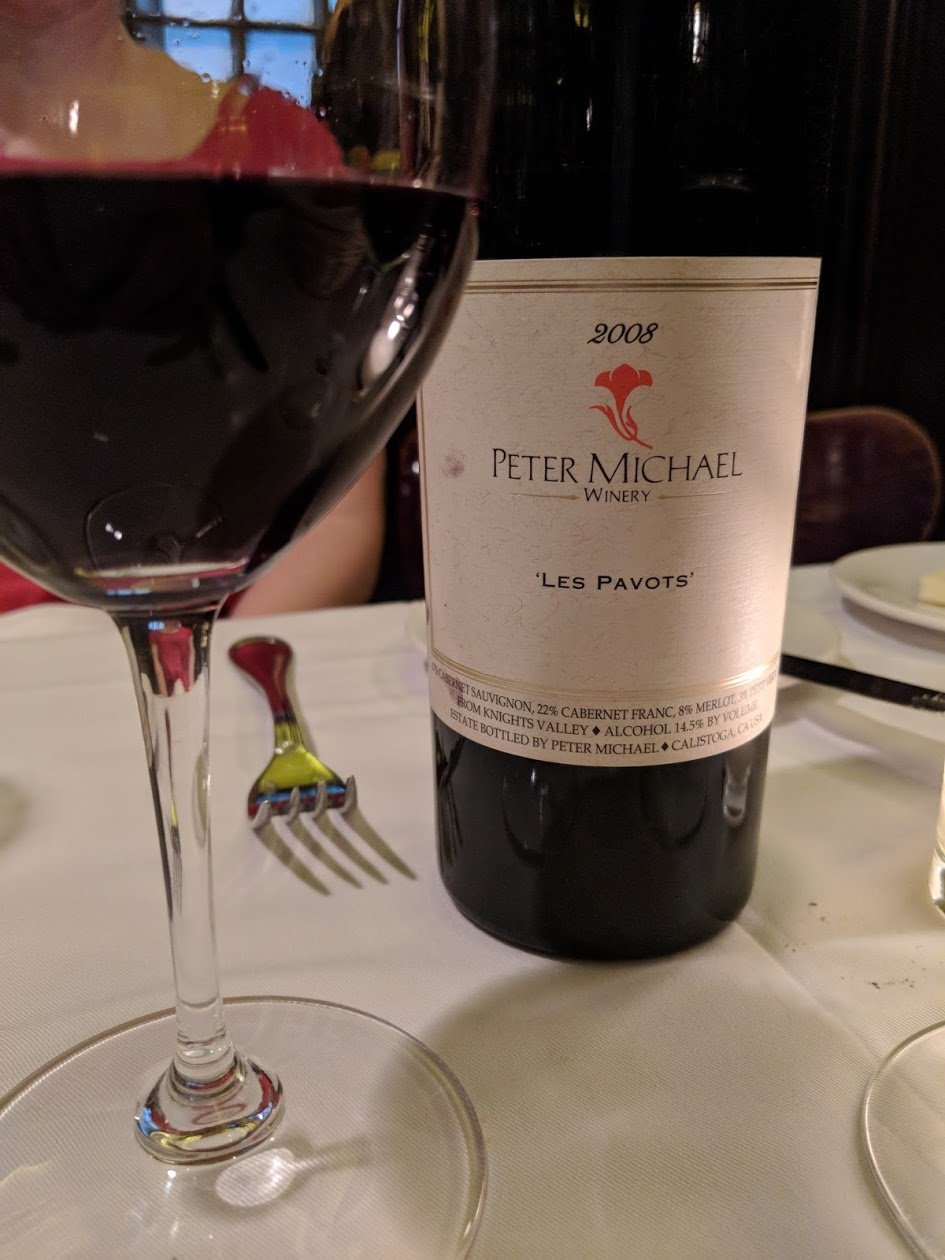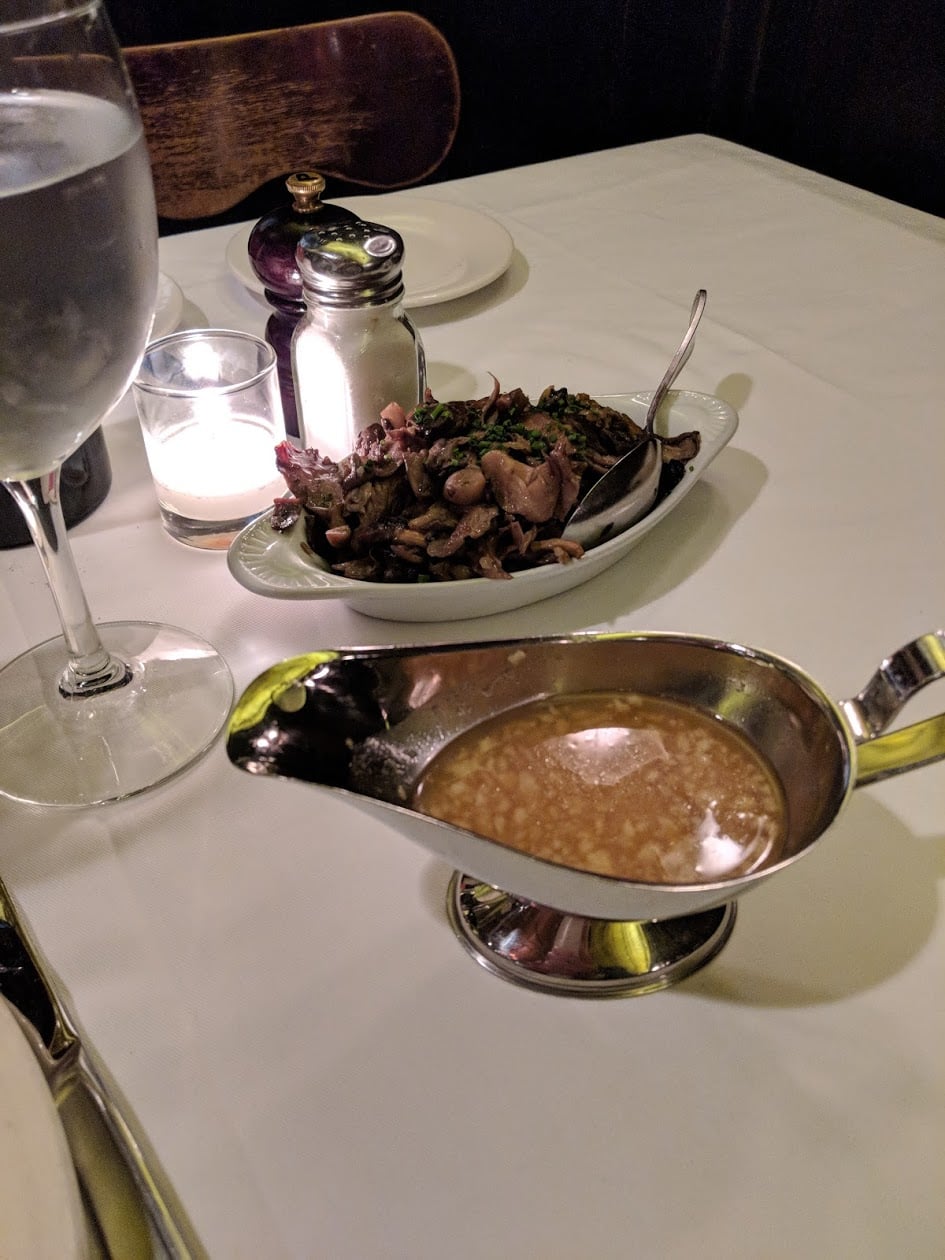 I should make mention at this point of the great, attentive (but not at all instrusive) service. A perfect blend of care, conversation, and privacy. The general atmosphere was warm, pleasant and jovial. A family sat next to us, and elsewhere couples and groups of friends met for a great meal and great time.
Now, shall I show the beef again? Yes, yes I will: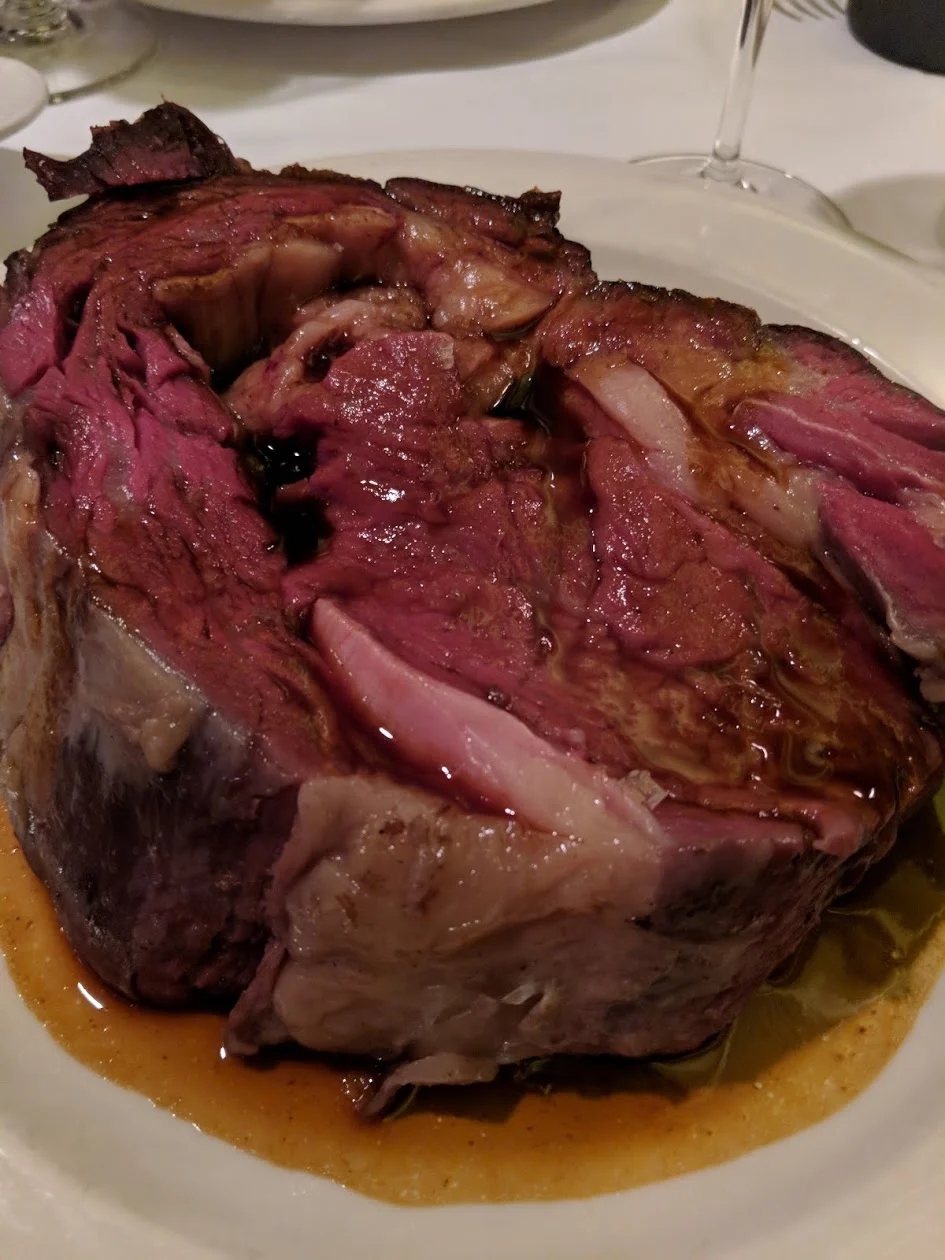 I mean, this is why you go to Keens, for the beef they've been doing forever, dry-aged right there on their premises. It was perfectly seasoned and prepared, and each bite was decadent and delicious. You can taste it, can't you?
Now, we'd read about the (even more?) famous mutton chop, listed first and called 'Legendary' on the menu. Someone at the adjacent table ordered it and it did look impressive to say the least, but we don't regret having the amazing prime beef. (Next time, right?)
Well…we were more than satisfied, but we weren't going to wander back to our hotel (and the next day ultimately all the way home) without one last taste of dessert. So, we shared a massive Butterscotch Sundae – yes, ice cream and a hot, beautiful butterscotch sauce are buried somewhere under all the beautiful whipped cream! Paired with glasses of cognac recommended by our server, it was a masterful finish to a delicious meal.
If you go to New York and love a traditional steakhouse experience – or want to try the ultimate one for the first time – do go to Keens.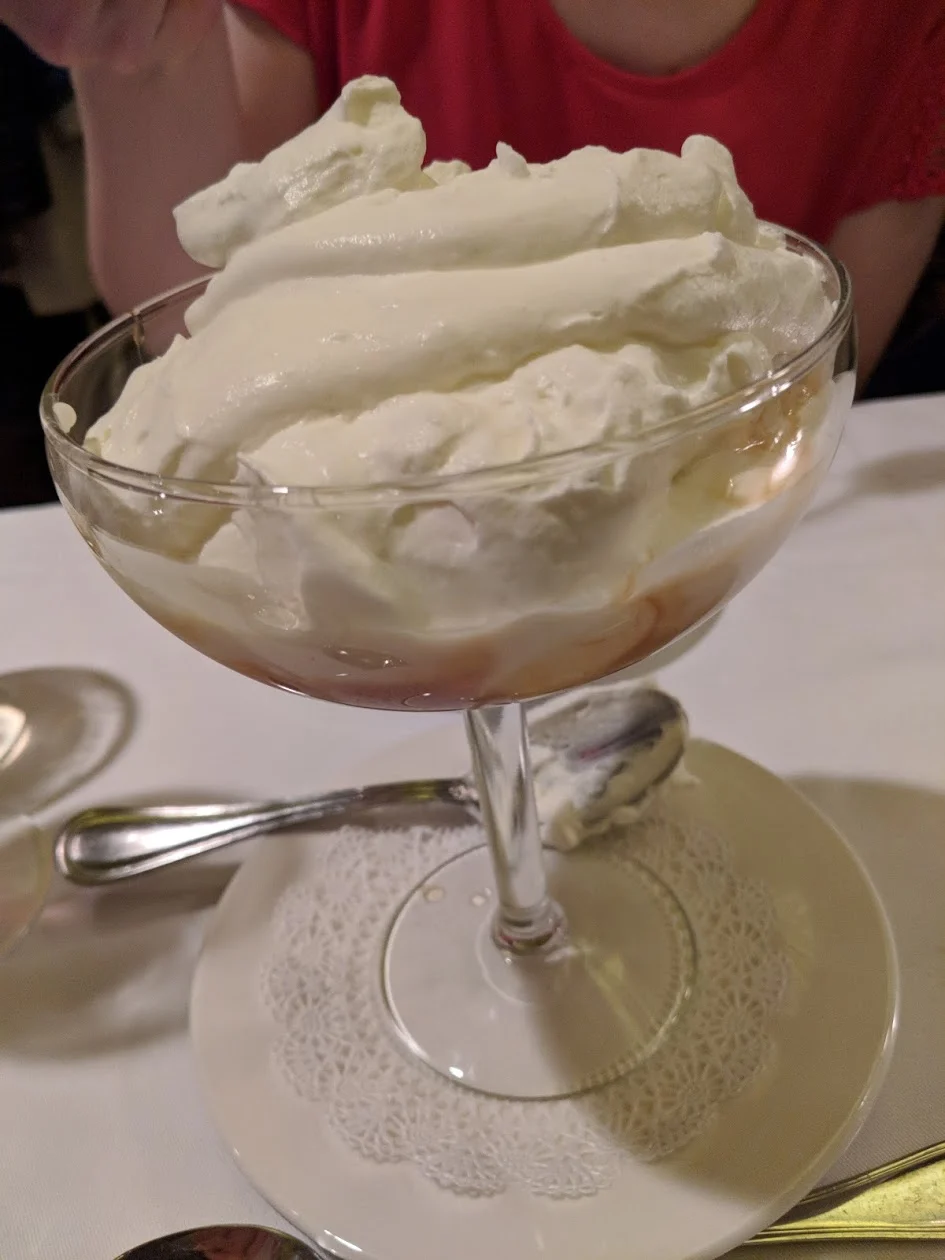 Keens Steakhouse is located at 72 West 36 Street New York, NY
Call (212) 947 363 for reservations.
Visit www.keens.com to view the menu, read about the restaurant's intriguing history, and for more information.