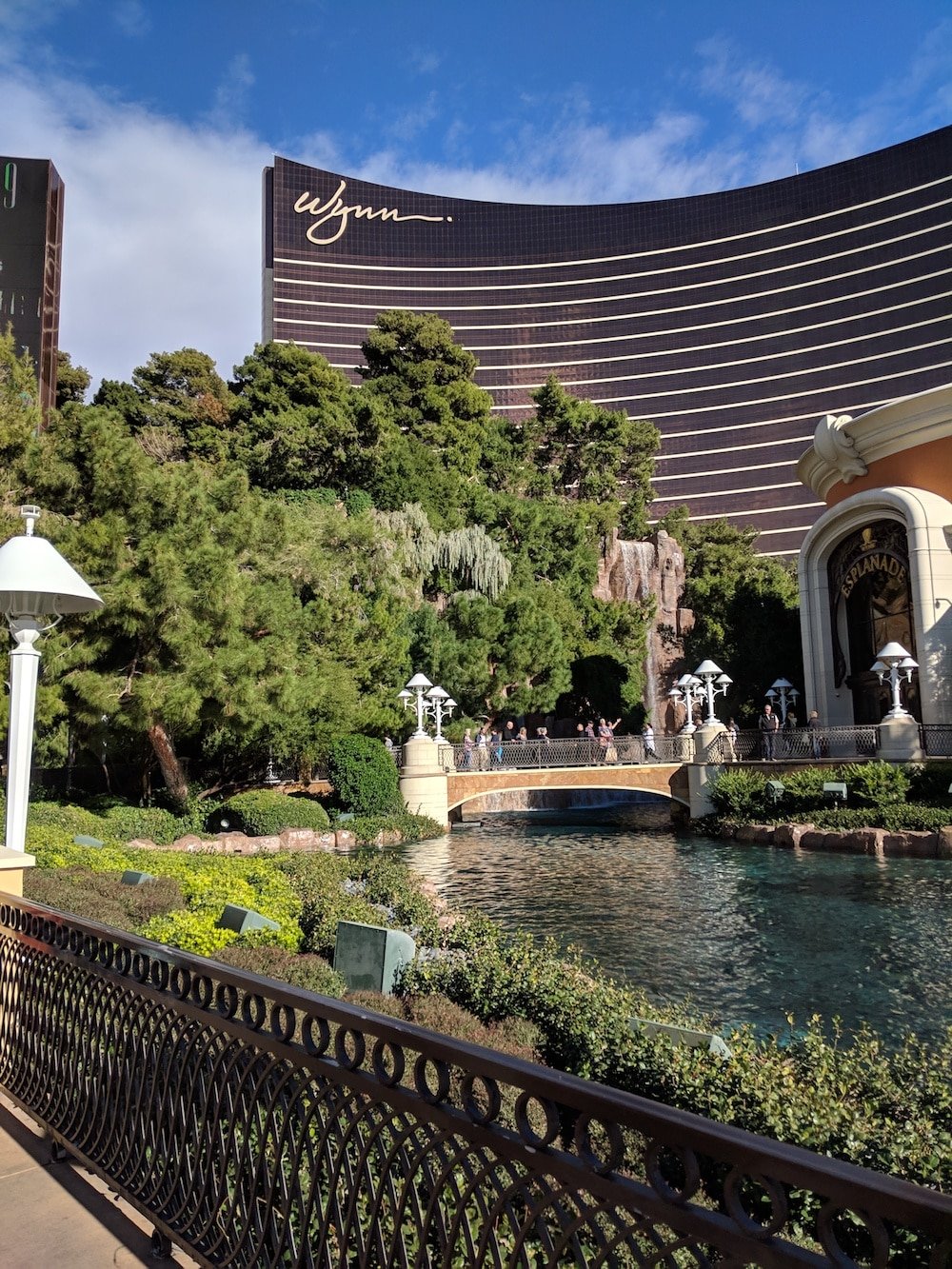 We spent four nights at Wynn Las Vegas Hotel and Resort this past December (early in the month  – a sort of pre-Christmas Christmas vacation). Located on the north side of the strip, pretty much at the edge of things, you'll find a bit more 'calm and space' at this luxury hotel property. Bordered by man-made lakes, water features, and lush greenery, it's a lovely space and more serene than many of the other Vegas properties. All this is not to say that you're out of the action – you're right beside the Palazzo and Venetian complex and their restaurants, shows, and myriad attractions and right across from the sprawling Fashion Show Mall for all your high and low end shopping needs. But you can find a bit of peace when you need it, both inside and out. It was one of the reasons we chose to stay here in the first place.
We arrived early on a Sunday evening, greeted by gorgeous Christmas decorations in the hotel lobby – indoor landscaping, really.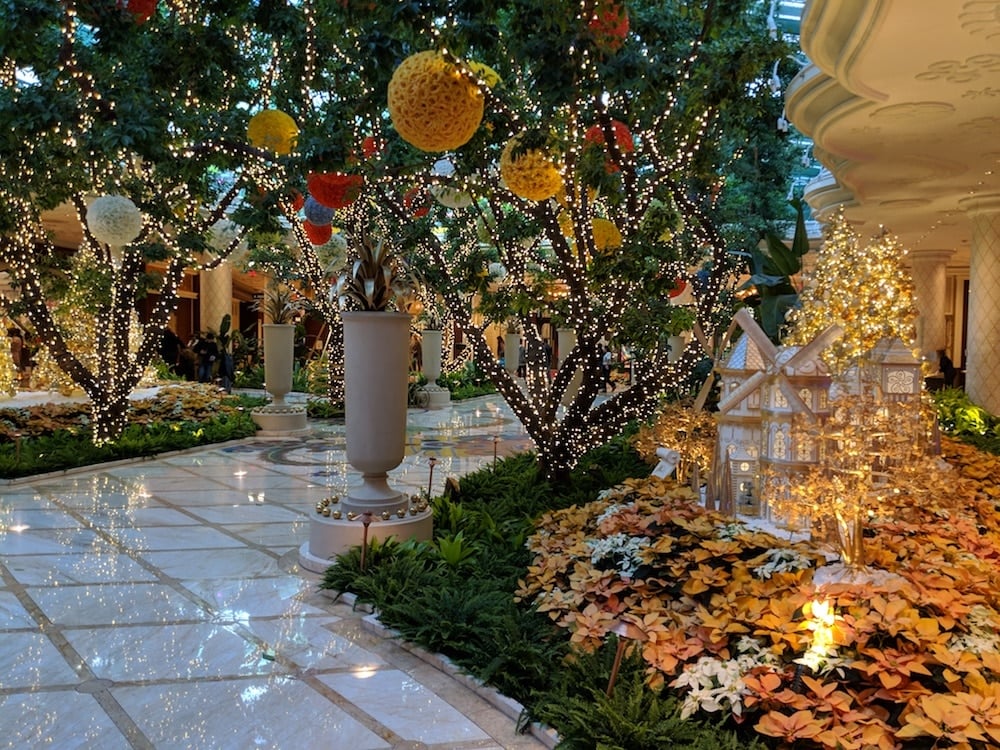 Luscious Golden Poinsettias, grown exclusively for the Wynn Hotel, were everywhere.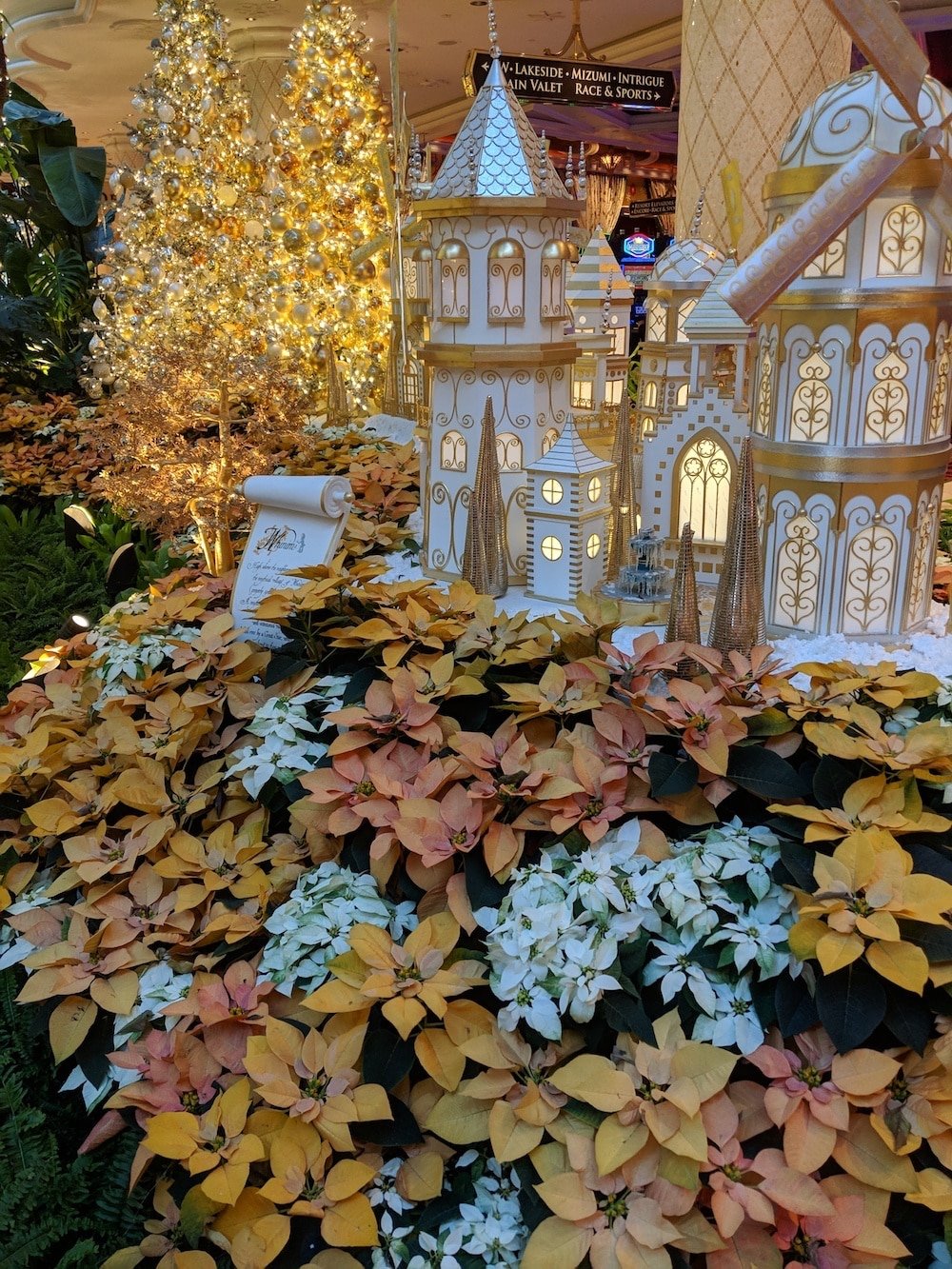 In our opinion, it is by far the prettiest lobby on the strip, with lots of natural light,  greenery, and this past December, a magical holiday feel – not something you'd necessarily expect from a casino.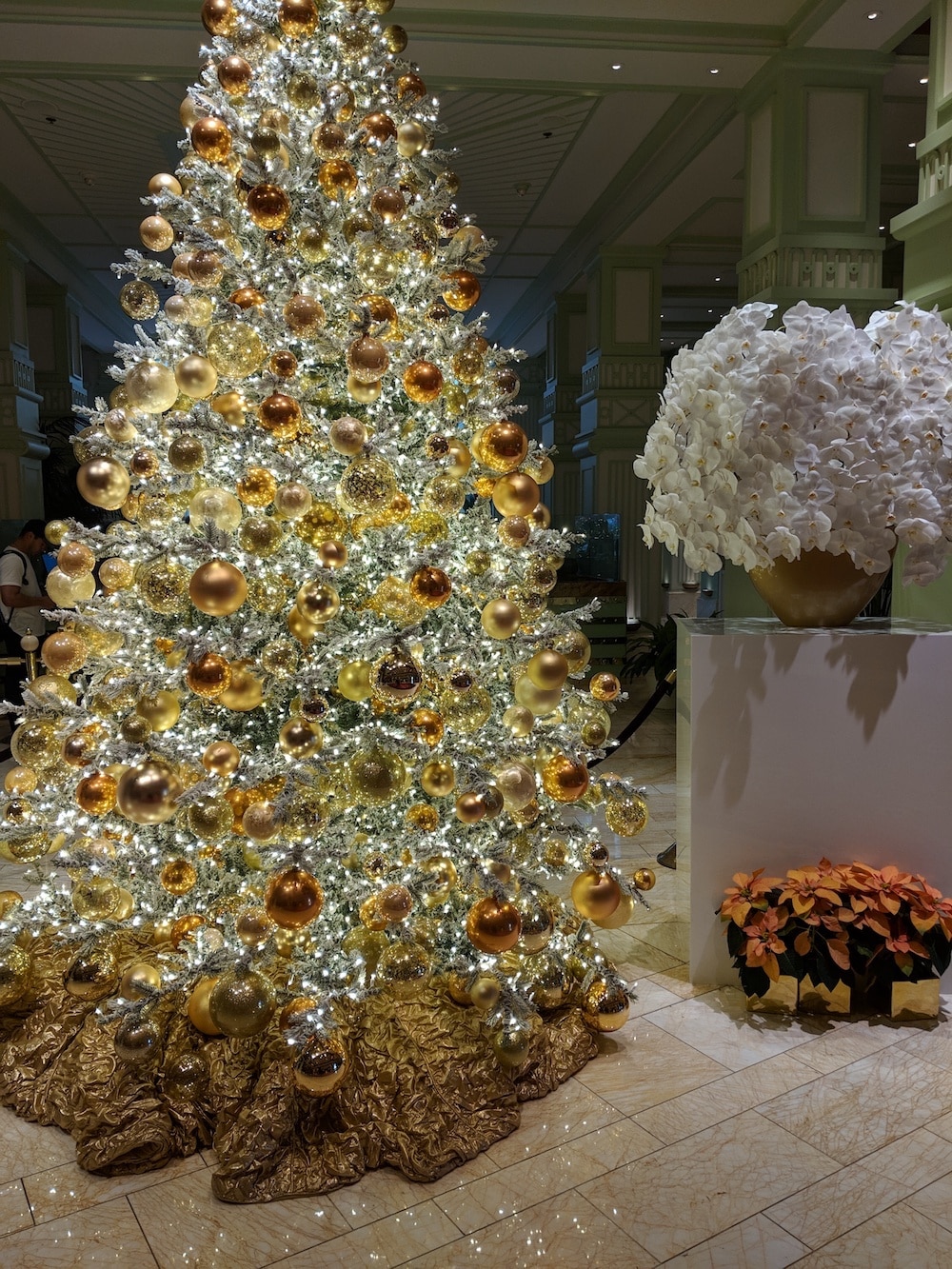 The casino itself is also very inviting, not so cavernous as compared to those at the other hotels. Rich red carpets with bright, bold designs, highly polished marble floors, and lots of warm overhead lighting enhance the casino experience – or even just your walk to restaurants and other activities.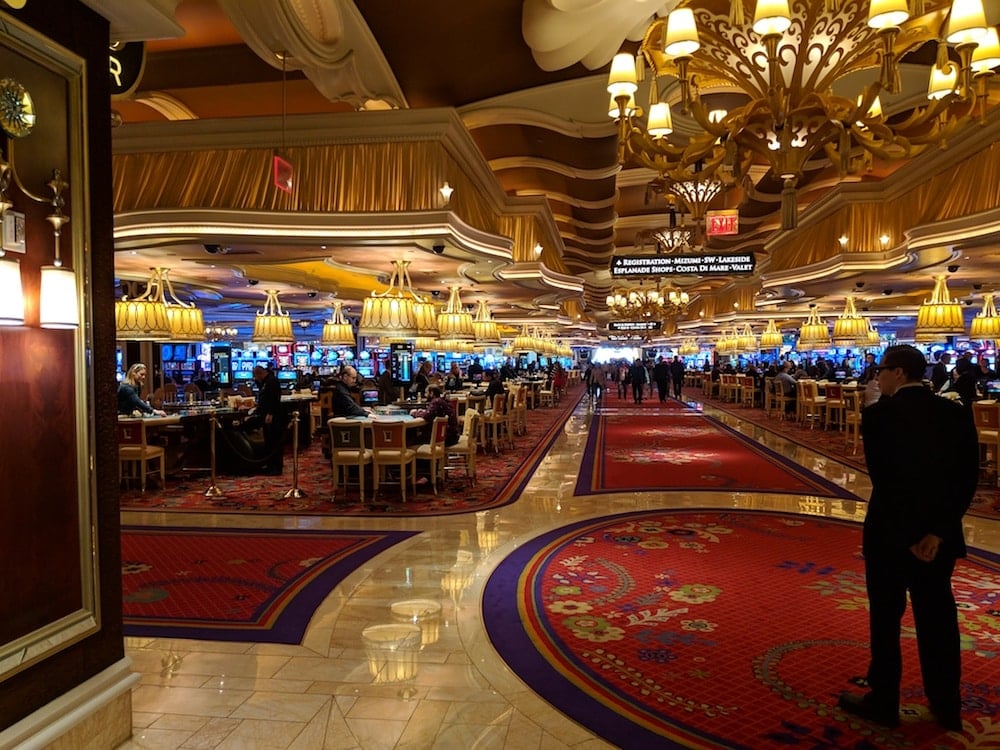 Upon arrival, we were upgraded from our basic king room to a higher floor (24th) and a corner location with two floor-to-ceiling window views of the strip. We'd stayed here before, and this earlier time in December was clearly a slow time in Vegas – certainly worked out for us!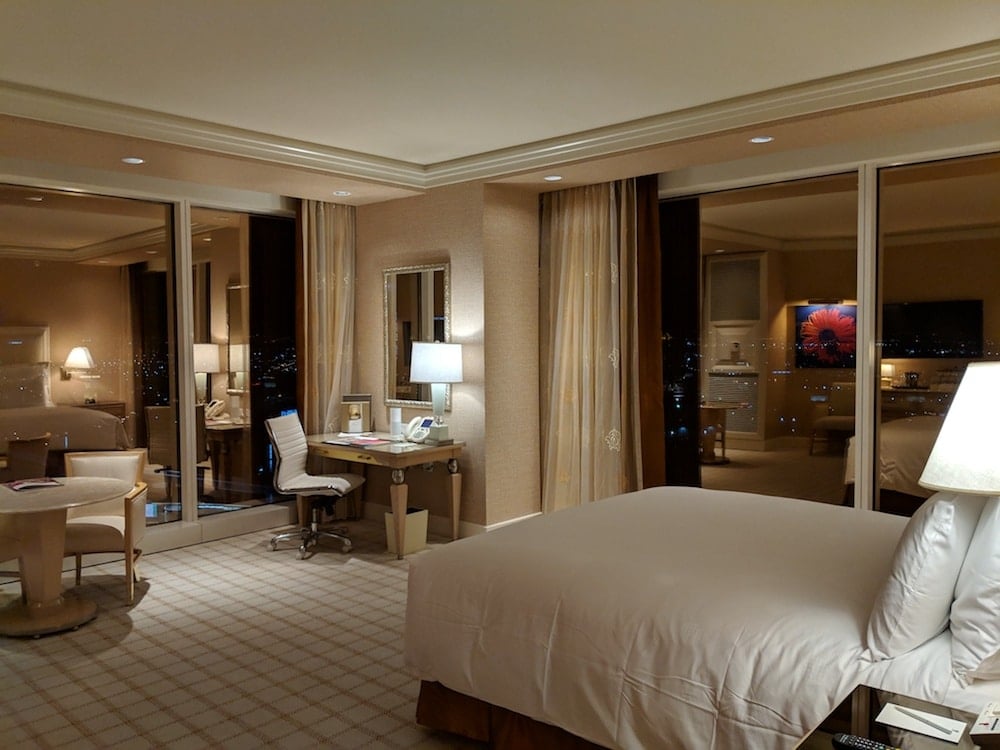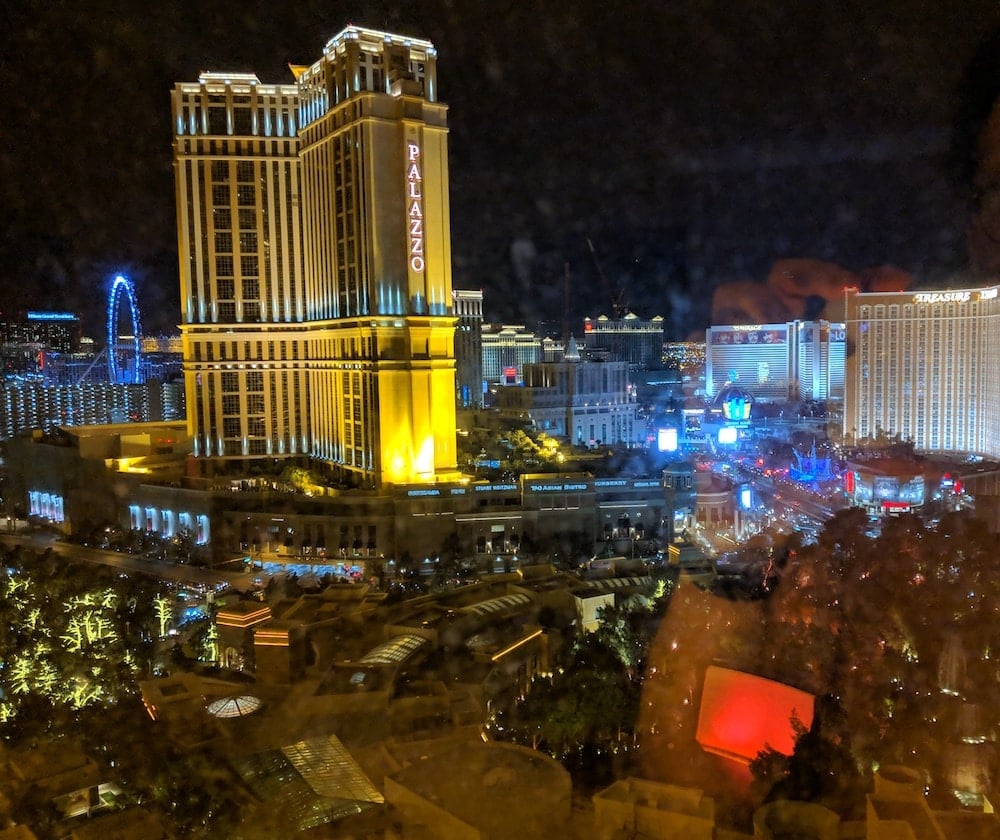 As you can see, the room itself was very spacious – lots of breathing room. Minimal but very tasteful decor, and everything seemed fresh and new and in tip top shape.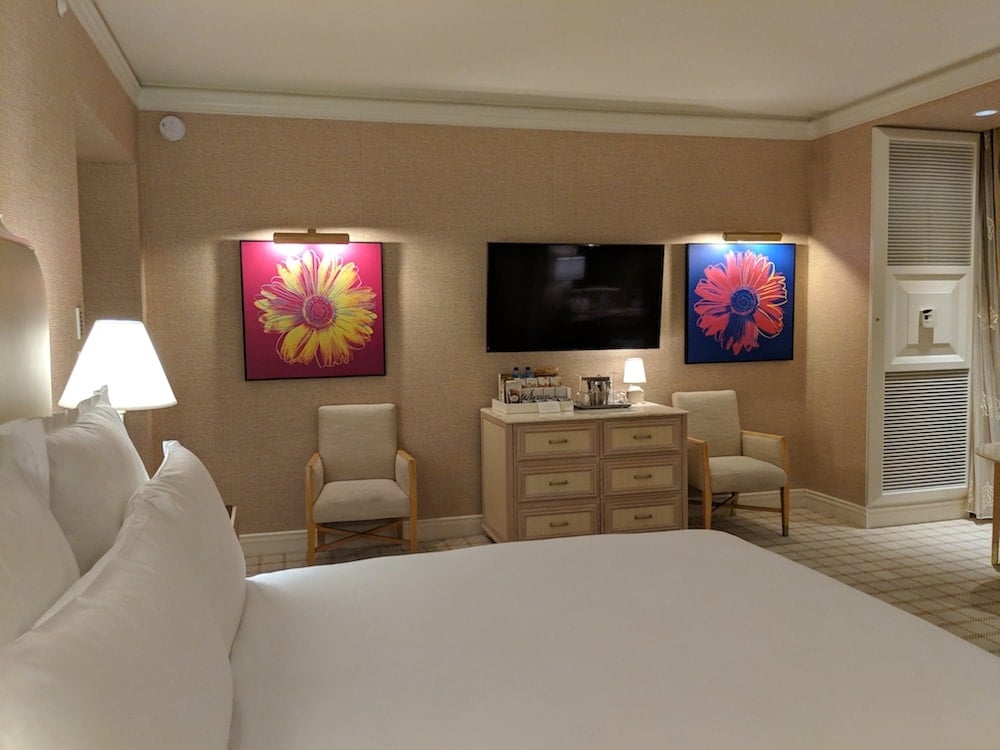 We had a huge luxury bathroom complete with gorgeous marble tile, his-and-her sinks, water closet, a massive soaker tub, and separate glass-enclosed shower. Plenty of room to spread out and relax.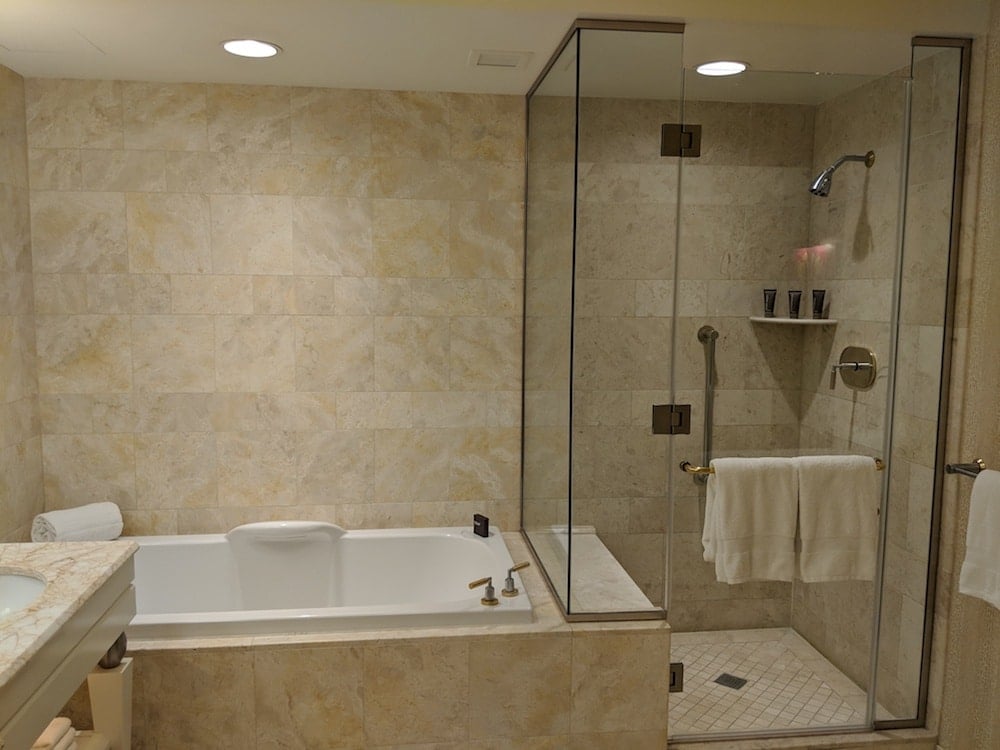 We pre-arranged to have a fruit and cheese plate and bottle of wine delivered upon arrival, one of several optional add-ons when booking the room. A very nice touch – recommended!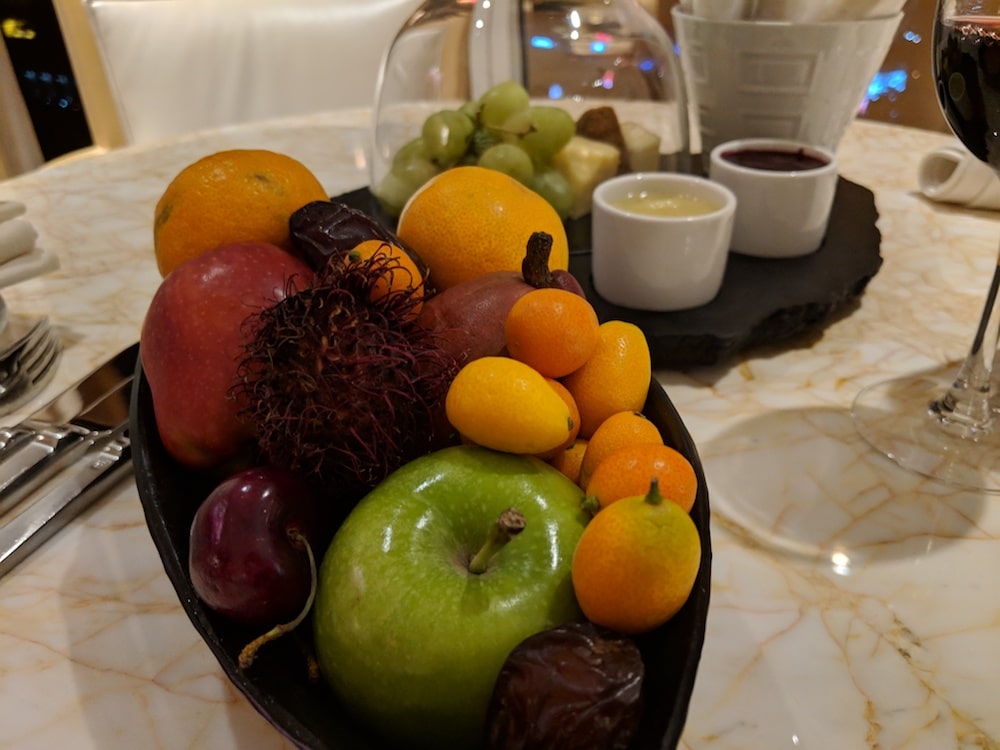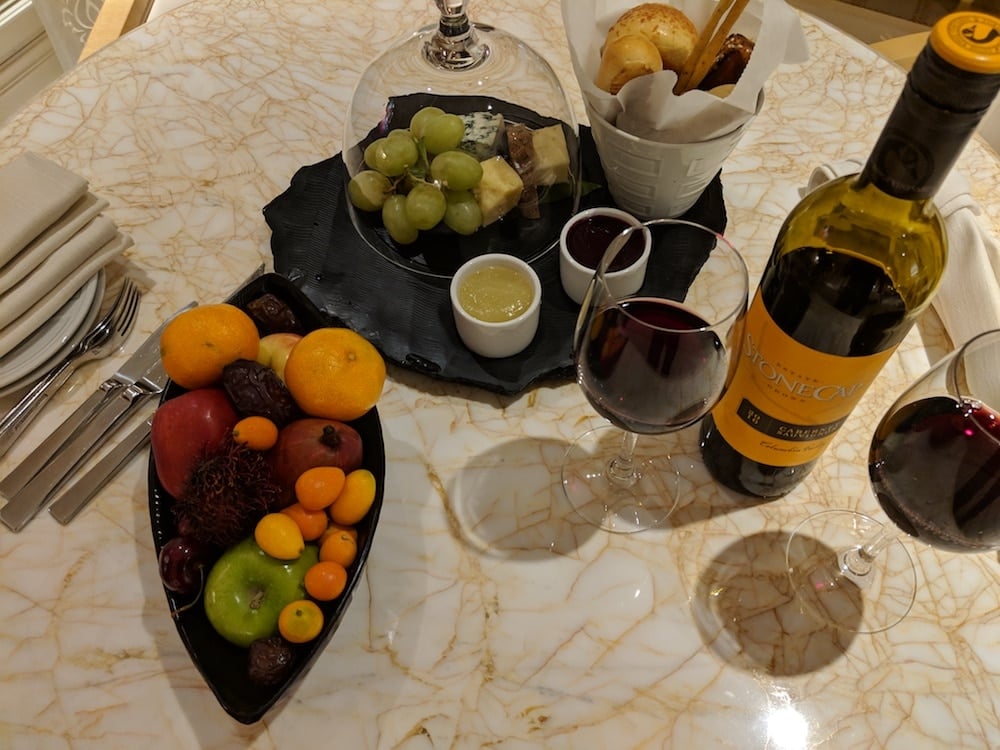 Our room was fantastic, and Wynn has so much to do within its own massive walls there's little need to venture elsewhere. In fact, if we'd been staying elsewhere, we would have surely ended up at the Wynn anyway many times for dinners, lunches, and shopping. Fine dining highlights include Lakeside Seafood, with views of the Lake of Dreams and its wonderfully quirky light shows, and the positively phenomenal Costa di Mare, an award-winning Italian and Mediterranean restaurant featuring mind-blowing tasting menus and impeccable service. A new shopping wing is also opening up in stages, featuring high end shops  and designers we haven't yet seen elsewhere on the strip. When it's in full swing, it will be certainly be a a luxury shopping destination. And of course, there's Le Reve, the Wynn's stunning fantasy show featuring breathtaking acrobatics on dry land and water.
For a relaxing, luxurious Las Vegas trip still minutes from all the action, we definitely recommend choosing Wynn Las Vegas.
For more information about Wynn Las Vegas, visit www.wynnlasvegas.com