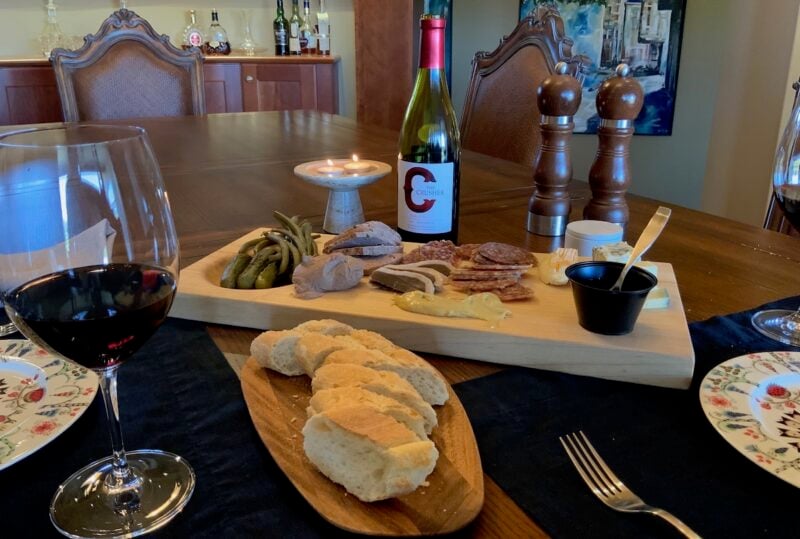 Take out has never looked so good! Peasant Cookery, a popular bistro in Winnipeg's stylish Exchange District, has launched Peasant Pantry – a convenient online store. The 'Pantry' store offers some of the essential fresh ingredients that make the restaurant a perennial favourite. There are produce and 'protein' packs, as well as spices and seasonings to enhance your home-cooked recipes. There's also house cured sausages, homemade pickled vegetables, shaved meats, and other food packages that put a classy spin on delivery or takeaway dining.
Pictured above is the Wine and Dine package. Included was a generous selection of in-house cured sausages, pickled green beans and cucumbers, a rich mousse and freshly made pate, a fresh, crusty baguette, and a bottle of absolutely lovely, fruity pinot noir (The Crusher). An assortment of four cheeses rounded out the meal: Iberico, Benedictine Blue, Oka Raclette, and a delectably runny Taleggio. Mustard and preserves were also included.
The items were all individually packaged — convenient for transport and quick transfer to the fridge, or directly to a charcuterie board. (We often get inquiries about the attractive handcrafted board picture above — check out Stinson Studios for a closer look!)
We tend to eat with gusto, and there was more than enough food to make for a satisfying meal for two. At $55 (CDN) with wine included, we found the package to be very reasonably priced. The experience was certainly a bright spot in these strange times – an elegant little escape. Well done, Peasant Cookery and Peasant Pantry!
Peasant Cookery is located at 283 Bannatyne Avenue in Winnipeg, Manitoba. For more information on their pick up and takeaway options, visit www.peasantcookery.ca or call (204) 989-7700.