Daniel Boulud's Boulud Sud (NYC) is a restaurant located in New York City's Upper West Side. It's an easy five minute stroll from Lincoln Center where we were attending the opera (Turandot) later that evening. The show began at 8:45 pm, so we booked a very early dinner (5:45) in order to linger and savor as much as we wanted, and still arrive early at the Met to do a bit of exploring. Immediately upon our arrival we were asked if we were heading to a show (as most people in the restaurant at that time likely were doing). Though we had ample time, we appreciated the consideration and the excellent servers paced everything wonderfully.
Champagne to start the evening – our first official full day and night in New York. As we sipped, we drank in the lively atmosphere of the busy dining room. The open kitchen added to the dynamic feeling, but overall the the room had a comfortable, relaxed, elegant character. Our server soon brought out warm homemade foccacia bread and crisp chickpea crackers with a fruity olive oil for dipping. The chickpea crackers were brought out to accommodate my nut allergy – but they were delicious and addictive in their own right. (Excellent attention was paid to my dietary needs for every course – our server had intimate knowledge of every dish. Because of this, she was also able to steer us toward delicious options).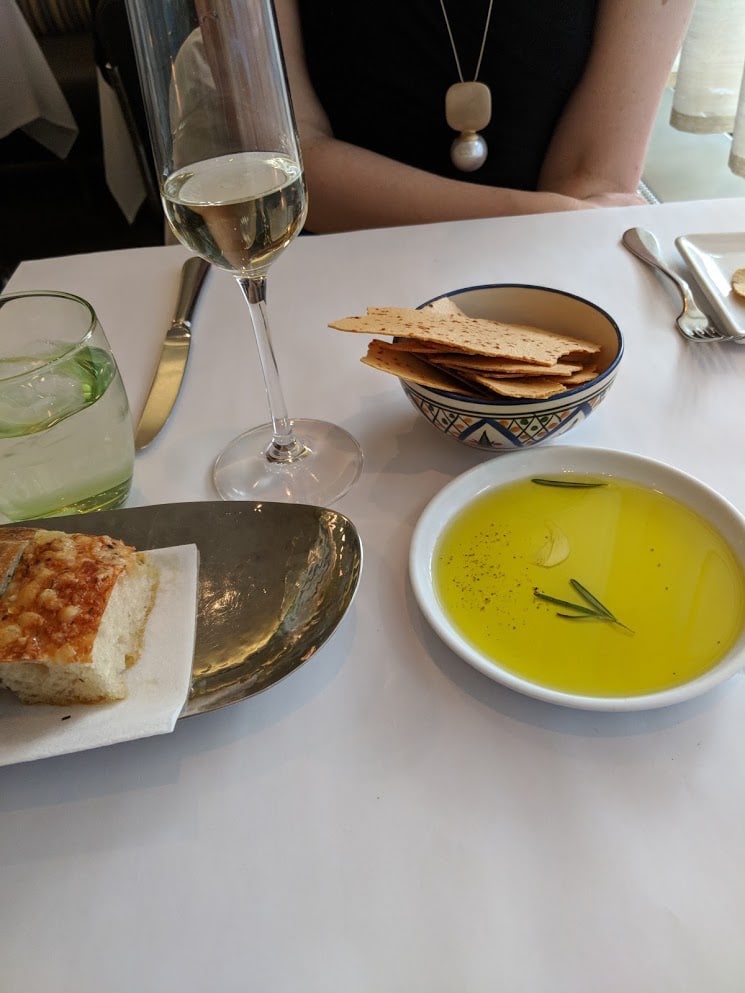 The menu was colourful, promising fresh, interesting ingredients. There were many intriguing choices, so we decided to go in different directions for every course in order to try as much as possible. To start, I had the Spring Onion and Potato Soup with Whipped Goat Cheese and Dill Oil. Ohhh….this was creamy and dreamy, fresh and delicious.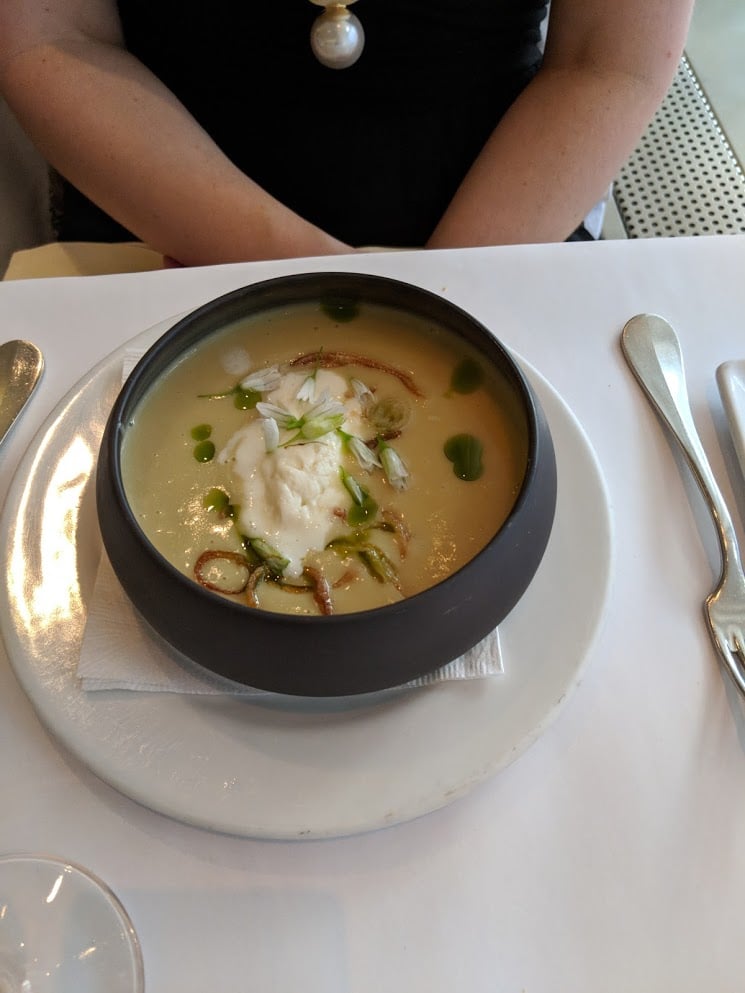 For him – Gambas Al Ajillo, shrimp with red chili and foccacia bread. The verdict here was that it was pleasant but nothing to blow us away – my soup was better. Our least favourite dish of the night.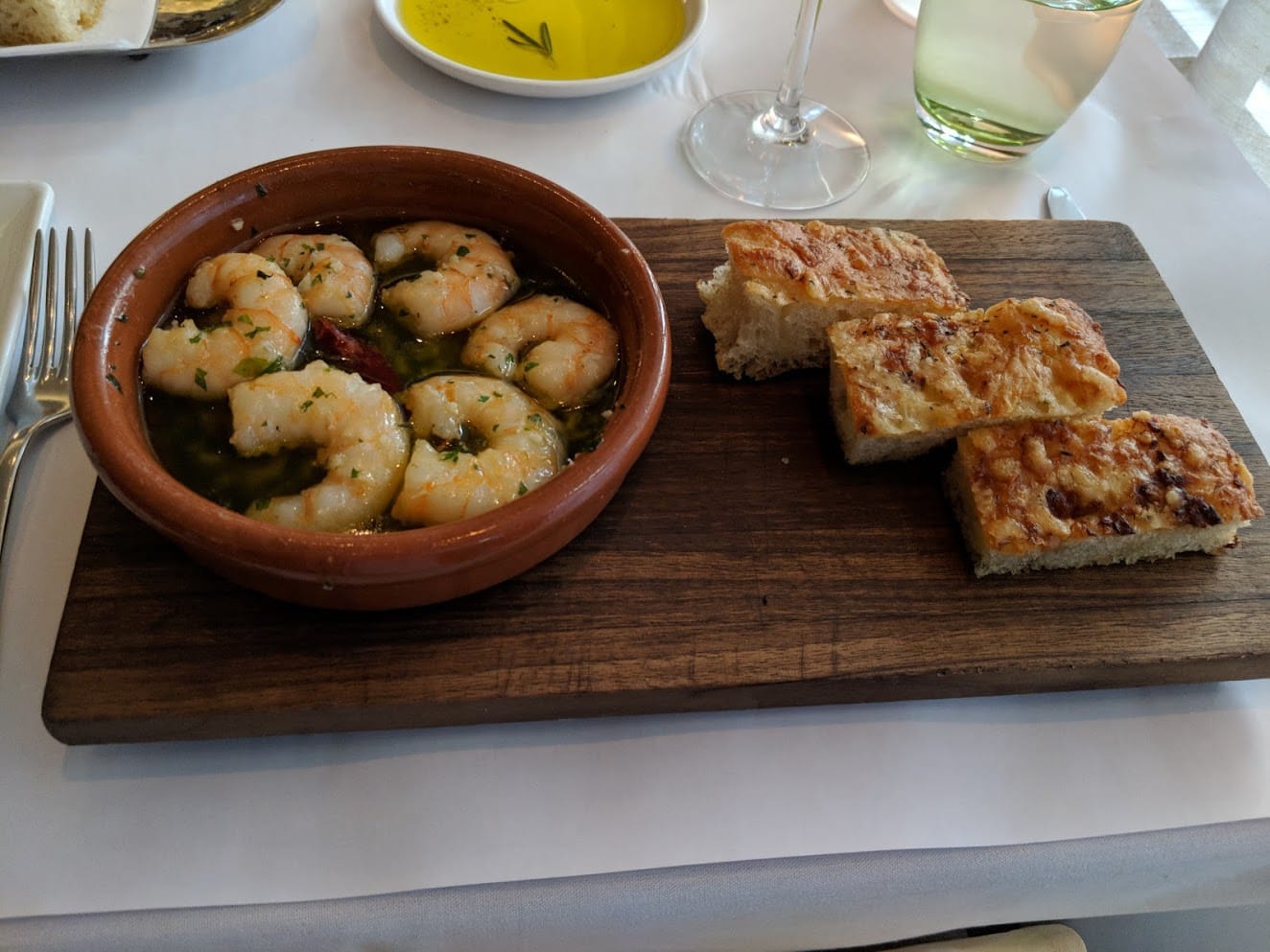 Moving on to the main course – there were non-fish options to be sure, (Chicken tagine, wagyu beef dish) but the Sea Bass and Daurade caught our eye. Our server nudged us further in this direction. suggesting these were the best items on the menu. I absolutely loved the Seared Mediterranean Sea Bass. Not only was the fish itself perfect, the accompaniments were so bright and interesting – heirloom carrots, clementines, and a saffron fregola sarda (Sardinian semlonina pasta – like a large couscous). There was a lightness about the dish, too (every dish, really), leaving me full but not weighed down in any way.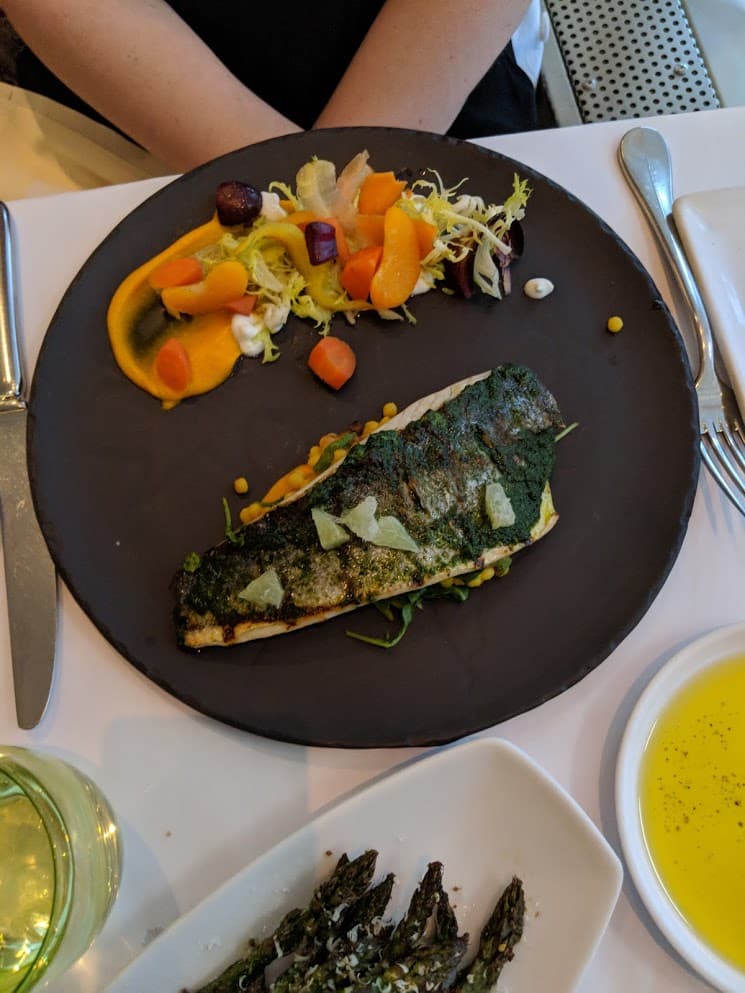 The Daurade a la Plancha served with Mejadra (a lentils and rice dish), eggplant tahini and pomegranates was gorgeous to look at as well as tasty. I hope it's obvious from the photos, but the presentation all around was quite lovely.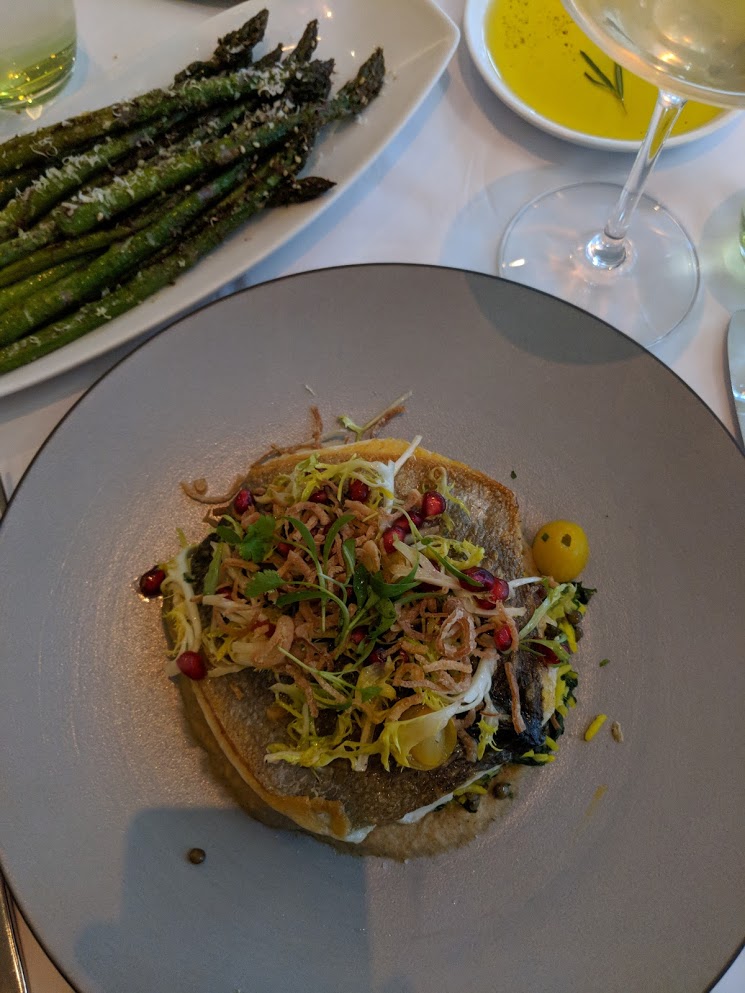 Now, I enjoy sweet things but I much prefer to spend my appetite on the more savory courses of a given meal, sometimes even skipping dessert entirely. I'm so glad I didn't miss out this time! This dessert was truly one of the best I've ever had: Mango and Cardamom Vacherin with yogurt (almost 'meringued' into sticks with a pleasant bite to them). I can still taste this unexpected dish now: it was an awesome mix of creamy, sweet, spicy (the cardamom!) and juicy-fresh from the mango. I wasn't sure how the vacherin was going to figure in to all this, but what it did was add a slightly savory, tangy yet rich tone – like the exquisite taste you get with a bite of a great cheesecake. I don't know where or when I'm getting anything like that again. And it was a work of art on the plate!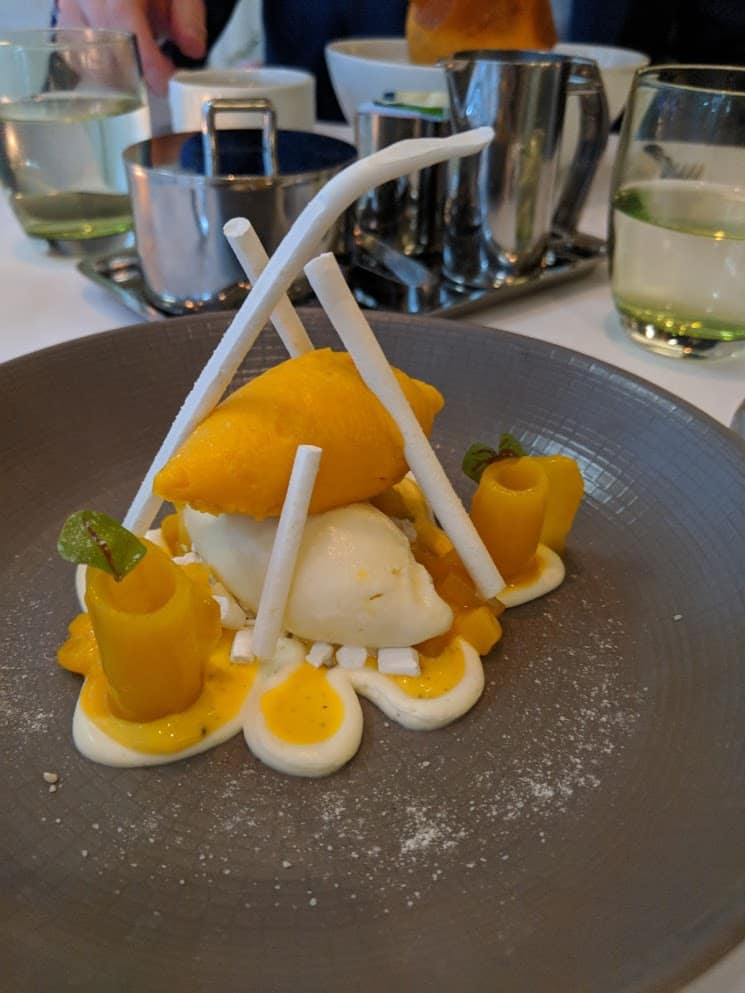 Speaking of art, for him – the Grapefruit Givre with Sesame Halva, Rose Loukoum, Grapefruit Sorbet. This was apparently the restaurant's signature dessert. Served in the grapefruit peel itself, it's certainly impressive to look at (but I think I still scored with the Mango/Cardamom/Vacherin number.). Within the grapefruit is nestled Rose Loukoum -tender morsels of Turkish delight and a lovely sorbet. This is truly creative cuisine unlike anything we've tried so far…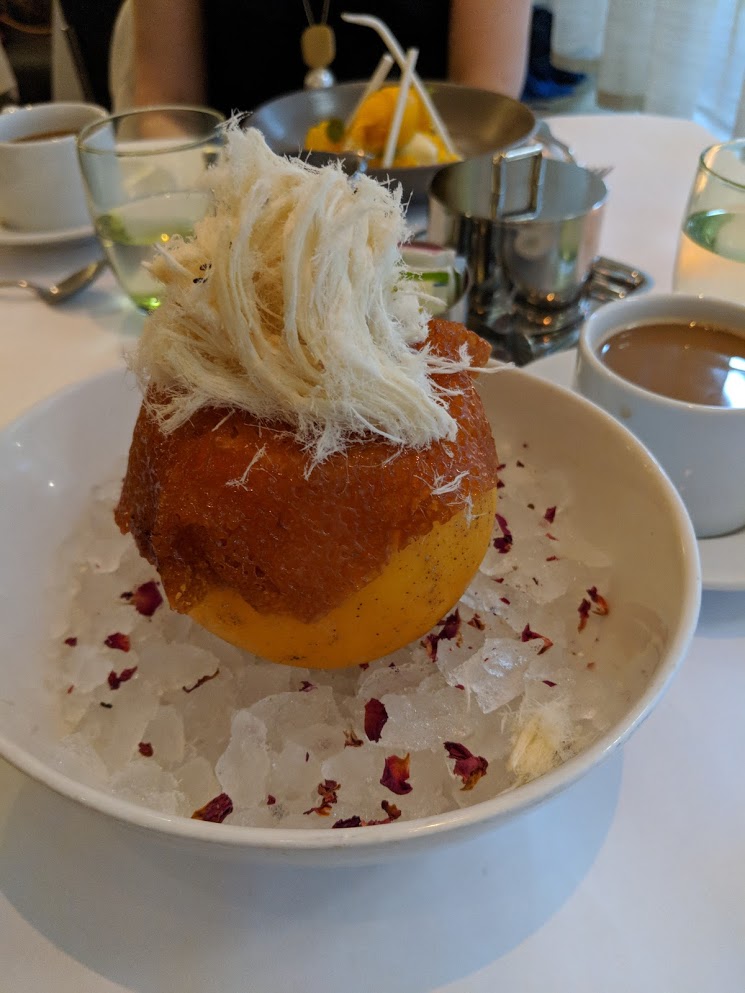 I of course must mention the interesting wine we selected with the help of our server (appreciated!). Making a choice with all the unique flavours and ingredients we knew were on the way was not easy, and we were glad for the help. We ended up sharing a beautiful bottle of French Chardonnay (Michel Gahier, "Les Follasses" 2015) from the Jura region in the east of France. It looked and tasted somewhat like a cider with that same sort of dryness – very different in terms of the Chardonnays we know. But we found it paired well with every course which was characterized by such a variety of flavours and textures.
We would highly recommend Boulud Sud if you're in New York. And after a wonderful dinner, we were off across the street to the Met in plenty of time to people-watch and settle in for an outstanding performance…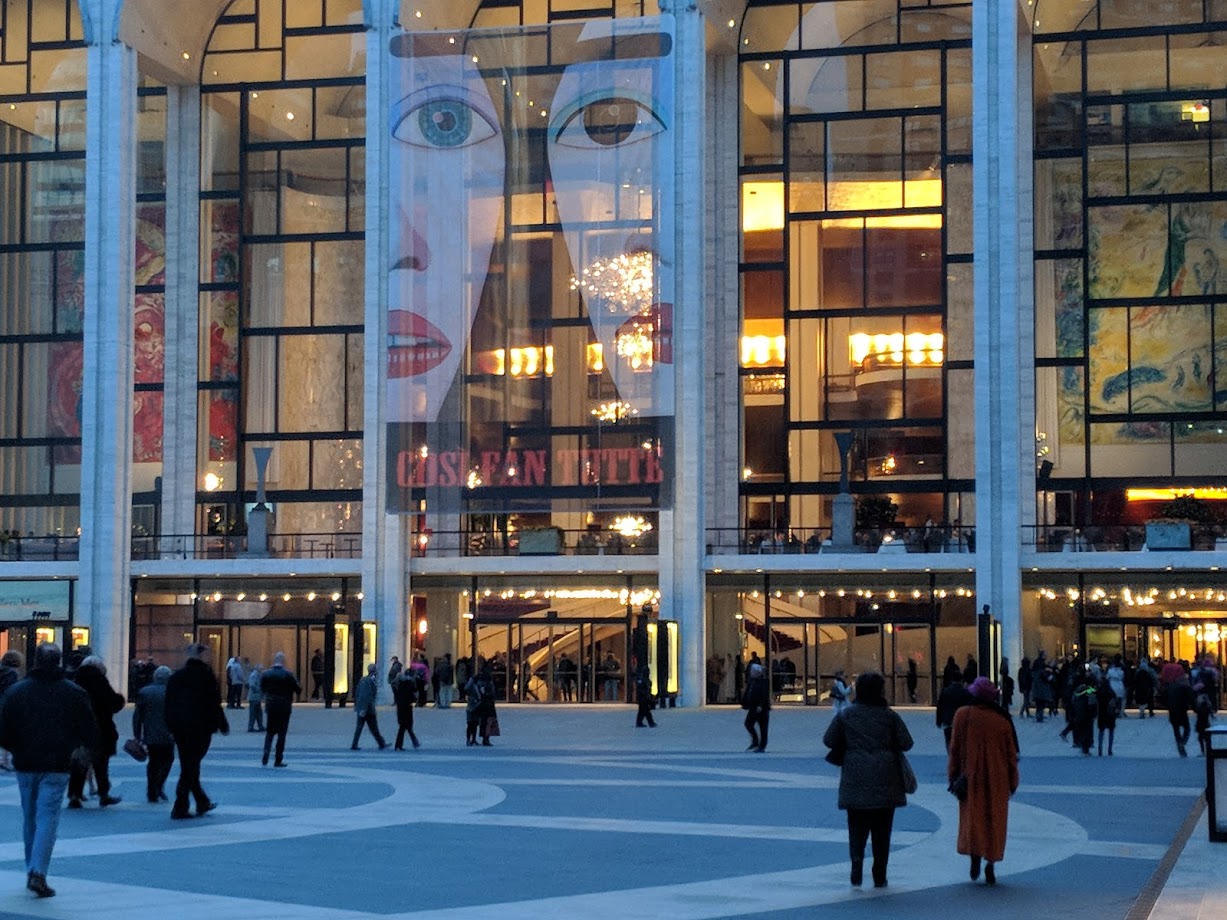 Boulud Sud is located at 20 West 46th Street in New York City's Upper West Side. Visit the website to make reservations, or go to www.opentable.com.