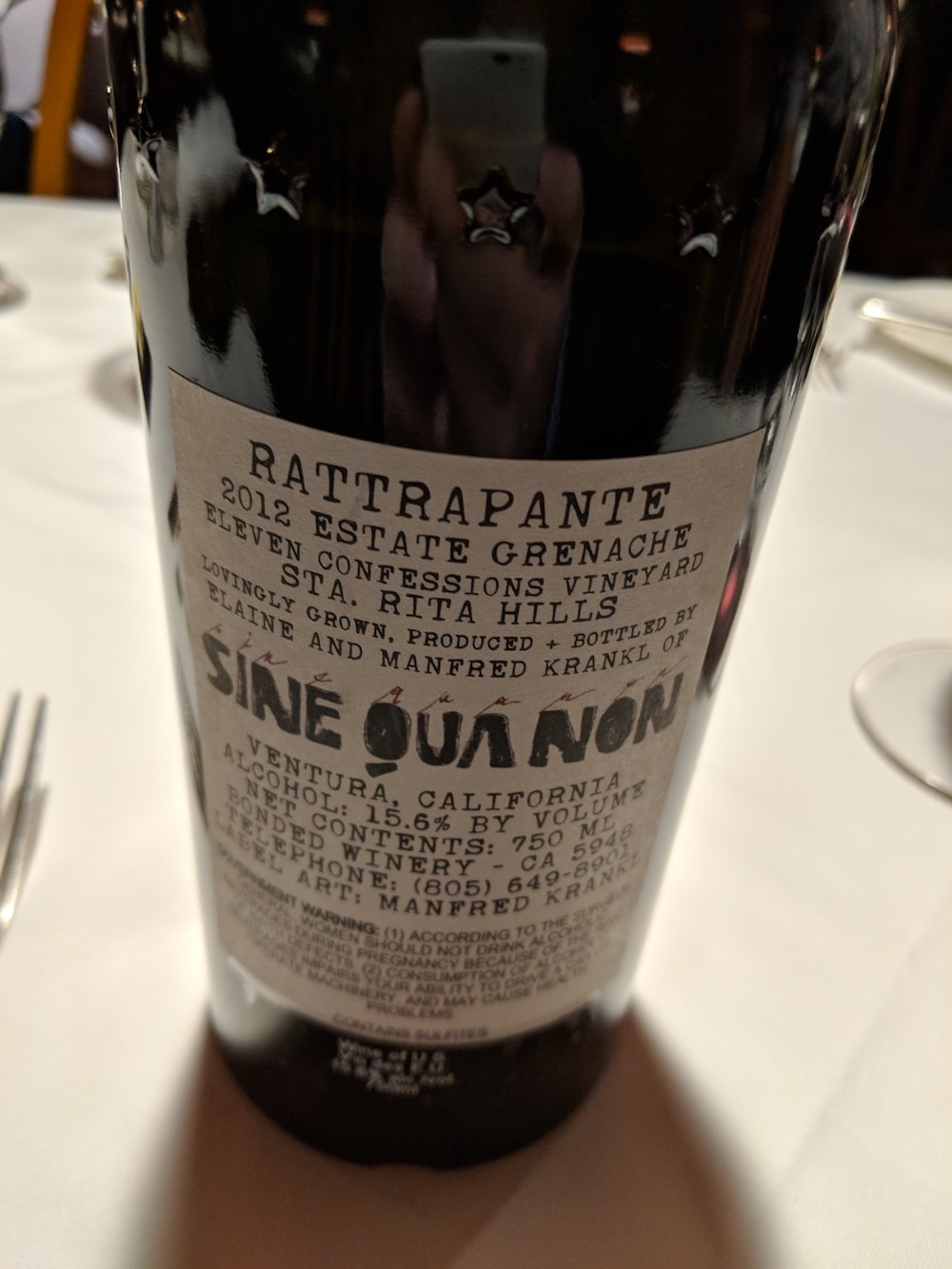 The Post Hotel Dining Room offers a tempting and ever-changing Tasting Menu daily. We knew that during our four day stay we'd go there at least once or twice. But on some evenings, it's nice to let the wine steal the show. So, for the first dinner of our four day stay, that's what we did selecting a rare bottle indeed – the 2012 Sine Qua Non Rattrapante.
Before the big wine event, we kicked things off with a cocktail and the chef's terrine for the evening, featuring venison mousse, tarragon and pork.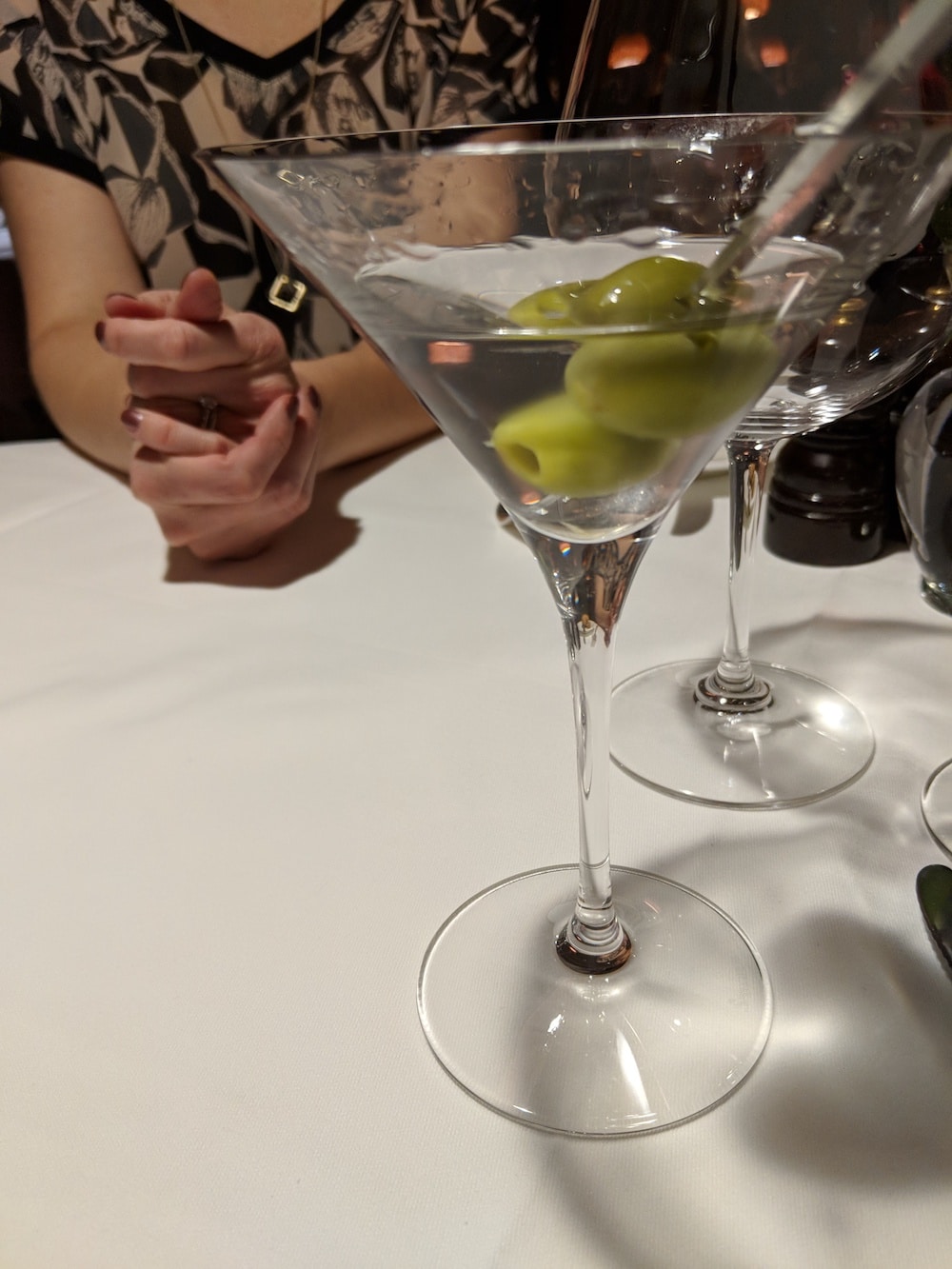 Presentation is always beautifully done at the Post, and without fail, portions are generous (even when it comes to their tasting menus.) This terrine was delicious, surprising, and filling. We shared it – difficult to imagine this as an appetizer for one…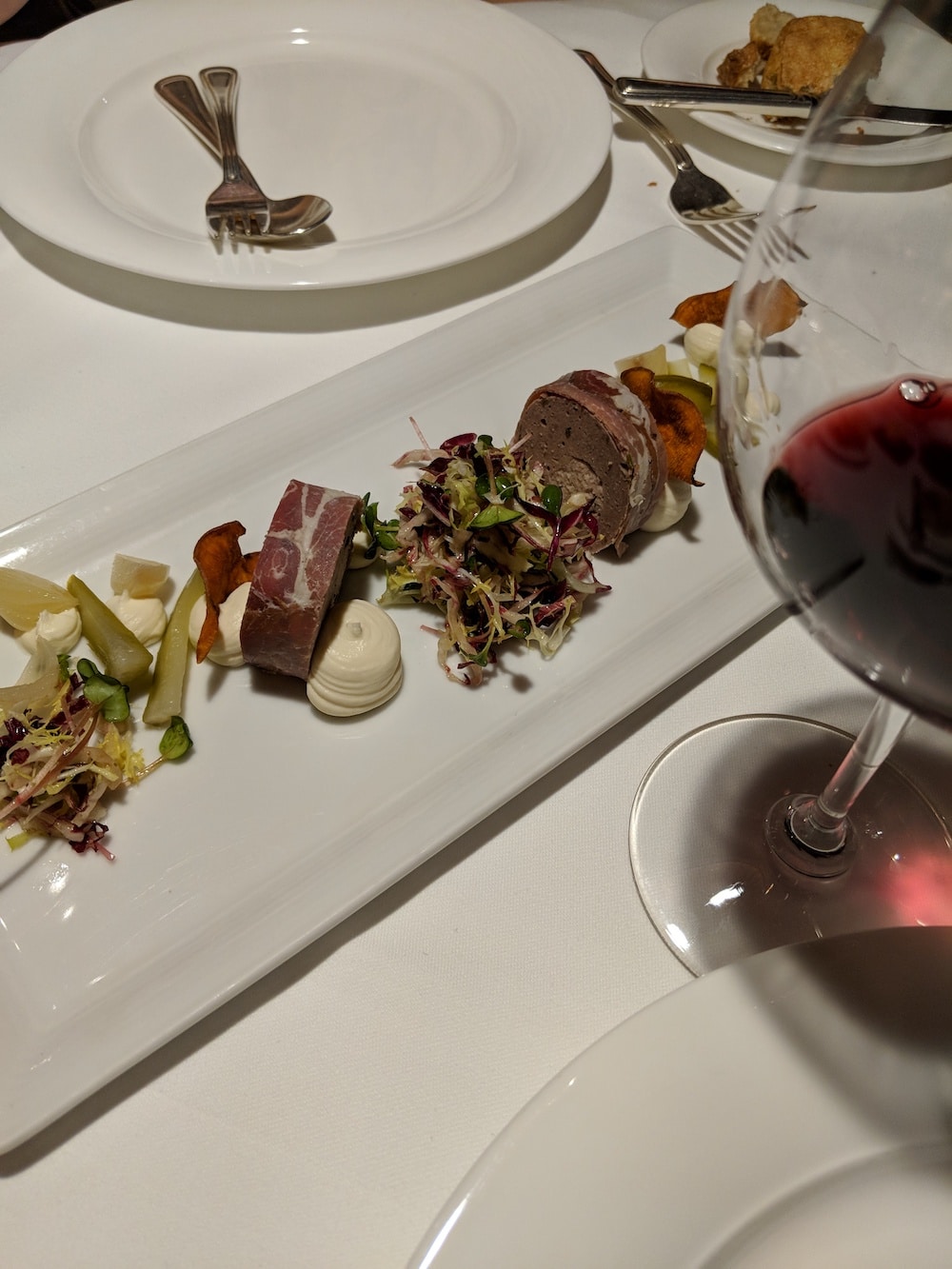 We moved on to soups for a second course, Lobster Bisque for him, and for me the featured soup – a cheerful, smooth and pleasantly spicy blend of Carrot and Ginger.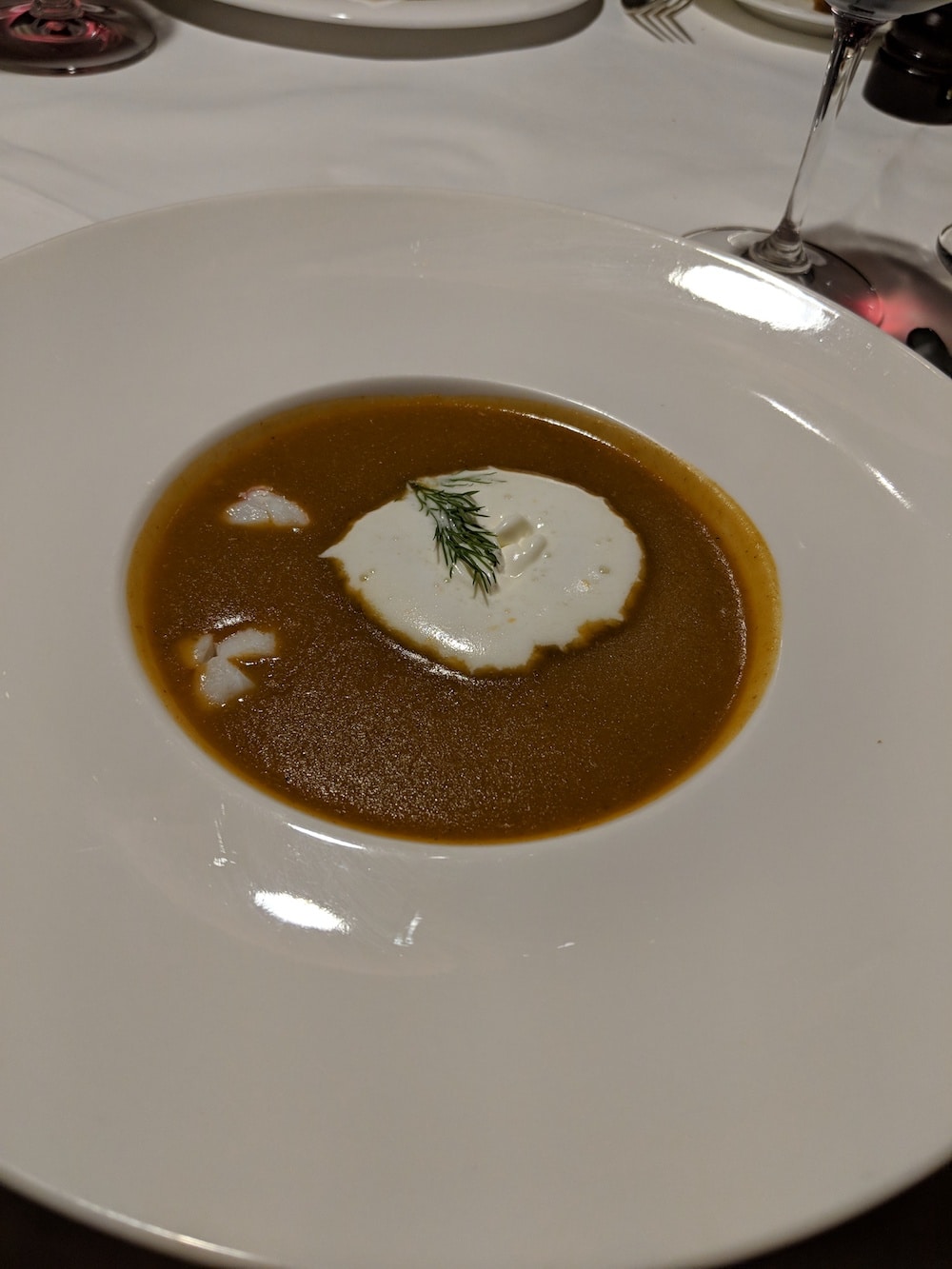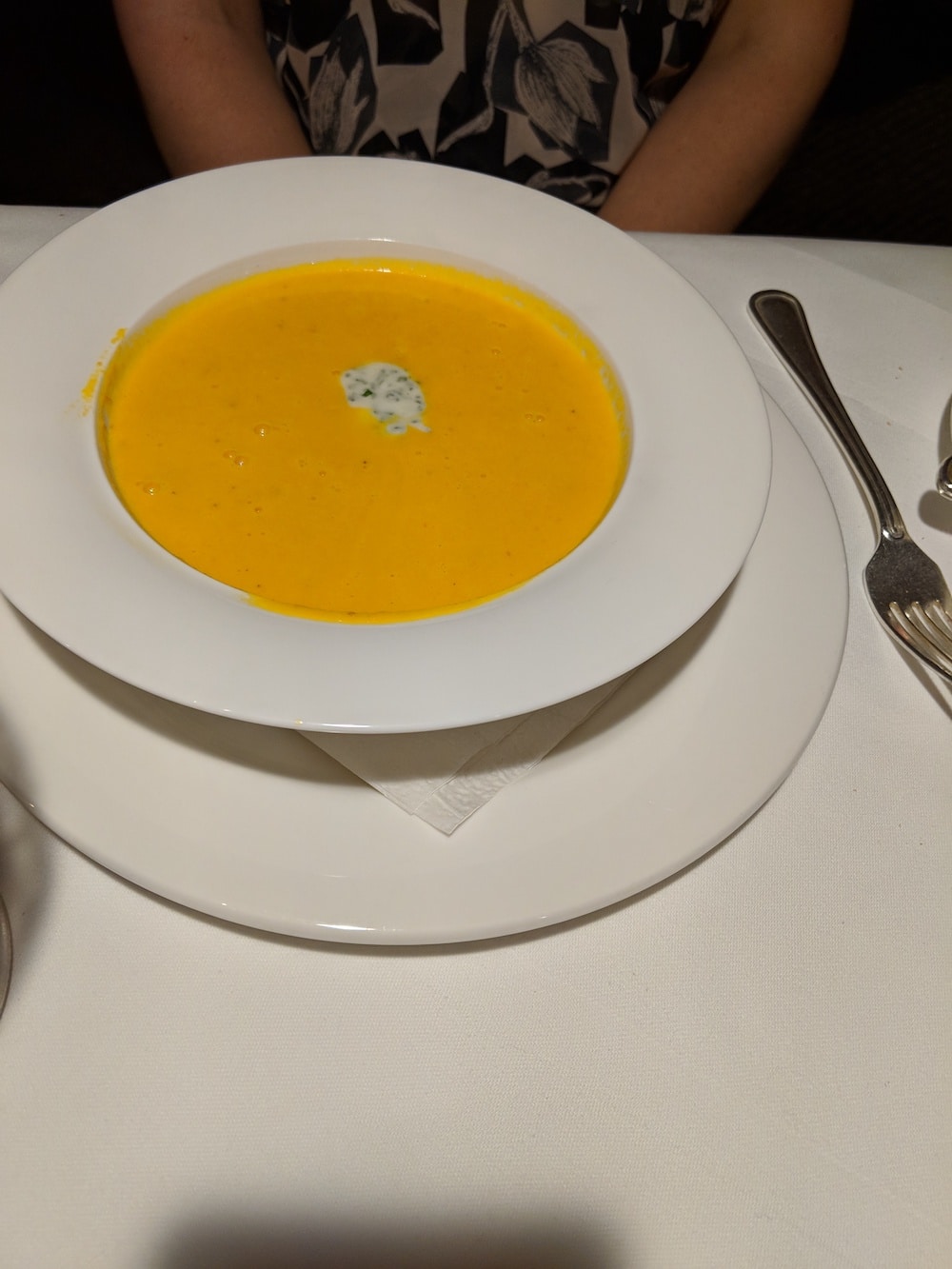 In terms of quantity, it wasn't necessary to have a soup course, but enjoyable (and we did split the terrine, after all). We also quite literally did not have anywhere to rush off to tucked away in this tiny mountain village…might as well enjoy a great meal!
Now back to the wine. Boasting a collection of over 25,000 bottles and 2300 selections, the Post's wine cellar is reason enough to make the trip. In recent years, it seems that the inventory has been diminishing somewhat. But nevertheless, there always something special to be found. The phone book sized wine list is still fun to sift through, and the sommelier can provide further guidance. On this evening, we narrowed our choice to an intriguing California Grenache, the 2012 Sine Qua Non Rattrapante.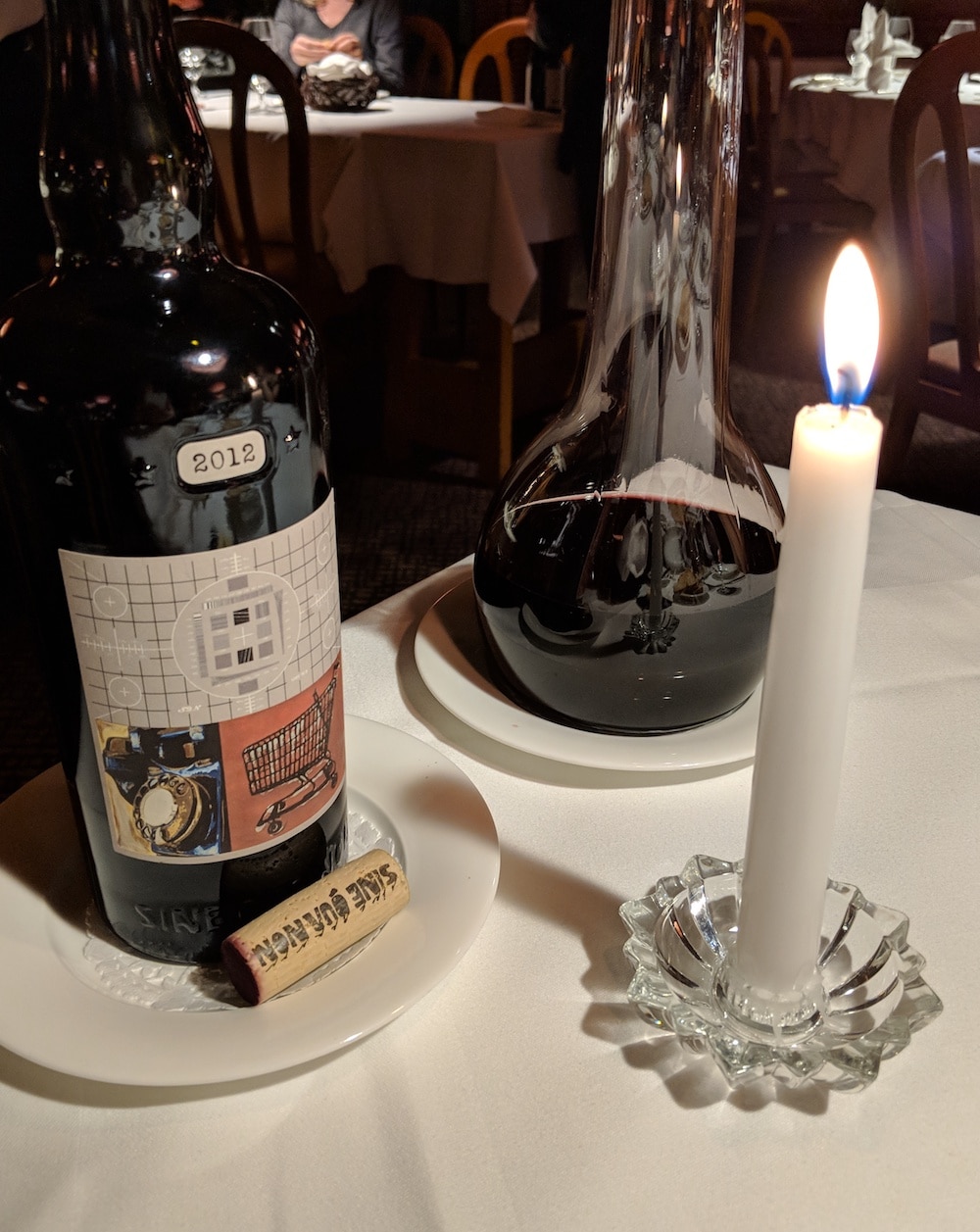 Sine Qua Non wines are hard to find and always interesting and memorable. This particular wine was big and beautiful with a lovely color (decanting was necessary, no surprise there). The quirky label adds to the impression that this is a rather eccentric one-of-a-kind wine, one you'll not soon see again.
The wine paired very well with our main courses (although we would have sipped it anyway). For him – Roasted Alberta "Valley Ridge Farms" Free Range Chicken Breast and risotto with chanterelles. We were surprised at the 'bite' on the risotto – a bit underdone this evening when it's usually outstanding. We've dined here often enough to declare this to be an outlier (I wouldn't hesitate to order it again).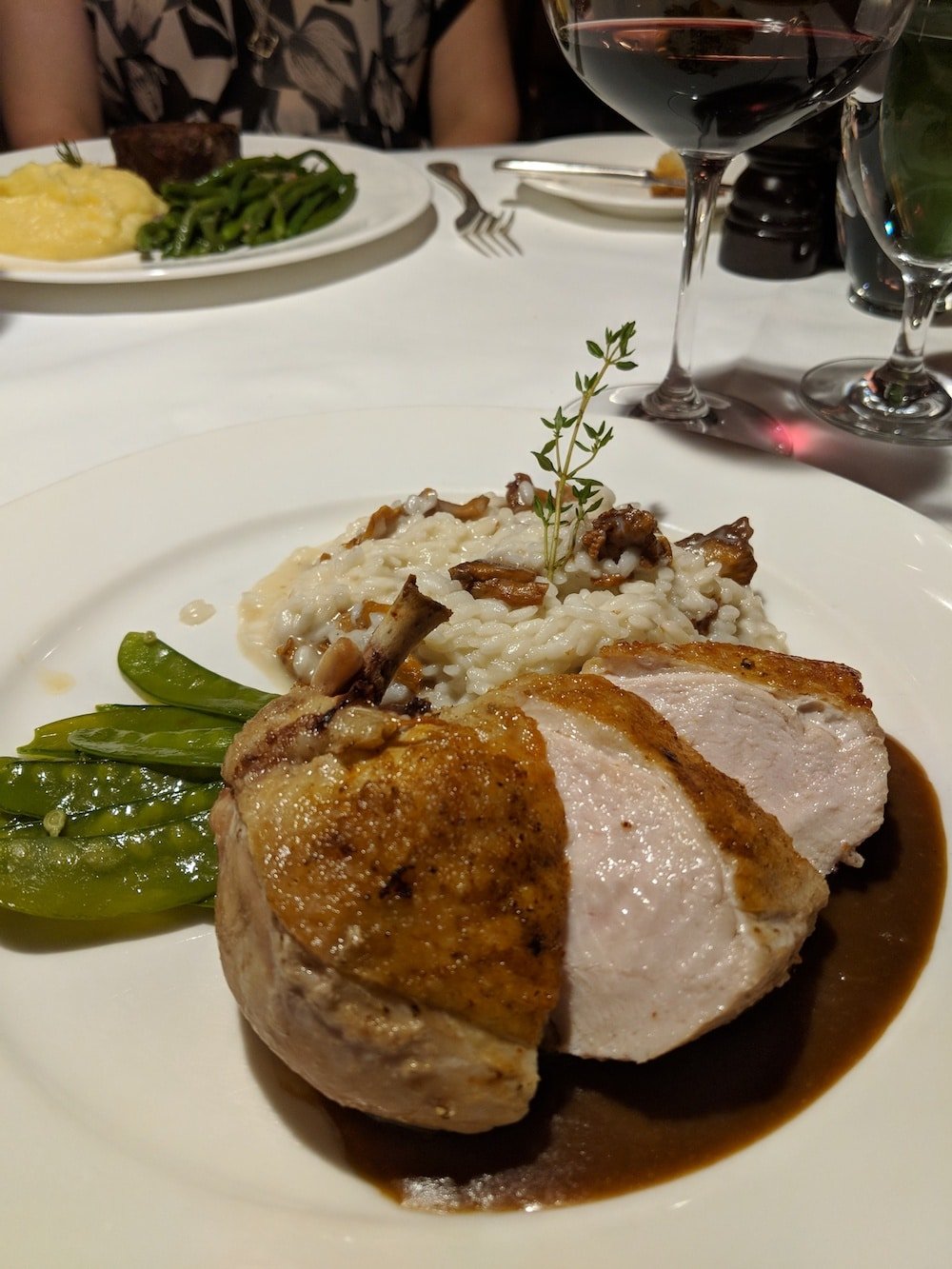 For me, I wanted something that I knew would let the wine shine, no contest. I played it very safe and went with the Beef Tenderloin with Port Wine Sauce and Yukon Gold Mashed Potatoes. It was everything I'd hoped, more than I needed, and yes – went great with the wine.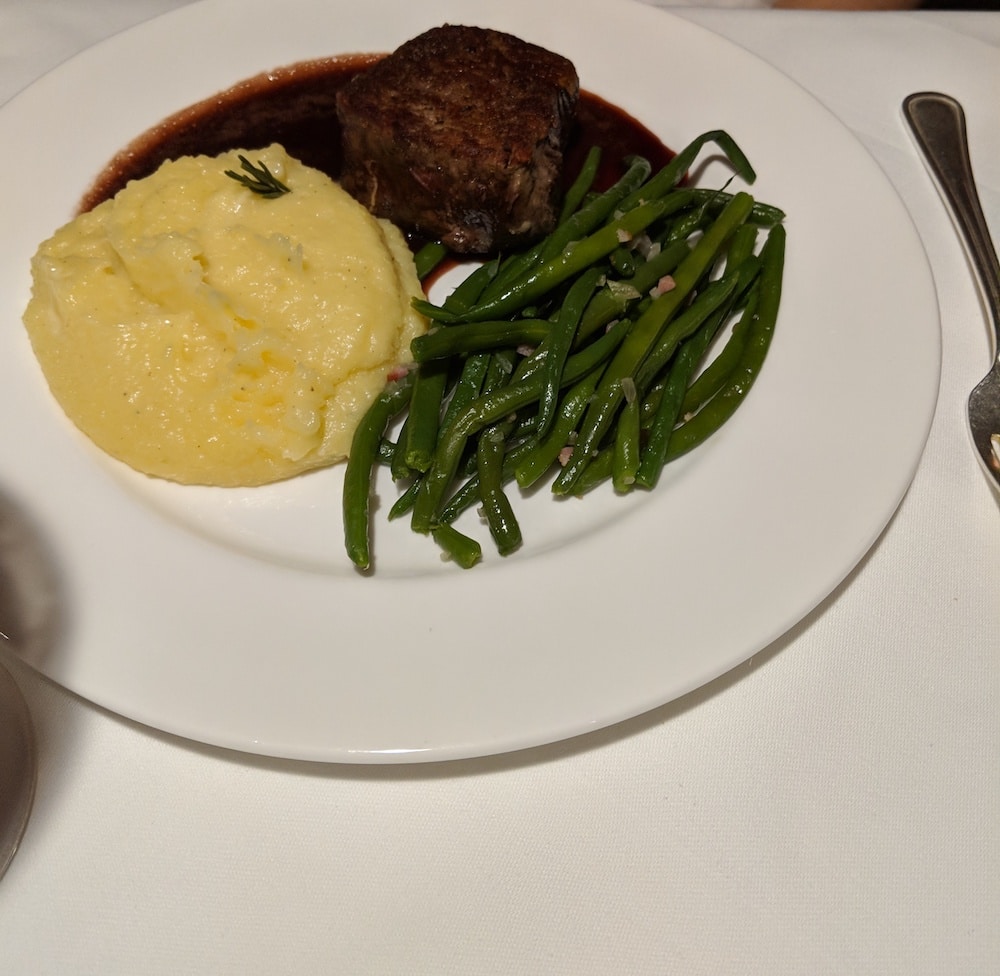 To satisfy a sweet tooth, we ordered the famous Coupe Danemark, a glorified and glorious hot fudge sundae with a fresh-baked chocolate chip cookie.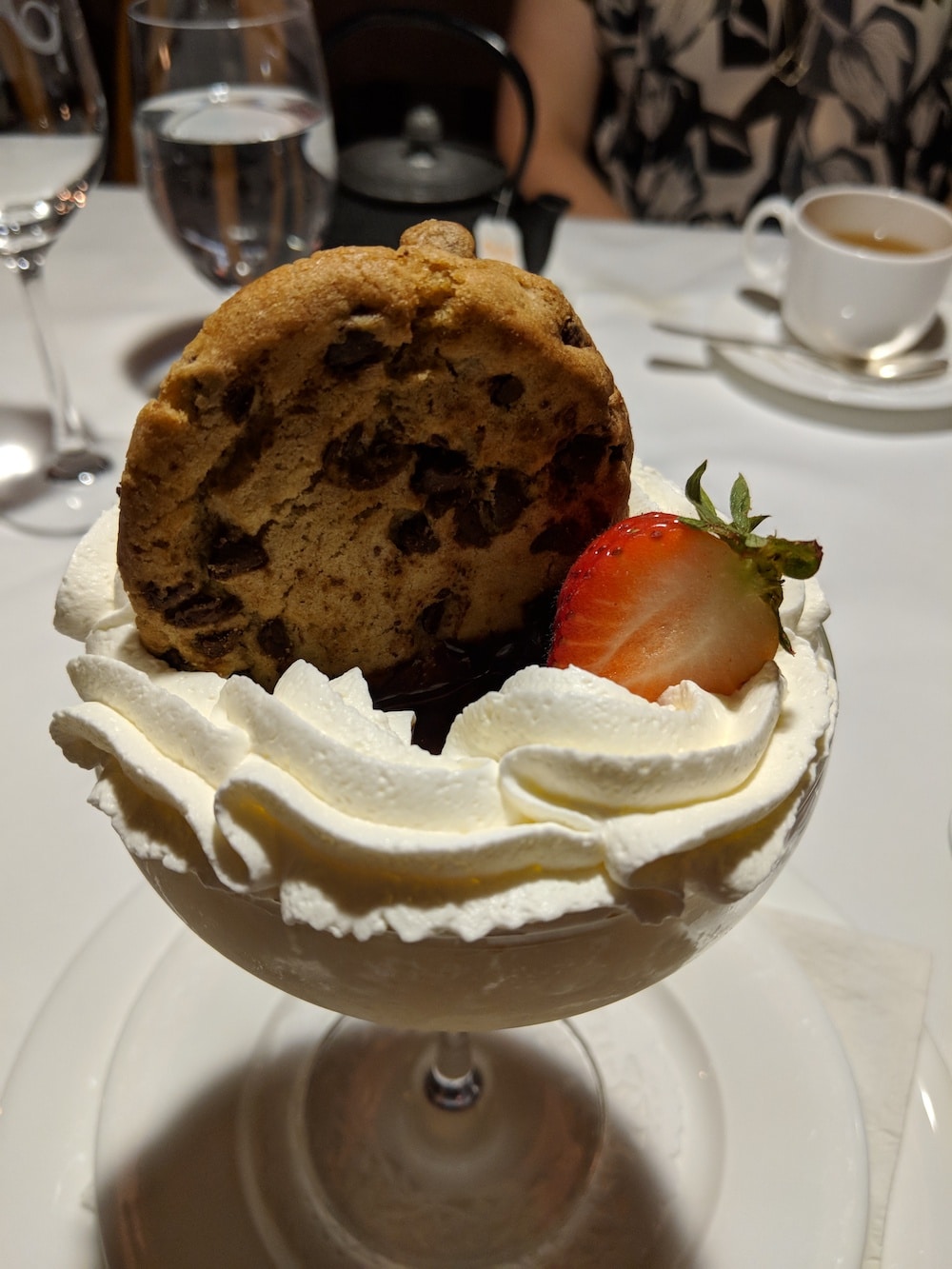 Finally, to cap off a great meal we ordered a bottle of 1994 Dow's Vintage Port. It was spectacular, and after enjoying a glass we had our wonderful server put it aside in the cellar so that we could revisit it after our following meals.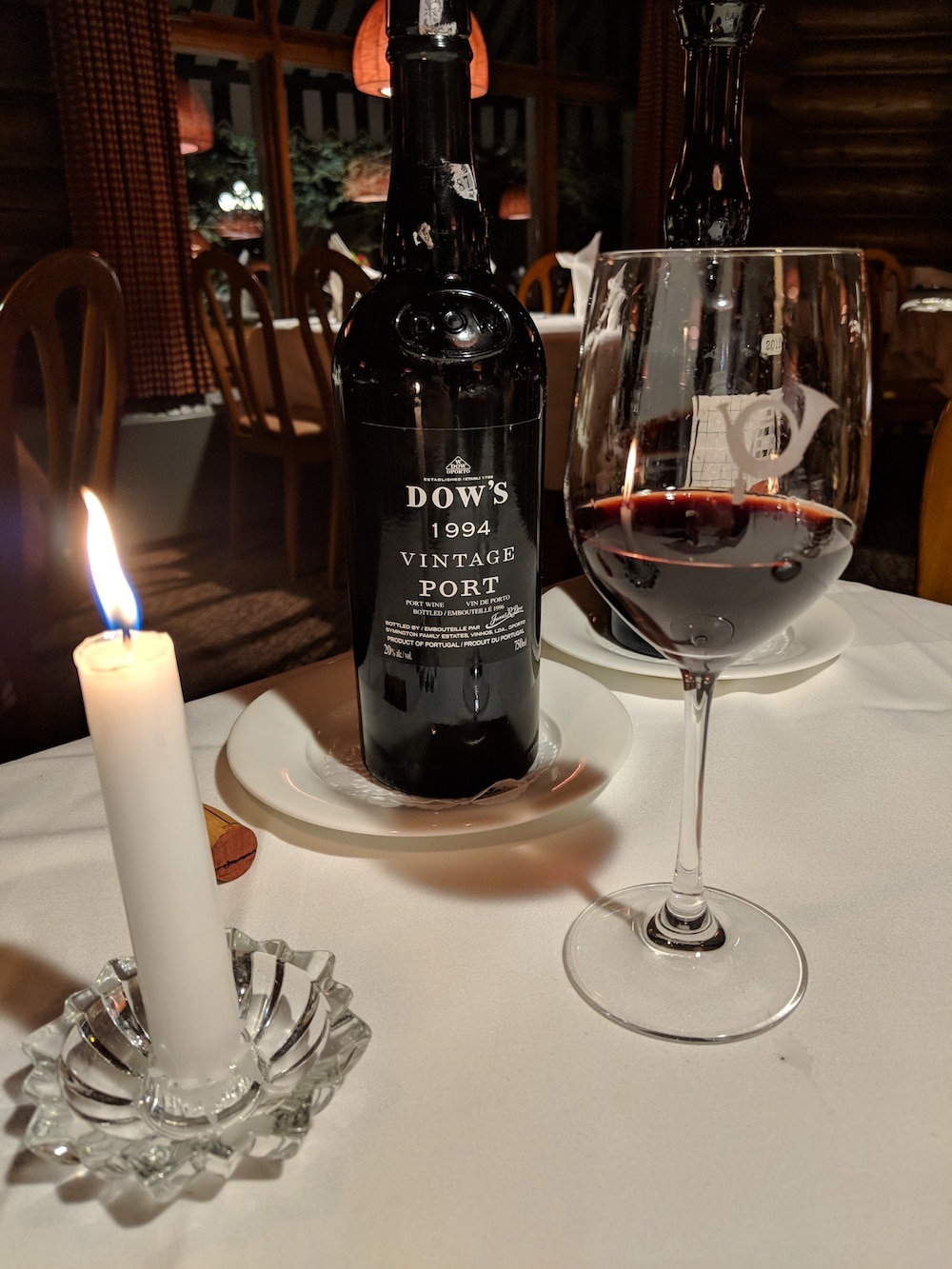 For more information on dining at the Post Hotel or to view a dinner menu, please visit www.posthotel.com