If you're looking for a unique way to experience the Canadian Rocky Mountains in the wintertime, consider booking a dog sled tour with Kingmik Dogsled Tours. This is a world class operation, spectacularly done from start to finish. First and foremost, the moment you arrive for your tour and see the gorgeous Alaskan Huskies waiting eagerly to get going, you know and see how well-treated, well-cared for, happy and loved they are. Each dog is beloved and treated like the unique creature he or she is. The guides and operators of Kingmik are special people with special relationships with each dog, and you see this immediately. And of course, you'll be taking in some of the most breathtaking views in the world from an utterly unique vantage point.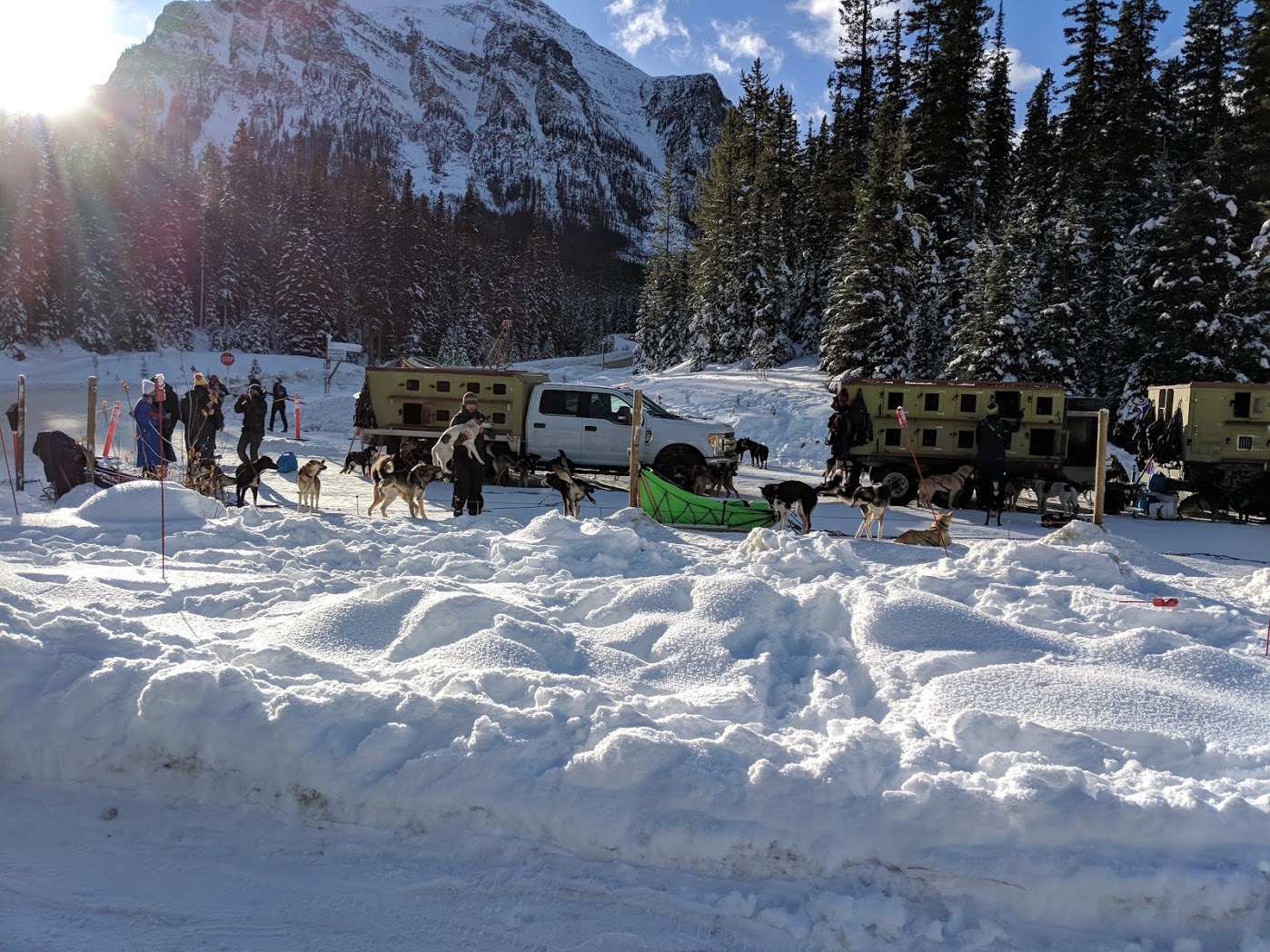 A short drive from our stay at the Post Hotel in the village of Lake Louise, we arrived for our 2:00pm Great Divide Tour a bit early (the whole tour was about an hour and a half, a 10 mile trip). This meant we had some time to greet the dogs, pat, play, and fall instantly in love with each of them. It was fascinating to watch the dogs interact with each other, gobble down their food (they eat like 8,000 calories a day – fat, protein – amazing!), and of course just how friendly and playfully they greeted us newcomers. Before the tour began, we were rounded up for a brief orientation and some facts about the dogs. Besides their insanely high-caloric diet(!), we were impressed to learn that the dogs themselves determine their retirement and are not pushed beyond what they show the guides they are able and interested in giving. In these cases, adoptive homes may be sought, but the retired dogs often live the rest of their lives at the Kingmik kennel property in B.C. – which sounds amazing, and which you can arrange to visit. (We didn't visit this trip, but would sure love to see this side of the operation!).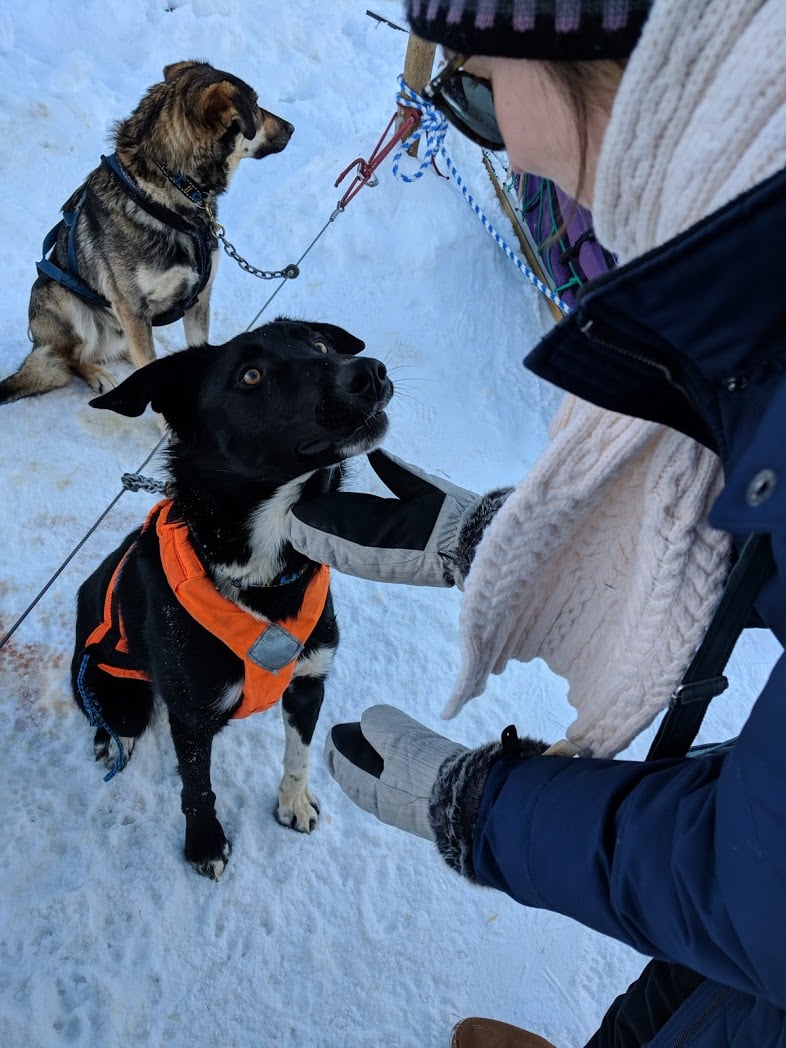 The other interesting fact that was shared: Siberian Huskies, the breed often featured in movies about dog sledding, are not the same nor in the same league endurance wise as the Alaskan Huskies who pull the Kingmik sleds. You'll see all kinds of coat colouration, and eye-color – all sorts of beauty! In fact, they are not an officially-recognized breed – but these are the dogs of the Iditarod, and the working dogs with a long history in northern villages.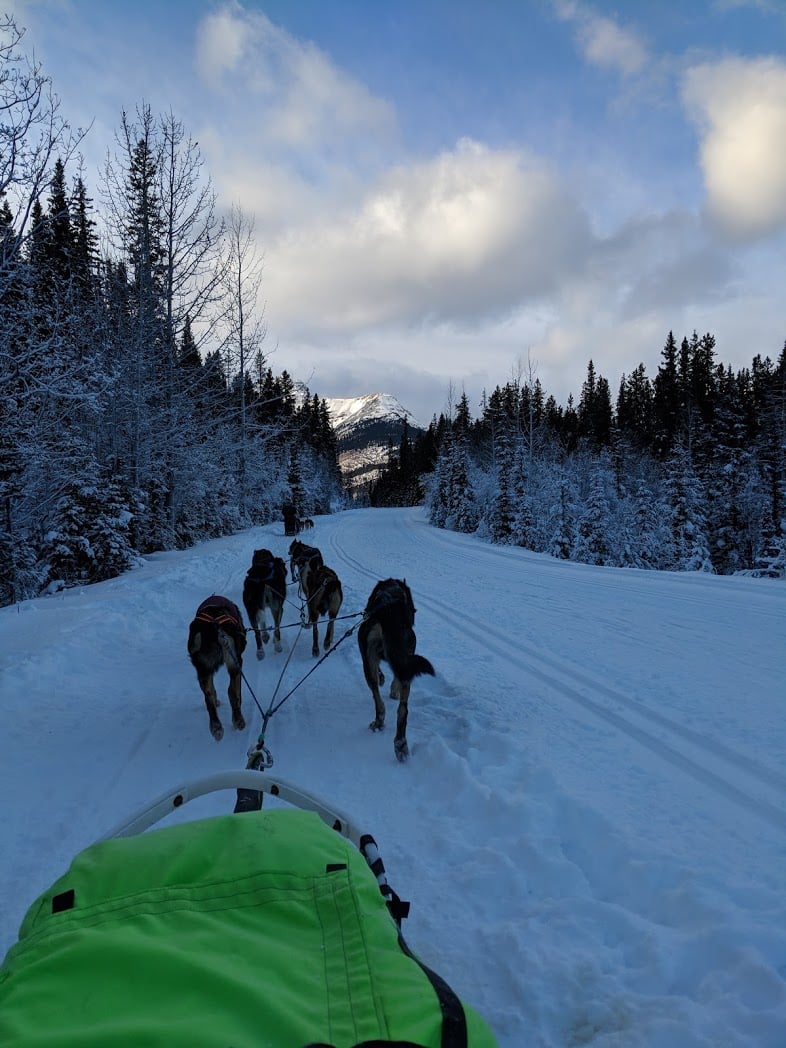 After the orientation, we were bundled into our sled-for-two. (While it's a cozy vessel, be sure to dress warmly. You're not moving much during the tour and this can result in cold feet and hands (etc.) without the proper gear!) A this point, the baying and barking was deafening — and the dogs' energy was contagious. They clearly wanted to go and get out there already. And once they began, like magic, it was silent except for the swoosh of the sled through the snow. The dog sled was pulled beside a cross country ski trail, another way to see this beautiful bit of land. Our guide Kylie was wonderful: full of experience, information, humour, and a genuine love of each dog in the seven-dog team pulling our sled. We heard funny and touching stories about each of them.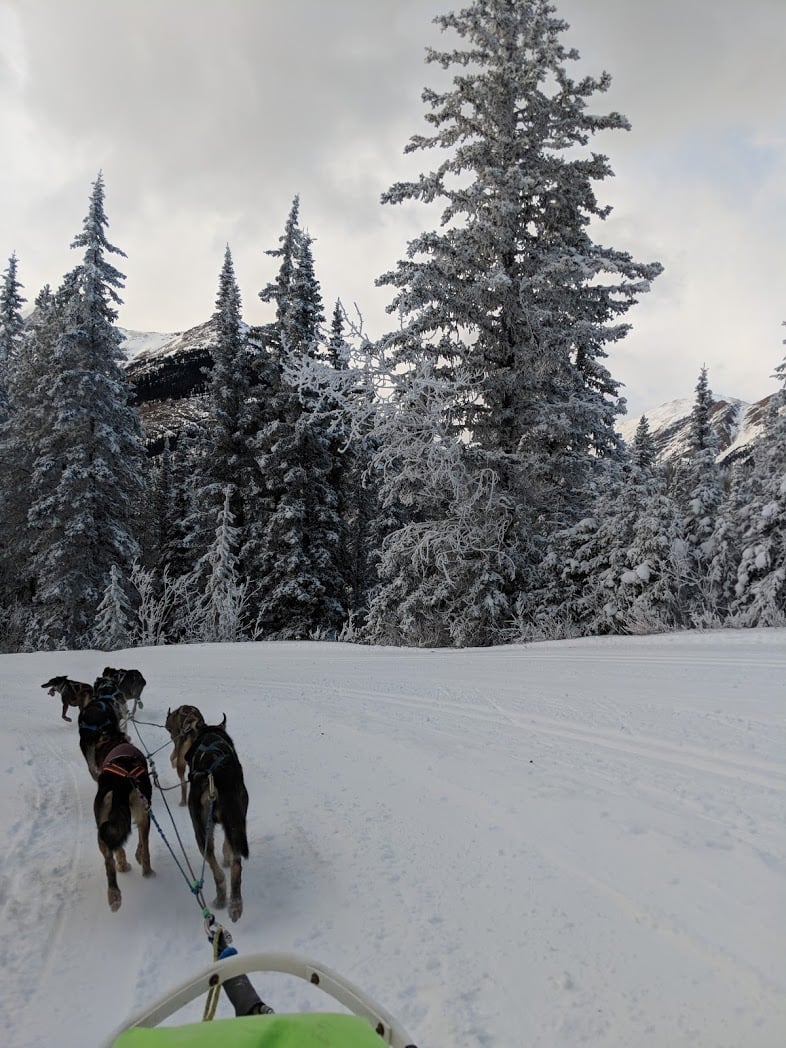 The scenery on the way to the Great Divide Arch was unparalleled. With spectacular now-capped mountains rising on all sides, it was in fact the trees that were the stand-out stunners that day. Frosted with gingerbread-icing snow, it was like zipping along through thousands of Christmas trees. According to our guide, this sight is not all that typical, but recent conditions that alternated between cold and warm and snowy created the perfect Christmas card clinginess we saw all around this. Of course, without this there would have been other visuals to rhapsodize about, but we certainly felt fortunate!
After turning around at The Great Divide Arch, we got out to stretch our legs and visit with the dogs. We were then each given an opportunity to drive the sled with Kylie. Wow – standing to drive the sled and drinking it in from this vantage point was an entirely new feeling. There was a different sense of the dogs' power and tangible connection to them. An amazing, once in a lifetime experience!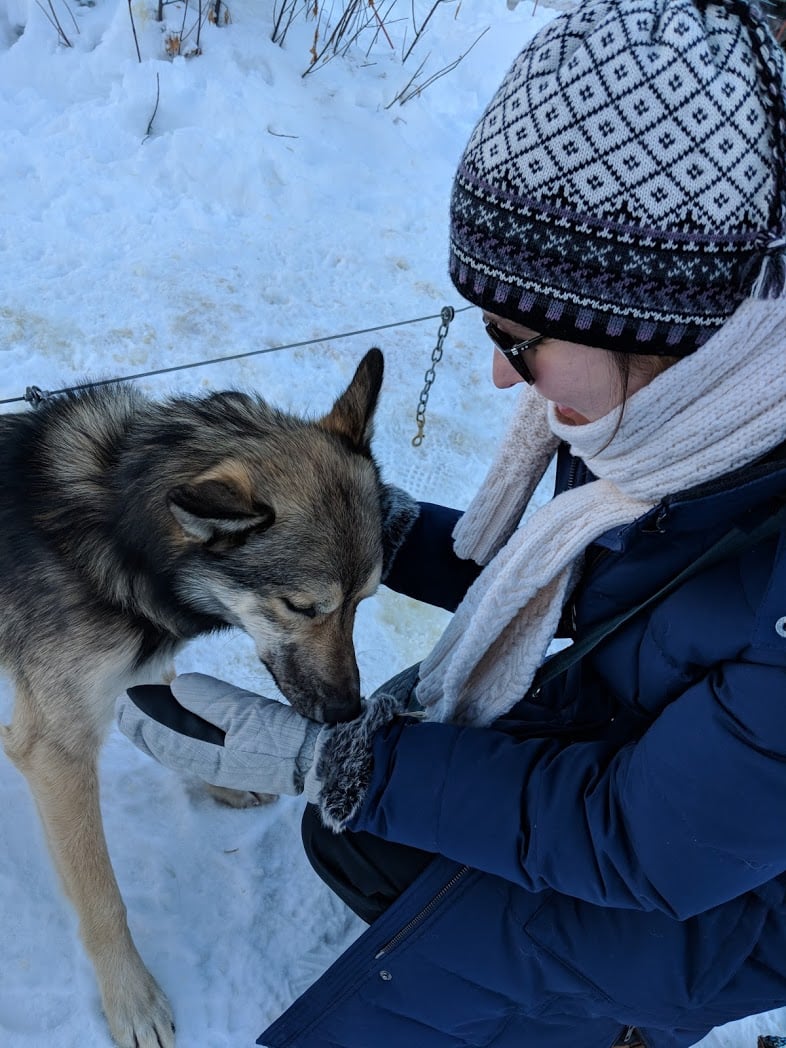 A thank you to everyone at Kingmik Dogsled Tours, to our amazing guide Kylie, and of course to our team of Alaskan Husky supestars – Two-Step, Yorkie, Growler, Vargas, Sneetches, Who, and Horton (oh Horton!). This was an exceptional experience on all levels, and one we will never forget!