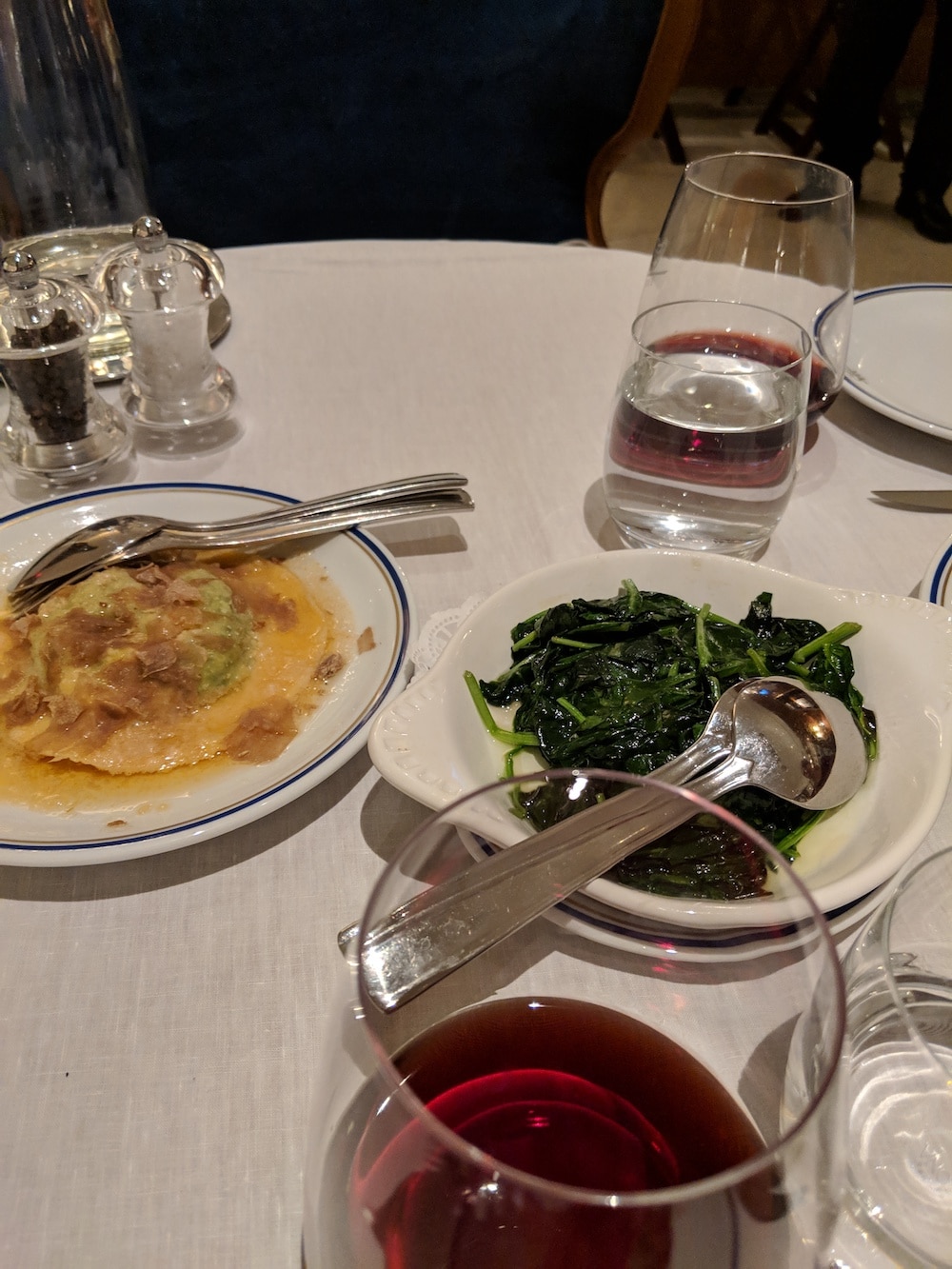 We dined at the brand new Cipriani this past December, a fine dining establishment at Wynn Las Vegas. Open just a few weeks in the new Wynn Plaza Shops area of the resort, the experience was a treat from start to finish. If there were any complaints to register, it was that there may have been too many good things, namely too many attentive servers checking in on us, too many rich dishes to sample together on the recommendation of our server. But if these are the sorts of kinks Cipriani shows in its opening weeks, we believe things will only get better from here on out…
On to cocktails: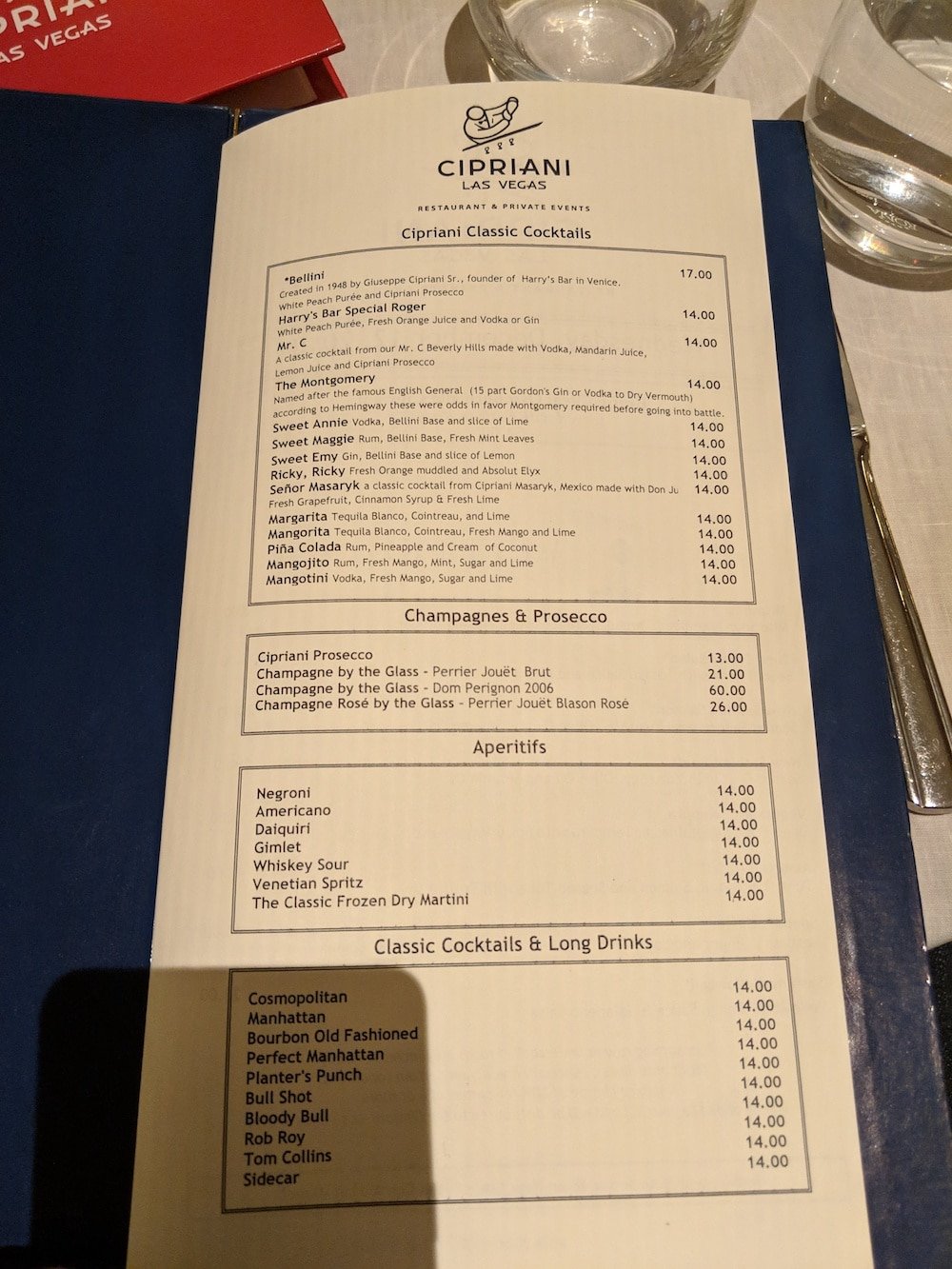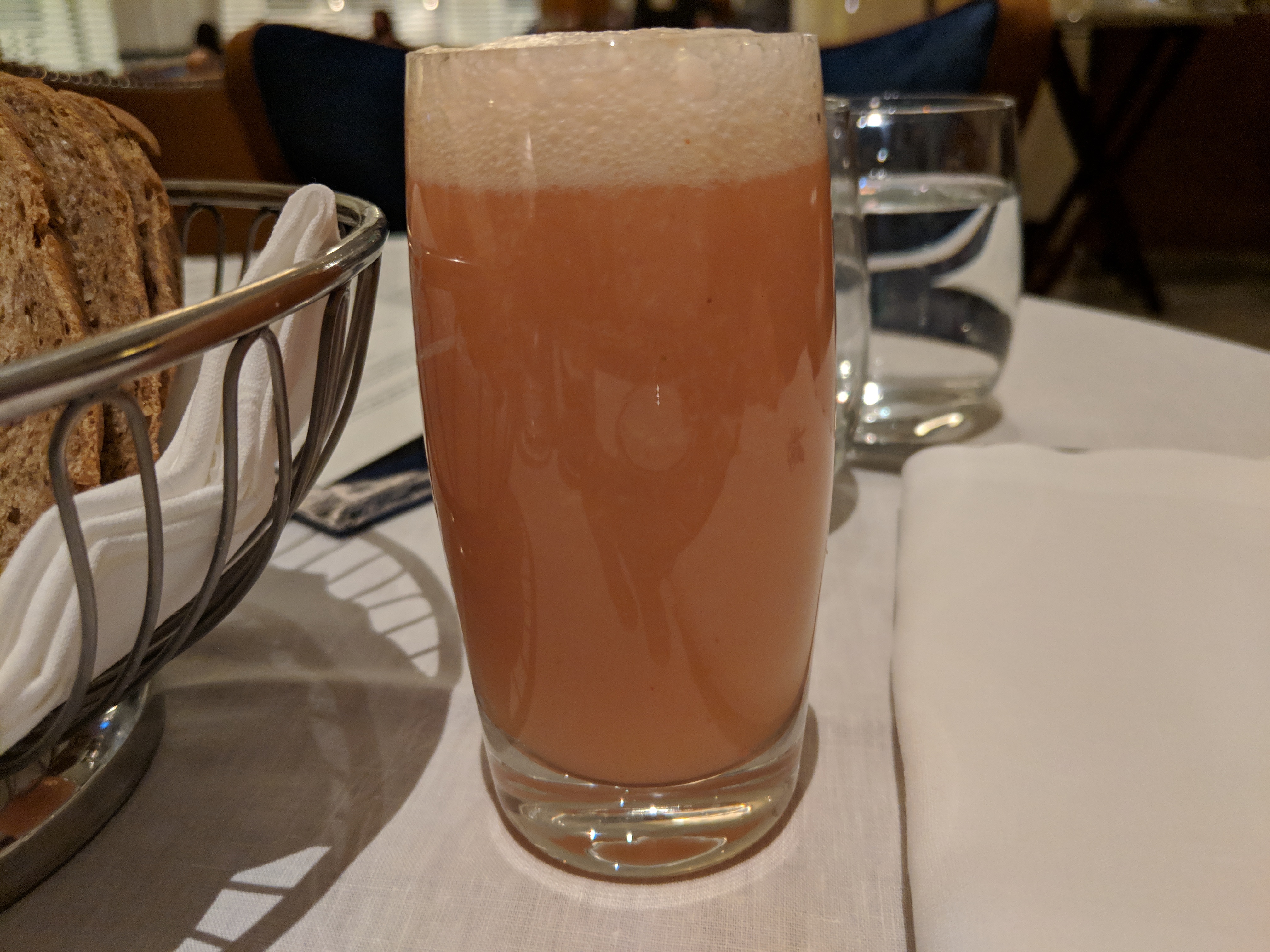 So let's start with the Bellini. Cipriani has a great origin story to boast  –  Giuseppe Cipriani Sr. was the inventor of this famous bevvy.  Made with white peach pureé and prosecco, it was absolutely refreshing way for me to begin the meal. For him – a dry and bracing Frozen Martini served in a shot glass that lives in the freezer.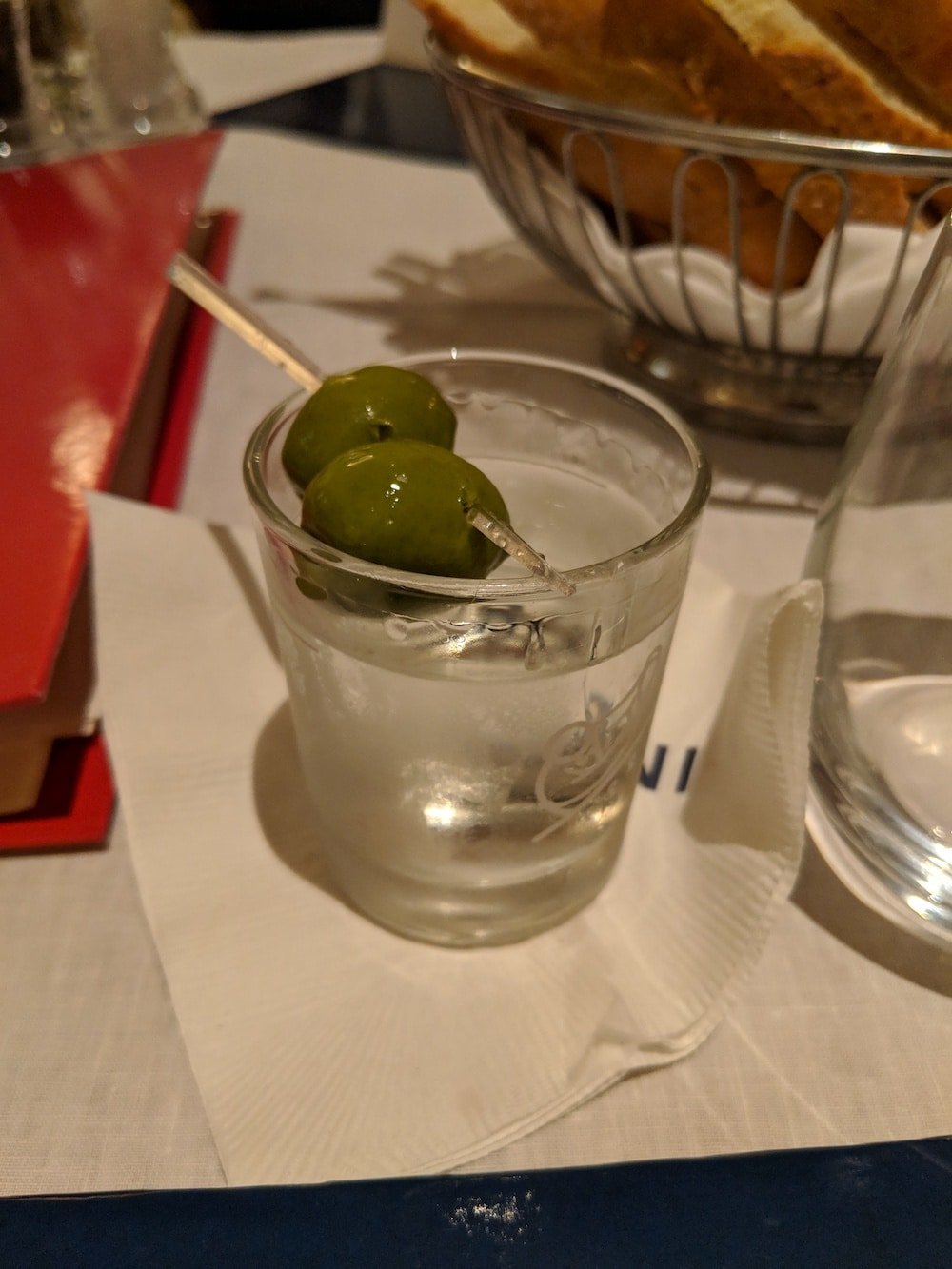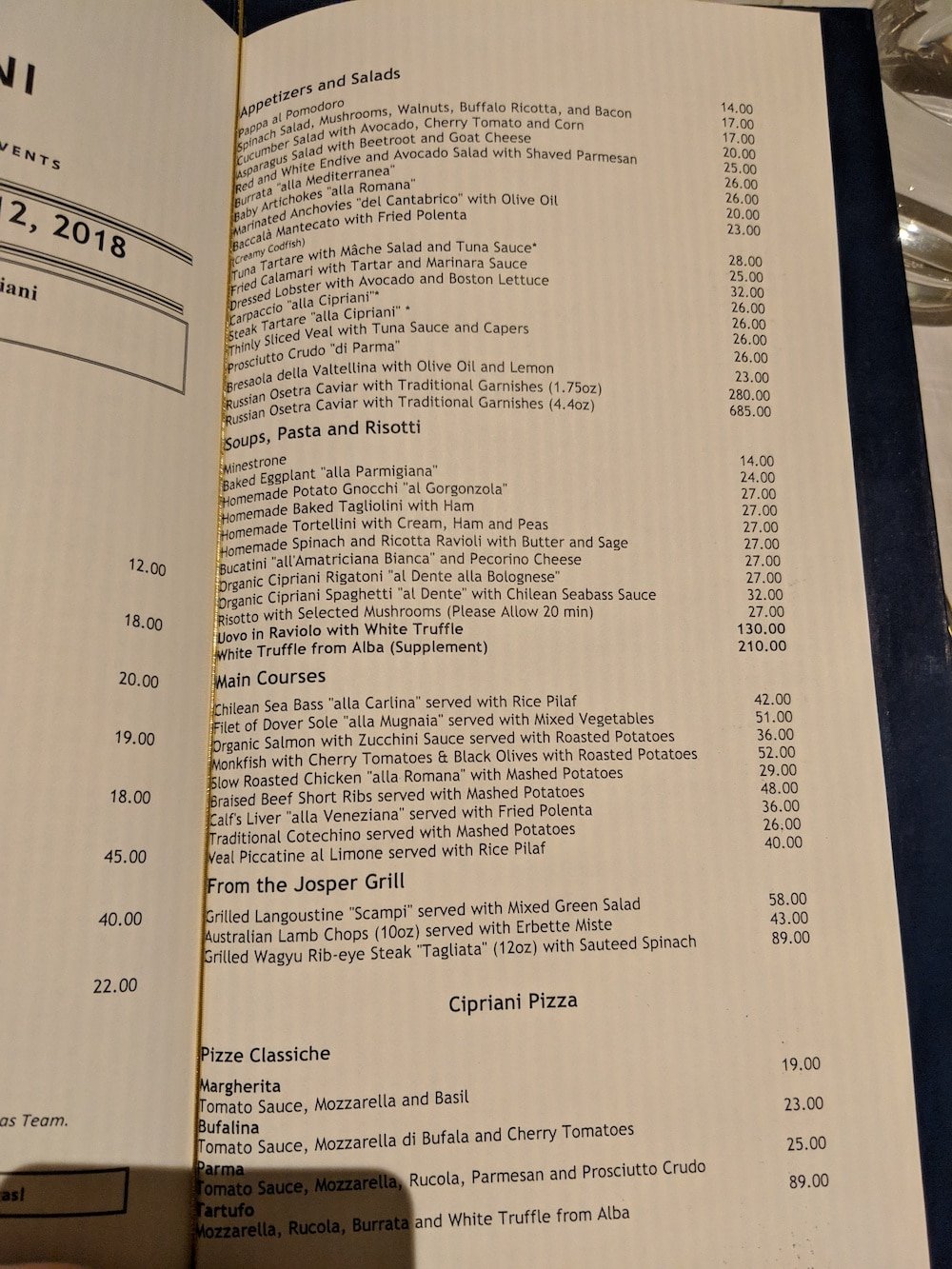 As you can see above, the menu is very full. It presented a bit of a puzzle when it came to assembling a meal. Our server was very knowledgeable and helped us navigate, making some great recommendations. Although in the end, we found the particular combination of dishes to be too much and  too heavy and rich. (This may be in part due to the fact that it was the final evening of our holiday, capping several nights of dining indulgence- but something to keep in mind.)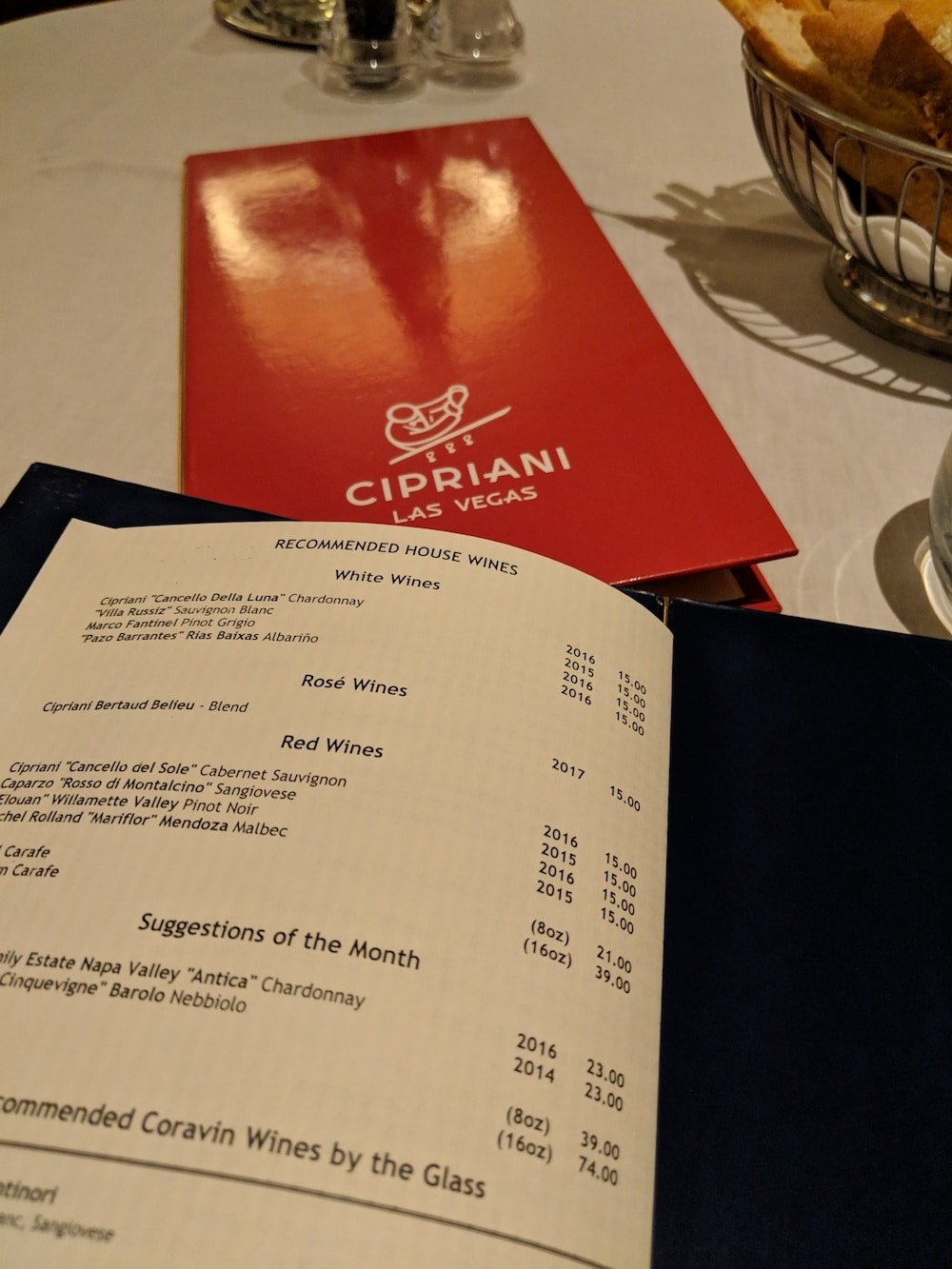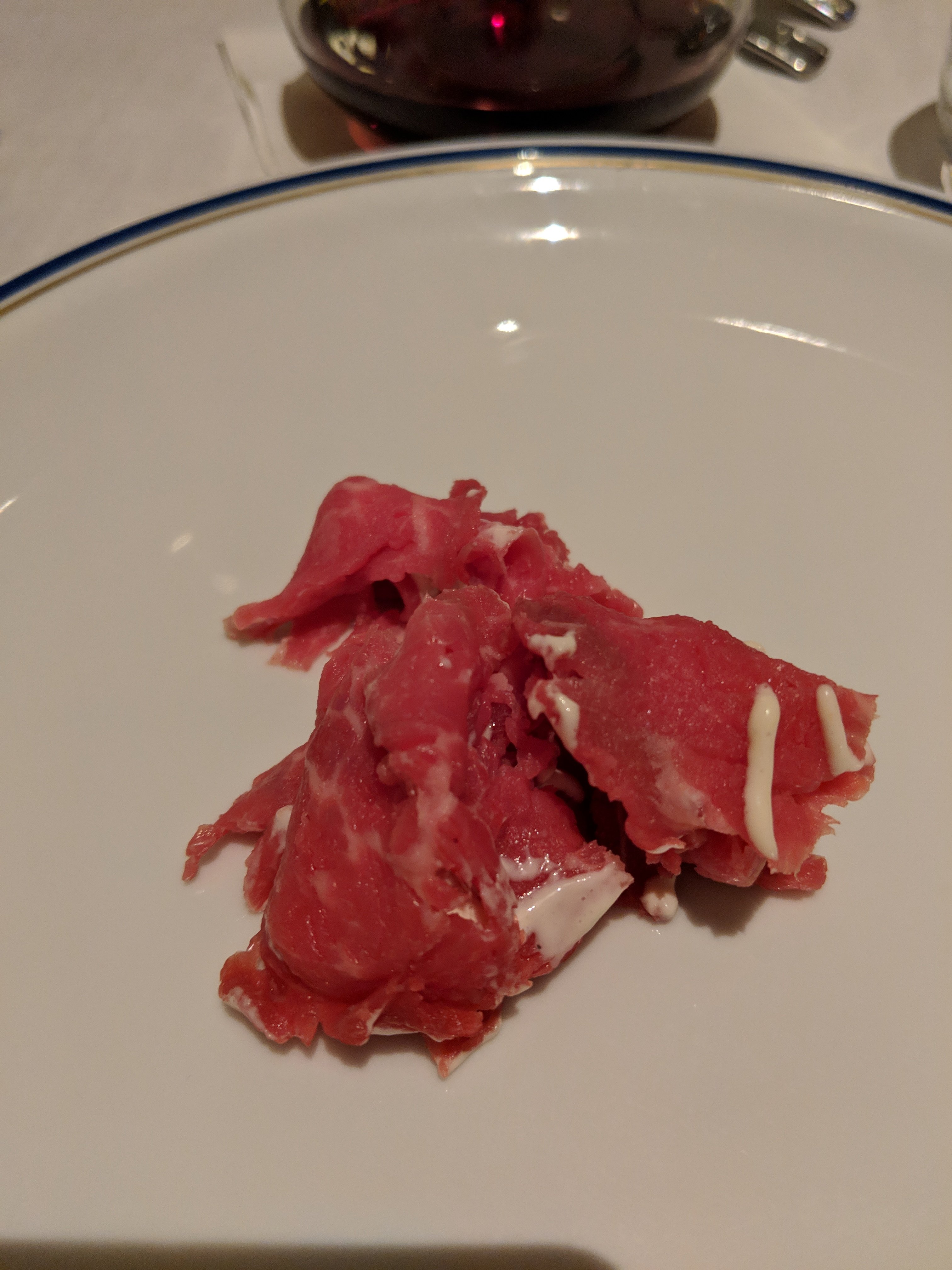 With a plan to share everything, we began with the delectable beef carpaccio, another legendary Cipriani original, named after Vittore Carpaccio, the Italian painter who apparently used the striking red colour in his art that is characteristic of the dish.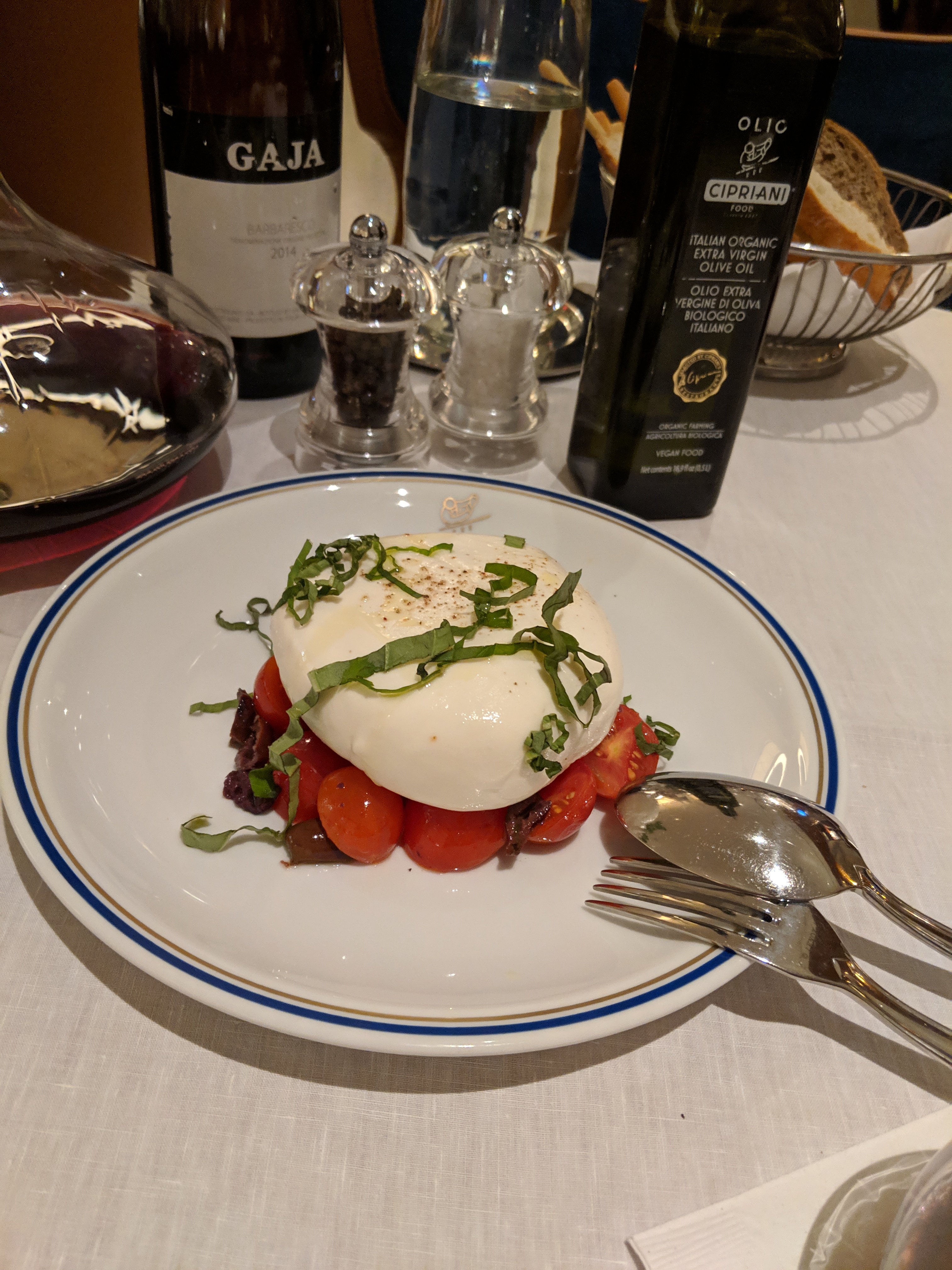 The salad was decadent and delicious – and huge, as pictured above. Split in two, it was still a very generous portion. The tomatoes were gem-like, ruby-red, and delicious – a treat at this time of year.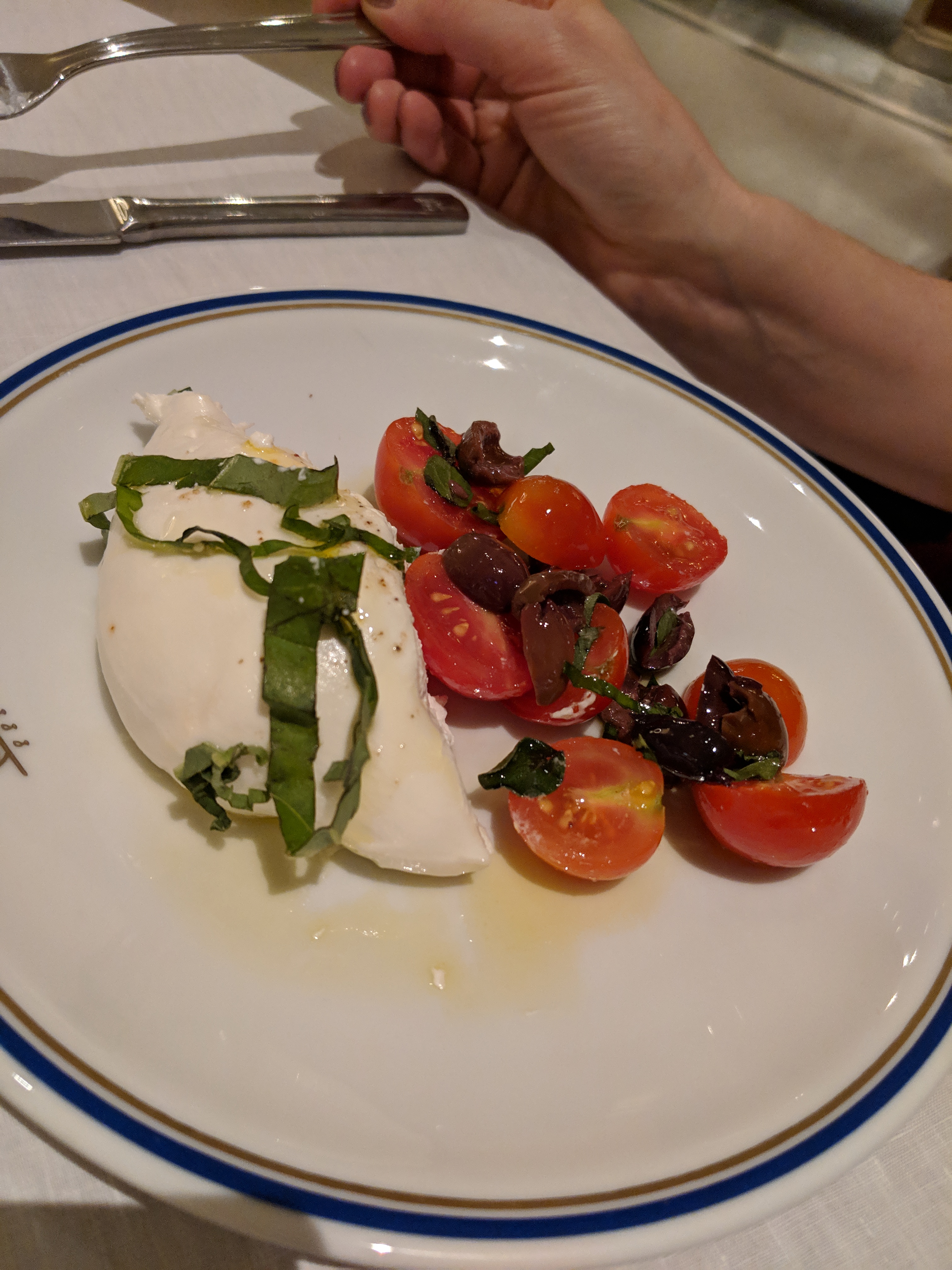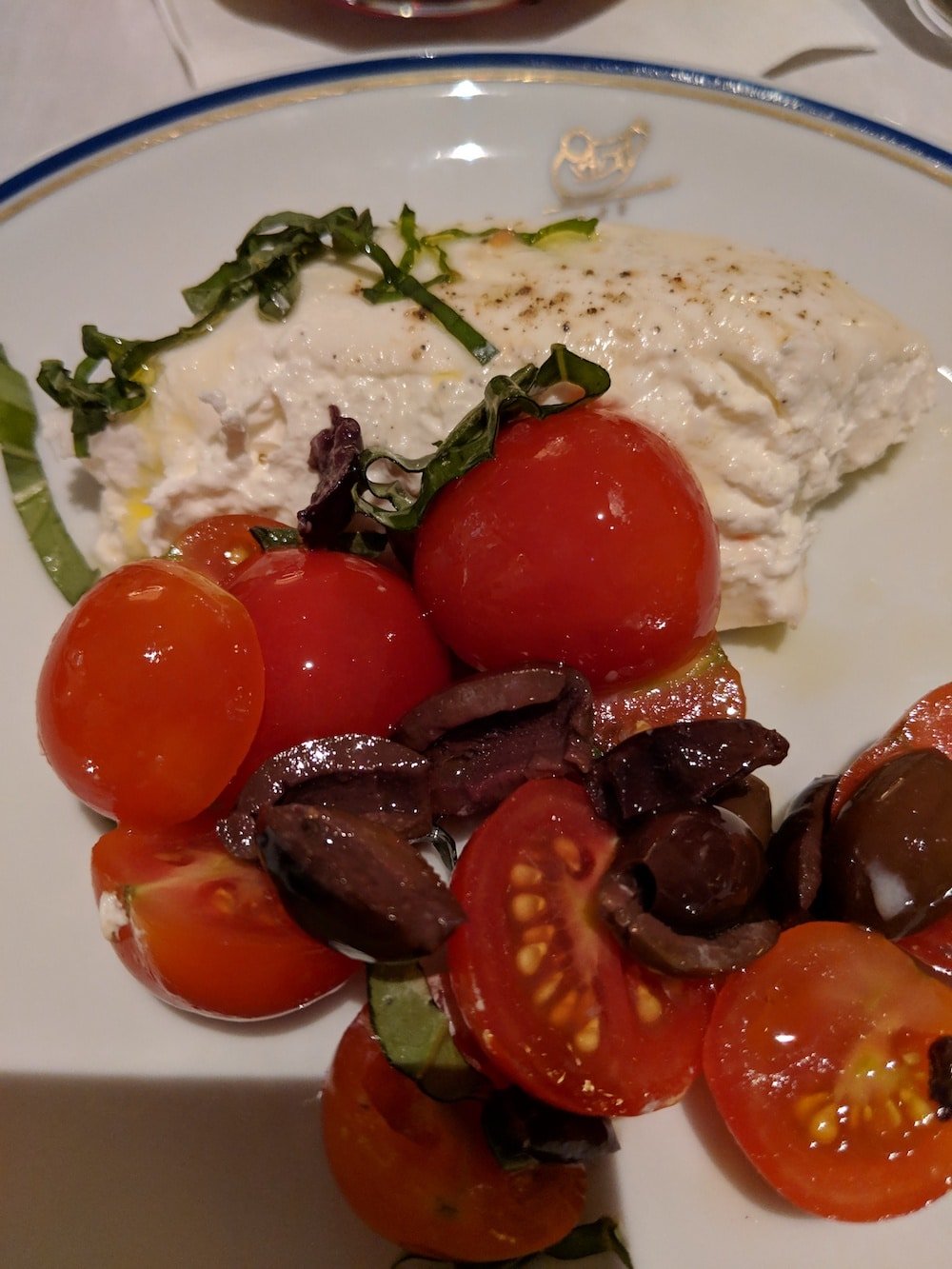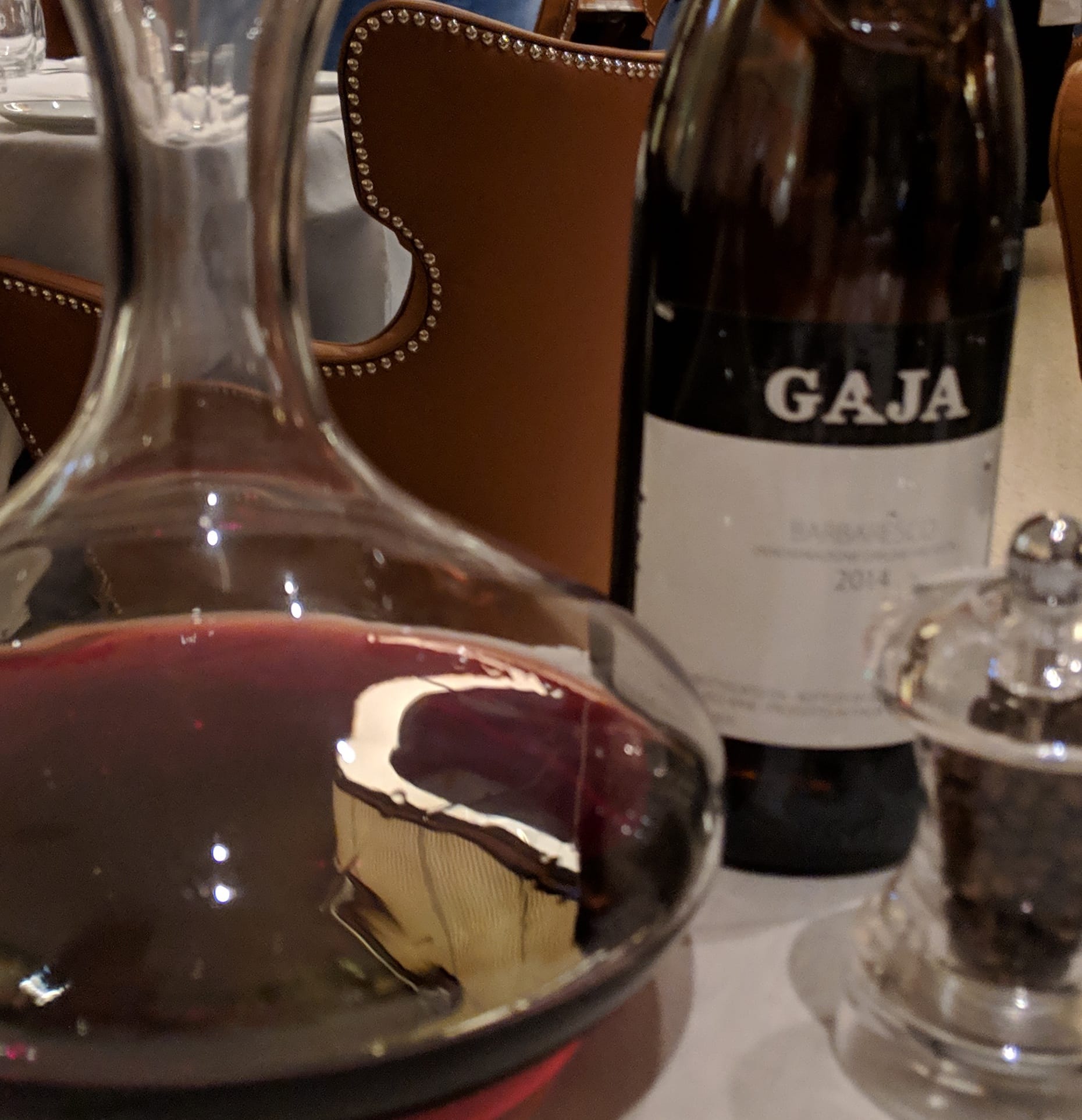 We indulged in the 2014 Gaja Barbaresco, knowing the elegant nebbiolo would be a beautiful match for the luscious flavours in the rich Italian dishes. It was everything we had hoped for – big, rich and spicy, full of flavor, and yet silky.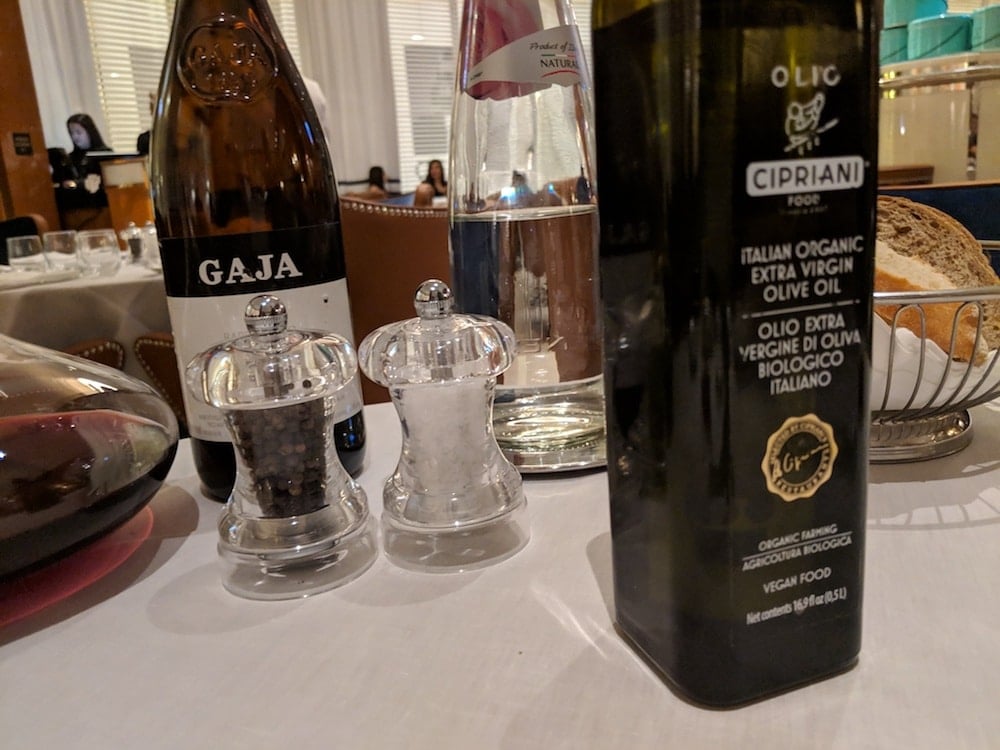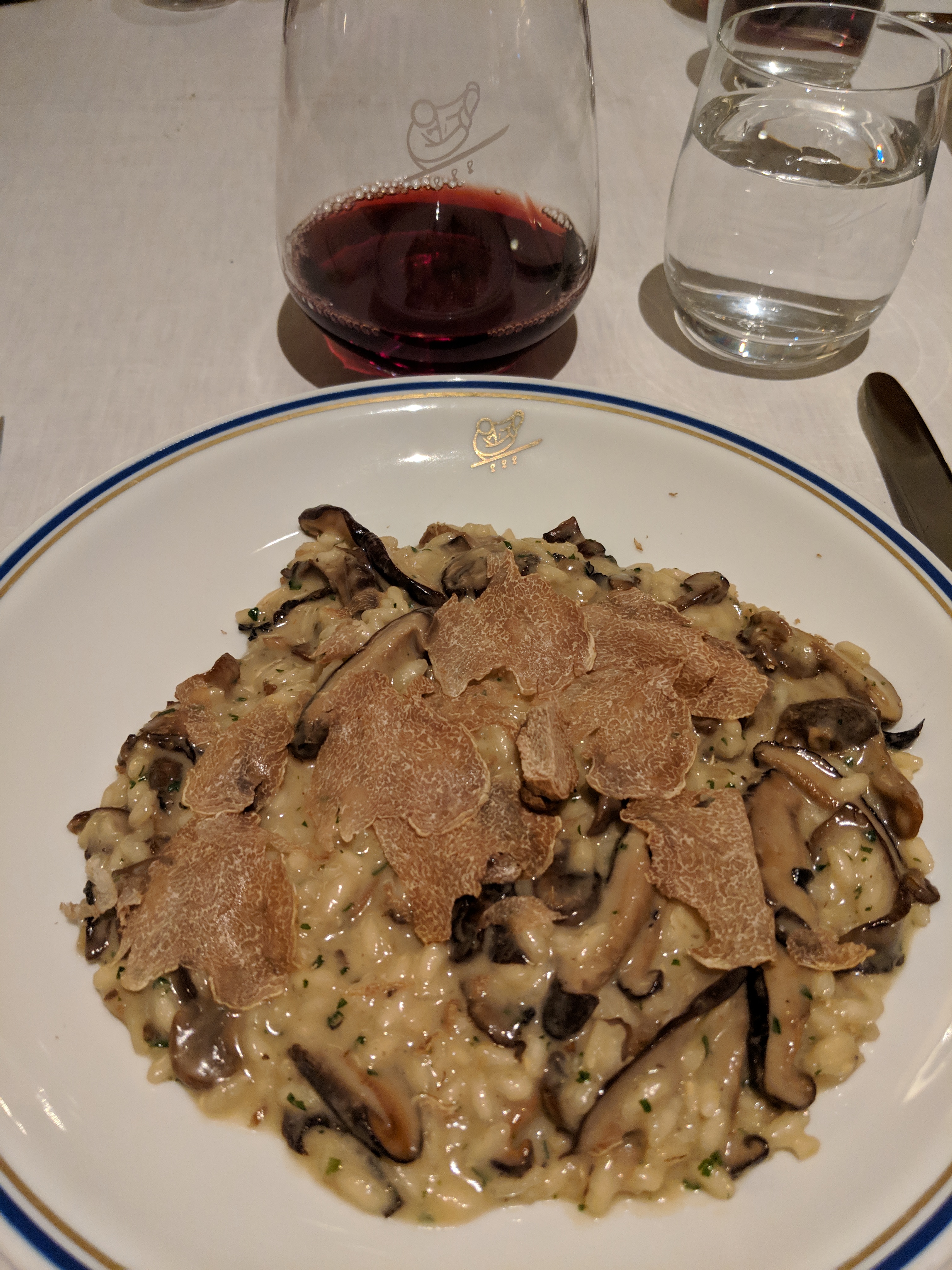 There was a bit of delay in the preparation of the risotto dish, due to a break down of communication between wait staff and the kitchen. We love to linger over a great dinner, but this delay did stretch out the time between courses a little beyond the comfortable zone, with no fewer than six difference servers checking in on us to see if we were 'okay'. A bit much perhaps, but once again due to those 'opening weeks jitters' of this very new restaurant.  I'd fully expect that by now these kinks have been ironed out. And the risotto was delicious.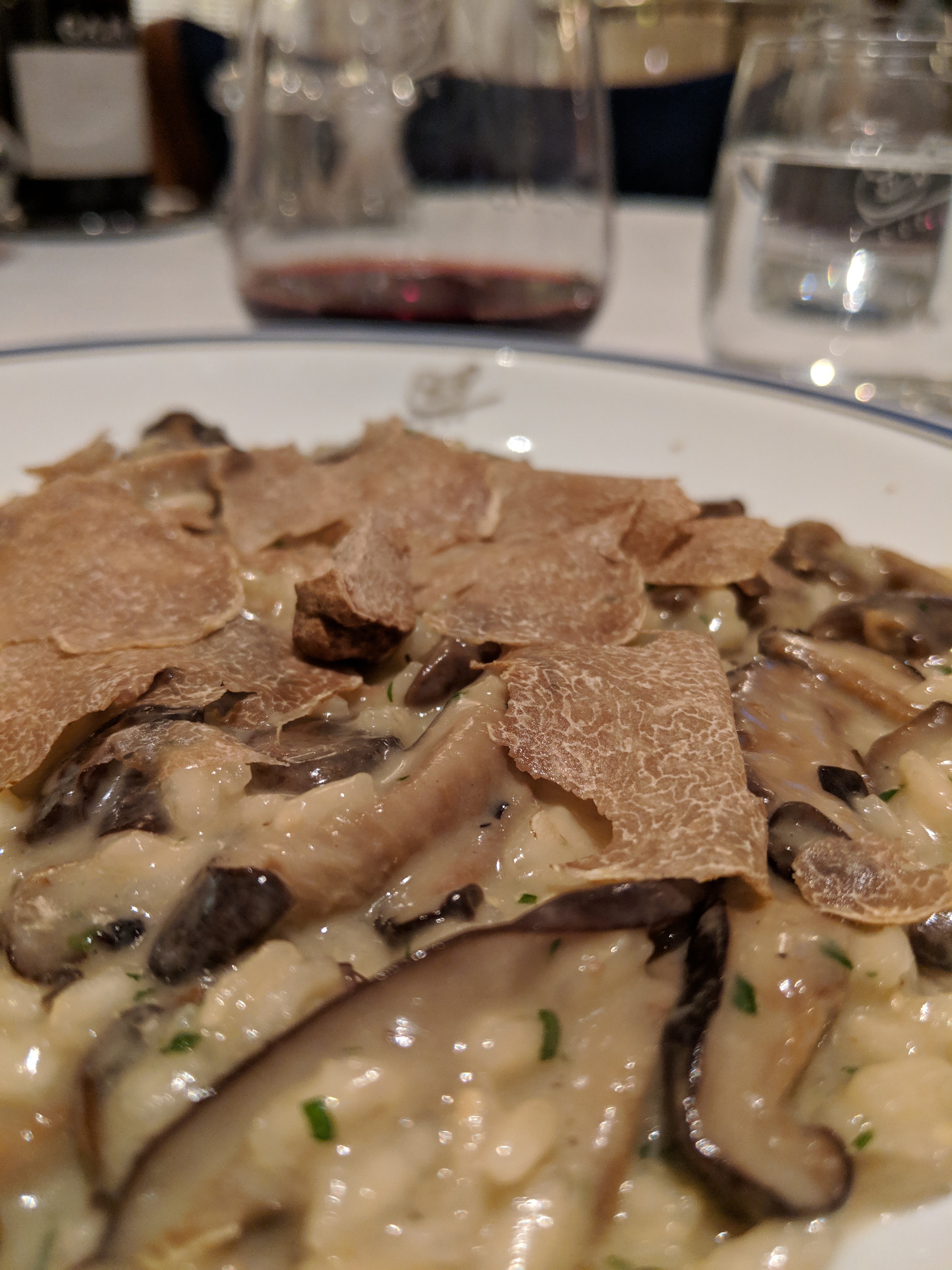 Being in season, we added the white truffle from alba to the risotto and  the following dish, the Uovo in Ravioli (Egg in Ravioli). Every paper-thin slice was well worth it.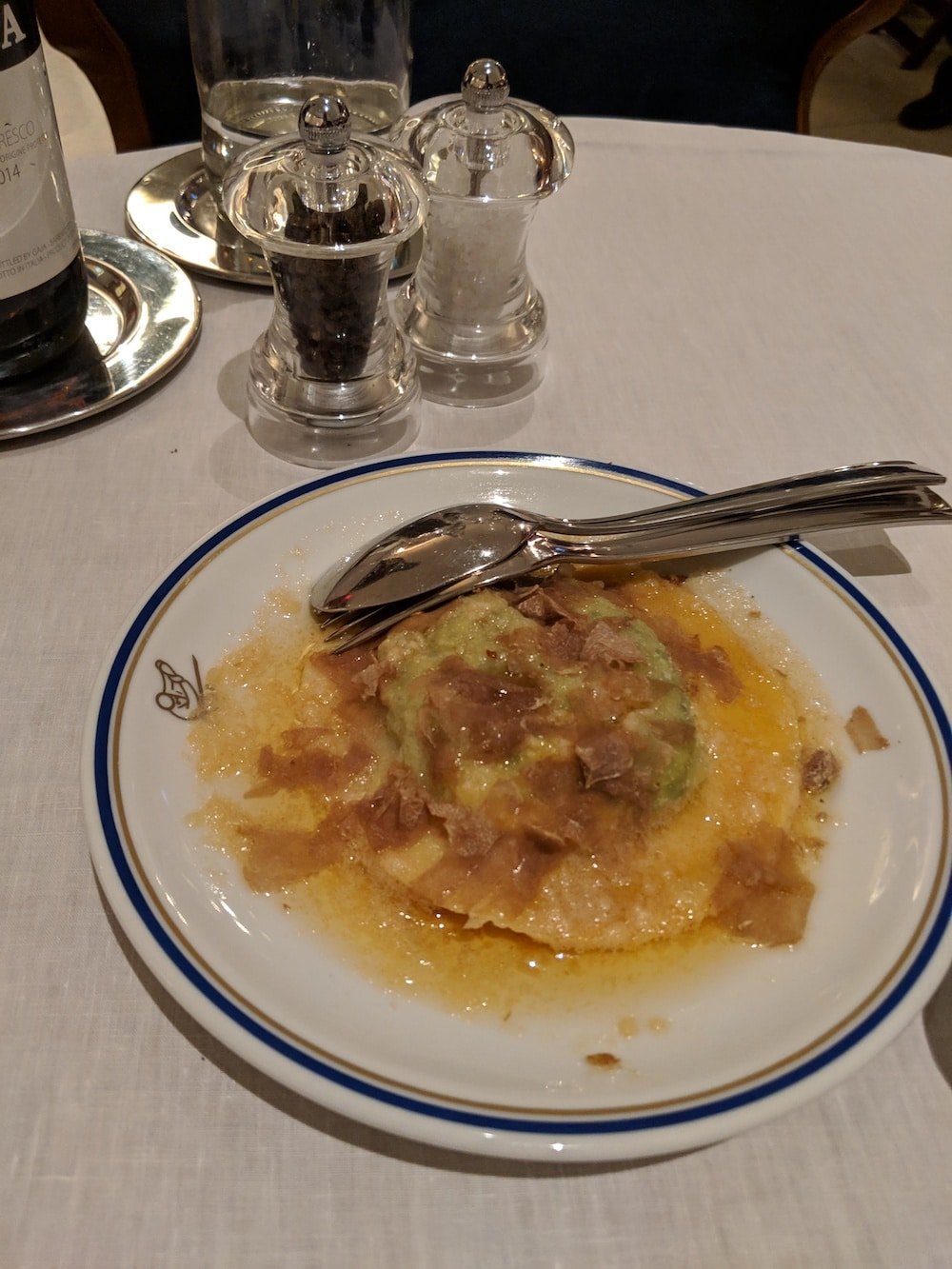 The Uovo in Raviolo was deliciousness itself, but I recall that it was here that I hit my wall in terms of the richness of the dishes. Burrata, risotto, and then this decadent dish while all outstanding felt very heavy at this point. They were all so good, it was hard to practice restraint knowing what was coming next (such problems, I know…). On a return visit, I'd take out at least one of these three opening numbers, and insert a  greener salad. Having said this, if the menu contained any missteps, they were certainly tasty.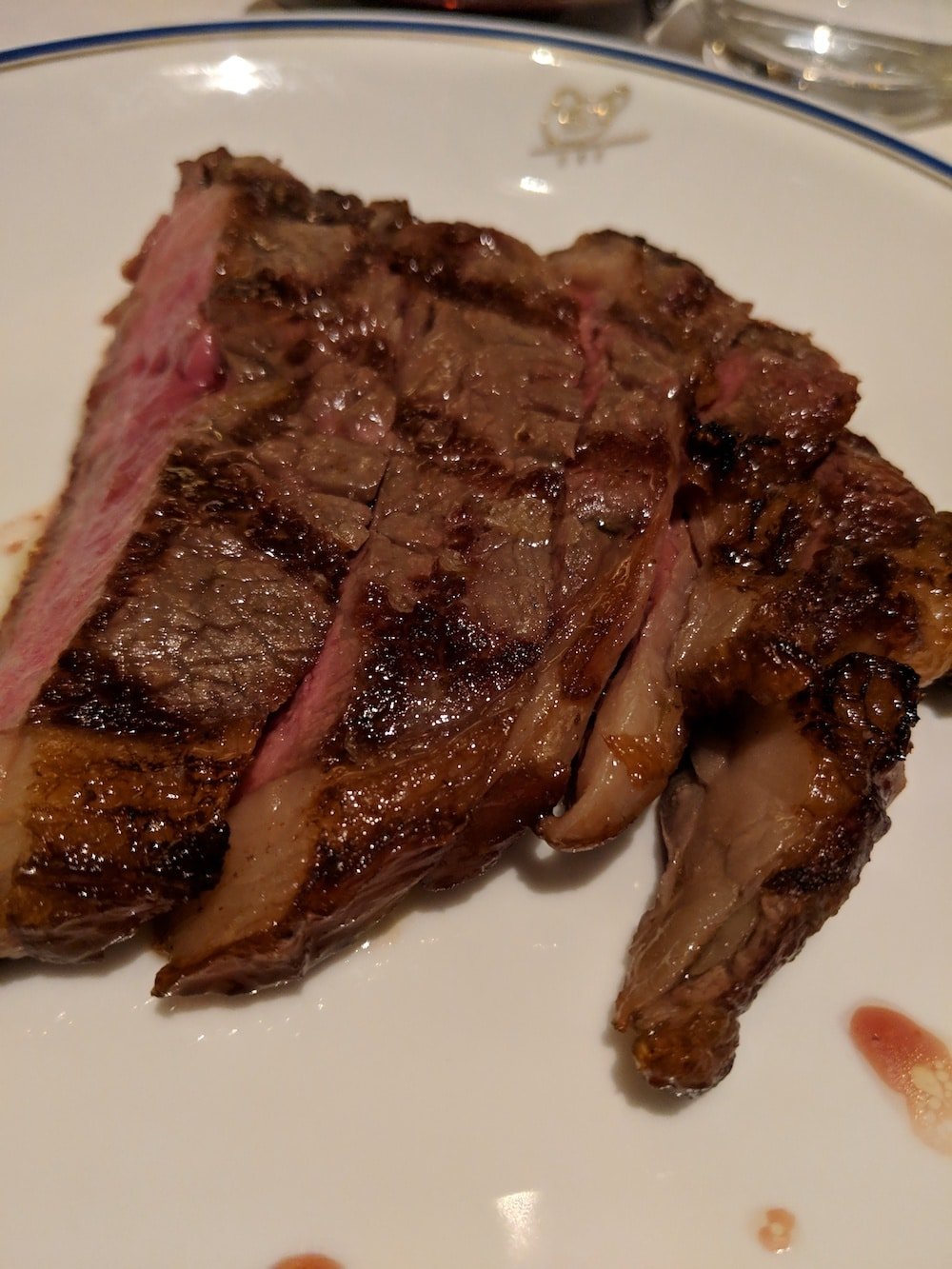 We ended our meal with another rich, delicious dish, but this time in beef form, a melt-in-your-mouth sliced Wagyu steak to share. I would have enjoyed it more had I not so thoroughly enjoyed the previous dishes. We both ended up leaving more than a bit behind, which felt like a shame. There was certainly no room for dessert.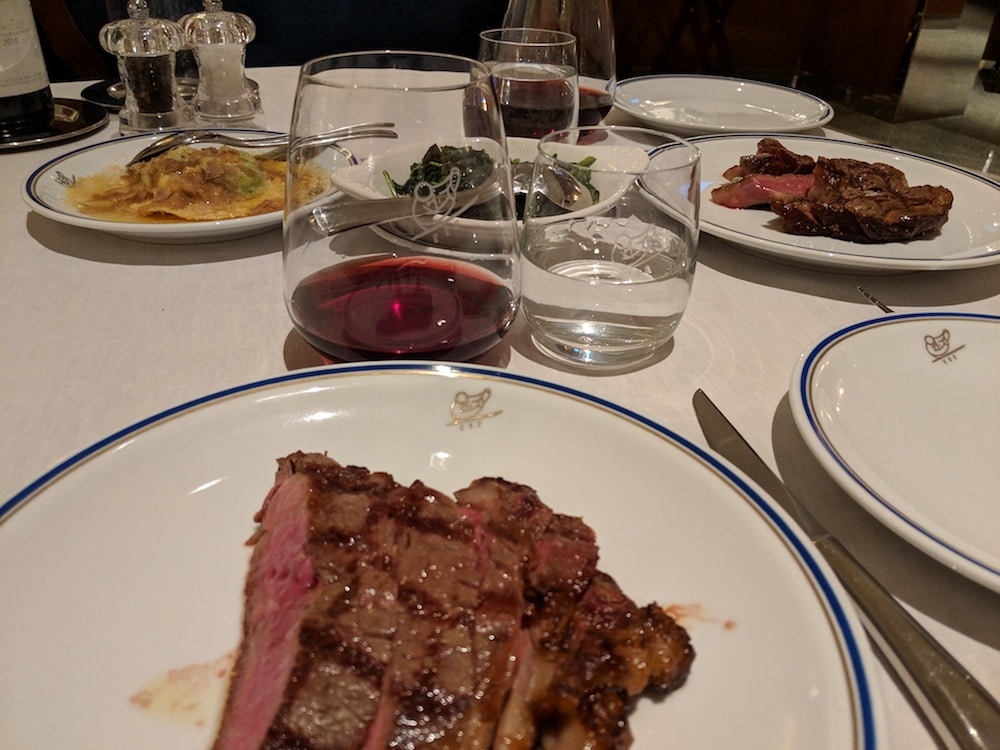 Overall, this is a place we'd return to. The food was decadent and delicious, the service was attentive, and the decor comfortable and interesting (designed with a glamorous nautical theme in mind, meant to evoke a yacht.) Any detractions here were due to the newness of the establishment, our own unfamiliarity with the dishes on the menu (now cured!), and perhaps that we chose Cipriani to cap an already full week of food and wine. Do certainly consider making a reservation when you're next in Vegas.
For more information on Cipriani at Wynn Las Vegas, visit www.wynnlasvegas.com