We arrived in New York City for a whirlwind vacation at around 1:30pm. After checking in at the Kimpton Muse, we hit the streets to soak in the city and to find some lunch.
We seemed to stumble upon iconic location after iconic location in just a few blocks…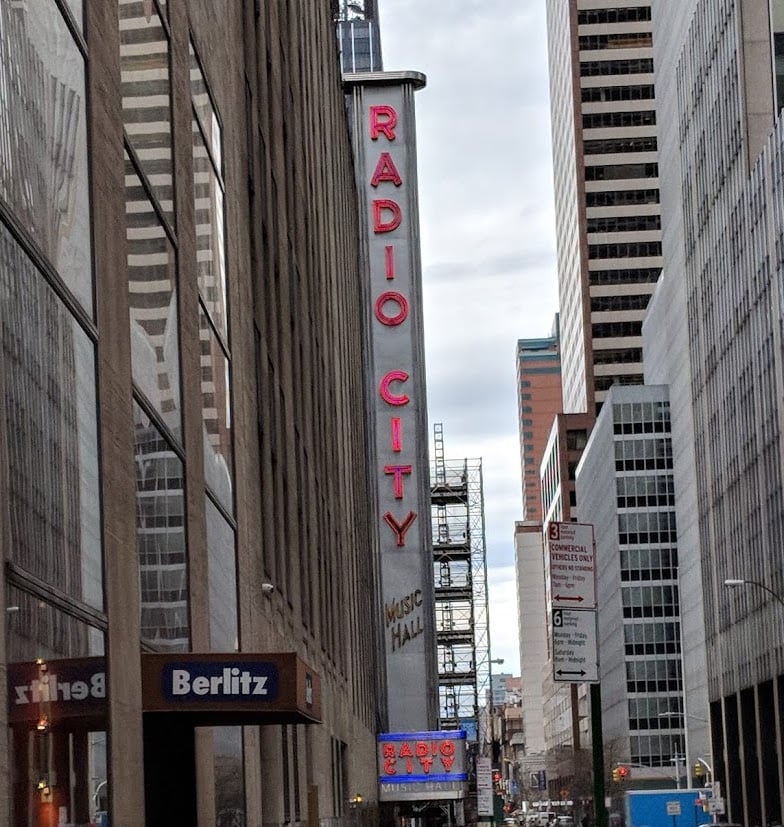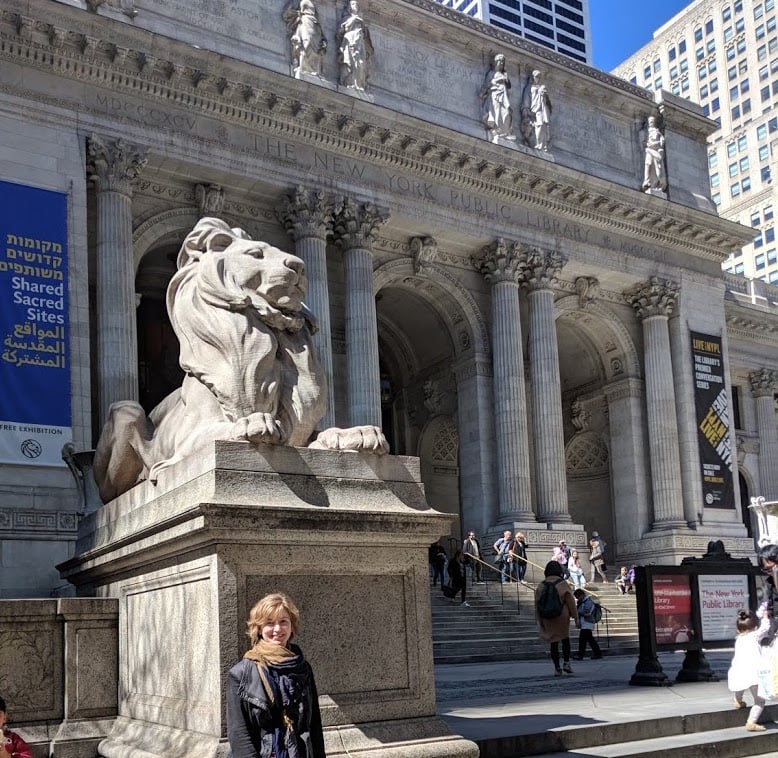 …And eventually, we arrived at one of the ultimate sites – Rockefeller Center. At this point, we couldn't wait any longer to eat after travel with an early start – so we were glad to find Del Frisco's Double Eagle Steakhouse right there.
It was almost pleasant enough to eat outside on this last day of March, but we opted for an inside table. It was bustling and energetic in there, but not overly busy. Soon, we were seated, and with beverage in hand.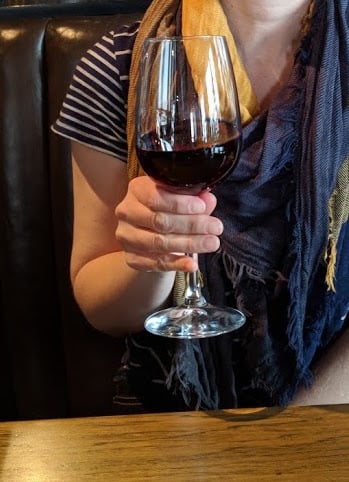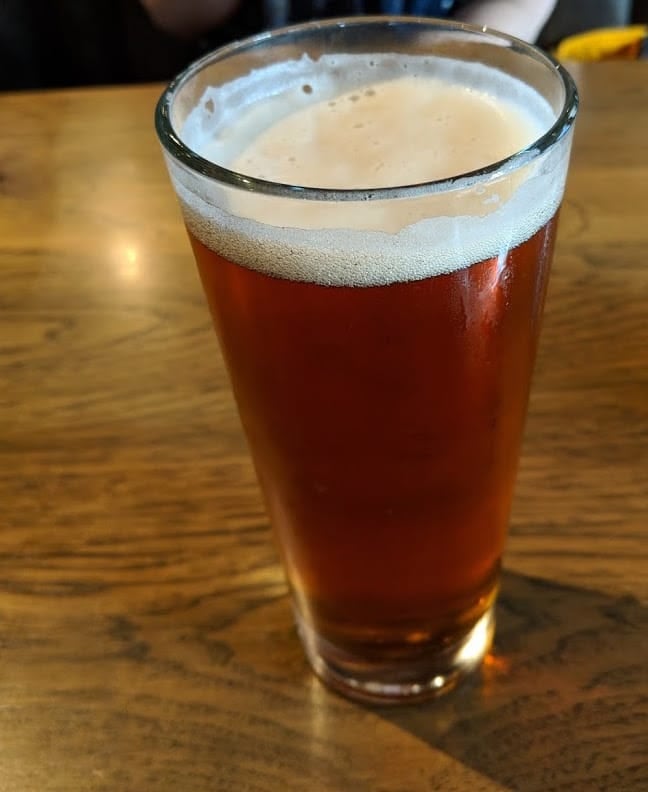 The menu offered the classic steakhouse choices as you'd expect, from shrimp cocktail to a blue cheese lettuce wedge, and even a 'business lunch' section including starter and entree for $32.50. Prices are not low, but portions are fairly generous and the food was certainly good.
Though you could opt for a 16 oz. steak and stuffed baked potato including shaved truffle, we both went with more "lunchy" options. For him, the Wagyu Beef French Dip, a generous sandwich served on a crusty baguette with au jus and horseradish sauce ($23). With a choice of fries, chips, or salad he went with the side-salad to freshen things up. Washed down with a beer, lunch was good.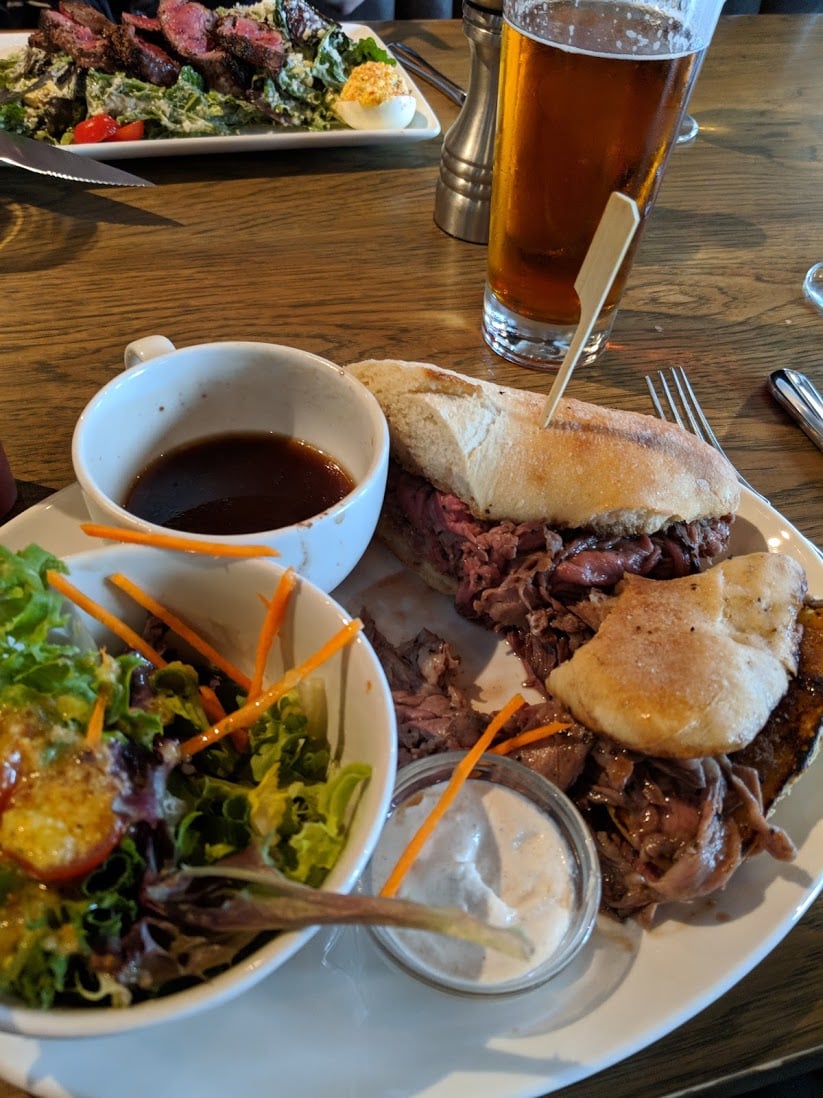 I chose the Prime Steak Salad (and somehow neglected to take a picture to show it off, although you can see it if you look carefully in the background of the Wagyu French Dip shot). It was very yummy and rich with its blue cheese crumbles and avocado, and a really zippy horseradish dressing ($25 – generous portion and satisfying).
All in all, a nice find for an upscale, relaxing lunch.
Del Frisco's Double Eagle Steakhouse is located at 1221 Ave of the Americas, New York, NY. To view the menu and information on other locations, visit www.delfriscos.com